127 Fair-Minded Girls Due For Mega-Dating Hour
on
November 5, 2010
at
4:26 pm
There is a good chance that the title for this roundup is more exciting than anything that will be covered in this weekend's theatrical releases.  While there are some incredible options that range from amazing true stories to incredible impossibilities, if your tastes lean towards the ridiculous, try to expand your thoughts until your brain becomes a Megamind (Rotten Tomatoes – Metacritic).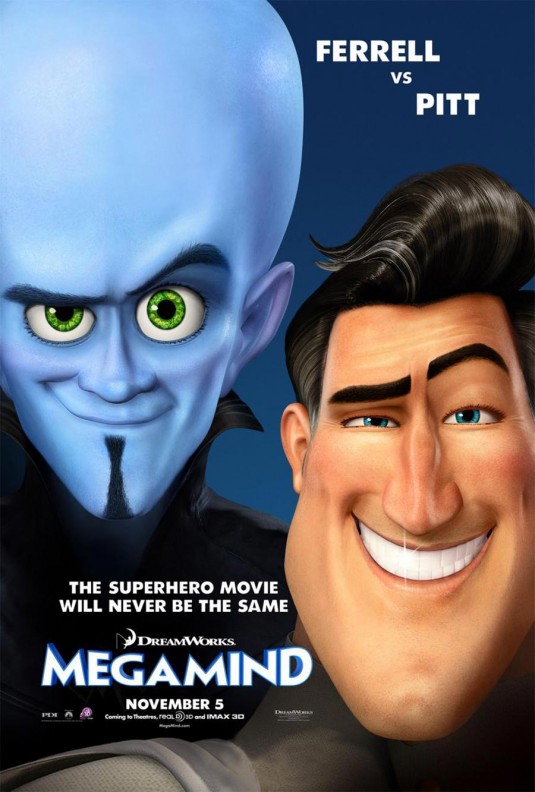 "Hilarious, refreshingly smart, thrilling and heartfelt. It will delightfully entertain everyone, young or old, good or evil." Avi Offer NYC Movie Guru
Its comforting to know the entertainment umbrella also covers good old folks and evil young punks.
"… 'Well, that was fun. A lot better than I expected.' An assessment with which this reviewer can concur." Glenn Kenny MSN Movies
"Did you just post someone's review into your own and then agree with it?"
Absolutely.
"…an OK entertainment that's instantly forgettable." Laura Clifford Reeling Reviews
What were we talking about again?
"While it is never anything less than vibrant and exceedingly clever, it is also a rather slight thing for such mega-sized proportions." Kimberly Jones Austin Chronicle
"Even the 3-D thing, which makes films murky and claustrophobic, is a gimmick from the 1950s. And wasn't this rehabilitated-bad-guy routine the plot of "Despicable Me"?" James Verniere Boston Herald
The 1950's was the playground for Hitchcock who gave us an in-need-of-rehabilitation-bad-guy routine in Psycho.  Borrowing ideas from the poodle skirt era is okay, but not the technology?
"This is the kind of movie where "Bad to the Bone" is considered a clever musical cue because, you know, Megamind is bad. To the bone." Keith Uhlich Time Out New York
Our next movie is scary.  And it involves a bone that kept a climber stuck for 127 Hours (Rotten Tomatoes – Metacritic).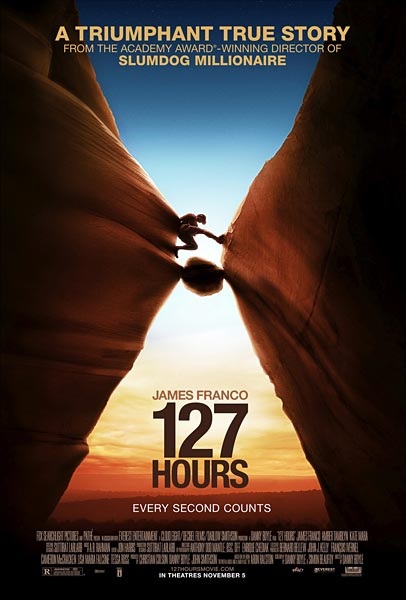 "It's exciting, stirring, often funny, sometimes lyrical and unusually thoughtful. And, with that one egregious exception, genuinely pleasurable." Wall Street Journal Joe Morgenstern
That review was positively verbose.
"For a story about a man who cannot move, the ordeal unfolds at a pace that keeps you breathless." New York Observer Rex Reed
Should audiences assume that we'd be out of breath in a good way (i.e. not hyperventilating)?
"To say that this movie gets under your skin is only barely a figure of speech. It pins you down, shakes you up and leaves you glad to be alive." A.O. Scott New York Times
Audiences should look forward to being slammed against the wall and shaken until in need of oxygen.  Good times.
"The movie is best when it calms down and concentrates on the sinister peculiarities of the experience, and when it focuses on Franco's face." The New Yorker David Denby
"There are 127 different ways to frame a conversation about 127 Hours, and that's a hallmark of a good film." Jordan Hoffman UGO
If the protagonist climber knew the time frame of his ordeal, he would have had a clearer Due Date (Rotten Tomatoes – Metacritic).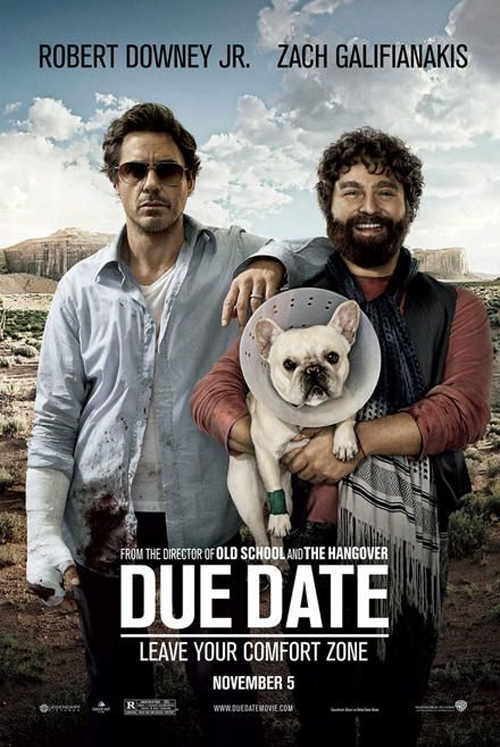 "Is Due Date the new Hangover? It is not. But it has its own rewards." Peter Travers Rolling Stone
Does bed-hair count as a hangover reward?
"For a road movie, "Due Date" generates hardly any momentum." Colin Covert Minneapolis Star Tribune
A road movie without momentum is like a comedy with no laughs or a thriller with no thrills.  The remaining question is, is momentum an essential element of the genre?  Consider the question, in order for a documentary to be relevant does it need to be political?  Or in order to convey the effort involved, do all sports movies need a montage?
"I strongly endorse watching bits of Due Date when you stumble upon it on Starz." Jordan Hoffman UGO
Which bits should we skip?
"The actors are fine: It's their long, arduous trek that lets the movie down." Rene Rodriguez Miami Herald
So, just skip all the driving parts of the road movie.
"I didn't believe this movie. Which is not the same as saying I didn't like it — although, there is that." Wesley Morris Boston Globe
I don't believe in most government conspiracies.  Which is not the same as saying I don't like seeing movies about them – although, there is that.  Although, perhaps I'm not being impartial enough with my expectations for a Fair Game (Rotten Tomatoes – Metacritic).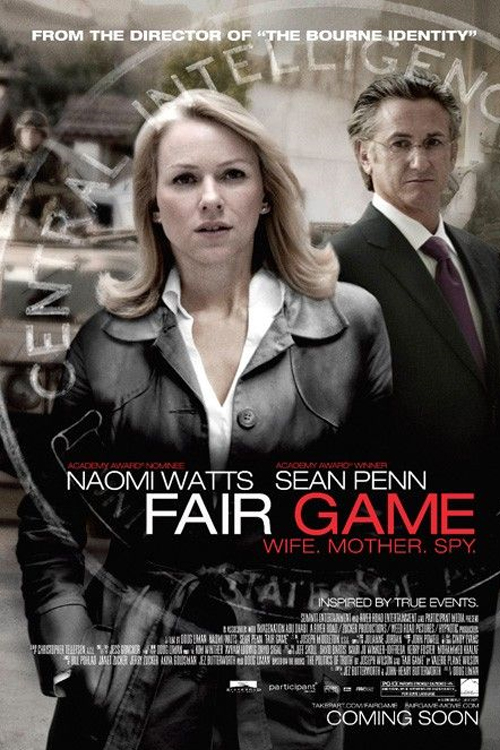 "The Bush Administration's outrageously vengeful act of outing of veteran undercover CIA agent Valerie Plame gets a vigorous telling under Doug Liman's top-notch direction." Cole Smithey ColeSmithey.com
Compromising your own country's soldiers for the sake of politics makes the title sound ironic.
"Liman's sensibility isn't sophisticated enough to tease out the nuances of what must be a pretty interesting marriage; the movie is more about texture and surfaces and surface tensions. But it moves." Michael Phillips Chicago Tribune
We found Due Date's missing momentum.
"Ignoring the political bias of two leftwing filmmakers, Penn and Liman, this reverse roman á clef is a rip snorting political thriller, probably close to the truth. " Tony Medley Tolucan Times
I have no idea how to evaluate truth vs. fiction for reverse roman rip snorting.
"A compelling drama that unfortunately will probably split audiences straight down partisan lines." Luke Y. Thompson E! Online
After Tuesday's midterms, would it be an even split?
"What's effective is how matter-of-fact Fair Game is. This isn't a lathering, angry attack picture." Roger Ebert Chicago Sun-Times
Rather than lathering up for an attack, we will round out this round up with some important lessons For Colored Girls (Rotten Tomatoes – Metacritic).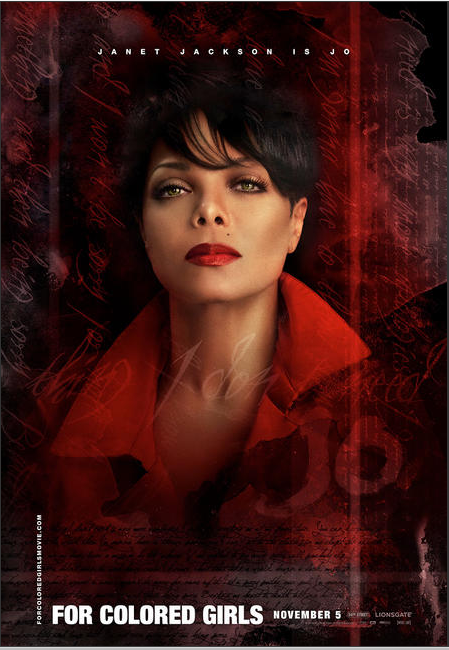 "Who could imagine, 35 years on, For Colored Girls would become a star-studded mess of a movie directed by a black, male Hollywood mogul?" Misha Berson Seattle Times
Nostradumbass?  Sorry, that joke was For Young Boys.
"This grave update of a 1975 play, which interweaves nine stories, wastes talents such as Janet Jackson and Thandie Newton." Thelma Adams Us Weekly
"No question, Perry's Girls is compelling and powerful. But it's also a missed opportunity, one that fails to fully capitalize on mostly terrific performances and the story's timeless message." Randy Myers Contra Costa Times
It sounded like that review praised the movie as a powerful missed opportunity and a compelling failure.  Any question?
"For Colored Girls feels like the cinematic equivalent to putting a garish reproduction of the Sistine Chapel on the ceiling of your McMansion and calling it art.
" Mary F. Pols TIME Magazine
Hold on, how garish are we talking?  A reproduction of the Sistine Chapel painted on vaulted ceilings with good track lighting would be pretentious, but still art.
"Shange gives us archetypes; Perry trades in stereotypes."  Carrie Rickey Philadelphia Inquirer