Adult Soldier's New Sitter
on
December 9, 2011
at
9:52 pm
Since most soldiers don't require babysitters, this roundup title might be a euphemism for a Drill Sergeant.  On the other hand, if a soldier has an overprotective spouse or acts like a big baby, maybe he/she needs the firm hand (and comforting headlock) that can only be provided by The Sitter (Rotten Tomatoes – Metacritic).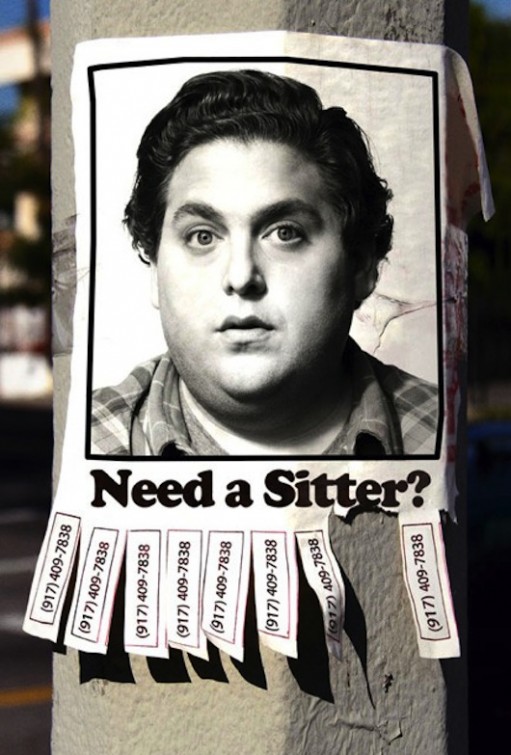 "The Sitter's a lazy ramble of a movie that's amusing enough to hold your gaze for 81 minutes while leaving you feeling a little cheated when it's over." Movieline Alison Willmore
Same thing happens when you pay the babysitter.
"One of the weaknesses of The Sitter is that Hill doesn't develop much comic chemistry with the children." Washington Post Ann Hornaday
The Sitter isn't the kind of babysitting movie you should let babysit your babies.
"Some of it, though, is absurdly comic, like the shot of a guy on a Segway that exists for no reason other than that someone here thought the movie could use a small laugh right then. It did. It could use more." The New York Times Manohla Dargis
"A needlessly frenzied, pseudo-raunch comedy that whips up a whole lot of R-rated antics only to arrive at crunchy PG-13 lessons in love and tolerance." Entertainment WeeklyLisa Schwarzbaum
Would you prefer R-rated antics teachings NC-17 lessons?
"The Sitter pushes the envelope with such sloppy gusto that you have to give in occasionally, and its comic timing finds its rhythm about every fifth joke." Boston Globe Ty Burr
What if it takes five tries to get anything right? No problem with Popsicles or parallel parking, but notsomuch marriages or heart transplants.  In that case, the fifth job is best after Tinker Tailor Solider Spy (Rotten Tomatoes – Metacritic).
"Utterly absorbing, extremely smart and – considering this is a sad, shabby, drably grey-green world of obsessives, misfits, misdirection, disillusionment, self-delusion and treachery – quite beautifully executed." Empire Angie Errigo
Isn't it funny how – considering how often Microsoft Word underlines sentences for being too long, complex, fully-faceted and criss-claused – the point gets lost?
"Tinker Tailor Soldier Spy is the intellectual action flick of your dreams." Boxoffice Magazine James Rocchi
"An inventive, meaty distillation of Le Carre's 1974 novel, picture turns hero George Smiley's hunt for a mole within Blighty's MI6 into an incisive examination of Cold War ethics, rich in both contempo resonance and elegiac melancholy." Variety Leslie Felperin
If elegiac isn't contempo, can we return the 'rary'?
"A pleasurably sly and involving puzzler – a mystery about mysteries within mysteries." The New York Times Manohla Dargis
A) A mystery
B) A mystery
C) A mystery
D) It doesn't matter
"This version of Tinker Tailor Soldier Spy turns on the presence of Mr. Oldman, and he is an actor of great experience and accomplishment who has finally found a film that fully deserves him." Wall Street Journal Joe Morgenstern
Pairing yourself perfectly with jobs and other people might be the first goals you set as a Young Adult (Rotten Tomatoes – Metacritic).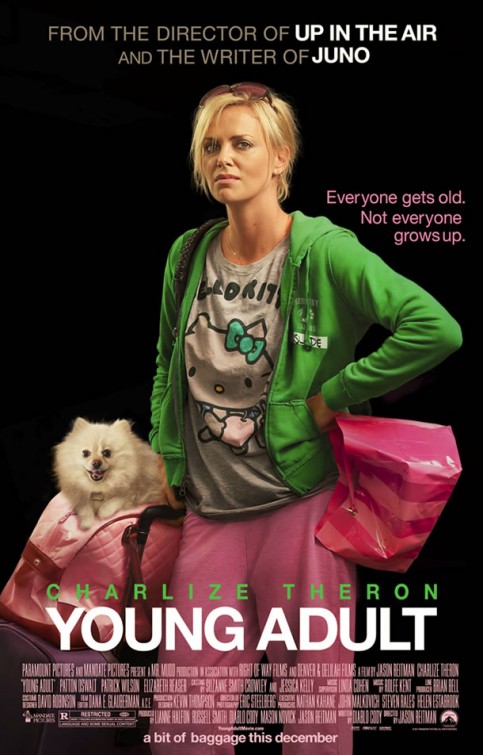 "So it makes sense that Young Adult feels at times like a mashup of styles and genres – part curdled rom-com, part psycho-prom-queen flick, with a little "Revenge of the Nerds" thrown in." NPR Bob Mondello
Revenge for comedic psychos is best served curdled.
"A dark comedy that confirms Diablo Cody as a screenwriter of importance, eliminates the last shred of doubt that Jason Reitman is a major director and gives Charlize Theron her best showcase since 'Monster.'" San Francisco Chronicle Mick LaSalle
If you care about the picture, not the people, remember that somebody is important, don't doubt the majority, and expect a monster showcase.
"Cody's snappy, spot-on writing and Reitman's clear-eyed direction should suit audiences looking for a black-as-night dramedy with bite." Boxoffice Magazine Kate Erbland
"Their scenes together are the film's best, with Theron and Oswalt, who have very different tempi and temperatures as performers, parrying and thrusting with great expertise." The Hollywood Reporter Todd McCarthy
So long as the parrying/thrusting doesn't involve Freddy Krueger's underwater intimidator.
"Both Reitman and his first-rate cast do their best to add depth. The real tragedy of Young Adult, however, is the story's lack of tragedy." Time Out New York Stephen Garrett
No drama without death, if it bleeds it leads, and tragically w/o tragedy could be Emo greeting cards.  Though "Don't forget to make your new year's pollutions" would be more grimly appropriate for New Year's Eve (Rotten Tomatoes – Metacritic).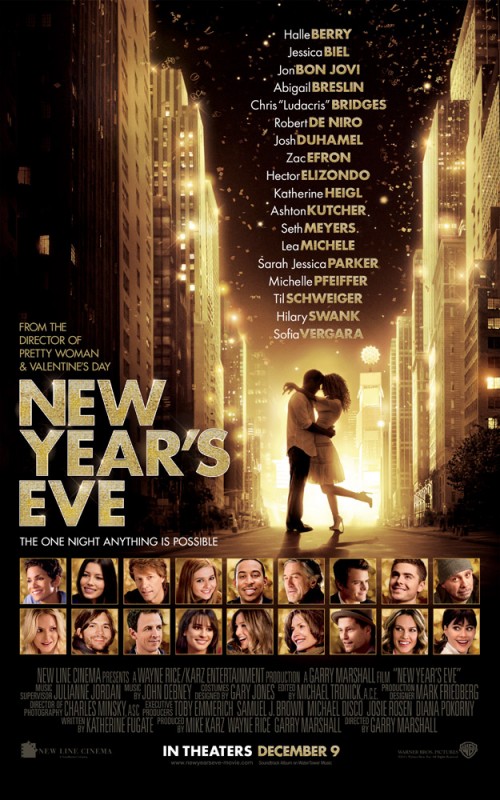 "Director Garry Marshall continues his systematic defilement of society's most romantic holidays with another rom-com built – and executed – like a '70s disaster movie." Time Out New York Matt Singer
If executed like a horror movie it would be called New Year's Cleave.  And a gross out comedy might be New Year's Heave, hopefully these lame jokes don't cause New Year's Peeve.
"The result proves to be as appealing and effervescent as a flute of flat champagne." The Hollywood Reporter Michael Rechtshaffen
Flattened fizz and stale soda both taste like they've taken a trip through the urinary tract.
"Mostly, New Year's Eve is appalling stuff, a poorly constructed, sentimental sham. Auld lang suck." Austin Chronicle Kimberley Jones
"The lesson to learn from watching Garry Marshall's New Year's Eve, a predictably insufferable, self-congratulatory cash cow designed to be ingested and then happily discharged without a second thought by gullible moviegoers who just don't know any better, is that we live in a time without economic dignity, a time in which we must be ready to do just about anything for a paycheck." Slant Magazine Richard Larson
Speaking of depression from a depressed economy, is it worse to not know any better or to know better, but not care?
"It's safe to say to no idea was nixed on the set of New Year's Eve for being too cheesy or sentimental; if anything, ideas were nixed for not being sentimental or cheesy enough." The A.V. Club Nathan Rabin