Angry Driver Passes Hall Shelter
on
February 24, 2011
at
9:29 pm
This is the last weekend to check out Oscar nominations before some become Oscar winners.  In response, your new releases have fled to the other end of the quality spectrum.  We have a forgettable thriller starring an Oscar-nominated actress, a filmmaking duo's mid-life crisis played out on screen, and the Nicolas Cage hair personality test.  If you're desperate for movies and willing to venture into the cold, be safe and don't Drive Angry (Rotten Tomatoes – Metacritic).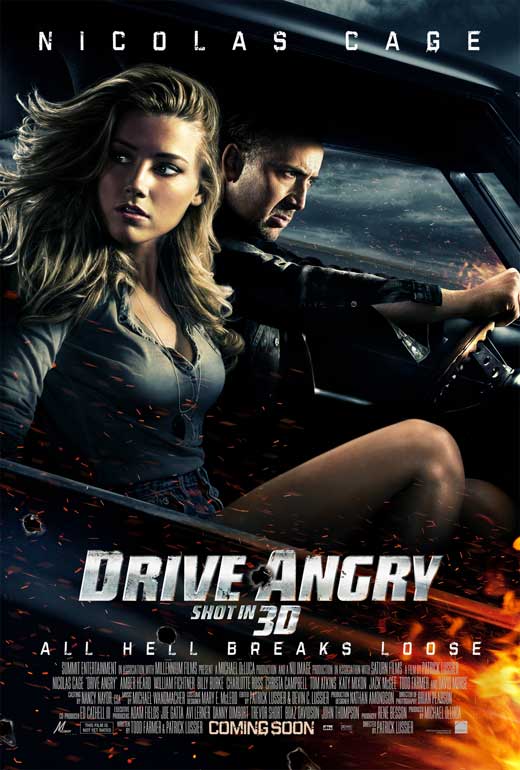 "Not every movie needs to be a thought-provoking work of art…" Ben Rawson-Jones Digital Spy
Thank you for clarifying that it's not a work of art.  What is it a work of?
"The juicy, toxic and unhealthy cinema equivalent of the biggest, tastiest and least nutritional burger you've ever wolfed down in a moment of heedless gluttony." Catherine Bray Film4
Put another way: It's a metaphorical burger with enough yummy toxicity to make your metaphorical heart explode.  But it also sounds like the best case scenario is enjoying the movie, but hating yourself afterward.
"They say what you see in Nicolas Cage's hair is a reflection of your own soul. To me, it looks a bit like a giant, microwaved wombat slipping off the top of St Paul's Cathedral." Robbie Collin News of the World
"With his recent glut of increasingly low-rent cinematic forays…combined with the blatantly obvious fact that he's only making them to stave off bankruptcy, Nicolas Cage may have subjected himself to a whole new subgenre of filmmaking – Cagesploitation." Shaun Munro Obsessed With Film
Looking at the list of previous Nick Cage movies, we know the man likes to work.  Besides, self exploitation is the highest form of exploitation.  Unless you're unsuccessfully exploiting yourself, you might as well call it personal achievement.
"A shambling, ponderous mess that aims to be a trashy cult classic and merely ends up in the trash — Fichtner aside." Chris Hewitt (UK) Empire Magazine
Everyone sucks but Fichtner.  You may not recognize his name, but you've seen him in plenty of movies.  If ridiculous 3D action and actors wearing wombat wigs isn't appealing, Fichtner could be your only cinematic Shelter (Rotten Tomatoes).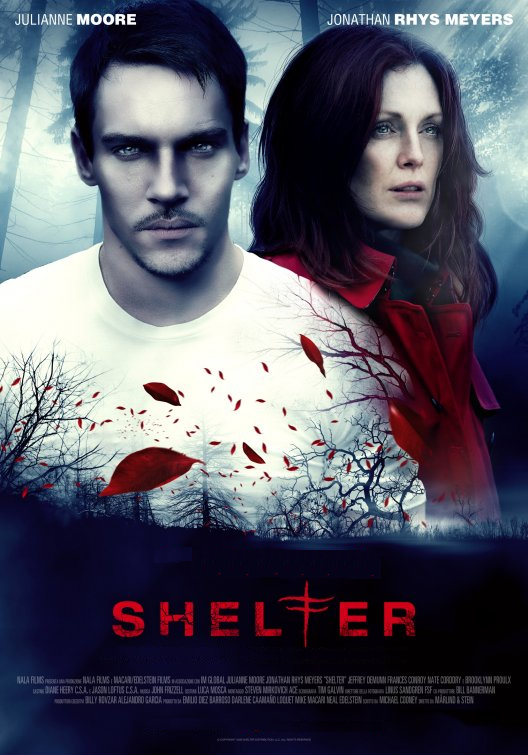 "Julianne Moore's latest is about a man with multiple-personality disorder. Ironic, since the film also doesn't know what it is. A horror hodge-podge touching on reincarnation, loss of faith, witchcraft and demonic possession, this is like a Sunday evening stew of leftovers." David Edwards Mirror UK
Horror hodge-podge leftovers range in quality from hearty comfort food to a boiling mess that makes starvation look appetizing. Can we simplify the ingredients?
"As far as its own multiple personalities go, Shelter gives you your pick of exhausting, grim and absurd." Tim Robey Daily Telegraph
"To be fair, not only is Shelter the maddest film you'll see this year, it's also made with great skill, visual flair, pace and style, and even if it does occasionally tip over into silliness it will keep you hooked, gripped and not a little scared." Mike Martin Moviemuser

It looks like a thriller, sounds like a thriller, but provides no thrills.
"Begins as a psychological thriller, transforms into a supernatural bonce-scratcher and finally descends into an almighty mess." Rosie Fletcher SFX Magazine
Would it have been better to be an almighty mess the whole time?
"Not unwatchable but not particularly good either." Matthew Turner ViewLondon
That statement sums up the last 2 months of Hollywood movies.  In these dark times, delinquent students who would normally cut class to go see movies now prefer to wander their schools with or without a Hall Pass (Rotten Tomatoes – Metacritic).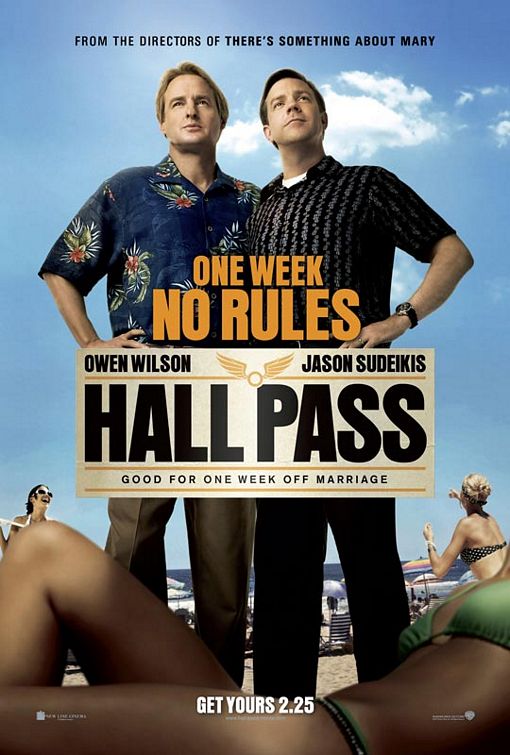 "The Farrelly brothers continue to strain desperately for their gross-out glory days with Hall Pass, their latest "comedy" — and, yes, that word is in quotes for a reason." Christy Lemire Associated Press
Is it because you didn't "like" it or did you worry that sarcasm wouldn't "translate" without explanation?

"Hall Pass, a light comedy of horny marital woe from directors Peter and Bobby Farrelly, makes a novel statement about the sex wars: It says that they're essentially over. And that the guys – in case there was any lingering suspense about it – have lost." Owen Gleiberman Entertainment Weekly
TO: Men
SUBJECT: Are we going to spend the future moaning about it or is there going to be a rematch?

"If you go in with low expectations, you can't help but be pleasantly surprised. The value of its huge laughs shouldn't be underestimated." Marshall Fine Hollywood & Fine
"What once came naturally now seems like trying too hard, as the Farrellys face their own mid-life crisis." Nick Pinkerton Village Voice
If the Farrelly's humor had always been aimed at disenfranchised middle-aged males instead of young adults, we might have ended up with Bald and Balder or There's Something About Hemorrhoids.
"Bobby and Peter Farrelly have brought water to the arid desert currently calling itself American film comedy. It's a drink spiked with enough crudeness to cause a nasty bout of dysentery." Wesley Morris Boston Globe