Arthur Hanna Surfs High
on
April 7, 2011
at
5:21 pm
It's my birthday today, so I'm very aware of numbers.  How many years I've been alive, 35.  Number of Superman boxer shorts amassed from presents, 1 (so far).  Amount of money won in birthday poker, $63.  And now I've turned my attention to the four biggest movies coming out this weekend, stacked in the order of their numeric quality.  We begin with the protagonistically-entitled Hanna (Rotten Tomatoes – Metacritic)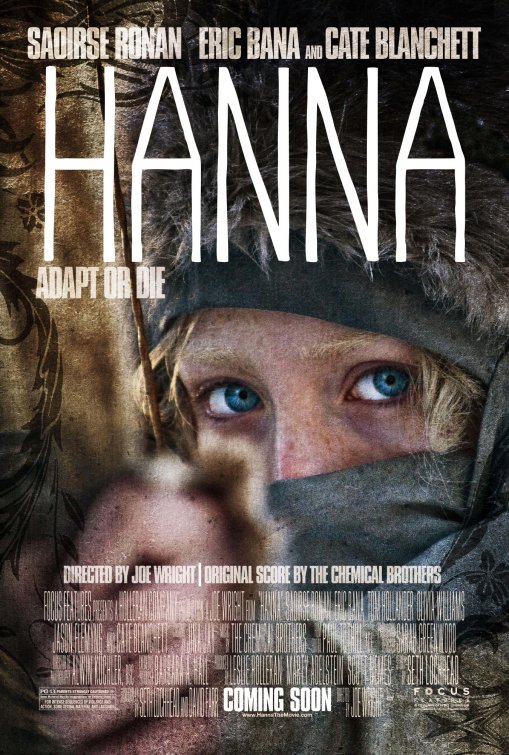 "A well-done thriller with fairy tale sequences, a surprising secret, and a 16-year-old girl who soldiers into the world." Frederic and Mary Ann Brussat Spirituality and Practice
Witness the birth of the young girl soldier fairy tale genre.
"This fairy tale may be Grimm, but it's also quite gripping." Peter Howell Toronto Star
"Heart missed, but spine tingled." Keith Uhlich Time Out New York
Both are kill-shots.
"An intriguing, original thriller that owes as much of a debt to the likes of Frankenstein, the Brothers Grimm, David Lynch, and A Clockwork Orange as to The Professional and The Bourne Identity." James Berardinelli ReelViews
That's quite a contrast of genres. Perhaps they would meld better if you chilled out, scoped some waves, and tried your hand at being a Soul Surfer (Rotten Tomatoes – Metacritic).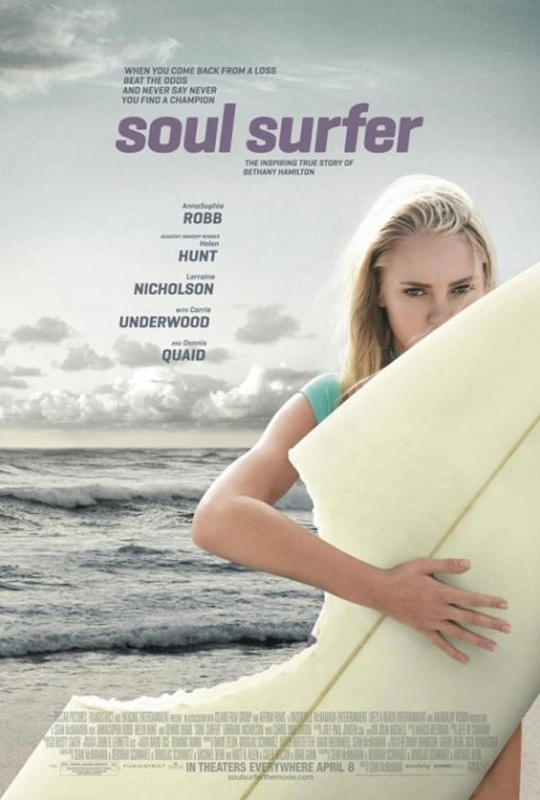 "A solid inspirational story that takes seriously a couple of things often made trivial in popular entertainment: surfing and religion." Matt Soergel Florida Times-Union
If the title fits, wear it – even if it attracts sharks.
"The brazenly cheap look to the special effects sends the film into MST3K territory, and it's certainly the most hilariously awful surprise attack by a shark since Samuel L. Jackson got devoured by one in Deep Blue Sea." Ed Gonzalez Slant Magazine
Great, now I'll be expecting the unexpected.
"a simpering, insipid wannabe-tearjerker that rings so false it's amazing that its story is actually true."Blake French Filmcritic.com
"Plays like a commercial for inspiration. Basic events have been recreated, but actual feeling has been replaced by montage after montage after montage." Matt Pais RedEye
A melody of montage wouldn't be so bad, but a merciless march of moving music montages might melt my mind.
"What does it mean that this sports melodrama made for tweens shows more craft and heart than most of the year's grown-up Hollywood fare?" Joshua Rothkopf Time Out New York
It means we have become spoiled with too many options, like the man-boy with too many toys named Arthur (Rotten Tomatoes – Metacritic).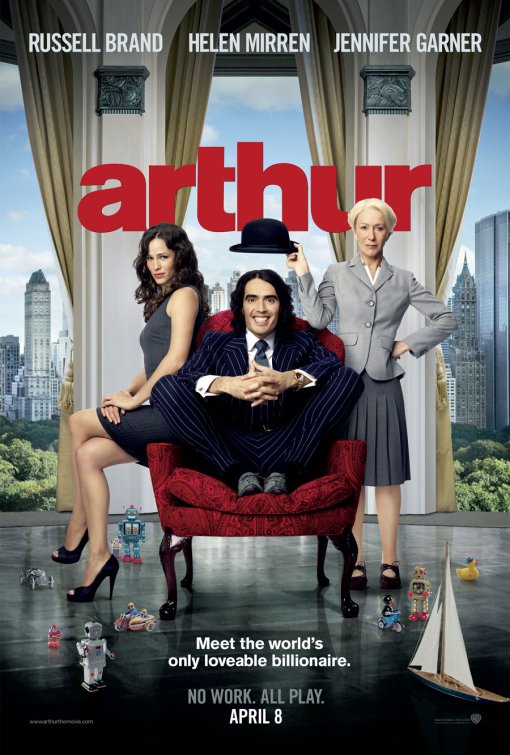 "Three decades of skyrocketing income inequality have soured the comedy of Arthur's astronomically expensive self-indulgences." Chicago Reader J.R. Jones
Nobody likes rich drunk assholes anymore?
"A flat but innocuous redo of an aggressively heartwarming film that hasn't aged well since its 1981 release. If you're not expecting much, it's not too bad. And if that sounds like faint praise, well …" Matt Soergel Florida Times-Union
If faint praise is all you can offer, let's switch to loud insults.
"Throughout, Brand's Arthur looks ready for photo shoots, with his clear complexion, tailored suits, and neatly tended tresses. Moore often looked like his face was going to slide off his head." Wesley Morris Boston Globe
"The limp-d— remake of 1981's Arthur – starring Russell Brand in the happy-drunk role indelibly created by Dudley Moore – sounds promising, but it ends in disaster." Peter Travers Rolling Stone
I wonder how much of that review parallels Gaddafi?  I'd ask him, but I don't trust myself in conversations that begin with "Your Highness (Rotten Tomatoes – Metacritic)."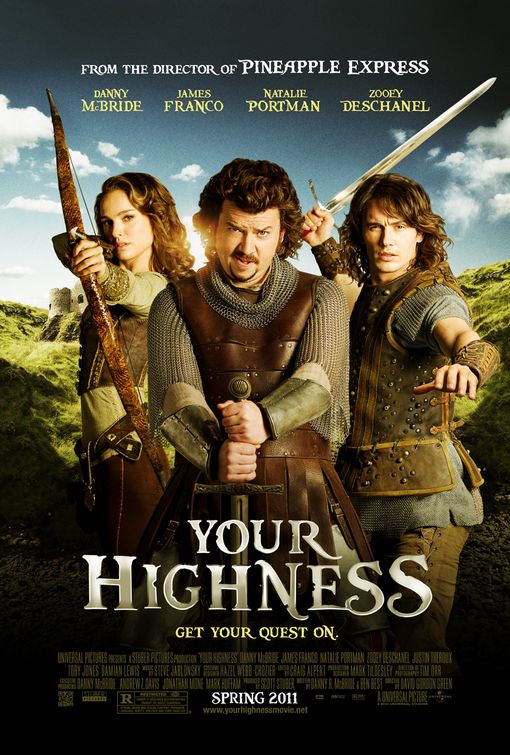 "A radioactive turd disguised as a sword-and-sorcery comedy." Ty Burr Boston Globe
Considering the attractiveness of Portman and Franco, it's a pretty good disguise.
"After the first 15 laughless minutes, I heard my hopes tinkle to the ground like the lifeless shells of so many fairies struck dead from lack of applause." Brian Juergens CampBlood.org
"It sounds idiotic, and it is, but in a good way, if you get my drift." Marc Savlov Austin Chronicle
The above picture was meant to be amusingly idiotic, rather than offensively vulgar.  If there's drift to be caught, I hope you did.
"Not every joke in the script by Danny McBride and Ben Best revolves around the word "f**k" – just every other joke." Marshall Fine Hollywood & Fine
I suppose it could be worse.  Every other joke could revolve around words that aren't interesting enough to censor.
"By trashing fairytale propriety, Green and McBride personalize the genre enthusiasm of the Star Wars generation." Armond White New York Press