Attach Strings The Back Way
on
January 21, 2011
at
11:44 am
It's January.  It's cold.  Last week, the news reported that there was snow in 49 of 50 states.  You'd think this would be a good time to release quality movies, giving citizens a welcome distraction from natural and economic hardship. Instead, January is known as a rotting buffet of entertainment leftovers.  This week, the 'January dung heap' reputation is put in question, but in no way reversed.  Perhaps Hollywood is afraid to elicit criticism after Ricky Gervais mocked its elite into a temporary hibernation. While celebrities wait for something else to land in the media's shit spotlight, the rest of us can hope for bad news and/or better weather.  Come on Hollywood, just put something out with basic entertainment value, No Strings Attached (Rotten Tomatoes – Metacritic).
"Kinda like When Harry Met Sally, just with less friendship, more sex and not much of a story." Matt Pais Metromix.com
As far as comparisons go, you can't do much better.  When Harry Met Sally is the Shakespeare of Rom Coms.

"Apparently dirty enough to earn an R rating – but not dirty enough to be satisfyingly funny. Thoroughly mediocre, but in a comforting, warm-bath sort of way." Marshall Fine Hollywood & Fine
In this weather, it's difficult to imagine looking at a warm bath and thinking "that's going to feel mediocre."
"It takes a gimmicky premise, about two people who try to have a purely sexual relationship, and then fulfills it without distorting or bending the characters around a formula." Mick LaSalle San Francisco Chronicle
"Portman is herself partly to blame. Nobody with an upwardly mobile career who is suddenly being taken seriously should co-star in a movie with Ashton Kutcher." Rex Reed New York Observer
Boy Rex, you sure found a way to blame the woman.  Why is she held accountable because her co-star used to play a dumb guy on a sitcom?
"Kutcher and Portman have terrific screen physics, using their 12-inch height difference to considerable slapstick effect." Philadelphia Inquirer Carrie Rickey
Did that review include the specific height difference because 12-inches sounds dirty?
"Remember the "Seinfeld" episode in which Jerry and Elaine try to become friends with benefits, and set up unsustainable ground rules for their new arrangement? Imagine it rewritten by the Romantic Comeditron 2000 as a profanity-laced schmaltzfest, and you've got this tone-deaf dud." Time Out New York Nick Schager
Inherent in that review was the assumption that the Romantic Comeditron 2000 would only produce bad comedy scripts.  But what if they were good?  Once you replace creative human minds with savvy computer programs, it's going to be difficult to find The Way Back (Rotten Tomatoes – Metacritic).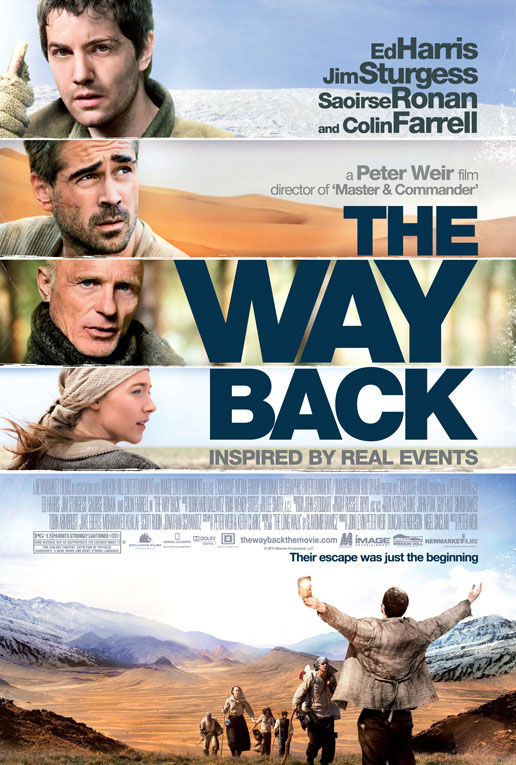 "It's an admirable and sweeping epic about a feat of human survival once thought factual, and the story is no less harrowing now that those facts have been called into question." William Goss Orlando Weekly
Does it seem more real now that it might be fake?  Or, has doubting reality has never felt more true?
"The scenes of brute survival – hunting for food, improvising shelter, making wind-and-snow masks out of sheets of birch bark – are vivid. The men are not." Lisa Schwarzbaum Entertainment Weekly
"How many new ways can you dramatize icy gales, parched deserts, agonizing thirst, shimmering mirages? And how do you step up the pace of a story that's about people walking?" Joe Morgenstern Wall Street Journal

By making them run?
"A two-hour-plus epic of survival and endurance that stretches six characters and a few patches of terse dialogue over 140 minutes of spectacular wide-screen landscapes." Gary ThompsonPhiladelphia Daily News
"It's impossible not to cry at their suffering, but whether you'll feel anything is another story." Manohla Dargis New York Times