Barney's Hornet Dilemma
on
January 14, 2011
at
4:43 pm
When I selected this title (out of the two options I could come up with), I had the mental image of the unknown actor inside the Barney costume, stepping into his personal purple plush purgatory only to find it stuffed with a cruel amount of angry hornets.  In this hypothetical, he should be wary of the red bugs, they're going berserk, but he might be safe if he sees The Green Hornet (Rotten Tomatoes – Metacritic).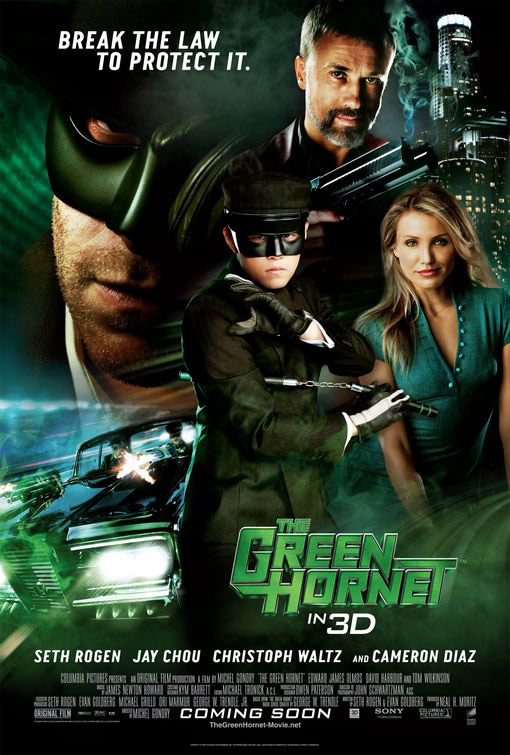 "All buzz, no sting." Nell Minow Beliefnet
Did it try to float like a butterfly?
"While it may not ultimately prove memorable enough to launch a new film franchise, The Green Hornet is still a fun action-comedy and clever superhero satire that's about as close to a cool summer movie as you're going to get in the dead of winter."  Jim Vejvoda IGN Movies
"The picture has no reason to exist, yet exist it does, thus between movies that might be good and movies that might be exciting, it fills this unenviable slot as neither." Walter Chaw Film Freak Central
It sounds like the film achieved existential neutrality previously attainable only through mathematical means (both kinds).
"It's a strange, shapeless, rarely satisfying, but generally amiable movie in which everyone appears to be faking it as they go along, and almost-almost-getting away with it." The Onion A.V. Club Keith Phipps
"Hiring this sensitive fantasist (Gondry) to make the superhero saga The Green Hornet is like hiring satirist John Waters to make "Rambo." Hard to think of a more mystifying mismatch of filmmaker and material." Philadelphia Inquirer Carrie Rickey
How about Tim Burton updating Casablanca?  Or Quentin Tarantino remaking The Goonies?  How do you decide which mismatch is the most satisfyingly mismatched?  That is The Dilemma (Rotten Tomatoes – Metacritic).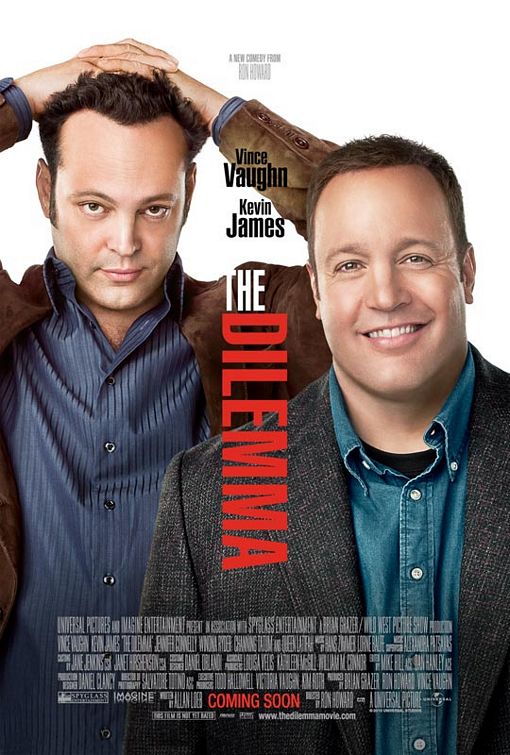 "The true dilemma of this misguided seriocomedy lies in the filmmakers' confusion as to whether they're making a side-splitting bromance (nope) or an unsparing, warts-and-all look at screwed-up relationships (sort of)." Justin Chang Variety
Speaking of mismatched actors and material, if it's not a comedy, why does it star two comedians?  And if it's only half a drama, why is it directed by Ron Howard?
"A comedy that seems terrified to acknowledge its darker, more sinister self, it's like an overmedicated patient or an addict in dread of relapse." Wesley Morris Boston Globe
"How are the mighty fallen…unavoidably second-rate…a likable guy goes completely bonkers, and it isn't funny…Tatum charmingly steals his scenes with Vaughn, revealing how limited the actor is…Definitely aimed at males, the movie is quite misogynistic." Anne Thompson Thompson on Hollywood
That felt like…a sleigh ride…down someone else's… slippery slope argument.
"Even though The Dilemma fails as a whole, there's enough ethical brain teasing and character-based conflict to warrant an unenthusiastic recommendation." Mark Keizer Boxoffice Magazine
"The dilemma of The Dilemma is that the conundrum at the center of the story isn't particularly hilarious." Entertainment Weekly Lisa Schwarzbaum
Similarly, my hypothetical Barney situation in the introduction wouldn't be very funny for the guy inside the suit, at least that's Barney's Version (Rotten Tomatoes – Metacritic).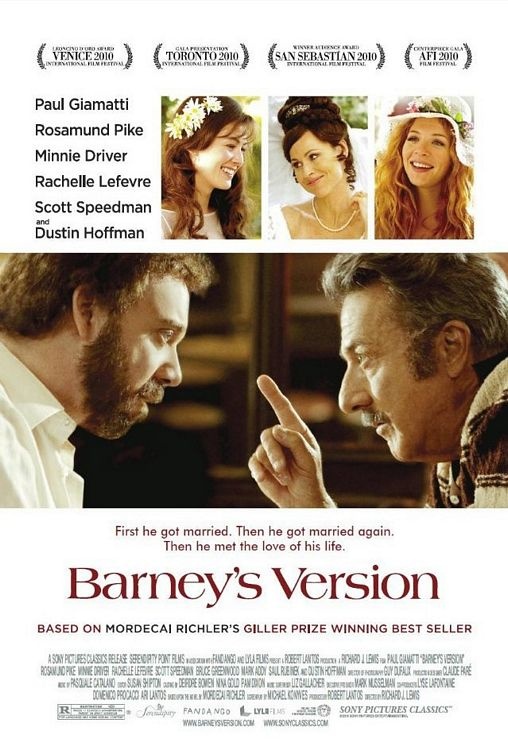 "Whatever the film's flaws, and like its protagonist, there are times when things get a bit out of control, watching Giamatti use Barney to wrestle with success, failure, friendship, love and increasingly with time is exhilarating." Los Angeles Times Betsy Sharkey
While watching Barney wrestle failure and time sounds exhilarating, I doubt he's got much of a chance at winning.
"What the filmmakers have done so artfully is strip the story down to the bare essentials of the most significant loves of Barney's life and how his behavior, both good and bad, never stops rippling across that universe." Betsy Sharkey Los Angeles Times
Perhaps I was too myopic in my initial prediction.  Any wrestler who can send ripples across the universe might have the chops to battle abstract concepts.
"Paul Giamatti, dialing down his trembly-voiced neurotic energy to good effect, gives a holy hell of a performance…" Owen Gleiberman Entertainment Weekly
"This is a wry mini-epic, the sort of movie that grapples with big subjects — issues of Jewish identity; the sliding scale of one man's morality; the devastating effects of losing friendship and love — one sardonic joke at a time." Stephanie Zacharek Movieline
Personal note: I spent the better part of an hour researching various sardonic forms of humor.  For a full second, I considered paying $45 to license a great comic example before deciding to quote Steven Wright, the poster child of sardonicism, who wisely reminds us: "You can't have everything.  Where would you put it?"
"It's the rare feature that can offend and charm at the same time, that can take a man who always plays the acerbic loser and make the same theme seem fresh." Monika Bartyzel Cinematical