Beginning Submarine Class
on
June 3, 2011
at
5:29 pm
You have your choice of three good movies this weekend, though you probably haven't heard of two of them.  That being said, I must announce there won't be a roundup for the next two weeks due to my cross country move with all my worldly possessions.  With all my junk, I may have to consider other options if the truck is too small, like a freight train, mercenary aircraft, or a commercially-available Submarine (Rotten Tomatoes – Metacritic).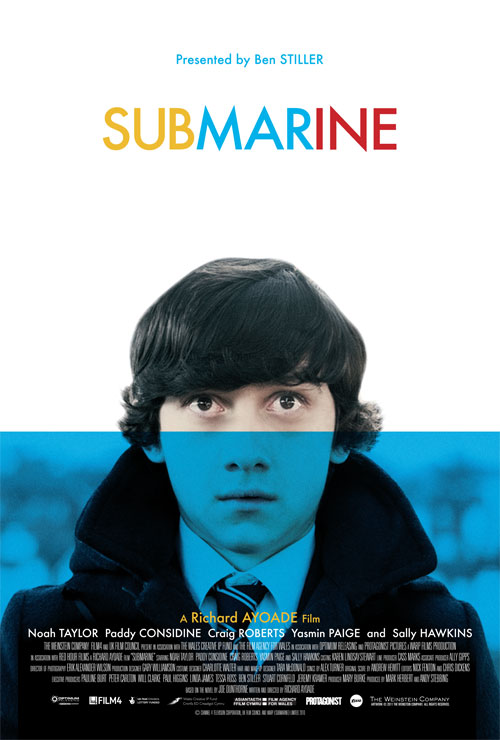 "Succeeds by perfectly recapturing the way teenagers behave, the forced pretense of their actions, their deadly seriousness in dramatizing what amounts to minor emotional damage." Jesse Cataldo Slant Magazine
Luckily, teenagers have plenty of time left to experience major emotional damage.
"…plays an awful lot like "Rushmore" with a dash of "son of Rambow" thrown in…Newcomer Craig Roberts appears to have modeled his performance on "Harold and Maude's" deer-in-the-headlights Harold." Laura Clifford Reeling Reviews
The review skews negative despite the comparison to highly-esteemed coming-of-age classics.  This may be an unintended consequence of not being able to reference movies no one remembers.  For example, the film sounds like a hybrid of Gentlemen Broncos and Catfish in Black Bean Sauce, but that could just be me.
"Submarine may not be epic cinema, but in a modest way, it's close to perfection." Time Out New York Sam Adams
"Submarine is the film Youth In Revolt should have been, an achingly sad yet ribald account of a hyper-verbal oddball's ascent/descent into manhood." Nathan Rabin AV Club
My point about popular examples is suddenly moot if you haven't seen Youth In Revolt.  Oh well, as with many unpaid bloggers, I can still be amused by my failures like most Beginners (Rotten Tomatoes – Metacritic).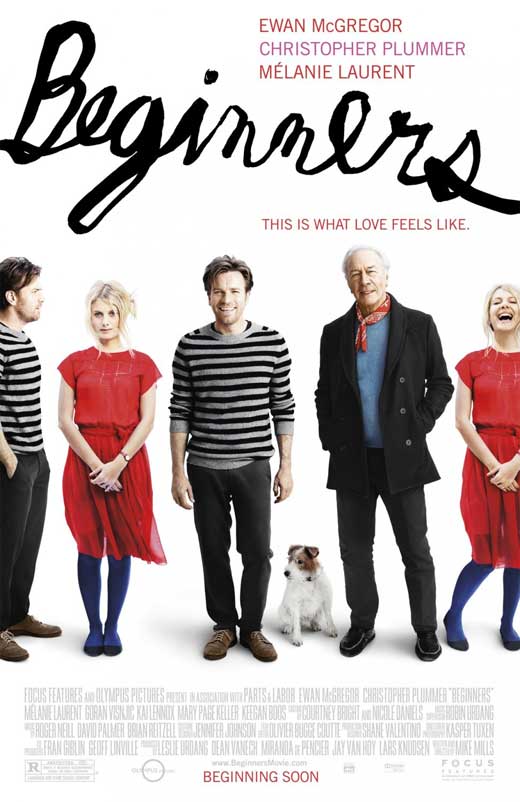 "Beginners is all about beginnings that begin with endings – the point, Mills seems to be saying, is that sometimes you need to say good-bye to make room for hello." Movieline Stephanie Zacharek
Helpful advice from the 'Less Is More' school of thought.
"McGregor goes bone-deep in a performance of shining subtlety. And a never-better Plummer is simply stupendous, refusing any call to sentiment as he shows us Hal's resonant lunge at life. Mills works the same way. Beginners is one from the bruised heart." Rolling Stone Peter Travers
"A sad, sweet, funny and ultimately unforgettable love story about a man and a woman and a father and son, and also ranks among the most affectionate and sensitive portraits of homosexuality ever crafted by a straight person." Salon.com Andrew O'Hehir
I can't tell if that's a dubious or legitimate compliment.  Perhaps it teeters between being a claim-to-fame and shame.
"So Beginners might sound insufferable, but it isn't – or at least not completely. Mills's second feature (after Thumbsucker) has way too many quirks for its own good, although it also flaunts a rare freedom to jump back and forth in time." Village Voice Rob Nelson
Wait, now time travel is involved?  The characters are beginning to sound like the mutant-students of X-Men: First Class (Rotten Tomatoes – Metacritic).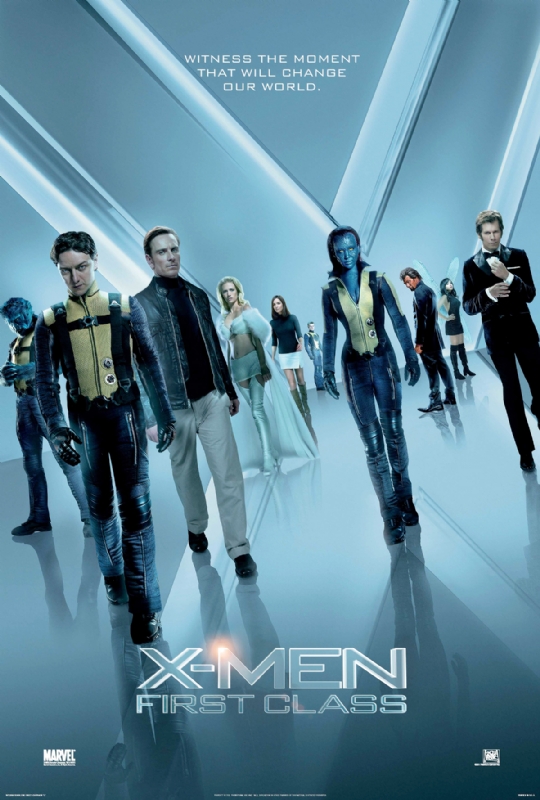 "This prequel draws new energy from supersmart casting, plus the shrewd notion of setting the beginnings of the X-Men saga in the early 1960s." Wall Street Journal Joe Morgenstern
Supersmart casting and energy manipulation imply the film itself has superpowers.  I hope this self-aware movie believes that with great power comes a responsibility to provide great entertainment.
"A fourth movie that feels like a first." Jim Slotek Jam! Movies
Considering the previous prequel (Wolverine), it appears Hollywood has learned another lesson from modern comic books; when you can't go forward, just keep starting over with a new issue #1.
"Erik/Magneto, as played by Michael Fassbender, is, well, magnetic." Peter Rainer Christian Science Monitor
"I know there's no mention of mutants in the Wikipedia entry of the Cuban Missile Crisis, but after watching this movie, you could almost believe there should be." Kevin Carr 7M Pictures
Rewriting history would be another nifty superhero power, but the character would need a paradoxical origin story.
"The finest comic-book flick since 2008's The Dark Knight." Lisa Kennedy Denver Post
Bold claim; perhaps optimism is her mutant superpower.  What say the Brotherhood of Unimpressed Critics?
"It's a strangely talky motion picture that tries to advance several philosophical themes; these would have been more interesting if we weren't already aware of how they will play out in the "future" X-Men trilogy." James Berardinelli ReelViews