Bernie The Safe Pirate Hunts Five Misfit Ravens
on
April 27, 2012
at
2:58 pm
The titles for these review roundups occasionally end up sounding like a premise for their own movie. In this case, Bernie steals and/or plunders people's safes while maintaining an inexplicable need to catch renegade birds. Without knowing why the black birds are misfits or why he wants five of them, all we can do is wish this strange criminal good luck finding The Raven (Rotten Tomatoes – Metacritic).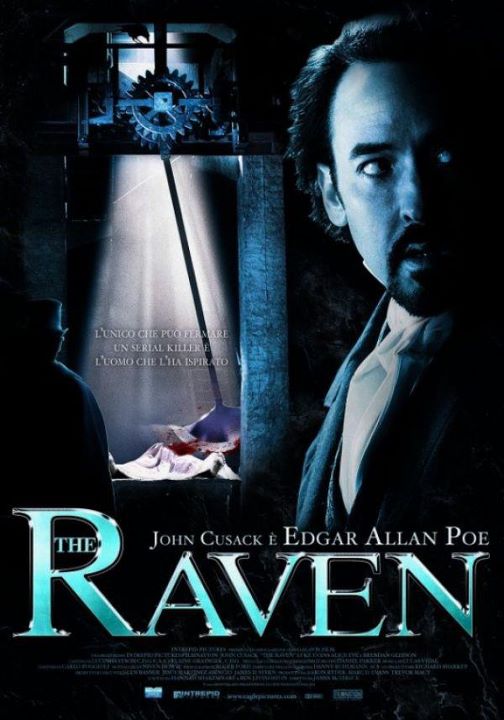 "A grimly preposterous serial-killer thriller set in 19th-century Baltimore, this riff on the final days of the author of "The Tell-Tale Heart" and other masterpieces of the macabre might qualify as literary desecration if it weren't so silly." Ty Burr Boston Globe
Logic check: Can something be too silly to be sacrilege?
"When I heard that John Cusack had been cast for this film, it sounded like good news: I could imagine him as Poe, tortured and brilliant, lashing out at a cruel world. But that isn't the historical Poe the movie has in mind. It is a melodramatic Poe, calling for the gifts of Nicolas Cage." Chicago Sun-Times Roger Ebert
"A dumb and cheesy period potboiler…Quoth this critic: It's a bore." Frank Swietek One Guy's Opinion
Nevermore… is probably what you'd say about nuptials if you experienced The Five Year Engagement (Rotten Tomatoes – Metacritic).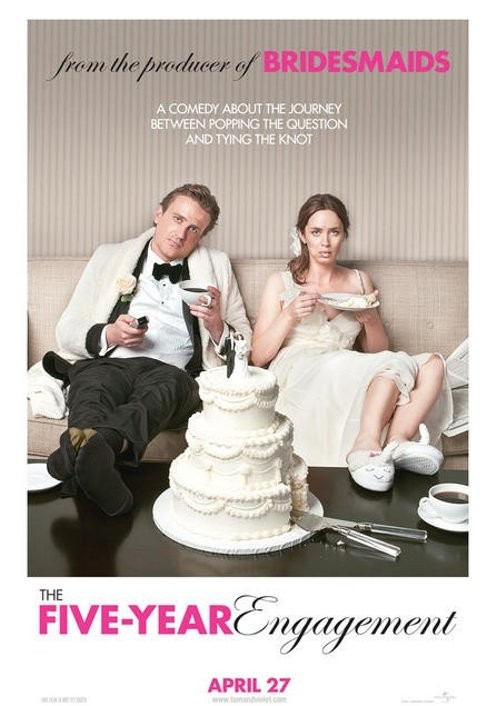 "Comedy means different things to different people, but I'm pretty sure that most everyone agrees that it's best when it's quick and funny. The Five-Year Engagement is neither." Portland Oregonian Shawn Levy
It's slow and serious?
"Stoller and Segel don't shy away from rational, relatable adults, which may be an unsexy selling point for a romantic comedy, but that attention to authenticity elevates the likable, low-stakes The Five-Year Engagement." Austin Chronicle Kimberley Jones
"It's the sheer lack of investment one feels for the couple that truly sabotages the film." Boxoffice Magazine Nick Schager
There's no drama in 'will they make it?' if nobody cares if they make it.
"By the 90-minute mark, I was ready for a divorce, but based on the steady squeals of laughter around me at a preview screening, may have been in the minority." Mary F. Pols TIME Magazine
Whereas the steady squeals of (s)laughter might be the work of some Headhunters (Rotten Tomatoes – Metacritic).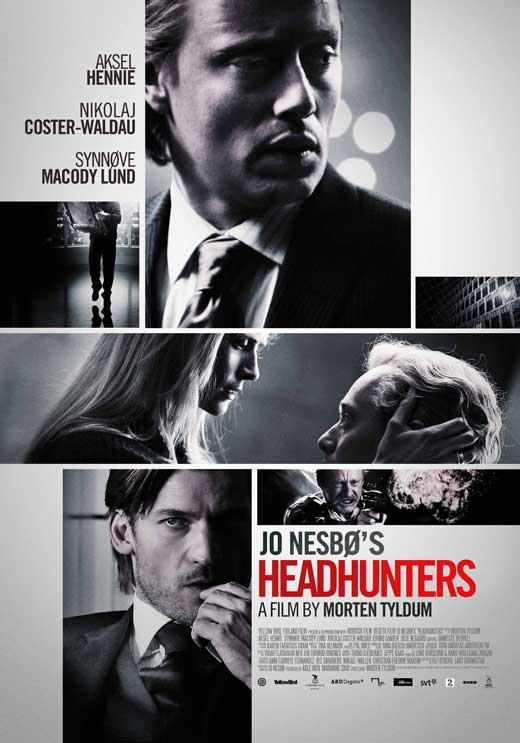 "'Headhunters' is smart, funny, scary and surprising, so it's hardly any wonder that an American version is in the works. The big question is whether the remake can measure up." Joe Morgenstern Wall Street Journal
Pop-Quiz: Would an American director be flattered or enraged to have his/her work remade?
"A transgenre thriller that glides effortlessly from crisp social commentary through off-kilter comedy to paranoid terror, it's on my short list of the most enjoyable movies in recent memory." Wall Street Journal Joe Morgenstern
"The compact Hennie is a wonderful actor, smoothly congenial when confident, uproarious when rattled. And he will be rattled-as well as stabbed, shorn, bitten, mangled, and worse." New York Magazine (Vulture) David Edelstein
Given that list of expected pain, the guy should try harder to be Safe (Rotten Tomatoes – Metacritic).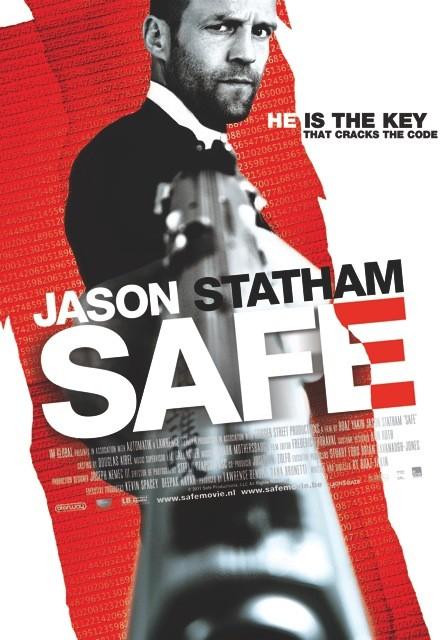 "A preposterously enjoyable – or enjoyably preposterous – action-thriller." Village Voice Aaron Hillis
Also thrilling-action and action…thrilling?
"There's nothing terribly original about Safe, but it's a suitably grimy playground for action cinema's reigning pit bull." Los Angeles Times Robert Abele
"Yakin wants you to feel (and hear) every broken bone, snapped and cracked skull." Gary Thompson Philadelphia Daily News
Thanks Yakin. Have you met Bernie (Rotten Tomatoes – Metacritic)?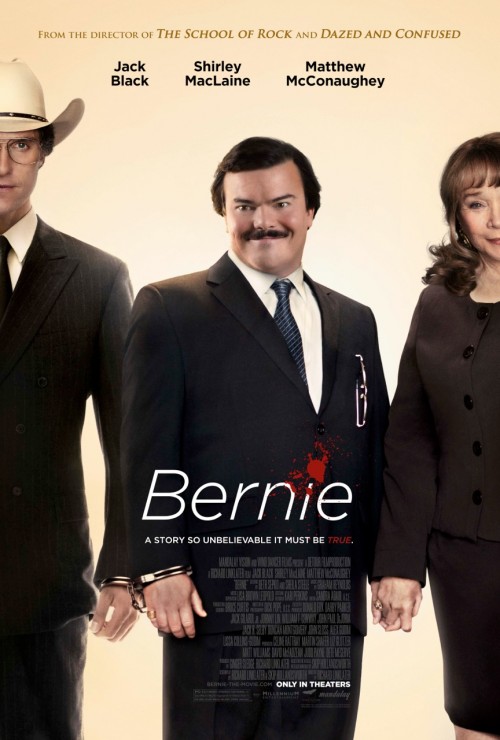 "This is writer-director Richard Linklater at his wry, whimsical best, and considering he was the filmmaker behind 1993's "Dazed and Confused," that makes the movie something of a milestone." Los Angeles Times Betsy Sharkey
To commemorate both films Linklater should get milestoned.
"No use trying to describe Bernie. It's a one-of-a-kind inspiration. You will never feel closer to a convicted killer." Rolling Stone Peter Travers
"Jack Black redeems himself (for Gulliver's Travels, among other things) with a subtly quirky performance that's one of his personal best." Austin Chronicle Marc Savlov
Yes, artistic redemption! I don't know who's responsible for tabulating the karmic pluses and minuses of an actor's resume, but Hugh Grant gets a +1 for his part in Pirates: Band Of Misfits (Rotten Tomatoes – Metacritic).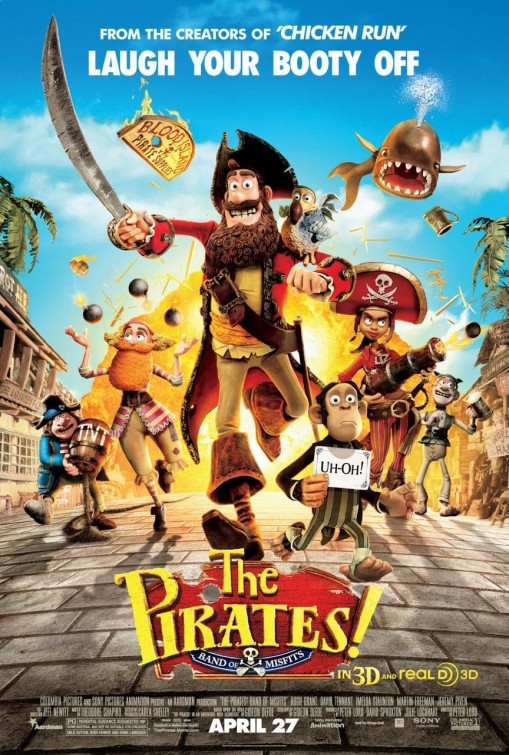 "The Pirates! Band of Misfits is one of the funniest animated films in years, or to put it in terms you scallywags can understand: it's a treasure trove of laughs." Boxoffice Magazine Pete Hammond
Also acceptable: Giggle gold, merry money, and a cache of crack ups.
"The biggest thrill for this mild-mannered crew isn't plundering or plank-walking, but Ham Night." New York Post Sara Stewart
"No one else has come close to translating England's homegrown blend of deadpan and madcap for a younger audience, much less with such impressive Claymated technique. You couldn't ask for better lesson in 'Anglo-Absurdism for Beginners.'" Time Out New York David Fear