Boss Zoo
on
July 8, 2011
at
1:59 pm
Depending on your generational lingo, you either understood the title as a gnarly beast-o-rama to the max or a preserve for viewing different types of business managers.  If you favor the former, check your swatch and make sure it's not set for 1985.  For the latter, join me in imagining the various exhibits of this mildlife park, such as the director's domain, middle manager menagerie, temp turf, and the habitat for Horrible Bosses (Rotten Tomatoes – Metacritic).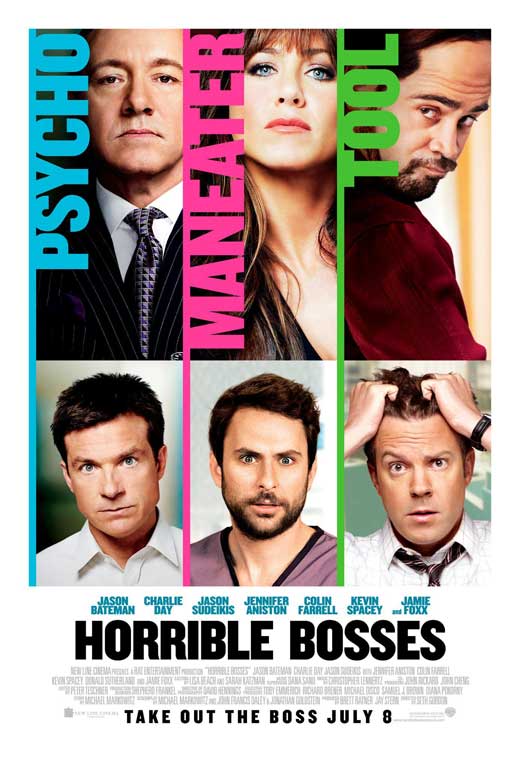 "The three principal actors click. The looseness of the structure actually proves a benefit, allowing Bateman, Sudeikis and Day, all trained on television comedy, to bounce off each other, talk over each other and apparently pull lines out of the air. "The Globe and Mail (Toronto) Liam Lacey
Why do creative people only pull lines out of thin air rather than the other elements?  My rickety question could have just as easily been pulled from fragile fire, wispy water, or emaciated earth.
"The laughs are proportionate to the stakes, which are middle-of-the-road." Boxoffice Magazine Sara Maria Vizcarrondo
"Here's a hit-and-miss farce that leaves you wishing it was funnier than it is. Why? Because it wussies out on a sharp premise." Rolling Stone Peter Travers
Even if the movie is a wuss, do we really need to resort to name-calling?
"Slow-witted, clumsy and almost pathologically reliant on crude name-calling for laughs – Horrible Bosses represents the lowest end of the comedy spectrum." Miami Herald Connie Ogle
Total douche comment.
"With stellar comic timing from the entire ensemble and a dark streak of edgy humor with just enough wit to make it not seem cruel, this is one of the straight-up funniest movies of the year." Brian Tallerico The Deadbolt
Mark Twain wrote "Of all the animals, man is the only one that is cruel. He is the only one that inflicts pain for the pleasure of doing it."  Oddly enough, man and animal share the same cause in the story of a love-sick animal-talking Zookeeper (Rotten Tomatoes – Metacritic).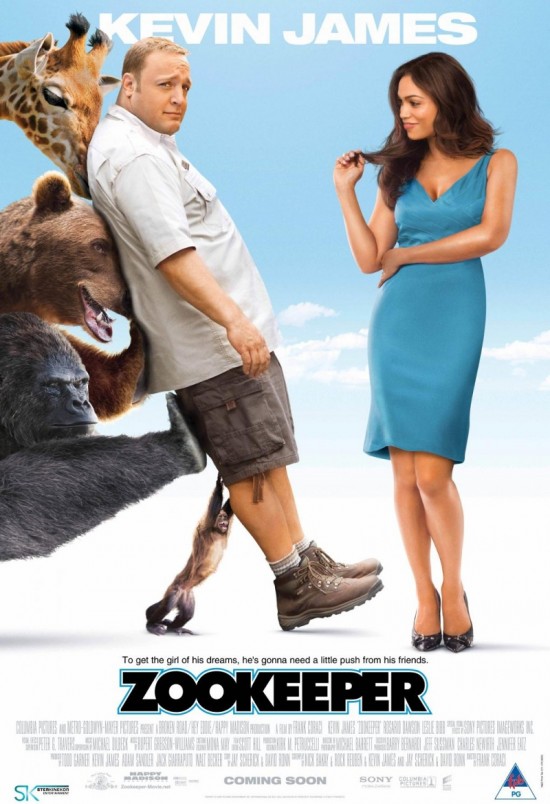 "A children's comedy about talking animals that feels as if it were written by children or, perhaps, by talking animals." Joe Neumaier New York Daily News
Whenever someone talks about 1000 monkeys typing at 1000 typewriters, we never hear the part about the one who got a Hollywood agent for his autobiographical screenplay.
"Offensive to women, men, children, parents, WASPs, Asians, African-Americans, animals and zookeepers … a movie with no conceivable audience." Steven D. Greydanus Decent Films Guide
At last, a film for aliens looking for an excuse to invade our planet!
"Lock the cage and throw away the key. 'Babe' this is NOT." Pete Hammond Boxoffice Magazine
But Babe was never in a cage.  Does this mean we should or shouldn't make Babe into bacon?
"Look, a great movie this is not. A pleasant summer entertainment it is." Roger Ebert Chicago Sun-Times
Would be pleased with phrasing Yoda would.
"It's all mildly deplorable and instantly forgettable. Kevin James remains a potentially appealing movie star – if only he didn't have to be in Kevin James movies. " Time Richard Corliss