Carter's Friends Fish With Words
on
March 9, 2012
at
3:32 pm
Instead of the usual fishing banter of "I got one," "reel it in," and "get me another beer," imagine fishermen (and fisherwomen) replacing bait with directive language. You could summon fish into your boat like you would at a restaurant.  "Hey salmon, quit struggling and give in to death's warm embrace a.k.a. my stomach."  This amazing ability to tell fish stories and create them at the same time is reserved for Carter's friends, which makes you wonder – who is John Carter (Rotten Tomatoes – Metacritic)?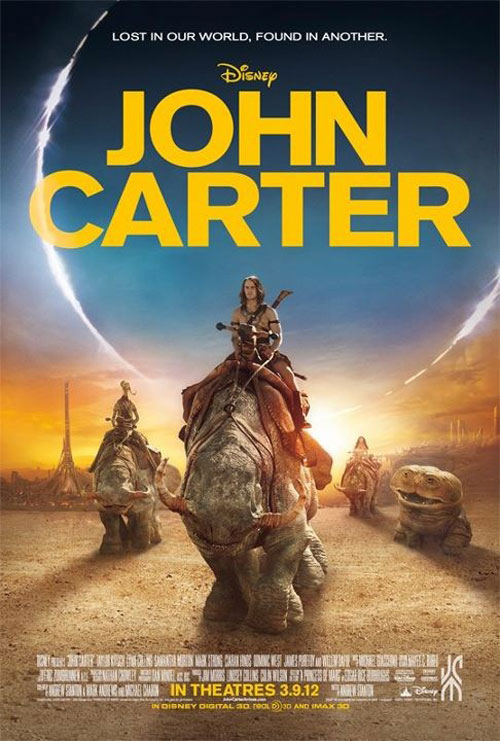 "As film theorist Siegfried Kracauer once wrote, to paraphrase, art often blooms in the most hostile soil. No such luck here." Slant Magazine Jaime N. Christley
Art didn't bloom, but it's hard to blame the soil when it's Disney.
"John Carter manages to be a ridiculous amount of fun, even if you are immune to the charms of Taylor Kitsch (Friday Night Lights) running around in what amounts to a stylish loincloth." Miami Herald Connie Ogle
Even if you hate the star, at least he's in his underwear.
"It is a potpourri of arcane and familiar genres. "Mash-up" doesn't begin to capture this hectic hybrid; it's more like a paintball fight. Messy and chaotic, in other words, but also colorful and kind of fun." The New York Times A.O. Scott
"For all the visual pizzazz and gee-whiz athleticism, it's a bloated bore." Frank Swietek One Guy's Opinion
Perhaps a better approach would have been visual athleticism and gee-whiz pizzazz.
"An oft-confusing, occasionally silly mega-expensive thrill ride that, for sheer audacity, is the biggest thing to come down the cinematic pike since Avatar." Christopher Lloyd Sarasota Herald-Tribune
Wait!  There's a cinematic pike somewhere?  In this place, personifications of movies do wacky jumps and tricks to impress each other. Avatar flips around, crazy blue and in-your-face 3D-styling, and the next "biggest thing" is a high school stud in a loincloth?  Let's wait a little longer, yes?  In the meantime, we could go Salmon Fishing In The Yemen (Rotten Tomatoes – Metacritic).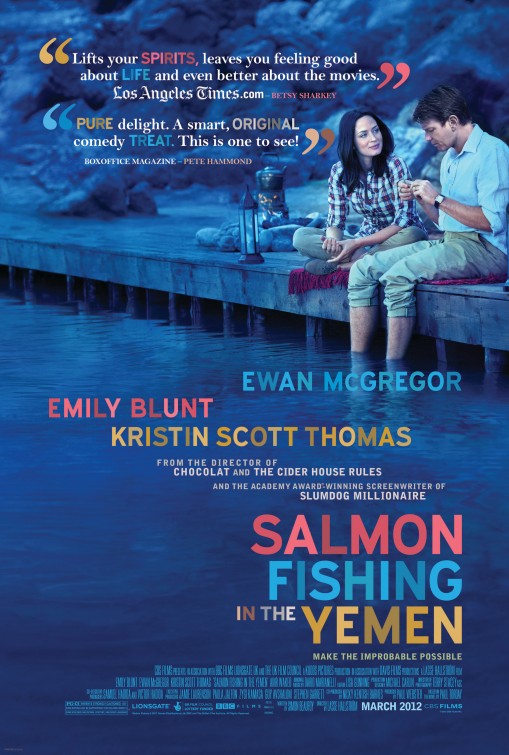 "With most of the book's major themes gutted, it begs the question: Who wants to see a film about salmon fishing in the Yemen?" Peter Debruge Variety
Best guess: Salmon fishermen and people who live in Yemen?
"Quirky romance mixes politics, charm; fine for teens." S. Jhoanna Robledo Common Sense Media
Terse review mixes words, ideas; fine for blurbs.
"Like one of those kitchen machines that can turn nearly any ingredient into ice cream, Lasse Hallstrom has sweetened the satire right out of Paul Torday's side-splitting political sendup Salmon Fishing in the Yemen." Variety Peter Debruge
"Alas, none of it, save Kristin Scott Thomas giving a peach of a performance as a political operative, smacks of real life or vitality. Even when it evinces spasms of life, this film is, more or less, a dead fish." Portland Oregonian Shawn Levy
While the sport is less exciting, catching dead fish is easier and the outcome is the same.
"The science – and the politics – may be dodgy, but director Lasse Hallström crafts a witty, richly textured modern fairy tale that's an irresistible lure." Betsy Sherman Boston Phoenix
The world can never have enough irresistible fairy tales, just ask your Friends With Kids (Rotten Tomatoes – Metacritic).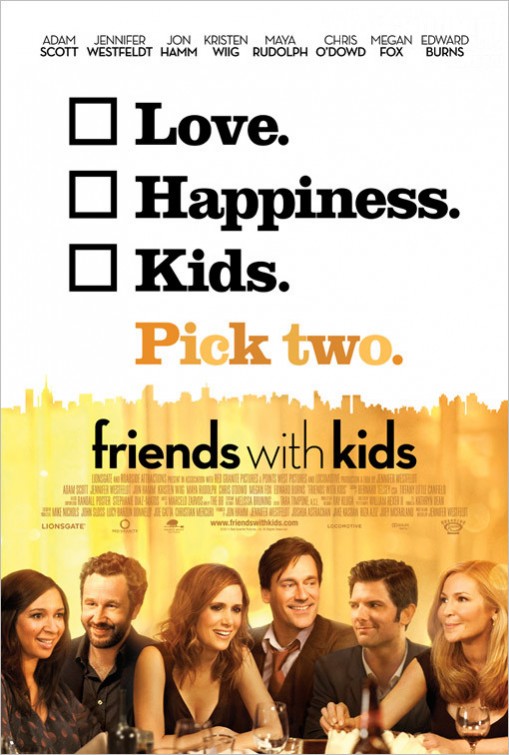 "Even though Friends With Kids is not a movie everyone will identify with, it fills 107 minutes with enough visual popcorn to keep you satisfied." Rex Reed New York Observer
Would the Pavlovian response to visual popcorn be lip smacking or eyegasms?
"Westfeldt takes a topic full of complex emotional shadings and turns it into something that is, for the most part, reductive, cliched and even sitcommy." Christy Lemire Associated Press
I love it when critics get word-makey.
"With the foul-mouthed, largely feminine dramedy Friends with Kids, writer/producer/director/star Jennifer Westfeldt is juggling so much, it's a wonder there aren't more jokes about balls." R. Kurt Osenlund Slant Magazine
"Some sign of mental reach would have been welcome, even if it extended only as far as their children. Indeed, given the title, it's remarkable how little space is granted to the offspring, who are introduced as excretory machines, sex-blocking irritants, and occasional simpering angels, but never as beings unto themselves. Any parents who see this movie should be warned about the final score: Friends 6, Kids 0." The New Yorker Anthony Lane
So long as it isn't: Movie $, Audience screwed.
"Although Westfeldt's sharp screenplay is mostly talk, it's very good talk." Boxoffice Magazine Pete Hammond
Good talk is better than bad, but neither are needed when pictures save you A Thousand Words (Rotten Tomatoes – Metacritic).

"In "A Thousand Words" the camera stays about two inches from Murphy's hyperactive face, and you start to see the strain and desperation in the actor's eyes." Michael Phillips Chicago Tribune
To be fair, if a camera hovered 2 inches from your face all day-all night, how long before you showed signs of strain and desperation?
"The poster art for "A Thousand Words" shows Eddie Murphy with duct tape over his mouth, which as a promotional idea ranks right up there with Fred Astaire in leg irons." Roger Ebert Chicago Sun-Times
Also on the list, armless Arnold, gentle Jackie Chan, and John Holmes in a chastity belt.
"A Thousand Words? I can review this ridiculously bad Eddie Murphy comedy in 500 words." Dann Gire Daily Herald (IL)
"The high point of the movie, for me, was when I got up from my seat and walked over to a guy who was texting in the theater and asked him to shut his phone off." Rene Rodriguez Miami Herald
While I applaud the act, it sounds like the other guy was bored out of his gourd too.
"Every emotion is loudly broadcast, every development repeatedly telegraphed. Kids who can't keep up with the demanding complexities of Sesame Street will be able to follow this one." Tasha Robinson AV Club