Chipmunk Carnage Wreaks Impossible Game
on
December 16, 2011
at
9:07 pm
Damn those chipmunks!  The most memorable thing about them is the name of the most annoying one! After the Squeakquel, I wanted the singing rodents to get lost on a desert island, which happens to be the plot of Alvin and the Chipmunks – Chipwrecked (Rotten Tomatoes – Metacritic).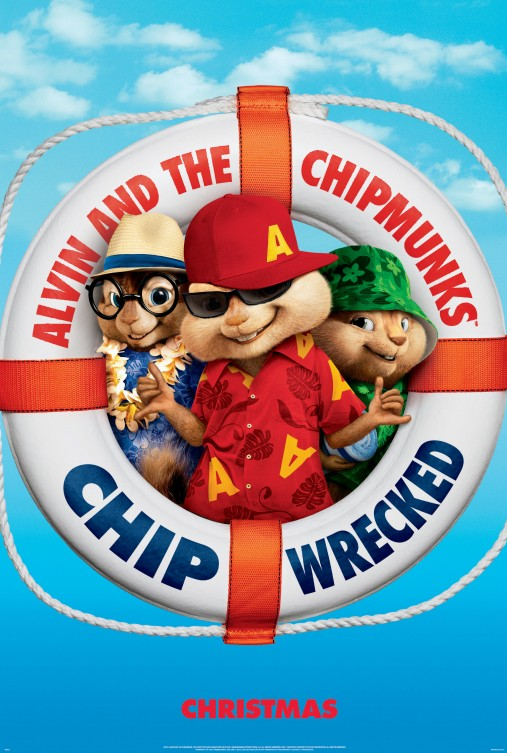 "It's probably quite a few people's idea of hell – being trapped on a desert island with Alvin and The Chipmunks for ear-drum-testing company." Tim Evans Sky Movies
Does that make Alvin the devil?  He does wear red.
"It's an uninspired and instantly forgettable film. But it completely succeeds by its own standards: an 87-minute rainy-day distraction that will probably make a zillion dollars." San Francisco Chronicle Peter Hartlaub
"Well, at least it isn't in 3D." Michael Rechtshaffen Hollywood Reporter
Hooray!  Only two dimensions!
"Puns like these would be unforgivable coming from a human. From high-pitched rodents, they prompt calls for an exterminator."Jake Coyle Associated Press
Is it too much to hope a volcano erupts and makes critter fritters?
"They die horribly." Jaime N. Christley Slant Magazine
Success!  Except the reviewer's next words were "Well, I may have embellished the last part."  They don't die at all!  Horrible!  Is wrong to want kids movies to have more Carnage (Rotten Tomatoes – Metacritic)?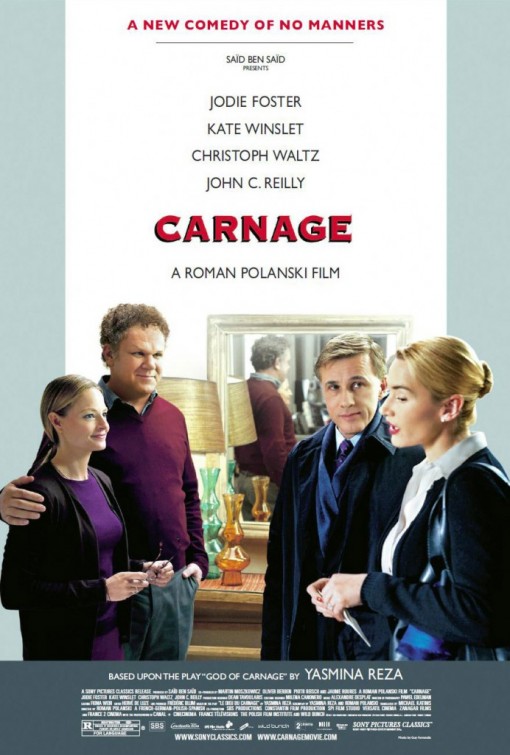 "Snappy, nasty, deftly acted and perhaps the fastest paced film ever directed by a 78-year-old, this adaptation of Yasmina Reza's award-winning play God of Carnage fully delivers the laughs and savagery of the stage piece." The Hollywood Reporter Todd McCarthy
To make it snappy, they killed God…from the title.
"Polanski's interest in the play makes sense, but the real star of the show is the casting director." Eric Kohn indieWIRE
Take a bow Fiona Weir.  Or better yet, cast someone to play you and have them take a bow.
"Foster, Reilly, Winslet and Waltz (four Oscar wins among them) share a preternatural gift for imbuing even the quietest moments with extraordinary, unconventional feeling." Robert Levin Film School Rejects
An ego-blow for John C. Reilly – the only Oscar-contenda.
"Relatively light-hearted for a Polanski film (no one dies), Carnage is fun verbal warfare cleanly filmed." Boxoffice Magazine Vadim Rizov
"The real battle in Roman Polanski's brisk, fitfully amusing adaptation of Yasmina Reza's popular play is a more formal clash between stage minimalism and screen naturalism, as this acid-drenched four-hander never shakes off a mannered, hermetic feel that consistently betrays its theatrical origins." Variety Justin Chang
Huh?  Taken out of context, the author sounds one hand short of a four-hander.  In context, he preferred the play.  If you'd never heard of the play…
"Involving portrait of two couples meeting to smooth out the rough edges of a mutual problem who wind up letting loose all the anger, disappointment, and hatred inside themselves." Frederic and Mary Ann Brussat Spirituality and Practice
And the result is the title. There doesn't appear to be much mystery involved.  Hardly worthy of Sherlock Holmes 2: A Game of Shadows (Rotten Tomatoes – Metacritic).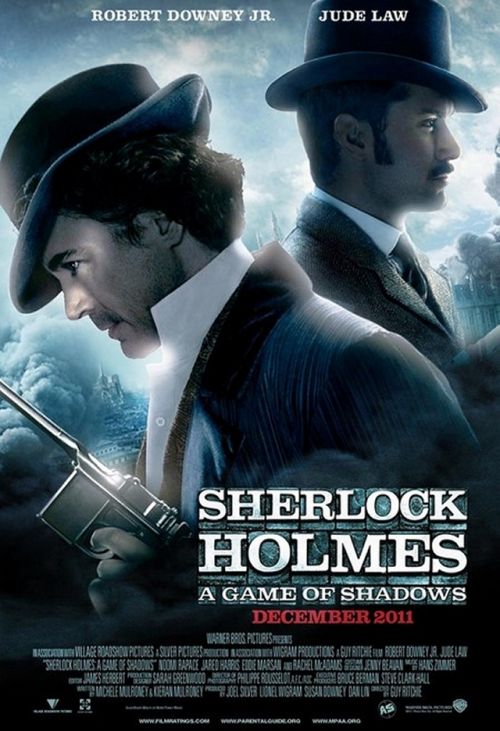 "Faster, funnier and even more bromantic than the original, this far from stately Holmes delivers piping hot entertainment at a furious lick." Neil Smith Total Film
Bromance!  Piping hot!  Lick!  Exclamation points imply accusation!
"Occasionally thrilling, sometimes hilarious and mostly absolute claptrap. Think of it as a lot like drinking a fourth cup of holiday eggnog: Not really a good idea at all, but you might have fun." Salon.com Andrew O'Hehir
"The touches that made the first film a surprise seem to have disappeared. The Holmes/Watson relationship is now shrill, the facade of a mystery story has been chucked for a nation-hopping action adventure, and the volume has been turned up to 12." Devin Faraci Badass Digest
Holy shit!  That's one more than 11!
"Much like the first Sherlock, the good work by Downey Jr. and Law is largely undone by flat humour, stilted action and a dull, breadcrumb-following plot unbecoming of Doyle's beloved detective. The ending, though, is much better than the film deserves." Shaun Munro What Culture
How can a film not deserve its ending?  Did Indiana Jones IV deserve a nuclear fridge beginning?
"After quite a few tedious detours and distractions, when the film finally gets down to the business of a climax at a gathering of elite European diplomats in a precariously perched Swiss mountain castle, it becomes not half-bad." The Hollywood Reporter Todd McCarthy
It's the mystery of the not-half-bad distraction, which sounds like a Mission Impossible: Ghost Protocol (Rotten Tomatoes – Metacritic).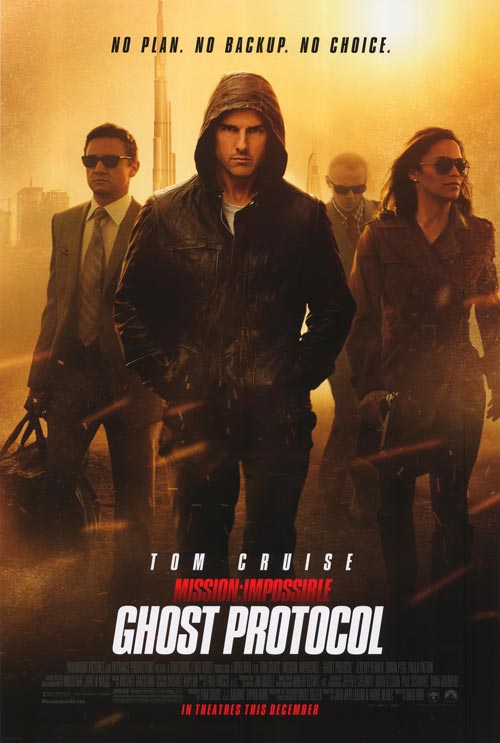 "The wait for a great action movie is finally over. Mission: Impossible – Ghost Protocol is pure popcorn of the highest, most flavorful order, and it's good for you, too." Rene Rodriguez Miami Herald
The taste of flavored popcorn and the nutritional value of vegetables?  Is this more of Tom Cruise's witchcraft?
"Even those allergic to Cruise would struggle to resist his magnetism grinning one-handed from the highest skyscraper in the world, cool as a cucumber, ripped as celery." Catherine Shoard Guardian [UK]
Proud as a tomato; strange as kiwi.
"The film never forgets the truism that this genre can do wonders in papering over its cracks simply by letting you have a good time." Martin Roberts Fan The Fire
"Mission: Impossible – Ghost Protocol is the best film in the franchise so far." Thomas Caldwell Cinema Autopsy
Most franchises get progressively worse with every sequel, but Tom Cruise found a way to perfect his formula.  He can save anything, even a series from himself.
"They really got the 'mission' part of Mission: Impossible right this time… delivers the awesome for the holidays." Fred Topel Crave Online