Dark Moon Crowned "Larry"
on
June 30, 2011
at
11:12 am
When and if moons begin to crave individualism, not all of them are going to want names based on Greek and Roman mythology.  There will be a few that desire scientific accuracy (hello PSR B1257+12 B), others will sell their naming rights to corporate sponsors (greetings iMoon), and some will opt for pedestrian options such as Bob, Mike, or Larry Crowne (Rotten Tomatoes – Metacritic).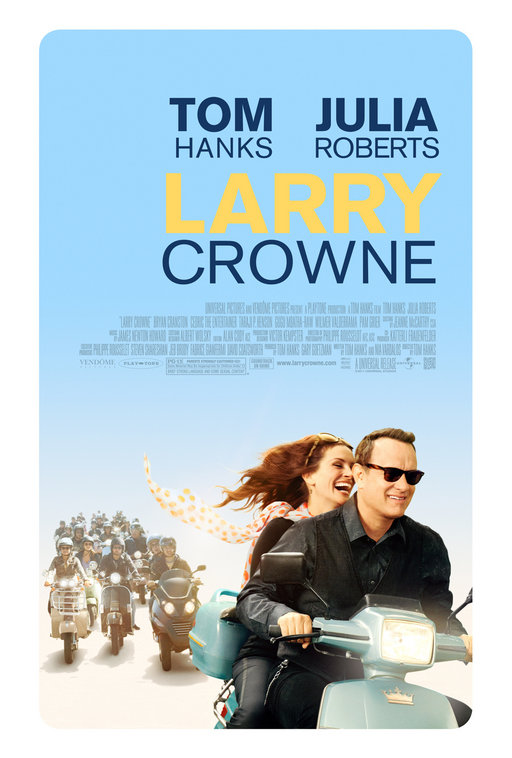 "It's got Tom Hanks, it's got Julia Roberts, and … well, that's pretty much it." Thomas Leupp Hollywood.com
So if you've seen the poster, you've seen the movie?  If that logic holds up, the plot involves a horrible motorcycle accident captured in freeze frame – one tragically happy second before impact.
"This is a film that can only be watched in utter misery. See it, and share in cinema's degradation." Antonia Quirke Financial Times
Any miserable critics want to respond?
"The humanist opposite to Hollywood's self-congratulatory snark." Armond White New York Press
"It's the recognizable geniality in Larry Crowne that both carries the film and which makes it deeply frustrating." Francesca Steele Sky Movies
Damn those irritatingly likeable people!  Their predictable happiness reminds others that it's missing in their lives.
"So nice and upbeat and eager to please that other movies might beat it up on the playground." Josh Bell Las Vegas Weekly
Maybe Larry can recruit giant robots to help repel bullies.  The idea must have some merit since there are three movies about Shia LaBeouf's entourage of biped alien escorts.  The first Transformers (Rotten Tomatoes – Metacritic) hit the sweet spot between blockbuster and nostalgic product placement, but Transformers Revenge Of The Fallen (Rotten Tomatoes – Metacritic) crashed like a segue on autopilot and started the odd trend of putting "of the" in the title, as evidenced by Transformers: Dark Of The Moon (Rotten Tomatoes – Metacritic).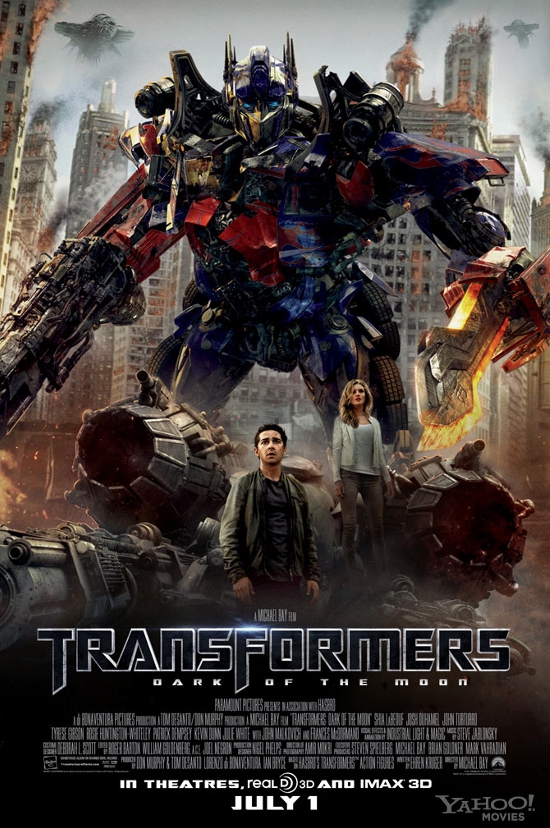 "The best 3D movie of all time –short as that timespan may be, it's quite something." Joseph Proimakis Movies for the Masses
Until we get 4D technology, kids still can't play with the toys on screen.
"You can't say enough bad things about this theme-park ride trying desperately to pass itself off as a genuine dramatic feature film." Dennis Schwartz Ozus' World Movie Reviews
Challenge accepted!
"I would say that this movie objectifies women, except for the obviously deep respect and affection it shows for objects." Rob Thomas Capital Times (Madison, WI)
"A self-important, 153-minute-long spectacle with no feeling, no meaning and a wonky sense of geography." Duane Dudek Milwaukee Journal Sentinel
It's not enough to destroy the world in the film; Michael Bay has to do it twice by teaching impressionable children bad geography.
"Watching Transformers: Dark of the Moon makes you die a little inside. Is this the future of movies? God help us! Michael Bay, you've done it again." Peter Travers Rolling Stone
Michael Bay is trying to kill people with his movies?  Conclusion: He is a Decepticon.
"The result is still like being urinated upon, but at least this time Michael Bay was considerate enough not to ingest asparagus first." Garth Franklin Dark Horizons