Day Kids – Night Barbarians
on
August 19, 2011
at
3:57 pm
Three remakes (two movies, one book) and a sequel.  Welcome to the end of summer movie season.  Each of this weekend's releases promise you something, whether its nostalgia or smell-o-vision, romance or revenge, if you took each movie up on its promise at the same time, you'd have a real Fright Night (Rotten Tomatoes – Metacritic).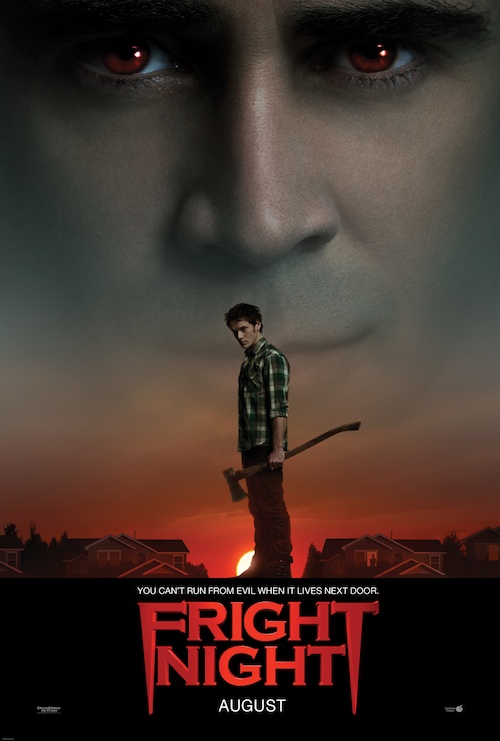 "Fans of the irritatingly limp and relatively toothless Twilight series may actually find their tormented inner selves fondled to exquisite, precoital perfection with this slick and gleeful adaptation of the classic Eighties vampire-next-door flick." Austin Chronicle Marc Savlov
Twi-hards are promised free foreplay.
"One of the minor triumphs of this Fright Night remake is Farrell's coolly assured performance, a cocksure spectacle of masculine virility far more intimidating to his character's victims, male and female alike, than the razor-sharp fangs Jerry uses to munch on human neck meat." Slant Magazine Ed Gonzalez
For modern vampires, being a cocky bastard is scarier than having mouth swords.  Ergo:
"Fright Night joins "Rise of the Planet of the Apes" as proof that you actually can do this sort of thing correctly." Portland Oregonian M. E. Russell
This is how you make remakes, which almost counts as original, since most remakes suck.  It will all make sense, One Day (Rotten Tomatoes – Metacritic).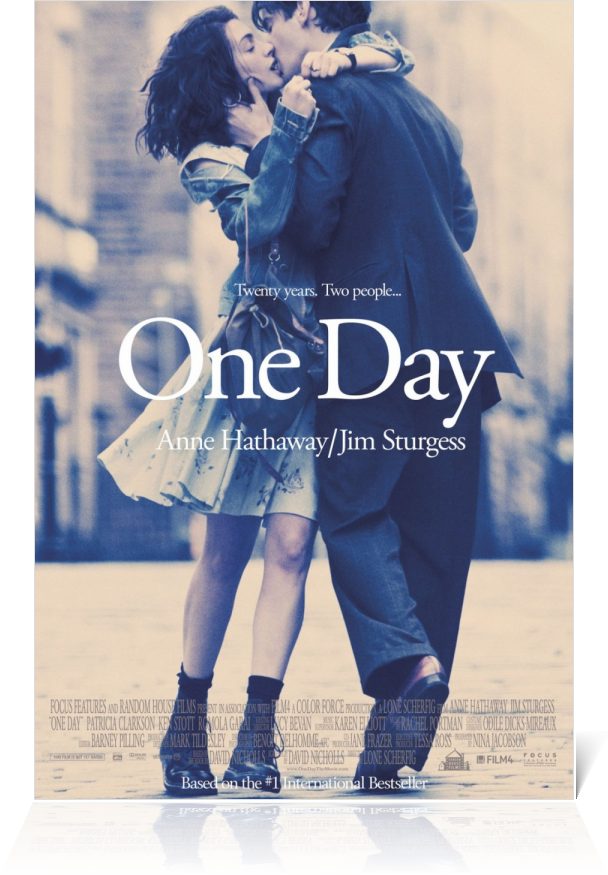 "Anne Hathaway's faux British accent might be the first obvious conceit in One Day, but not its most cumbersome. That distinction belongs to the eponymous structure, a claustrophobic device that follows a pair of best friends over the course of a 22-year period, but only on many versions of July 15th." indieWIRE Eric Kohn
It sounds like a couple's version of Groundhog's Day.
"I might be able to get past that if Hathaway and Sturgess had any chemistry. There are no sparks whatsoever, and that's always a deal-breaker for me in romantic films." New York Post Lou Lumenick
"The two actors are at their best when Emma and Dexter get emotionally naked. It's mildly enjoyable to listen to the self-deprecating banter people use to conceal anxieties, but we connect to them most deeply when they bare their souls." Charlotte Observer Lawrence Toppman
This movie promises a soul full frontal.
"One Day often seems too tame for its own good, as if its spirited protagonists were censoring themselves in deference to a PG-13 rating." Washington Post Ann Hornaday
That was polite of them, or are they just being coy?  The list of people who are neither begins with Conan The Barbarian (Rotten Tomatoes – Metacritic).
"A gaudily ornamented medieval banquet table groaning with junk food and open entrails." Time Richard Corliss
From the perspective of your intestines, is a buffet of guts seen as murder or freedom?
"It's mostly noise and splurch and, as I mentioned, aaaaarrrrggggghhhhh!" Chicago Tribune Michael Phillips
"Morgan Freeman's voice is heard as the narrator, which is in itself the stuff of parody. Then we listen and get lost within two sentences, because the narration is so poorly written that Freeman himself probably didn't know what he was talking about." San Francisco Chronicle Mick LaSalle
This movie promises a terrible narration from an incredible narrator.
"With the most growling and grunting of any movie this summer – and that includes those apes perched atop the box office – Conan the Barbarian seems at times to have actually been made by barbarians." New York Daily News Joe Neumaier
Vikings advertise credit cards and cavemen sell insurance, and now barbarians make movies.  Perhaps history's biggest bad-asses are being recruited into marketing by an industrious casting agent with a time machine.  That ridiculous idea sounds like a plot from Spy Kids 4 (Rotten Tomatoes – Metacritic).
"Life is too short for Spy Kids: All the Time in the World in 4D." Todd McCarthy Hollywood Reporter