Day Raid On The Last Deep Sea Games
on
March 23, 2012
at
2:10 pm
I don't know what the title means, but it sounds like good television. On reality TV or YouTube, human emotion has become a spectacle. We watch each other to see the drama of life, complete with success and defeat, love and heartbreak, and will versus power. With the ever-expanding buffet of entertainment options, it is easy to speculate that (one day) the allure of people watching people will morph into people killing people – which is pretty much the premise of The Hunger Games (Rotten Tomatoes – Metacritic).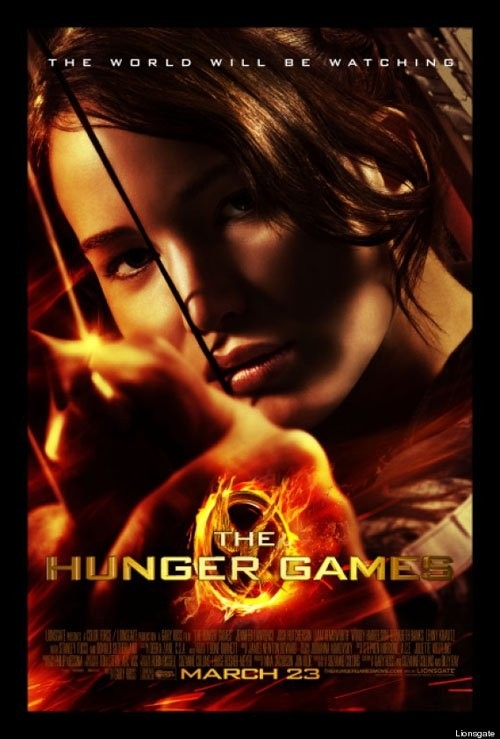 "What's remarkable is the lack of cheese. Tacky effects, corny dialogue and creaky performances are all shown the door. We repeat: not the new "Twilight"." Total Film Matthew Leyland
This franchise-to-be borrowed Twilight's hype engine and (as with potter-heads, trekkies, and twi-hards), future fans need a nickname. Katkissers doesn't work, but haters could be mocking slayers. If we choose the catchiest option, fans are Panerds.
"The Hunger Games takes no risks." Miami Herald Rene Rodriguez
Well, the odds were already in its favor.
"Leaner than "Harry Potter's" adventures, meaner than the "Twilight" saga, The Hunger Games lives up to its source if not entirely the hype." Tampa Bay Times Steve Persall
"The Hunger Games may be derivative, but it is engrossing and at times exciting. Implicitly, it argues that "The Truman Show" might have been improved by Ed Harris lobbing fireballs at Jim Carrey, and it's now clear what "American Idol" was missing all those years: a crossbow for Simon Cowell." New York Post Kyle Smith
If we give Simon Cowell a crossbow, he'll treat the X in the X-Factor as the target, or he'll use it on himself, as in, American Suic-idol.
"While The Hunger Games stops shy of truly transgressive sci-fi, it succeeds as mildly thought-provoking entertainment that presses all the right buttons on its way to box office supremacy." T'Cha Dunlevy Montreal Gazette
It's smart enough to make other action films look dumb.  However, if you want a film that makes other action movies look like rom-coms, you should watch The Raid: Redemption (Rotten Tomatoes – Metacritic).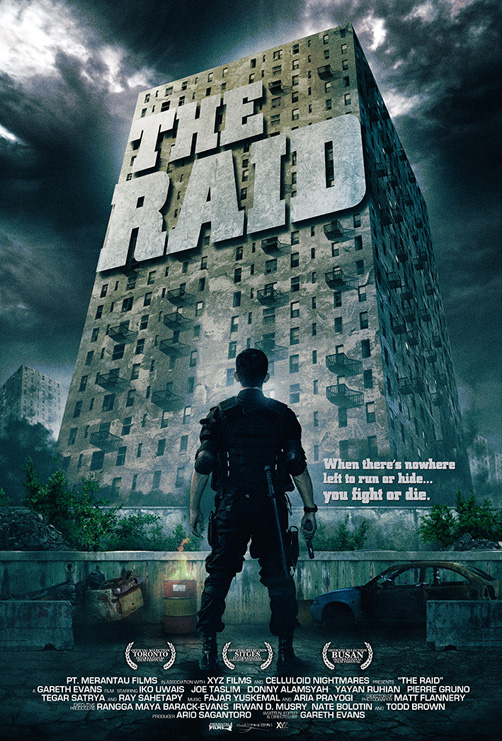 "American action movies are almost entirely defined by cutaways, blaring music cues and grunts. The Raid: Redemption, a hyper-energetic Indonesian martial arts movie, delivers an effective rebuke to that meek norm. Bones break, blood flows and swift, excessively complicated fight choreography puts virtually everything released in North America since "The Bourne Ultimatum" to instant shame." indieWIRE Eric Kohn
Does that mean movies that came out before "Bourne," are put to regular shame?
"This mostly no-nonsense, floor-by-floor ass-kicking panorama is admirably humble." Slant Magazine Jaime N. Christley
It's a humble rumble in the urban jungle.
"For now, Evans can take pride in the fact that he's set the bar for cinemayhem impossibly high." David Fear Time Out New York
"Lean, fast-moving, and filled with game-changing fight sequences that have a brutally beautiful (or beautifully brutal) quality, Gareth Evans's Indonesian martial-arts film The Raid: Redemption lives up to its viral hype." Village Voice Ernest Hardy
Uh oh.  More hyper hypebole, except this time it's beautifully brutal brutality.
"Gareth Evans has delivered one of the most stirring action films in eons with The Raid, a relentlessly brutal and endlessly enjoyable flick that never runs out of inventive ways to kill people." Simon Miraudo Quickflix
Perhaps human beings will run out of inventive ways to kill each other at 4:44 Last Day On Earth (Rotten Tomatoes – Metacritic).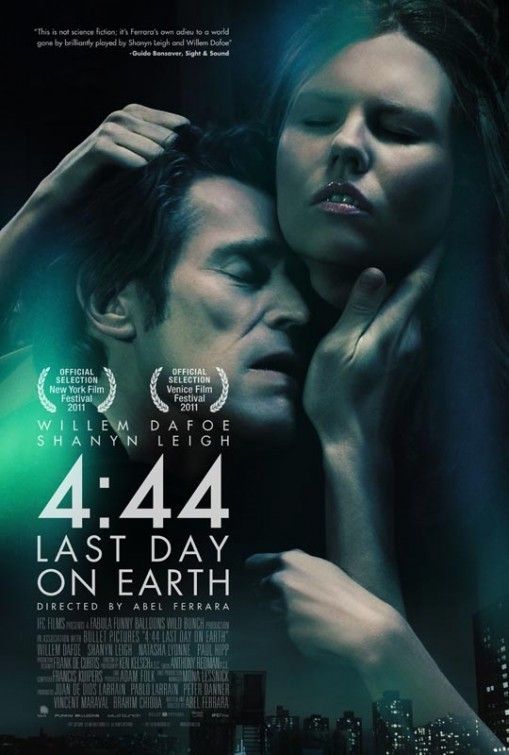 "The improvised dialogue takes hairpin turns, some less fruitful than others, holding onto just enough traces of structure to sustain the film's brief length." The A.V. Club Sam Adams
People use roundabout talking syntax structure?
"An hour into Earth and we're waiting for the film to end, not just the planet." USA Today Scott Bowles
–
Movies about end of the world shouldn't make you impatient for Armageddon.
–
"Your last day – or, as it happens, the whole planet's last day – will be just like every other one. Mr. Ferrara makes this point with ingenuity and characteristic thrift by using found news footage to provide images of apocalypse." The New York Times A.O. Scott
"One of Dafoe's deadbeat friends observes, "The world's been ending ever since it started, man," and you may think the same thing about this movie." Entertainment Weekly Owen Gleiberman
If you measure time like the Universe does, all living things will spend more time dead than alive.
"The mechanics of the pending cataclysm don't interest Ferrera so much as the emotional stakes: How do people act when there's no future left?" Sam Adams AV Club
Answer: Like they've got nothing left to lose and might as well jump into The Deep Blue Sea (Rotten Tomatoes – Metacritic).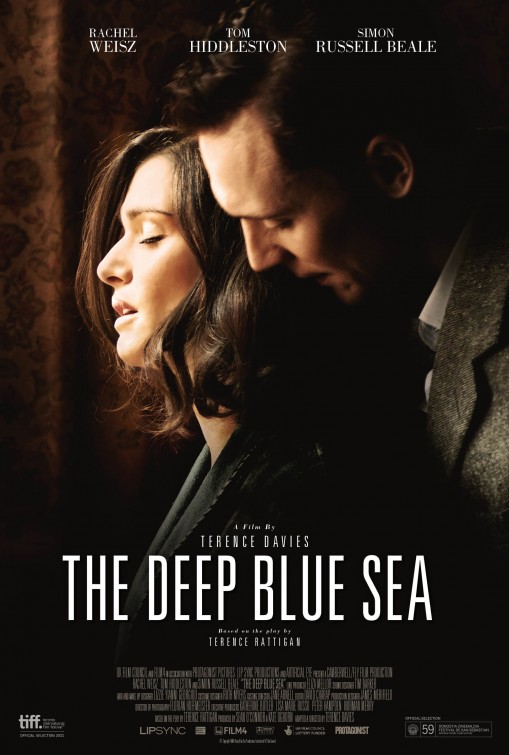 "Beautifully shot and exquisitely designed, this is a powerfully emotional British drama with a terrific central performance from Rachel Weisz, though it's also thoroughly depressing and you might need a good stiff drink afterwards." Matthew Turner ViewLondon
Not during?
"Plumbing disquieting depth, Deep Blue Sea investigates the insoluble dilemma of romantic love: the expectation, contrary to experience, that we can or will find every quality that we want in a single person." Village Voice Nick Pinkerton
"Rachel Weisz's stirring performance allows us in the audience to feel her character's heartbreak." Harvey S. Karten Compuserve
That's an impressive cinematic superpower.  Rather than dumping a girl/boy friend, you could just buy them a ticket to this movie.  Same result.
"The Deep Blue Sea is a suffocating movie, and it's meant to be." Miami Herald Connie Ogle
Forget dumping people, this movie can commit murder!
"There's a suffocating air to The Deep Blue Sea that makes it harder to access than other period romances of its kind, but Davies aligns himself wholly with Hester." The A.V. Club Scott Tobias