Europe's Bel Ami Wants Promethean Guarantee
on
June 8, 2012
at
12:21 pm
What constitutes a Promethean guarantee? Would it be a queue for people to gaze upon the fires of creation? Given that Frankenstein is the modern Prometheus, perhaps the guarantee extends to eternal life (at least for parts of you). As an icon for intellectual and scientific discovery, every generation of dreamers should elect/create their own Prometheus (Rotten Tomatoes – Metacritic).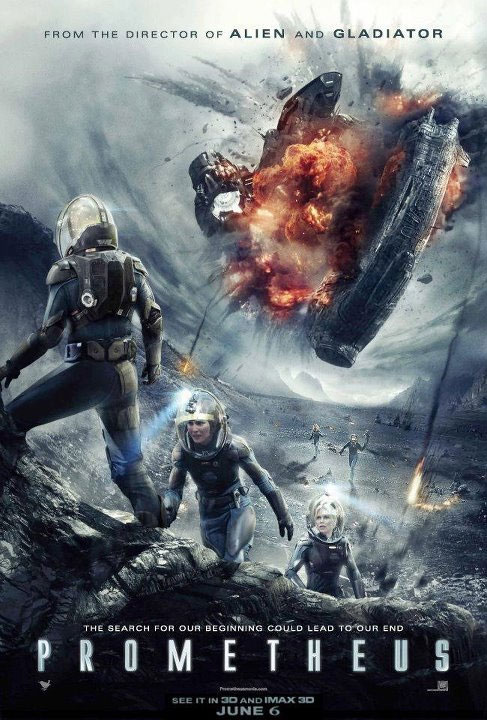 "Prometheus is the antithesis of the "big, dumb summer movie." Its visuals and special effects can stand toe-to-toe with any of the season's spectacles, but are audiences ready for something with an intelligent, thought-provoking screenplay where the action is secondary? Prometheus is flawed, but stupidity cannot be numbered among its missteps." ReelViews James Berardinelli
So, it's a big, smart summer movie?
"In space, no one can hear you having a good time." James Verniere Boston Herald
Correction: In space, no one can hear you.
"We are left, after all the propulsive action, with great turns by Theron and Rapace, and a tightly wound turn by Fassbender, whose eerie, poetically impish mechanical man might have burst from Bradbury's conscience." New York Daily News Joe Neumaier
"'Epic' comes in many forms. Prometheus sports all of them." Matt Patches Hollywood.com
Let's hope the list doesn't include an Epic Fail.
"Ridley Scott has counter-evolved his 1979 classic Alien into something more grandiose, more elaborate – but less interesting. In place of scariness there is wonderment; in place of tension there is hugely ambitious design; in place of unforgettable shocks there are reminders of the original's unforgettable shocks." The Guardian Peter Bradshaw
In place of America's Least Desirable Pets we get Madagascar 3: Europe's Most Wanted (Rotten Tomatoes – Metacritic).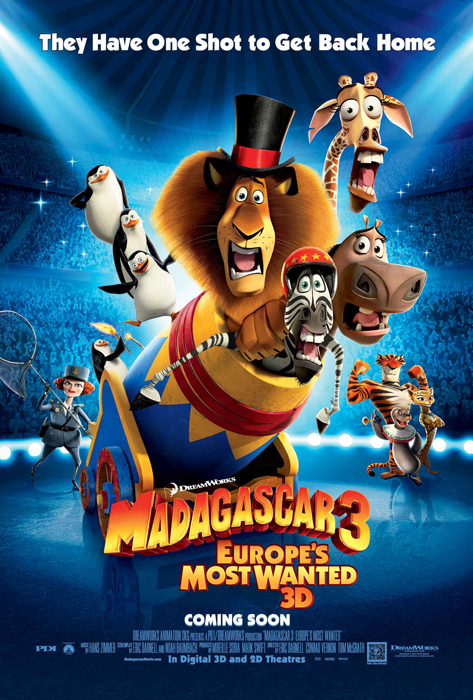 "Europe's Most Wanted is so full of laughs and great characters, it's easily the best in the series. Like "Toy Story 3," the Madagascar gang just gets better with time, and this new adventure is funny, exciting and heartwarming." Boxoffice Magazine Pete Hammond
The best things in life mature with age, like cheese, wine, and animated movies about escaped zoo animals.
"Credit Baumbach, credit the filmmakers, credit no one giving a damn anymore – for what's yet another hyperactive talking-animal children's movie, Madagascar 3: Europe's Most Wanted is uncommonly rewarding, and a potential future stoner's delight." The A.V. Club Alison Willmore
The movie is for future stoners, but not kids or current stoners?
"Madagscar 3 is less interested in plucking the last bit of meat off the series's bones than with simply picking the lowest-hanging fruit." Sam Adams Time Out New York
"Eye candy so saccharine sweet it might send viewers into diabetic comas." Matt Singer ScreenCrush
Eye candy comas and observational diabetes don't sound sweet.
"Deeply, engagingly weird." Alison Willmore AV Club
Perhaps the same could be said of Bel Ami (Rotten Tomatoes – Metacritic).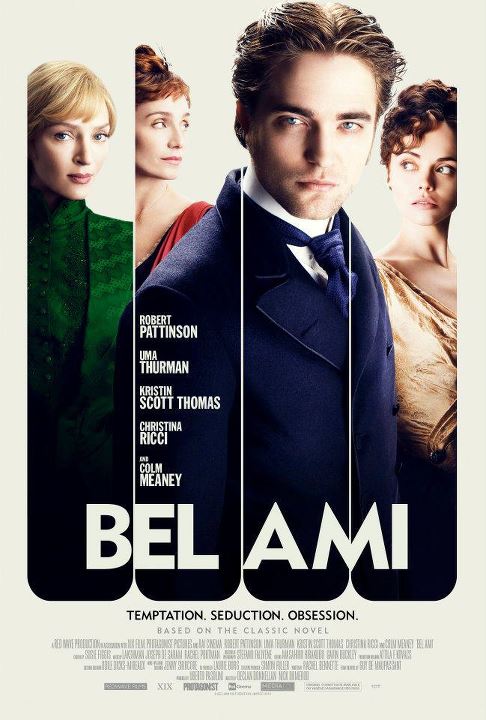 "Though gorgeous to look at, the first feature from Declan Donnellan and Nick Ormerod has an undeniable void at its very center: an utterly blank leading man." Elizabeth Weitzman New York Daily News
I knew the sparkles were just special effects.
"Bel Ami's journey from rags to riches and many warm beds in between has moments of tantalisation, yet is an overall flat experience." Matthew Pejkovic Matt's Movie Reviews
It sounds like his most interesting experiences happened when flat on his back.
"The picture is handsomely staged and easy-on-the-eye but never establishes a fluent pace or tone, while the general point of the story escaped me." Henry Fitzherbert Daily Express
"De Maupassant's story was subtitled "The History of a Scoundrel"; this is more like 'The Summary of a Scamp.'" Keith Uhlich Time Out New York
At least it wasn't "The blurb of a boob."
"'I had no conception of the depths of your emptiness!' a character shrieks in Bel Ami, and her words take on an unintended resonance as addressed to Robert Pattinson in the lead role." Variety Justin Chang
Meta-burn! The characters in the movie mock the actors portraying them. For the rough world of character warfare, it's Safety Not Guaranteed (Rotten Tomatoes – Metacritic).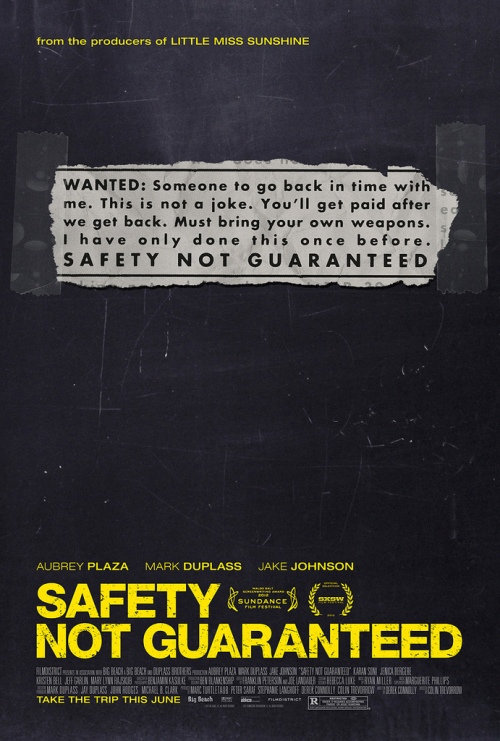 "More focused on emotion than adventure, it teases out the possibilities and perils of time travel without embroiling itself in the confusion inherent to the subject." Jesse Cataldo Slant Magazine
For example, I could have written a truly brilliant comment here, but then went back in time and changed it to this. I won't know why I did it until I do it, which means I'll be confused until I catch up with myself.  Make sense?
"The clever but confused "Safety Not Guaranteed" is loosely inspired by a classified ad, ostensibly seeking a partner for a trip back in time, which became a minor Internet sensation a few years back." Marc Mohan Oregonian
With movies based on poems, books, comics, myths, board games, and theme park rides, why not include personal ads on the list? Next up, Snapple caps.
"Touching, generous, sweet, this little slip of a movie puts you under some kind of spell." Mary F. Pols TIME Magazine
"Totally charming. Aubrey Plaza and Mark Duplass make a wonderful pair. This has real sleeper potential." Chris Bumbray JoBlo's Movie Emporium