Every Hersher Priest Bridesmaid Must Go
on
May 13, 2011
at
1:48 pm
I have no idea what a Hersher priest bridesmaid is, but it might have something to do with Friday the 13th.  Those who fear this day face friggatriskaidekaphobia, while others see the commercial instinct to milk cash out of holiday monotony.  For better or worse, this year's exploitative effort is weak, at least when the spookiest film is about a vampire-killing, weaponized-crucifix-throwing, facial-tattoo-wearing Priest (Rotten Tomatoes – Metacritic).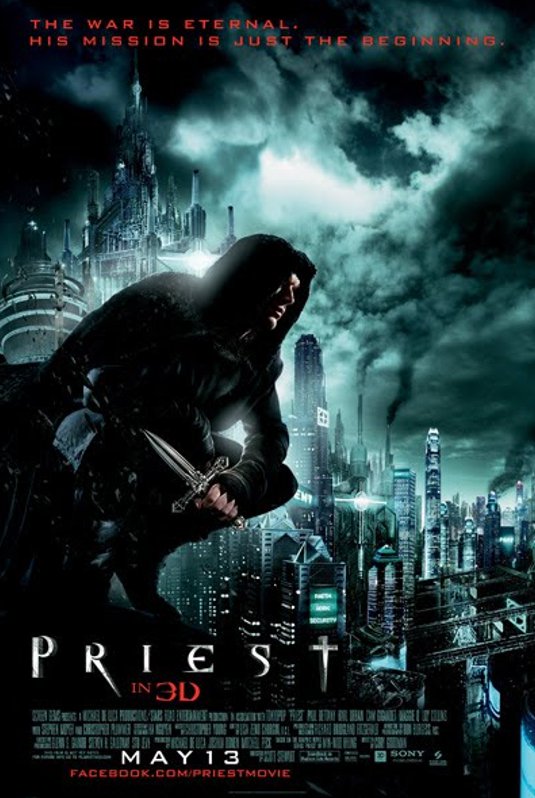 "Did Paul Bettany know, when he donned the cowl of the albino monk in 'The Da Vinci Code', that he would soon be typecast as Hollywood's go-to guy for God-bothering multiplex action movies?" Tom Huddleston Time Out
I apologize in advance to any religiously sensitive readers, but I find the idea of God-bothering inherently problematic.  If he's loving, he'd forgive.  If he's vengeful, there are bigger assholes to torment.  If he's omnipotent, he wouldn't give a damn.
"Doesn't have a prayer." Ray Bennett Hollywood Reporter
Perhaps it would help to confess its sins.
"Drab, eye-rollingly stupid and with noisy effects designed to drown out audience snores, Priest is just about as bad as it gets." David Edwards Daily Mirror [UK]
"[E]ven though it's easy to point out how derivative it is in a lot of ways, it's also sort of thrilling in how spare and clean and unself-conscious it is about itself…" MaryAnn Johanson Flick Filosopher
It's bad and it doesn't care, which is kinda good.
"The over-optimistic promise of a sequel will hopefully be one premise which remains dead and buried. For ever and ever. Amen." Graham Young Birmingham Post
But the idea might rise again in three days…if the weekend receipts are miraculous.
""Priest" is about five beads shy of a rosary." Roger Moore Orlando Sentinel
Other holy analogies considered: four pews short of a parish, three crosses short of tic-tac-toe, and two sins short of needing one prayer.  You might need the latter to see the upcoming, especially if your town is too small for independent films like Hersher (Rotten Tomatoes – Metacritic).
"Too dark for a very broad audience, it will flummox some viewers drawn by its cast but will strike others with its more-than-prickly approach and standoffish humor." The Hollywood Reporter John DeFore
Stubbornly standoffish speakers shouldn't pick the prickliest approach possible.
"Hesher, whose arrival on screen is almost always heralded by a demonic speed-metal riff, is a delinquent sociopath with a heart of gold. That's the false, rather cloying concept behind this smug indie dud…" Owen Gleiberman Entertainment Weekly
Inventive doesn't always mean brilliant, but can you name another movie about a sociopath with a heart of gold?
"Only the great Piper Laurie delivers dollar value. Otherwise, Hesher is to movies what graffiti is to a rotting fence." New York Observer Rex Reed
"The guitar solos blasting from Joseph Gordon-Levitt's sullen, arson-prone wasteoid's van can't drown out the dominant bleat of indie-therapy whine." Bill Weber Slant Magazine
That's the second reference to drowning out noise with other noise.  I wonder if the media is commenting on itself  in the post-Win Bin Laden news vacuum.  Then again, maybe both movies are just too darn loud.  If that's the case, take the van, guitars, and all of it – Everything Must Go (Rotten Tomatoes – Metacritic).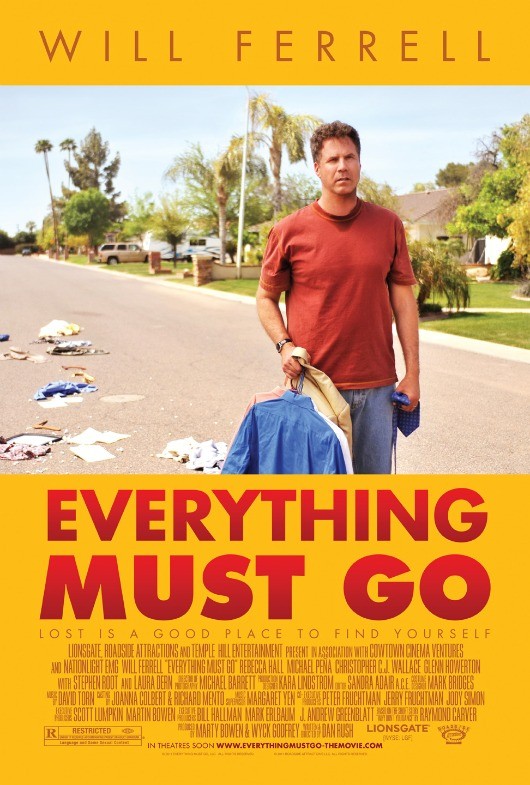 "A suburban sales executive reaches a dead-end and must re-evaluate his life while practicing the salutary art of letting go." Frederic and Mary Ann Brussat Spirituality and Practice
The salutary moral is: when you reach a dead end, empty your pockets before deciding where to go next.
"Will Ferrell is evolving as an artist. Welcome to his blue period." Colin Covert Minneapolis Star Tribune
"…constantly treads the fine line between "incredibly engaging" and "uniquely underwhelming"" Bill Gibron Filmcritic.com
How fine is that line?  It might as well be the difference between a car accident and traffic.
"Ferrell's dryly understated performance is a shorthand for an alcoholic's denial and repressed rage, and as Nick grows increasingly desperate for a drink, he keeps his anger stashed like a last beer for emergencies." St. Louis Post-Dispatch Joe Williams
"A comparison to Carver's original story – called "Why Don't You Dance?," easily Googleable, and all of 1,600 words long – is instructive." Boston Globe Ty Burr
As long as we're offering homework, consider Neil Gaiman's Instructions.
"The results go only so far. Yet already Ferrell has come a long way as a seriocomic screen presence." Chicago Tribune Michael Phillips
Put seriocomic next to rom-com and dramedy on the list.  The limited labels in film genres have lead to a splintered vocabulary.  The same effect happens to books that are part history, part love story, and get placed next to bodice-rippers.  Such nuances should also be considered regarding Bridesmaids (Rotten Tomatoes – Metacritic).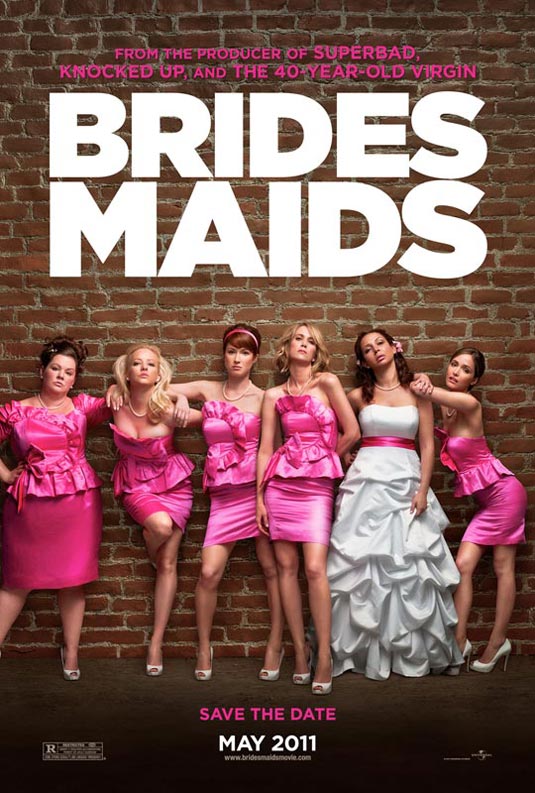 "In an age of increasingly bland, formulaic rom-coms that seem to star the same three actresses, "Bridesmaids" is almost a revelation." Mike Russell Oregonian
It's a prevelation?
"As much a coronation as a wedding, with Wiig emerging as a successor to Lucille Ball and Carol Burnett as the queen of knockabout comedy." John Beifuss Commercial Appeal (Memphis, TN)
Wow.  That review just sold me on which movie to see this weekend.
"She's an Everywoman you can believe in, showcased in the kind of deft comedy of feminine passion – where deep despair meets Wilson Phillips – that a great many people have been waiting for. Now that Wiig and company have built it, will they come?" Entertainment Weekly Owen Gleiberman
"Bridemaids sputters, coughs, and lurches, but it's a winning shambles, buoyed by a sharp, balanced comedic ensemble and some truthful observations about how close friends adapt when their lives fall out of step." Scott Tobias AV Club
For friggatriskaidekaphobics who fear today's calendar number, perhaps they would benefit from seeing life as a winning shamble.
"See it because it's f—ing hilarious."  Slate Dana Stevens