Final Minutes Help
on
August 12, 2011
at
4:44 pm
"Brevity is the soul of wit" according to Shakespeare, so I'm aiming to finish this roundup in 30 Minutes Or Less (Rotten Tomatoes – Metacritic).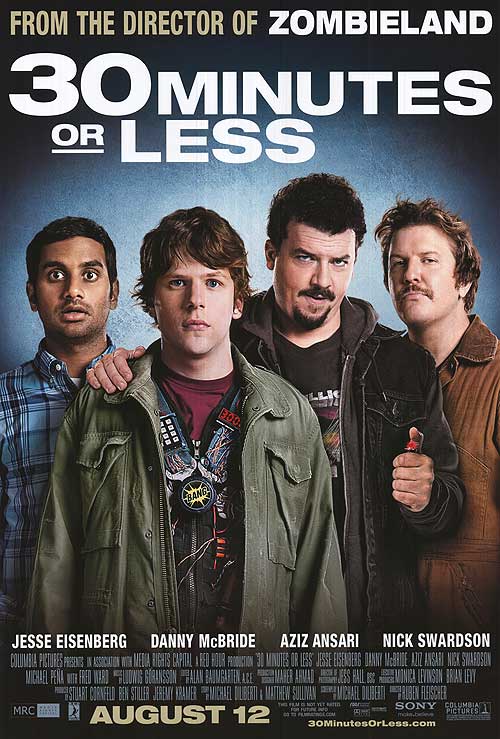 "30 Minutes or Less features about half of a decent idea, which works out OK since it ends up as half a movie." Salon.com Andrew O'Hehir
In a world that was just and fair, or even just fair, we'd only pay half the admission.
"There's nothing nice about 30 Minutes or Less. It's got no redeeming social value. It just ticks away, exploding all notions of where you think it's going to go. It blew me sideways." Entertainment Weekly Lisa Schwarzbaum
Being blown sideways falls somewhere between being blown up and away.
"Like a comedy made out of Legos – the pieces snap together so effortlessly that the makers assumed audiences wouldn't notice just how mismatched the components really are." Marshall Fine Hollywood & Fine
"Moral of the story: If you occupy the demographic that this film is aimed at, Hollywood doesn't have a very high opinion of you. " Roger Ebert Chicago Sun-Times
Exactly the opinion I would expect from the 65-75 reviewer demographic.
"You should get free pizzas for enduring more than 30 minutes of this dud." Matt Stevens E! Online
If marketers should put that quote on the poster, hungry college students would be giving each other high-fives in anticipation of free food.  Then, after a closer reading, they would give each other a sad high-five.  Though the most tragic high five is your last, also known as a Final Destination 5 (Rotten Tomatoes – Metacritic).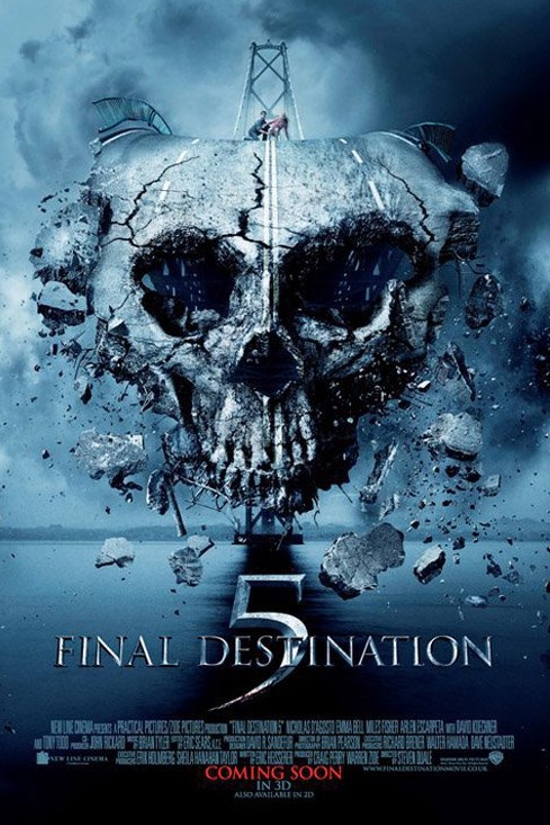 "To borrow from TV terminology, the series hasn't jumped the shark yet, but the strain of inventing bizarre deaths is beginning to show." The Hollywood Reporter Kirk Honeycutt
To borrow Mr. Hollywood's syntax, the franchise has hurdled the dolphin, skipped the seal, and vaulted the otter.  Is the strain of inventing bizarre comparisons beginning to show?

"The cheap thrills wear off way fast, and we're left with atrocious acting, feeble writing and clueless directing (from first-timer Steven Quale). The horror! The horror!"  Rolling Stone Peter Travers
If the movie doesn't scare you, reflecting on its low quality is the next best thing.
"Final? Really? How can something with final in the title have a five after the word?" Gary Wolcott Tri-City Herald
"While it has been made with just enough style to arguably make it the best of the series to date, that still doesn't make it good by any stretch of the imagination." Peter Sobczynski eFilmCritic.com
Unless you imagine the series is good, then you'll like it.

"Easily the most shocking and disturbing movie in the series and if they choose to finally end things here, they would be ending things on a high note." Edward Douglas ComingSoon.net
We know that won't happen.  Hollywood has a compulsion to keep making sequels of horror movies until the franchise becomes a joke.  If this sort of greedy OCD occurred in a person, they would need a psychiatrist or someone else who can provide The Help (Rotten Tomatoes – Metacritic).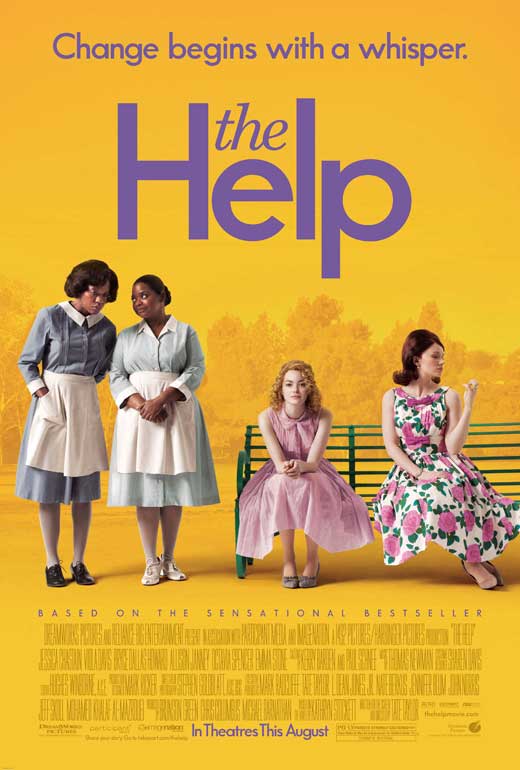 "A stirring black-empowerment tale aimed squarely at white audiences, The Help personalizes the civil rights movement through the testimony of domestic servants working in Jackson, Miss., circa 1963." Variety Peter Debruge
Describing the movie as an inspirational civil-rights story for white people makes me think the only facts will be the locations and dates.
"The performances in this movie are so spectacular that it made my analytical eye fill with tears for the triumphs and sorrows of the people on the screen." Grae Drake Movies.com
Her emotional eye must have been weeping on the floor.

"The Help is a high-functioning tearjerker, but the catharsis it offers feels glib and insufficient, a Barbie Band-Aid on the still-raw wound of race relations in America." Dana Stevens Slate
"Typically, this sort of film is an earnest tear-jerker with moments of levity. Instead, what we have here is a raucous rib-tickler with occasional pauses for a little dramatic relief." The Globe and Mail (Toronto) Rick Groen
Instead of a dramedy, it's a comeda?
"Laughter, which is ladled on thick as gravy, proves to be the secret ingredient – turning what should be a feel-bad movie about those troubled times into a heart-warming surprise." Los Angeles Times Betsy Sharkey