Frankenweenie Takes Buttered VHS
on
October 5, 2012
at
2:13 pm
But what does a re-animated dog do with buttered cassettes? Nobody knows but Frankenweenie (Rotten Tomatoes – Metacritic).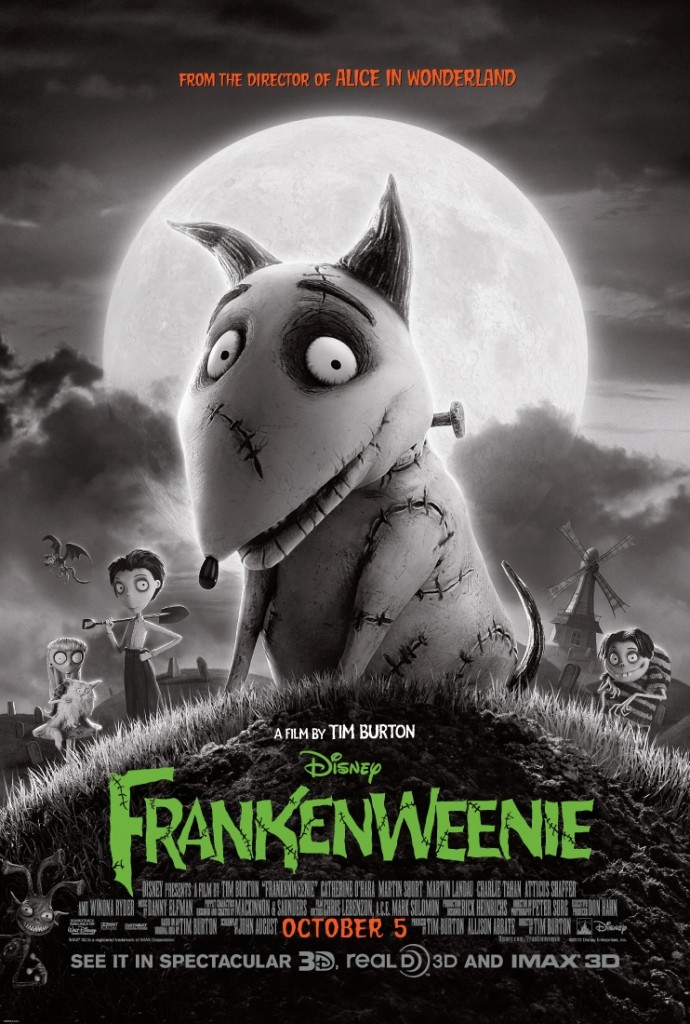 "Darned near an instant classic." Roger Moore McClatchy-Tribune News Service
Close only counts in horseshoes and handgrenades. And nuclear war. And Frankenweenie.
"Perfectly poised for a Halloween release, I daresay Frankenweenie is an instant classic." Staci Layne Wilson Horror.com
I daresay multiple critics think classics can be instant.
"It's not so much a miscalculation of his audience by Burton as it is a disregard. What lingers after Frankenweenie, far more than its stunning technique, is a sad suggestion of solipsism." Philadelphia Inquirer David Hiltbrand
"Even though it's not among his best films, I'm just happy that Tim Burton has finally made a movie I can recommend to people again." Austin Kennedy Sin Magazine
Movie pitch: On the Planet Of The Apes, Batman battles Beetlejuice and Edward Scissorhands. Elsewhere, Alice In Wonderland relives Pee-Wee's Big Adventure searching for Charlie And The Chocolate Factory, Sweeny Todd and Ed Wood catch a Big Fish, and Frankenweenie investigates The Corpse Bride of Sleepy Hollow who casts Dark Shadows. In the finale, Mars Attacks! and Batman Returns. Would you see this movie?
"Visually it's so smart and inventive and downright beautiful that you want to stand up and cheer. Tim Burton's imagination? IT'S ALIVE!" Hannah McGill The List
"This magnificent stop-motion cartoon is alive — "it's alive! — with laughs and heart." Pete Hammond Boxoffice Magazine
It's alive and it's everywhere! It might as well be Taken 2 (Rotten Tomatoes – Metacritic).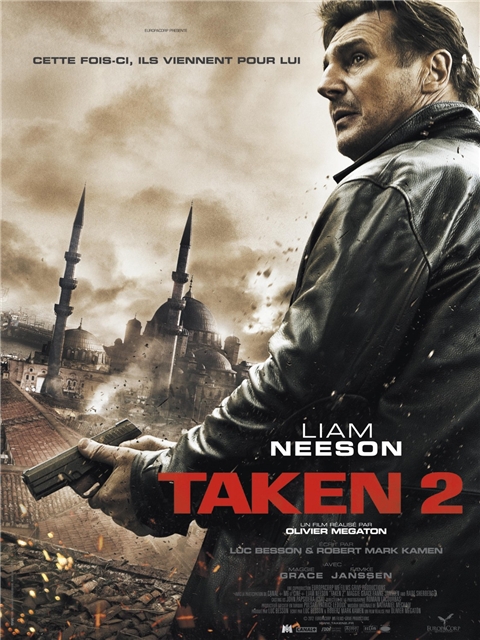 "Best enjoyed by those with short memories and a longing for needless excess.' Leigh Paatsch Herald Sun (Australia)
The excess only feels pointless if it outlasts your attention span.
"It's a stupid movie by smart people who aren't smart enough to realize it's stupid." Boston Globe Wesley Morris
Doesn't that make the smart people stupid?
"The moral of Taken 2? If you're going on a family vacation, be sure that the human-trafficking ring you put out of business in that far more satisfying and suspenseful thriller from a few years ago doesn't know how to find you." Philadelphia Inquirer Steven Rea
""Taken 2″ triples the budget of the original but not necessarily the entertainment.' Jon Niccum Kansas City Star
Triple the budget = half the entertainment = bad math.
"While some viewers find the original Taken as a plotless Euro-thriller and other defend it as a modern action classic, Taken 2 is likely to please neither." Stephen Carty Flix Capacitor
If you liked or hated the original, you'll be disappointed, but if you didn't see Taken, you might like the sequel. With logic like that, you're better off asking margarine addicts why they don't join team Butter (Rotten Tomatoes – Metacritic).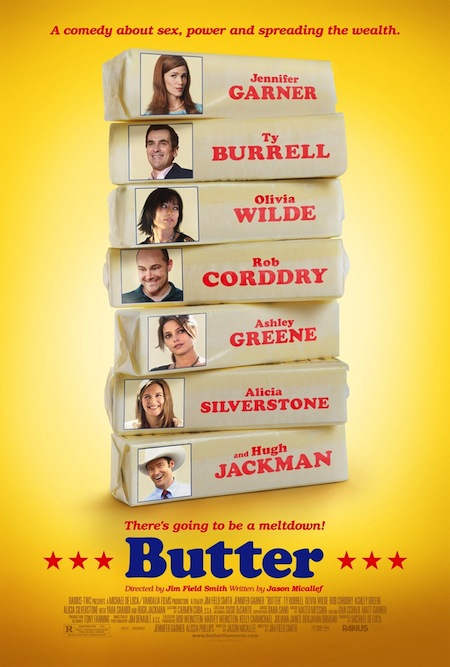 "There's something about this film's churn of goo and grit that lingers ambivalently, difficult to digest." The Guardian Catherine Shoard
Goes down like melted butter and lands like a bucket of lard.
"With a razor-sharp script and Jennifer Garner winning laughs in a nice change-of-pace role, this cynically funny and pointedly pertinent not-so-subtle spin on the national battle between right and left wing politics scores lots of comic bullseyes." Boxoffice Magazine Pete Hammond
Cutlery (razor-sharp), exercise (change-of-pace), and archery (comic bullseyes) are in the midst of a battle-metaphoroyale.
"Political satire requires a sure hand; this wink-wink attempt at milking the culture wars for comic commentary is downright butterfingered." David Fear Time Out New York
"Butter is a spectacularly entertaining film, a well written, perfectly paced comedy brought to life by one of the year's best ensemble casts. It also functions as adept, timely political satire." Jonathan Lack We Got This Covered
The success of the satire shouldn't depend on personal politics.
"Garner hasn't come across as amusing as she is here in quite some time. Despite many funny bits, Butter also, at times, seems to excoriate the blinkered Midwesterners in the flyover states." Austin Chronicle Marjorie Baumgarten
Excoriate the blinkered = satirize the simple-minded, tongue-lash the thick-headed, and/or denounce the dimwits. It's like shaming the elderly for preferring movies on V/H/S (Rotten Tomatoes – Metacritic).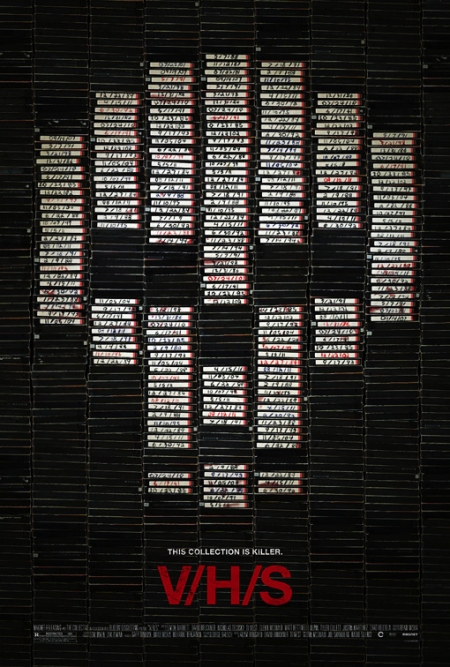 "Even the title feels like a suggestion that you're better off waiting to watch it at home." Chris Hewitt (St. Paul) St. Paul Pioneer Press
If titles are suggestions, be wary of every other movie this week.
"Enough smart ideas and chilling moments to recommend it to fans of any of its multiple genres, but I would never suggest it to a general audience."Brian Tallerico  HollywoodChicago.com
Translation: Good enough if you prefer the genre over the movie, but not a good movie.
"[Embodies] the whole found footage horror genre: there's a few highlights, most of it doesn't work at all, and after a while the 'reality' feels especially artificial." William Bibbiani CraveOnline
"What's the point? None of the segments is particularly compelling. Strung together, it's way too much of a muchness." Roger Ebert Chicago Sun-Times
Should it have been less of a lessness?
"I would rather let Justin Bieber punch me in the face for a week than spend another two hours watching V/H/S." Matt Pais RedEye