Grey Man On Ledge For Money
on
January 27, 2012
at
3:02 pm
If you're like me, you're wondering three things: Who is the Grey Man? Why is he on a ledge?  And what asshole paid him to be there? A lot of terrible things can be justified in the name of popular entertainment, but dangling hue-challenged halfwits from ledges doesn't seem deserving of fabulous cash and prizes, let alone the Don't Fall To Your Death home game.  As reality TV continues to test your vicarious joy and shame, the fussy line between black and white skews into The Grey (Rotten Tomatoes – Metacritic).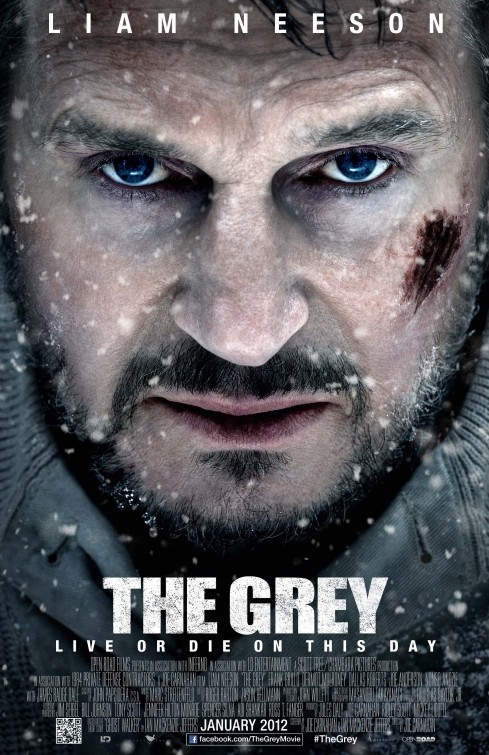 "'The Grey' is a meat-and-potatoes movie about manly survival — red meat and whatever kind of potatoes imply macho." Bill Goodykoontz Arizona Republic
Probably not the yellow ones.
"Gripping and gruesome in its depiction of all the horrors that the vindictive bitch known as Mother Nature has to offer" Peter Sobczynski eFilmCritic.com
Fear of a vengeful God has been replaced with Gaia-zilla.
"What's less expected is that the film has the mindset of a weary philosopher behind it." Mark Dujsik  Mark Reviews Movies
"Only the weirdly mesmeric momentum of Neeson's Ulster accent stands against danger and death. He sounds like a demented Ian Paisley blessed with the looks of a snow-battered Lohengrin." Nigel Andrews Financial Times
Release the clarification!  Ulster – Irish island, Ian Paisley – Irish minister, Lohengrin – maiden-saving Arthurian knight who travels in a boat pulled by swans. Better?
"I was told there would be more wolf-punching." Brian Miller Village Voice
Release the punching!  Actually, scratch that.  Releasing anything might encourage the Man On A Ledge (Rotten Tomatoes – Metacritic).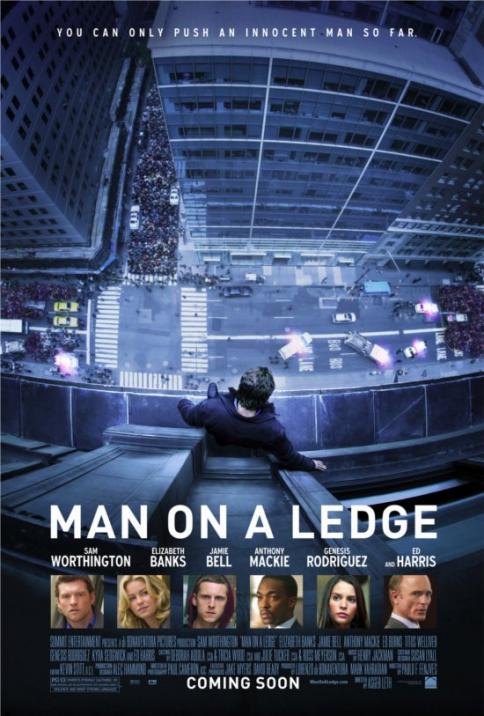 "This cloddishly contrived suspenser is too busy to bore, but too farfetched to thrill, combining routine heist-thriller machinations with dialogue that often thuds like a body hitting asphalt." Variety Justin Chang
Given the title, that review might need a spoiler warning.
"Man on a Ledge makes bigger leaps of logic than Nick will if he fails a gravity test. If the transparent sting springing him from Sing Sing doesn't roll your eyes, then wait for the climax when Nick becomes a kind of plainclothes Spider-Man." Tampa Bay Times Steve Persall
"The script is a hot mess of the highest order, taking some of the stalest chestnuts in the long, venerated legacy of the framed-cop-trying-to-clear-his-name genre and somehow f—ing it up, in scene after scene after scene." Slant Magazine Jaime N. Christley
Chestnuts don't appear in many framed-cop movies, which is probably why they're stale.
"Nobody should be this hard up for entertainment." Peter Howell Toronto Star
"Dumber than its title and less exciting than its poster, this spectacularly silly thriller starts with a sky-high concept and soon plummets towards preposterousness." Matt Glasby Total Film
Dumber than a tired title and less exciting than its poster makes this movie One For The Money (Rotten Tomatoes – Metacritic).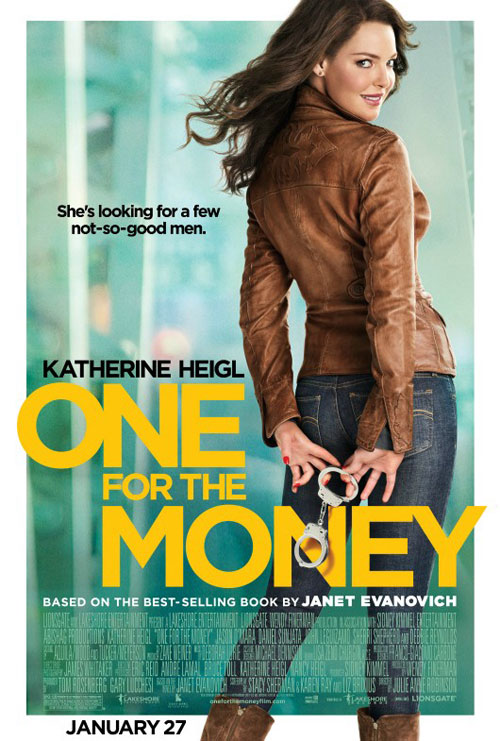 "Listlessly directed by Julie Anne Robinson (Miley Cyrus's The Last Song) from a script written by a trio of writers (Stacy Sherman, Karen Ray and Liz Brixius), One for the Money is tepidly glib throughout. Even violent murders are followed by wisecracks or another prurient opportunity to ogle Heigl's behind and cleavage." The Globe and Mail (Toronto) Liam Lacey
You're in luck.  The posters for two of this weekend's three releases save you the trouble of watching the movie.  Ogle away!
"To compare this mess to a sitcom would be an insult to sitcoms." Peter Howell Toronto Star
"Fans of Evanovich's work should walk away satisfied, perhaps even delighted with the adaptation. Everyone else will simply be able to walk away, which is saying something considering the debilitating toxicity of Heigl's recent output." Brian Orndorf BrianOrndorf.com
The upside is you'll probably survive the film equivalent of retina poison, however the question remains: do you want to pay to see it?
"Didn't Jennifer Aniston already do a bounty hunter movie? Talk about sloppy seconds." Roger Moore Dallas Morning News
"No wonder Lionsgate chose not to screen the finished product in advance for review. 'One for the Money' is a surefire example of inept filmmaking, absolutely reeking of rote desperation." Dustin Putman DustinPutman.com