Happy Descendants Break Feet
on
November 18, 2011
at
2:54 pm
Why do optimistic offspring choose to torture their toes?  Nobody knows.  Assuming they manage their maiming around midnight, their walk home would be a Twilight Saga: Breaking Dawn (Rotten Tomatoes – Metacritic).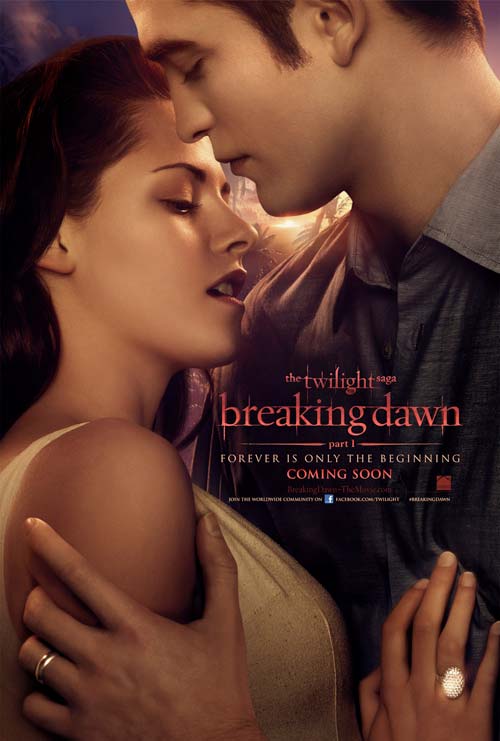 "It's fun in a Syfy Channel way: not despite its badness, but because of it. And it gives fans exactly what they want." Randy Myers Contra Costa Times
The fans want badness?  I would have guessed goodness.
"What remains is the total conviction that the ludicrous scenes are dead serious and fiercely meaningful. The result is not quite a laugh a minute, but close." Rafer Guzman Newsday
What happens during the ~59 minutes between giggles?
"It's like "Roadhouse" for women. As irresistible as it is ridiculous." Gary Thompson Philadelphia Daily News
"In several scenes, characters play chess, but the film itself is as complex as "Chutes and Ladders," and just as suspenseful." Duane Dudek Milwaukee Journal Sentinel
While the former game is more complex, I have a better record in the latter.  Shoot!
"Breaking Dawn Part 1 confirms suspicions that all four books could've made a heck of a single movie." St. Petersburg Times Steve Persall
Editors of the world, you've been issued a future dare.  One day you may be summoned to edit other franchise's (e.g. make the Nightmares on Elm Street singular and reload the Matrix as a one-shot), perhaps Happy Feet Two (Rotten Tomatoes – Metacritic).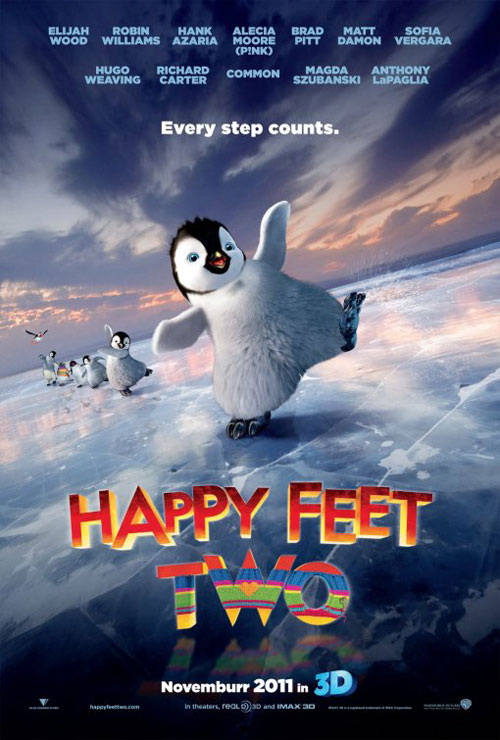 "Like father, like son; like Disney, like everyone else. And like first movie, like sequel." Manohla Dargis New York Times
Like, what are you trying to say?
"It's hard to resist a children's movie where two comic krill named Will and Bill toss off a reference to existential angst one minute and make really bad wordplays, as in "Goodbye, krill world" and "one in a krillion," the next. Nancy Churnin Dallas Morning News
Really?  Puns?  You're krilling me.
"If it weren't for the comic relief provided by Will and Bill, tiny shrimplike crustaceans known as krill and voiced by Brad Pitt and Matt Damon, this would be a forbidding return to Antarctica indeed." Michael Phillips Chicago Tribune
"Little kids, of course, will swallow it whole without thinking twice." Boston Globe Ty Burr
I'd think twice before swallowing one of those krill, even if it were fresh from a grill. Same goes for penguins.
"The trek to get there is sluggish at best, torturous at worst. March away, penguins. Far away." Time Out New York Keith Uhlich
And as Morgan Freemon narrates their departure, the story of life continues with The Descendants (Rotten Tomatoes – Metacritic).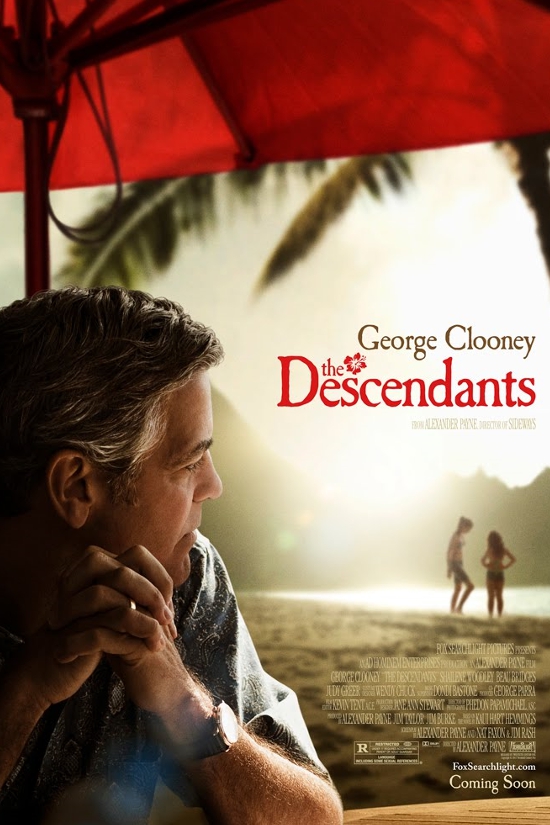 "Payne's low-key approach only deepens the film's intimate power. Want a movie you can really connect with? The Descendants is damn near perfect." The New York Times A.O. Scott
There's a lot of variation between perfect and damn near.  No joke, this week I had a conversation with someone who argued that Hitler was a damn near perfect leader. Damn near = first runner up in World War II.
"To call The Descendants perfect would be a kind of insult, a betrayal of its commitment to, and celebration of, human imperfection. Its flaws are impossible to distinguish from its pleasures." Boston Globe Ty Burr
This movie was just praised for being perfectly imperfect.  We are bordering on abstract concepts here.  Besides shapes, colors, and math (and maybe fantasies), is anything perfect?
"I can't think of another movie this year that made me laugh or weep harder for the whole lumpy business of being – the compromises and connections that get us through the day and somehow add up to entire lives." Washington Post Ann Hornaday
Big things are made of little things.  Where do you think the lumps come from?
"Payne is too acerbic – maybe too much of an asshole – to settle for easy humanism. But he's too smart a dramatist to settle for easy derision. Mockery and empathy seesaw, the balance precarious – and thrillingly so. It's the noblest kind of satire: cruel and yet, in the end, lacking the killing blow." New York Magazine David Edelstein