Harry Potter And The Next Death Day
on
November 19, 2010
at
6:27 pm
After nine years and 6 movies, the bifocaled-boy-wizard is back in the penultimate finale of the multi-billion dollar herd of cash cows.  Since this film begins the end, but doesn't end it, we are likely to hear lots of reviews that lament a lack of conclusion; however, that's been true since the first sequel.  You don't any more preamble for Harry Potter And The Deathly Hallows Part 1 (Rotten Tomatoes – Metacritic).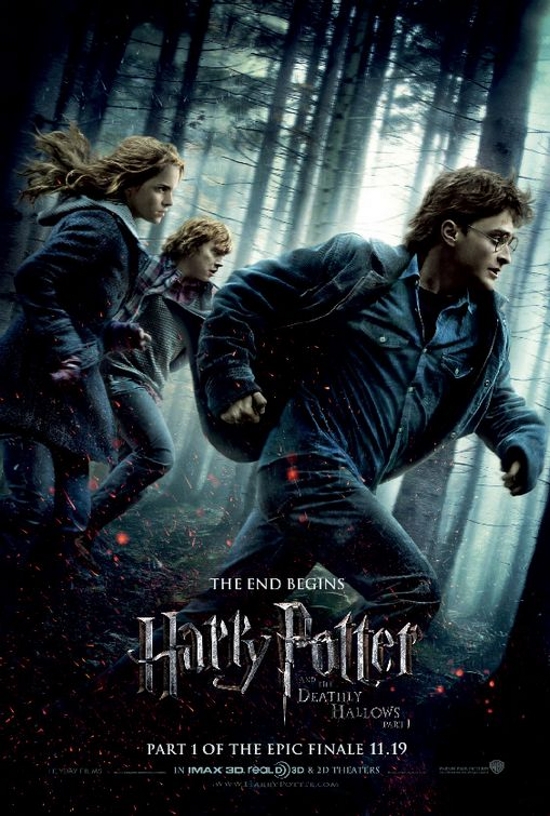 "Alternately funny and touching, it's the best film in the series, an "Empire Strikes Back" for these wizards and their wizarding world." Orlando Sentinel Roger Moore
In the discussion of franchise quality, the most positive 'middle part' example is usually the Lucas Opus (or the Coppola Chronicle of the cosa nostra), but aren't parts 2 through 7.5 of Rowling's reverie all in contention for "Most Like 'Empire?'"
"Often just seems to be going round in very decreasing circles, chasing its own fairytale." Dave Golder SFX Magazine
Brother, that news is just grim.
"Basically, you'll love it if you love Potter and you'll hate if you hate Potter, but if you're just looking for some fun in the theaters you can do far, far, far, far, far worse than Harry Potter and the Deathly Hallows." Matthew Razak Examiner.com
Communicating exaggeration through repetition makes 'far' seem more like a unit of measurement. (e.g. Six Flags is far away, but Disneyland is far, far, far away).
"Radcliffe, Watson and Grint, having literally grown up in their characters, are ready for their close-up. They earned it, they deserve it and they nailed it." Colin Covert Minneapolis Star Tribune
"More like Harry Potter and the Torturous Moping." Nick Schager Slant Magazine
I prefer Harry Potter and the Delayed Gratification.
"It's not a bad movie, but it is very much a transitional one." Arizona Republic Bill Goodykoontz
Calling Part 1 of 2 transitional is like calling a how-to book motivational.

"Go. Don't go. Nothing I write will make a difference." Jeff Meyers Metro Times (Detroit, MI)
That brutal realism of that review should earn "5 points for Gryffindor," but regardless of what they read or hear, audiences will have to decide for themselves if they're going to see Harry Potter over The Next Three Days (Rotten Tomatoes – Metacritic).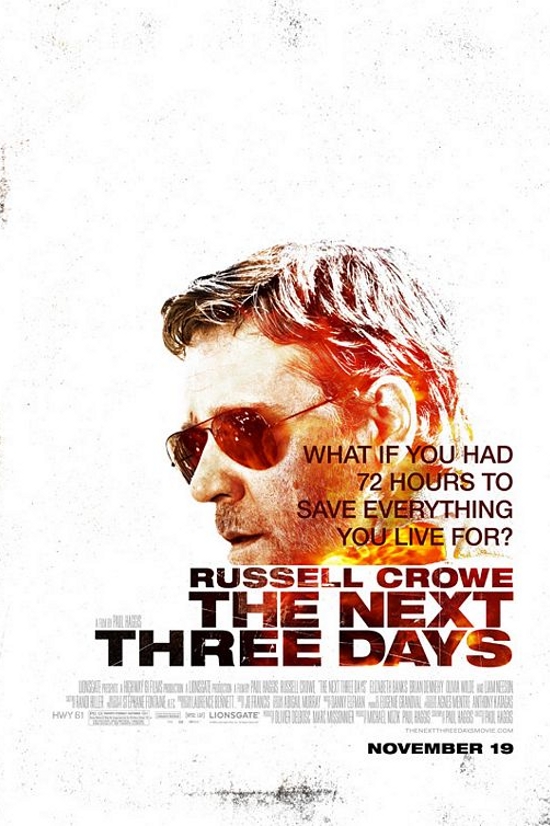 "One of the rare remakes that improves upon the original, THE NEXT THREE DAYS is a fun, exciting thriller in the vein of THE FUGITIVE and FRANTIC. Crowe & Banks are phenomenal." Chris BumbrayJoBlo's Movie Emporium
So, it's a remake that has a lot in common with movies it wasn't remaking?
"Another prison drama, Paul Haggis' blandly titled "The Next Three Days' is a remake of a far-fetched recent French hit and a movie only the gullible, or the French, could swallow." James Verniere Boston Herald
Basing a review on your impression of a culture is something only a Boston Herald writer would do.
"Thrillers don't need to be 100 percent believable, but staying above 10 percent usually helps." Matt Pais Metromix.com
I wonder where Harry Potter ranks on the believability scale?
"I didn't buy how "The Next Three Days" plays out — but I almost bought it, and that's good enough for a thriller." Kyle Smith New York Post
Sounds good enough for low standards.
"It swings between being a whodunit and a guns-blazing romp. By film's end, you may not be sure what it is, either." Scott Bowles USA Today
Is there something wrong with being a guns-blazing whodunit romp?  Or would that end up being all about who got shot?
"It's quite a suspenseful ride and Elizabeth Banks gives a passionately ambiguous performance…" Laura Clifford Reeling Reviews