Harry Potter And The Undefeated Pooh
on
July 15, 2011
at
1:48 pm
After years of anticipation, fans are lining up; their tickets clutched tightly in eager hands. A classic book series has been adapted into an equally memorable film.  A young boy and his friends take a journey and they won't be the same after they reach their destination.  Luckily, there isn't an evil wizard in sight.  There's no epic war and the only loveable bear isn't named Hagrid; his name is Winnie The Pooh (Rotten Tomatoes – Metacritic).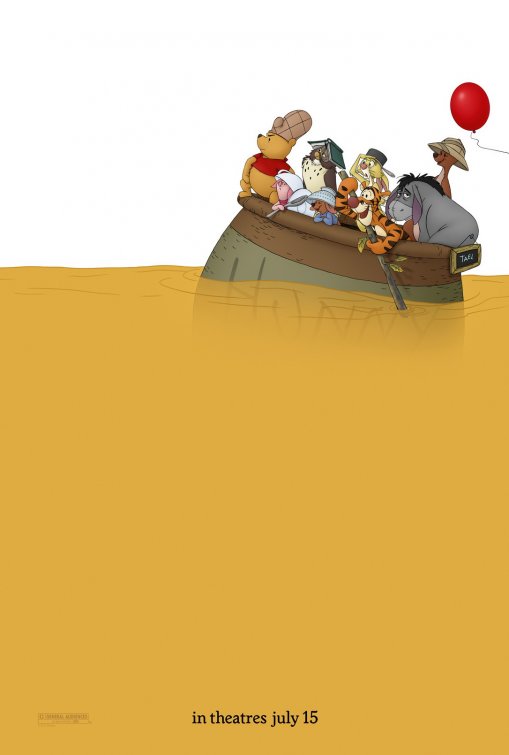 "Winnie The Pooh is a storybook brought to life with intelligence, wit, and palpable affection; where so many kids' films try desperately to come off as hip and timely that they often feel tacky and instantly dated, Winnie The Pooh is bravely quiet, old-fashioned, and wry." The A.V. Club Nathan Rabin
When trying to be hip and smart makes you unfashionably lame, it's a good reminder that the most enduring kids' movies embrace simplicity.  Of course, Pooh said it better: "It is more fun to talk with someone who doesn't use long, difficult words but rather short, easy words like "What about lunch?"
"Rather than a mind-blowing movie experience, "Pooh" is a cinematic snuggle." Cathy Jakicic Milwaukee Journal Sentinel
Since you can't watch two movies at once, you don't have to decide between head-popping and eye-hugging – neither of which sound like something worth paying for.
"It's classically Disney, as if Walt himself (actually, John Cleese) were reading us a story." Mary F. Pols TIME Magazine
"Pooh's moral triumph isn't all that weighty, but it's almost existentially profound to see the silly old bear forgo honey a little while longer because of someone else's needs." Slant Magazine Rob Humanick
Worrying about someone else sounds like socialism.  No wait, that's nonsense.  And yet, it sounds sensible to people who fear (and shoot) bears while proudly calling themselves mama grizzlies.  Such logic works if you consider that Sarah Palin has never run for President, so she can (for the moment) claim to be Undefeated (Rotten Tomatoes – Metacritic).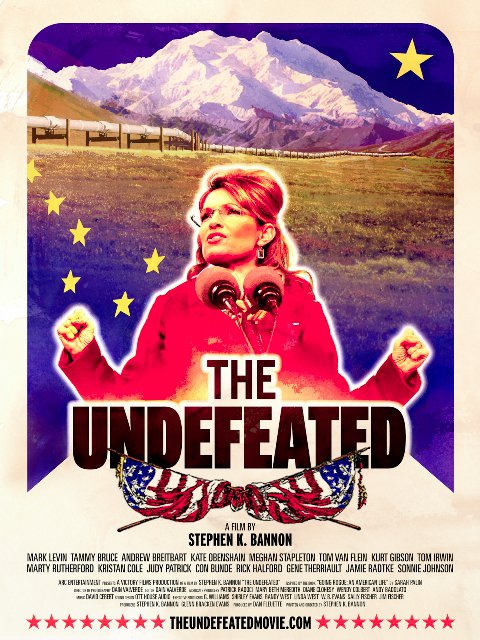 "A troop-rallying campaign infomercial as imagined by Michael Bay: hero-worshipping, crescendo-edited at a dizzying pace, thunderously repetitive and its own worst enemy as a two-hour, talking-points briefing." Los Angeles Times Robert Abele
Michael Bay's political usefulness talking points include:
-He's a go-to Hollywood caricature – blending shameless entertainment with hollow inspiration.
-He's practically a brand name, which fits modern political rhetoric.
-Palin isn't the first to embrace Bay – Pawlenty already tapped that.
""The Undefeated" plays like an infomercial. And as such, it's an infomercial of almost comical omissions." Roger Moore Orlando Sentinel
It's a documercial for a candidon't.
"Viewers are left to wonder if it's all actually some sort of vehicle for subliminal messaging." The A.V. Club Alison Willmore
"The Undefeated flatlines after an hour of empty back-patting and no dramatic edge. Bannon actively avoids any of Palin's setbacks, downplaying the entire 2008 presidential campaign to a few minutes of screen time." Eric Kohn indieWIRE
That's probably because the undefeated was defeated in that election.  Many eager fans are expecting a better resolution for their favorite boy wizard in Harry Potter And The Deathly Hallows Part 2 (Rotten Tomatoes – Metacritic).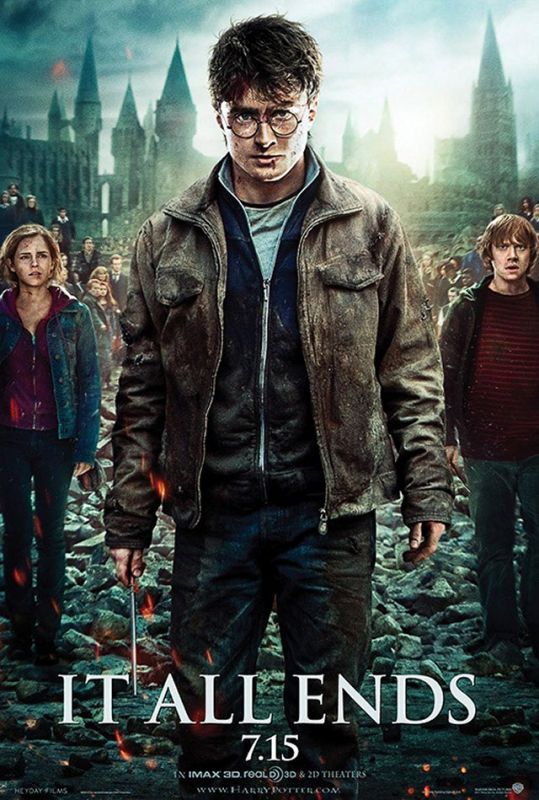 "To say they've saved the best for last would be an understatement. It's a finale that's truly magical in every way, and easily the best Harry Potter movie yet." Edward Douglas ComingSoon.net
How can the best be understated?  Unless, they saved the bestest for last.
"Fasten your seat belts. Harry Potter and the Deathly Hallows: Part 2 is an emotional roller-coaster ride." Nancy Churnin Dallas Morning News
Roller-coasters don't have seat belts, but let's not get emotional about it.
"All too soon, in the words of the tagline, 'It All Ends'. Spectacularly. Emotionally. And Wanderfully." Birmingham Mail
"A fitting, shocking, exciting, mind blowing experience even the haters and contrarians will begrudgingly admit is pretty awesome." Willie Waffle WaffleMovies.com
Hogwarts haters?
"Just adequate." Walter Chaw Film Freak Central
Adequately awesome!
"Now that the Harry Potter series is over, maybe the truth can be realized: This has been the dullest franchise in the history of movie franchises." Armond White New York Press