Here Comes Argo The Sinister Smashed Psychopath
on
October 12, 2012
at
4:12 pm
Less accurate attacks, more stumbling, and the slim chance a bar's neon allure will distract them, if you're being chased by an evil psychopath, it's better if they're Smashed (Rotten Tomatoes – Metacritic).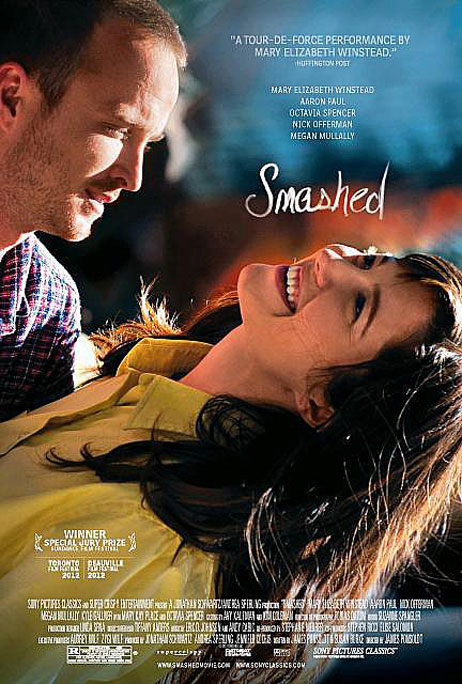 "Ponsoldt, Paul and Winstead make a remarkably effective team for this film's points and purposes, and Smashed burns long after it goes down smoothly." The Playlist James Rocchi
Goes down smooth, hurts like fire. Half sales pitch, half warning.
"What's new about the unsensationalized portrait of one-day-at-a-time progress (and setbacks) is the low-key energy of this drunks' tale, by and for a generation with a high tolerance for humor and a low tolerance for soapiness." Entertainment Weekly Lisa Schwarzbaum
"Smashed at its worst is still better than many other films of its kind at their best." Michael Nordine Village Voice
Smashed is the Michael Jordan of drunk dramas.
"You won't want to hit the bar afterward, but hey, maybe that's a good thing." Matt Patches Hollywood.com
Hey, maybe. Suddenly, having a beer sounds slightly Sinister (Rotten Tomatoes – Metacritic).
"The movie makes up for uneven dialogue and pacing issues through sheer horrific imagery." indieWIRE Eric Kohn
If you want early Halloween scares, enjoy your treat, it's no trick.
"One of the scariest horror movies I've seen in a long, long time." William Bibbiani CraveOnline
If the quality lands between 'best in a long time' and 'best in a long, long, long time,' at what point does repetition become sarcastic?
"It whiffs on a horror film fundamental: Nobody seems to be all that scared." Roger Moore McClatchy-Tribune News Service
"'Sinister' is an undeniably scary movie, with performances adding enough human interest to give depth to the basic building blocks of horror." Roger Ebert Chicago Sun-Times
It's undeniably scary. Anyone want to deny Ebert: He Of The Upward Pointed Thumb?
"That title is off the mark. Here's a better one: 'Stupid.'" Soren Anderson Seattle Times
As long as we're making up new titles, how about Argo (Rotten Tomatoes – Metacritic)?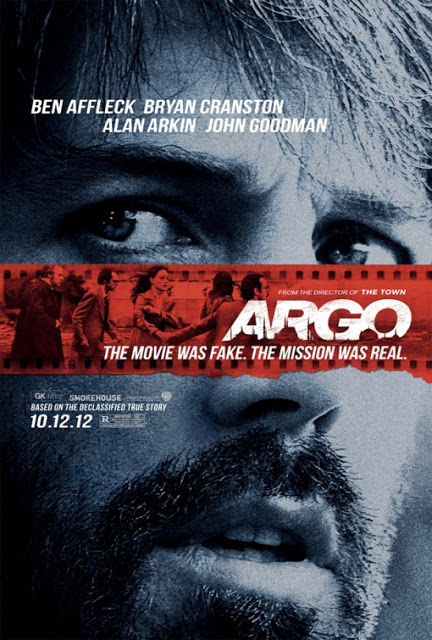 "Just fantastic all around the board. Affleck paints a great picture, and I'll tell you what. 1980's Iran? Scarier than Jurassic Park. One of the best of the year, 4.5/5 Schmoes. Will be nominated for Best Picture." Kristian Harloff Schmoes Know
Just about perfect, but not 5/5. Are actor-directors graded harder than director-actors?
"Ben Affleck is closing in on the perfect thriller. "Argo" shows us how near the mark he has gotten in just three films." Roger Moore McClatchy-Tribune News Service
Three misses at perfect sounds like a good grouping.
"Argo is a triumph. It has tension, sincerity, mystery, artistic responsibility, entertainment value, technical expertise, a narrative arc and a thrilling respect for the tradition of how to tell a story with minimum frills and maximum impact." Rex Reed New York Observer
"One part caper comedy and two parts edge-of-your-seat political thriller … an exhilarating theatrical experience." Matt Patches Hollywood.com
One part alcohol metaphor, two parts awesome.
"It's the kind of movie that wins Oscars, sure, but it's also consistently entertaining and socially conscious without being heavy-handed." Josh Bell Las Vegas Weekly
If Affleck wants to be heavy-handed, he should announce his next movie by yelling "Here Comes The Boom (Rotten Tomatoes – Metacritic)."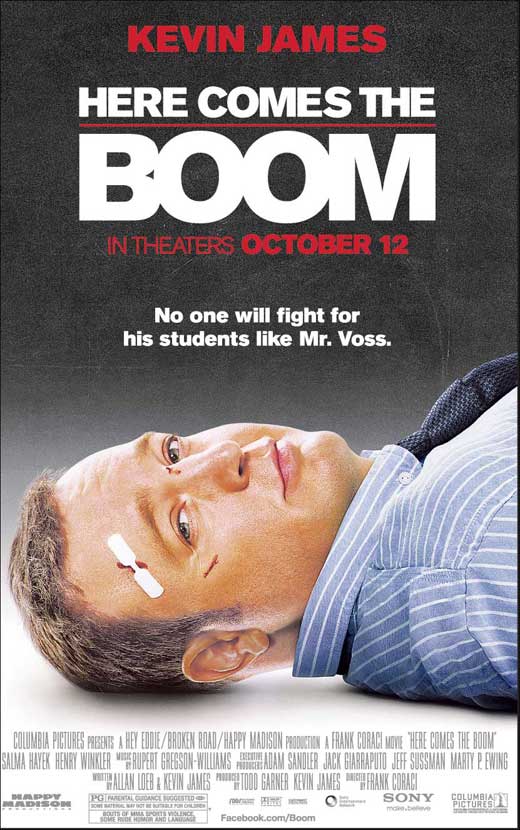 "Hands of stone meet heads of air in Here Comes the Boom, a sports story so daffy it may as well star Kevin James." Variety John Anderson
Hands of stone vs. heads of air = head-poppingly bad.
"'Here Comes the Boom' is enjoyable — or, at the very least, not torture like 'Grown Ups' …" James Rocchi MSN Movies
Put that blurb on the poster: See this movie, it's "not torture!"
"'Rocky' for fifth graders, with enough pro-school propaganda to make parents think it's worth the price of popcorn." Amy Nicholson Boxoffice Magazine
"The lesson Happy Madison should but will never learn is that there's more to comedy than vomit and butt cracks." Matt Pais RedEye
"This world is a comedy to those that think, a tragedy to those that feel." Horace Walpole 
"Despite the picture's utter predictability, it is James' sweet performance that makes this a winner. Hard to believe, but true!" David Kaplan Kaplan vs. Kaplan
Don't sound so defensive. It's not like Kevin James one of the Seven Psychopaths (Rotten Tomatoes – Metacritic).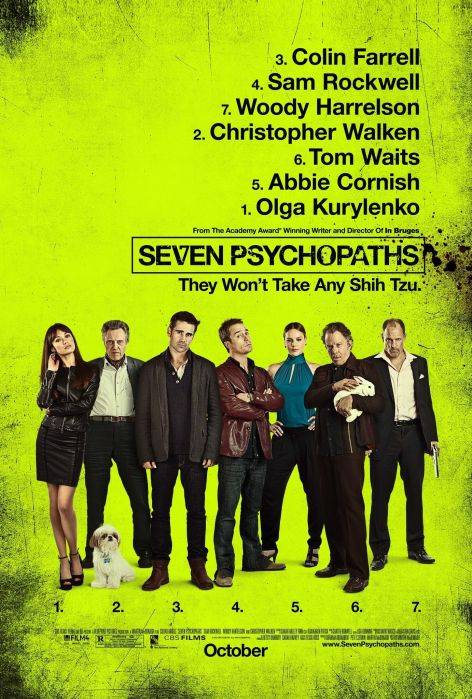 "Martin McDonagh's energetic follow up to his wildly humorous and thoughtful 2008 film "In Bruges" is a self-reflexive study in post-post-modern cinema." Cole Smithey ColeSmithey.com
It's a self-aware reflection on post-modern meta-fiction. Wild.
"It's a terrifically clever film, and just a joy to see masters such as Rockwell and Walken dive off various acting cliffs." Clint O'Connor Cleveland Plain Dealer
Do actors need parachutes to pounce off pretend precipices?
"This flick never pretends to be anything but a bright hall of fun-house mirrors. And there, so gloriously distorted, gargoyles look right at home." Rick Groen Globe and Mail
"'Seven Psychopaths' is many things, chief among them a long-overdue love letter to Christopher Walken and a crudely drawn ransom note from Sam Rockwell." Ty Burr Boston Globe
Example of a love letter/ransom note: Give me your heart or my heart dies!
"All great films are both fairy tales and confessionals, and when the two collide, what's left beyond the crumple zone is magic." Graham Killeen Milwaukee Journal Sentinel