Hungover Panda Kung-Fu's Life Tree
on
May 27, 2011
at
7:38 pm
I feel sorry for the poor hungover panda, but I have a few questions about this title; such as, is it fair to use 'Kung-Fu' as an action verb?  What are life trees and what did this one do to end up on the receiving end of a furious barrage of action verbs?  Or maybe you're wondering, as I am, how nature's mime scored the booze.  Was the hangover the result of a wild kingdom party fueled by the spoils of a daring liquor store heist OR was it a stupid and bored zookeeper with an extra six pack?  I prefer the first option, which makes me want to be a Kung Fu Panda 2 (Rotten Tomatoes – Metacritic).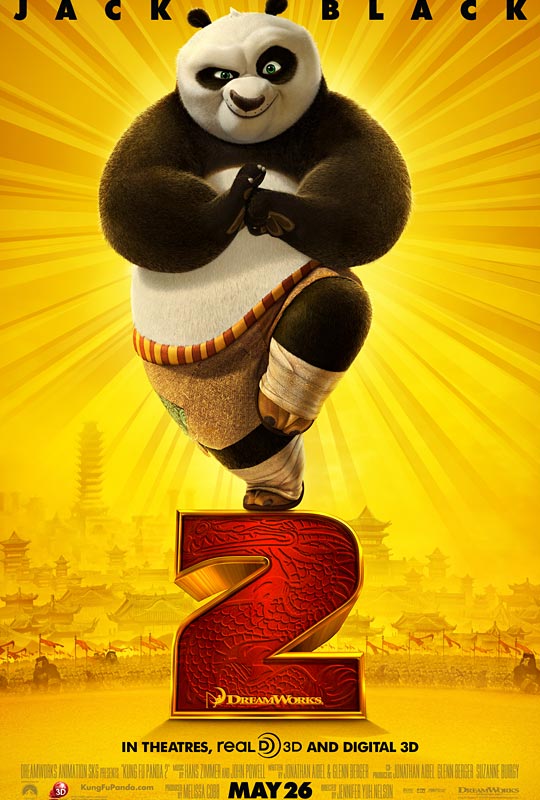 "This well-executed sequel is sneaky. While it distracts us with Chinese backdrops and buffoonish humor, it sucker punches us with a message about belonging."  Joe Williams, St. Louis Post-Dispatch
Do Kung-Fu-infused sucker punches offer wisdom as well as bruises?
"Once again, the DreamWorks team demonstrates that humor is the primary weapon in its arsenal." Peter Debruge, Variety
Whether you knock 'em dead or leave 'em in stitches, humor is often violent.
"…so confidently made, visually layered, and emotionally affecting, that Pixar – with Cars 2 opening next month – may find itself unexpectedly outclassed." Jeff Meyers, Metro Times (Detroit, MI)
If you're like me, your anticipation of Cars 2 is layered with predictable concern.  Cars was low-tier Pixar, which used to be upper-tier Dreamworks.  However, any debate over which studio deserves the title teeters on quality and consistency, which means the only people who can dethrone Pixar are its employees.
"Black is clearly suited for the role of a modern-day Inspector Clouseau, a hero clown who can't help but save the day." Scott Bowles, USA Today
Accidental heroism is the flip side of intentional misbehavior.
"Unlike another sequel that is hitting the screens this week, Kung Fu Panda 2 takes the audience to some new places." Kevin Carr, 7M Pictures
No detective work needed to figure out he's talking about The Hangover Part 2 (Rotten Tomatoes – Metacritic).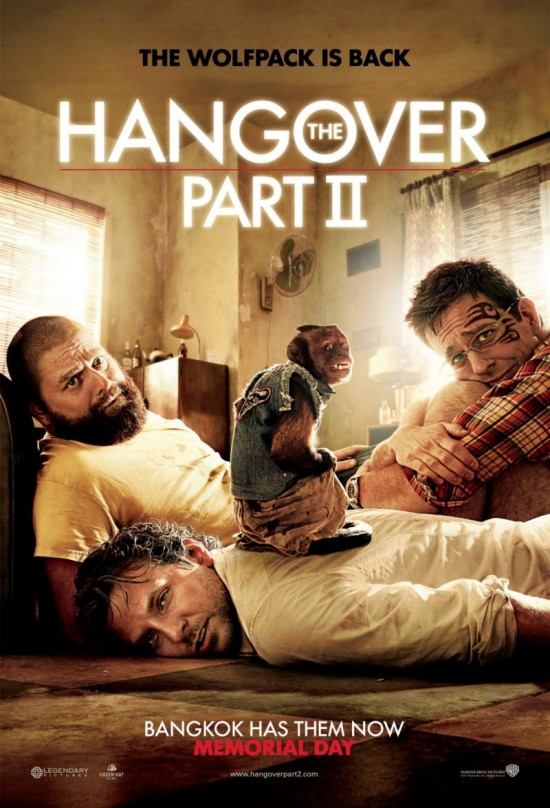 "According to Phillips, the 'Part II' in the title is a nod to the second "Godfather," which matched the genius of its forerunner. Ironically, his own sequel offer is one you should refuse." Nick de Semlyen, Empire
I wish I could avoid a hangover by simply refusing it.
"It delivers what it's expected to deliver, and that's likely to make it a success with anyone who laughed his ass off two summers ago."  James Berardinelli, ReelViews
For those 'hers' in the audience interested in comically killing their couch cushion, consider Bridesmaids.
"Did I laugh? A handful of times. Did I cringe? For 101 minutes." Carrie Rickey, Philadelphia Inquirer
"Is this some kind of a test? The Hangover, Part II plays like a challenge to the audience's capacity for raunchiness." Roger Ebert, Chicago Sun-Times
Regardless of whether you have a high or low capacity for raunchiness, there may not be a way to pass this test.
"It's not that Hangover II is a notably bad movie. It's more that nothing in it seems to justify all the effort spent to add a new but nearly identical series of episodes to the original." Shawn Levy, Portland Oregonian
Profit is the only justification studios need.  If you want emotionally compelling art, go see Terrence Malick's Tree Of Life (Rotten Tomatoes – Metacritic).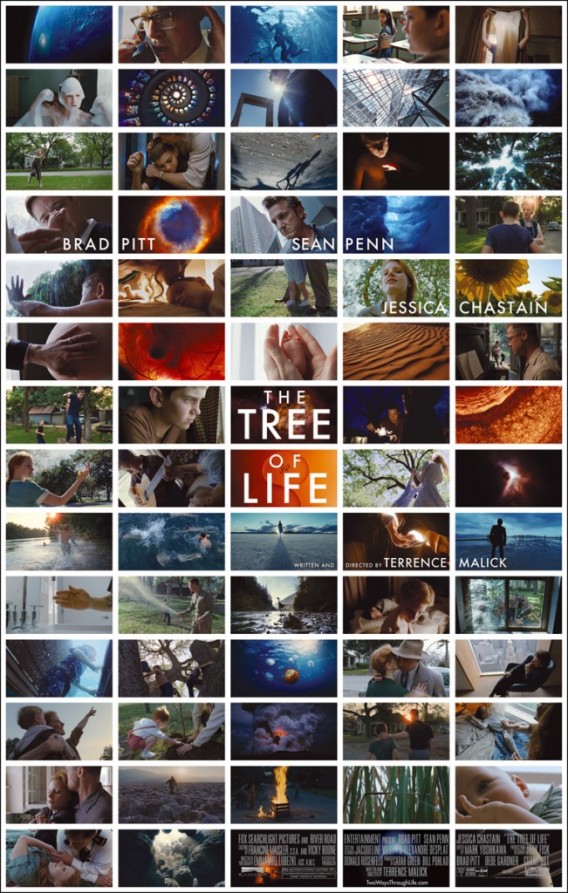 "A shape-shifting film, it resembles a poem. At other moments, it is closer to a symphony. Most often, it approximates a fervent prayer." Claudia Puig, USA Today
Any film compared to songs, poems, and prayers doesn't deserve any glib commentary from me.
"Better than a masterpiece – whatever that is – The Tree of Life is an eruption of a movie, something to live with, think, and talk about afterward." Nick Pinkerton, Village Voice
"Daring in concept, occasionally daffy in execution and ultimately unforgettable, Mr. Malick's film offers a heartfelt answer to the question of where we humans belong – with each other, on this planet, bound by love."  Joe Morgenstern, Wall Street Journal
"With disarming sincerity and daunting formal sophistication The Tree of Life ponders some of the hardest and most persistent questions, the kind that leave adults speechless when children ask them." A.O. Scott, The New York Times