I Don't Know How Dogs Drive
on
September 16, 2011
at
2:57 pm
However they do it, I suspect it's ruff; especially if it involves parallel barking.  I know, I know.  Not all puppy puns rock, some aren't even Straw Dogs (Rotten Tomatoes – Metacritic).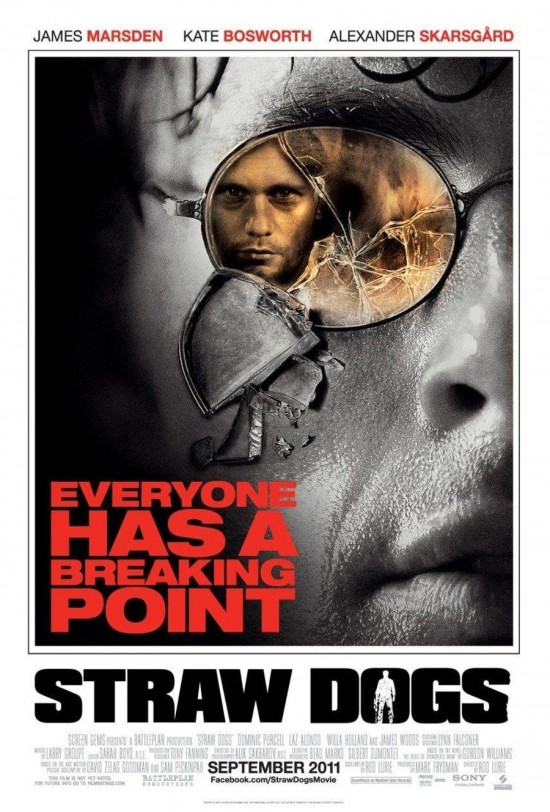 "Straw Dogs is an artful provocation — a meditation on masculinity and societal mores in the guise of an explosive thriller." Rene Rodriguez Miami Herald
I support art forms that provoke people through explosive meditation.
"This new version of Straw Dogs, written and directed by Rod Lurie, has been contemporized, sanitized and stripped of all complexity, and what's left is as empty as a used piñata." Movieline Alison Willmore
Maybe the piñata isn't empty, but filled with invisible toys and air candy.
"Peckinpah rubbed our noses in the bloodlust. Lurie invites objectivity. He gets strong, complex performances from actors who won't be painted into corners." Rolling Stone Peter Travers
"Whereas Peckinpah managed not only to raise hackles but to get under the skin, Lurie manages only the former, which reduces the material to the level of sensation-mongering." Todd McCarthy Hollywood Reporter
Sensation-mongering = having your emotions flicked like they were the back of your ear.
"The protagonists have become more likable and empowered, motivations have become more cut and dried, and references to underlying political schisms are downplayed." Andrew Barker Variety
.
If you know a dry protagonist who enjoys sensation mongering and downplaying empowered schisms, tell her I Don't Know How She Does It (Rotten Tomatoes – Metacritic).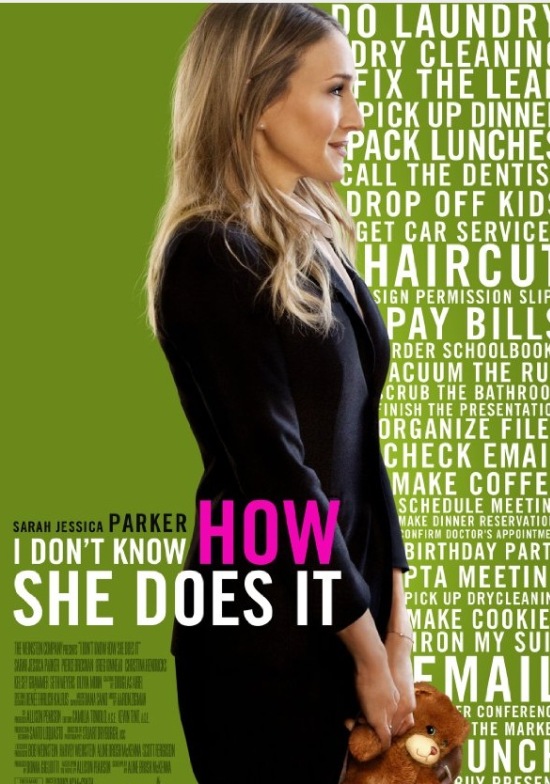 "I don't know why she does it." Lisa Schwarzbaum Entertainment Weekly
Does anyone know who/what/when/where/why she does it?
"She is also played by Sarah Jessica Parker, a performer so aggressively determined to make us like her that no work-life conflicts in the film ever gain any traction; we're too distracted by the actress's manic tics (the head tilts, the popping of the wounded-deer eyes) to notice any real adversity." Village Voice Melissa Anderson
"What I don't know: why these movies keep getting made." Melissa Anderson Village Voice
Nobody knows anything, but what do I know?
"Panders to its audience instead of challenging the sensitive juggling act that working mothers face every day. This picture is not insight, it's a display of insipid wish fulfillment." Brian Orndorf BrianOrndorf.com
""I Don't Know How She Does It" suggests what might have happened to Carrie if she had two kids with Mr. Big to worry about, and less time to obsess over her wardrobe." Christy Lemire Associated Press
Instead of Sex In The City, it's No Sex In The Suburbs?  If that's the case, perhaps you should hop in your car and Drive (Rotten Tomatoes – Metacritic).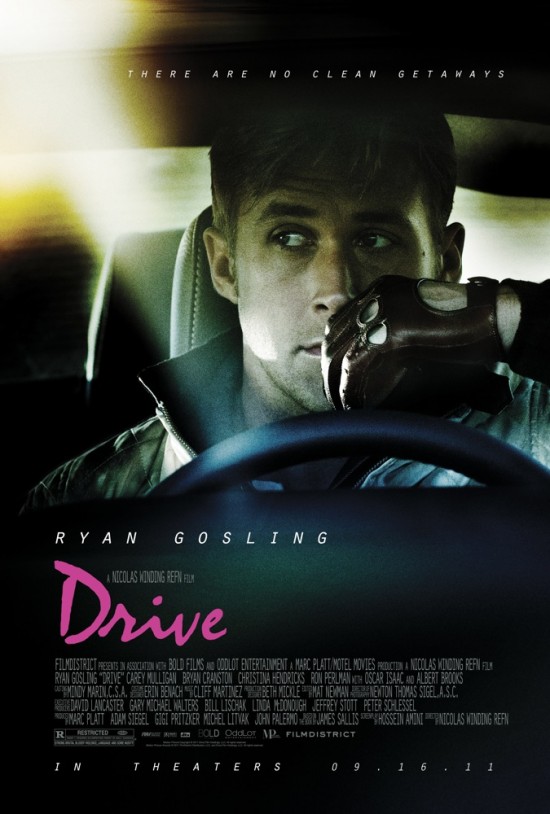 "Starring Ryan Gosling as a Hollywood stuntman/getaway driver, Drive takes the tired heist-gone-bad genre out for a spin, delivering fresh guilty-pleasure thrills in the process." Variety Peter Debruge
Woo hoo!  Fresh guilt!
"The film… has a kind of daredevil control, swerving dangerously close to and abruptly away from self-parody." J. Hoberman Village Voice
"A lot of critics will talk about how the movie is a stripped-down, "pure" genre piece, and there's a lot of truth to that. What may not get as much press is the way stripped-down-ness is an affectation, and always has been." Slant Magazine Jaime N. Christley
It has it, but it's faking it.  If that's true, don't forget: "Be careful what you pretend to be because you are what you pretend to be." Kurt Vonnegut
"One of the first truly must-see movies of the year — a seemingly incompatible blend of art-house drama and Hollywood revenge thriller that somehow works." Jason Zingale Bullz-Eye.com
The critics are impressed, but confused.  The more they try to describe it, the more they talk in circles.
"Perhaps Drive is an action movie for those who don't ordinarily like action movies. It's also an action movie for those who crave them like a drug." James Berardinelli ReelViews