In Anonymous Boots Diary
on
October 28, 2011
at
12:50 pm
Drunk journalists, heroic animated cats, revisionist histories, and sci-fi parables might be scary for some, but as the final movie releases before Halloween, they're remarkably BOO-ring.  Okay, that was lame.  But if I'm lucky, the joke will get better In Time (Rotten Tomatoes – Metacritic).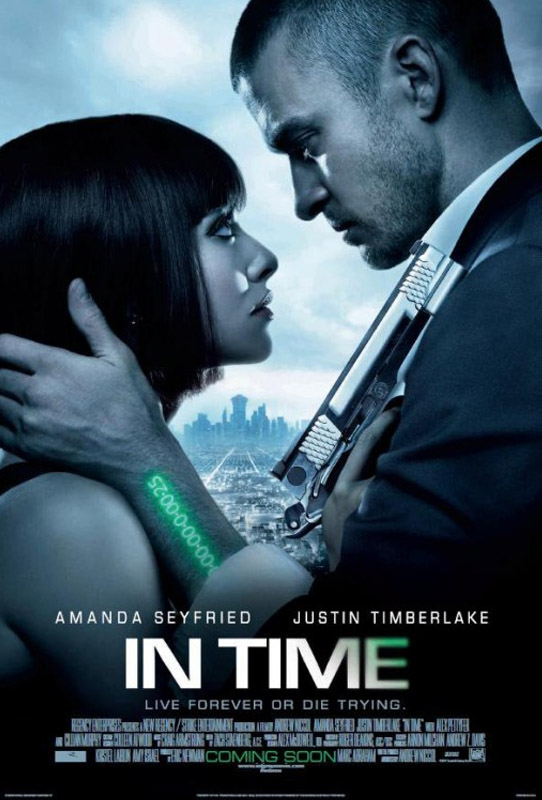 "That there are any ideas here to begin with marks enough of a victory for commercial filmmaking." Geoff Berkshire Metromix.com
The movie has ideas!  Success?
"It's a fascinating philosophical conceit delivered as a slick, hyper-stylized conspiracy yarn, juicy enough to deliver on both fronts, provided you don't ask too many questions." Variety Peter Debruge
Are there juicy questions we should be asking?
"Pretty cast. Potent premise. Piss-poor execution." Peter Travers Rolling Stone
Pontificating in P, while perusing petty peanut gallery proclamations can potentially perturb people.  If you prefer I postpone practicing pointless pronunciations, just say pretty please.
"A riff on the 'Logan's Run' formula that rushes around in circles before collapsing in an exhausted heap…starts intriguingly, but it gets silly fast, and grows tiresome before long." Frank Swietek One Guy's Opinion
If you get tired, have a seat, order a drink, and open up The Rum Diary (Rotten Tomatoes – Metacritic).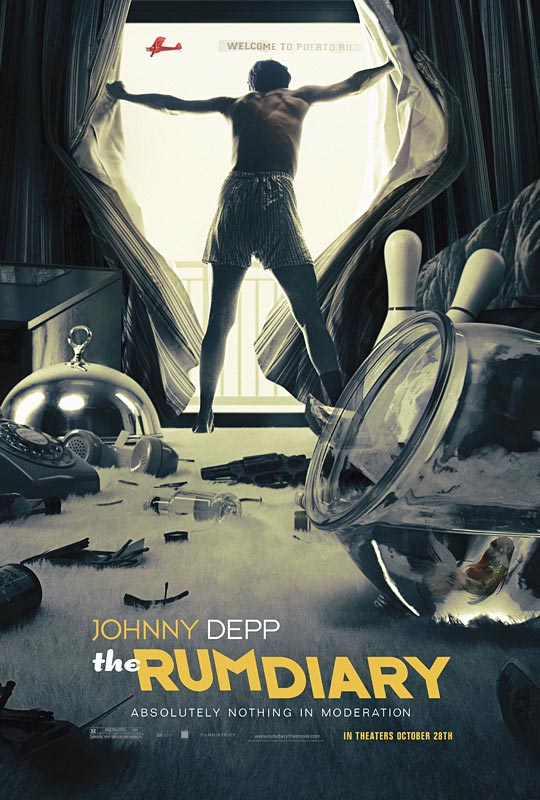 "A big, rambling, entertaining love letter to the late Hunter S. Thompson." Miami Herald Connie Ogle
Raise your glass, drown a few sorrows, and cry your beer tears for the great Gonzo go-getter.
"Though it only rarely reaches the level of gonzo farce that it might have been, "Diary" is still an agreeably drunken stagger through the novel Thompson based on his formative year as a writer." Orlando Sentinel Roger Moore
"The Rum Diary, Bruce Robinson's amorphous hodgepodge of a film, wants to be many things: period recreation, social commentary, morality play, romance, an insider look at the newspaper game." Slant Magazine Andrew Schenker
I'm glad it didn't also want to be a Burton or Gillian inspired-twisted drug fantasy; then it might have been called the Cocaine, Meth, Weed, Heroin, Ether, and every other type of booze Diary.
"You can't deny the fun of seeing Depp retro-construct a muted version of his Vegas mugging like De Niro riffing on Brando's Don Corleone. (His reaction to swigging homemade rum is worth the price of admission alone.)" Time Out New York David Fear
In a duel of unequal sequel-prequels, it's Depp's retro-Raoul Duke versus Puss In Boots (Rotten Tomatoes – Metacritic).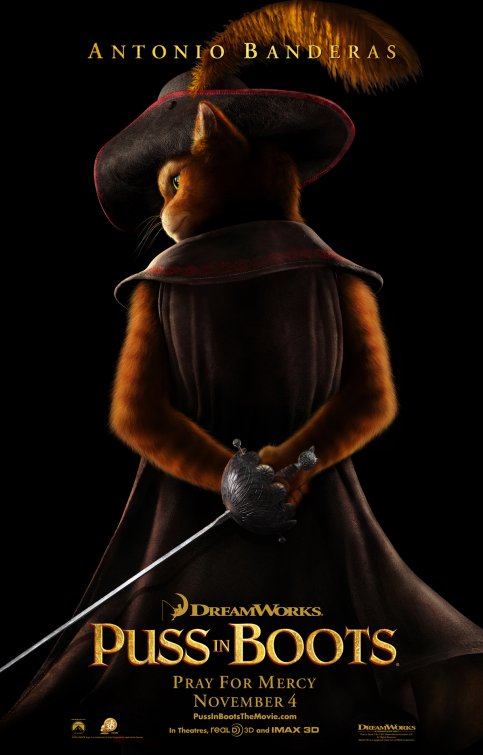 "All in all, the 3-D animations wow without gimmickry, Banderas purrs without peer – and it's a cheerful movie." San Francisco Chronicle Amy Biancolli
Its gimmick isn't a gimmick, celebrities compare their purrs, and the movie is smiling at me.  Perhaps it's the looming shadow of All Hallows Eve, but that review is oddly disconcerting.
"The movie has a devilish wit that works for parent and child alike, and it moves like a bobsled." Boston Globe Ty Burr
The movie is a devil bobsled.  Got it.  But, also disconcerting.
"The results are so funny and irresistible audiences are bound to be swept away into this kitty's universe." Boxoffice Magazine Pete Hammond
"'Puss in Boots' is CAT-astrophically entertaining!" Jeanne Kaplan Kaplan vs. Kaplan
If there were a case of mistaKITTEN identity, one or more participants would be Anonymous (Rotten Tomatoes – Metacritic).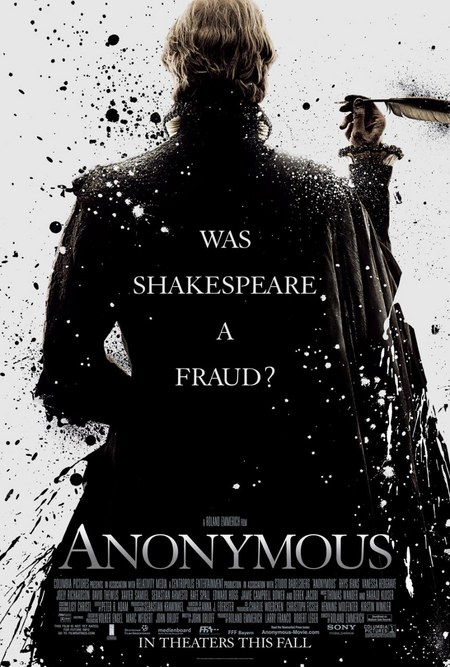 "Emmerich has turned his attention to the past. He and screenwriter John Orloff have embraced a kitchen sink's worth of 20th-century conspiracy theories about the provenance of Shakespeare's plays, each wilder than the last. Oliver Stone's "JFK" looks reasonable compared to this." Time Mary Pols
Are Shakespeare scholars prepared for the Magic Sonnet Theory?
"Anonymous is a vulgar prank on the English literary tradition, a travesty of British history and a brutal insult to the human imagination. Apart from that, it's not bad." The New York Times A.O. Scott
"As the Bard probably would not say, Anonymous is some crazy shit." Peter Travers Rolling Stone
"It's Shakespeare as B-movie, if you will, or to borrow from the bard, a boffo blast, which I'm pretty sure is from either 'King Lear' or 'Hamlet.'" Betsy Sharkey Los Angeles Times
It's a boffo blast of crazy shit, just like Shakespeare might have said if he were alive to drink Starbucks.  Unfortunately, he didn't and he isn't, but if he was, movies like this guarantee he'd be pissed.
"The very qualities that fuel the historical hokum of Anonymous — over-the-top royal intrigue and incest, violent literary backstabbing, frothing conspiracy — also happen to make for wild entertainment." Chris Vognar Dallas Morning News