Innkeeper Woman's Miracle List Chronicle
on
February 3, 2012
at
7:02 pm
Miracles should be rare.  A list of impossible acts is either an innkeeper's daydream journal or a to-do list for Jesus.  Once miracles become routine and you can perform two to get one free, they aren't special enough to warrant a Chronicle (Rotten Tomatoes – Metacritic).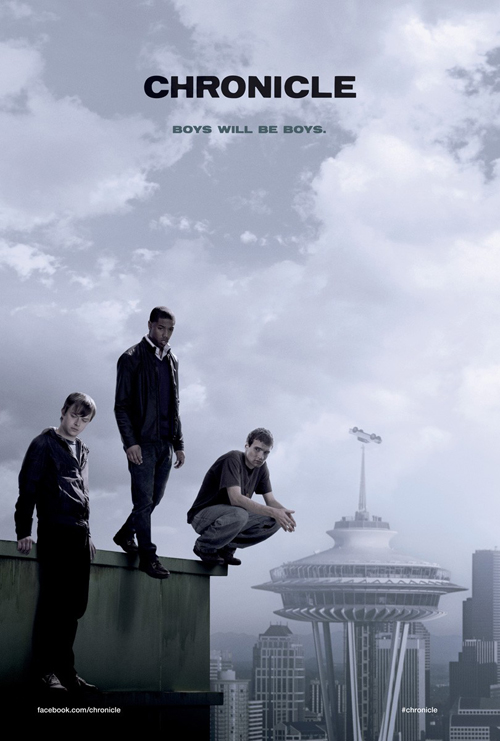 "A stunning superhero/sci-fi that has appeared out of nowhere to demand your immediate attention" Empire Mark Dinning.
Shut up and listen to what
—you didn't know
——-you needed to know
————-five minutes ago.
"A semi-serious sci-fi romp, lighter and more fun than many of the comic-book movies that it steals from, a superhero movie in which nobody ever crusades, or wears a cape." Roger Moore Winston-Salem Journal
Teenage superheros without capes or costumes also lack catchy battle cries like "It's Clobberin' Time" and "Spoon!"
"Give these guys more power and more responsibility." Elliott Noble Sky Movies
"Chronicle, with its found-footage storytelling and superpowered teens, at least playfully transcends its "Cloverfield meets Heroes" pitch." Village Voice Aaron Hillis
Once upon a time, the pitch would have been Blair Witch meets X-Men.
"Perhaps now the found-footage gimmick has been fully exploited; let us never speak of it again." Scott Tobias AV Club
Someone did it right, so nobody should do it again. Wait, huh?  Doesn't it seem excessive to put a fledgling film-genre on the Kill List (Rotten Tomatoes – Metacritic)?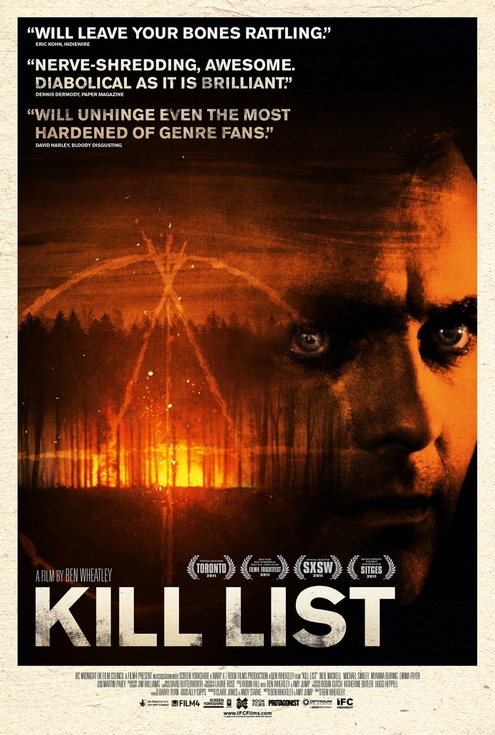 "Director-screenwriter Ben Wheatley brings a fresh mystery and bite to the hitman genre, although a deeply weird twist and buckets of gore may throw more than a few audience members." The Hollywood Reporter John DeFore
The only weird twist that leads to buckets of blood is of someone's neck.
"Pulp Fiction without the flowery dialogue." Bill Gibron Filmcritic.com
It's Pulp-free Fiction?
"Displaying both a nasty edge and a playful sense of humor — but thankfully, never at the same time — Brit import Kill List is several cuts above its fellow midbudget horror brethren." Variety Andrew Barker
"Brutal and bloody and utterly unnerving, thanks in no small measure to Jim Williams's brilliant score, which is filled with strings so taut, they sound like screams you might hear in the distance and decide (quite sensibly) to ignore." Village Voice Chuck Wilson
If you hear screams and Psycho/Shining horror music in the distance, you should consider staying away from The Innkeepers (Rotten Tomatoes – Metacritic).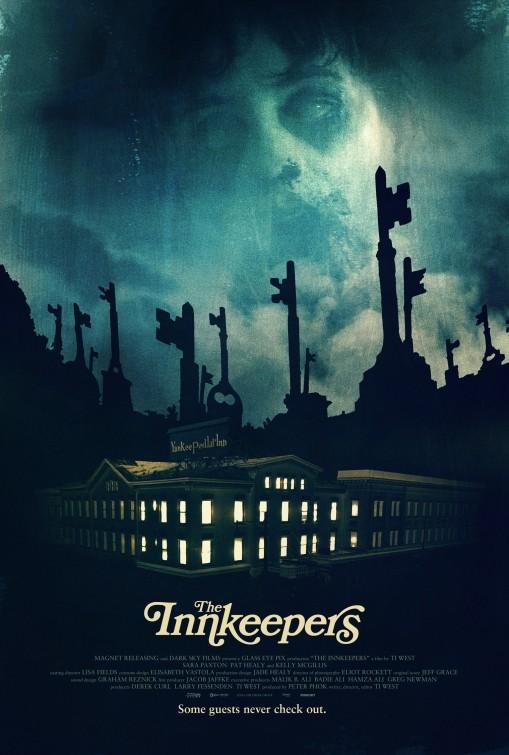 "Will The Innkeepers be enough for the young folk? These days there's little middle ground between the determined lack of gore in the "Paranormal Activity" franchise and the determined overabundance offered by so much else. West works in that No Man's Land, intelligently." Chicago Tribune Michael Phillips
The only horrific intellectual No Man's Land I know is FOX news.
"Ghost movies like this, depending on imagination and craft, are much more entertaining than movies that scare you by throwing a cat at the camera." Chicago Sun-Times Roger Ebert`
"The Innkeepers, a desultory indie-prod poorly written and lamely directed by Ti West, and filmed on the cheap at the actual location, is a poor-man's rip-off of Stanley Kubrick's hotel spookfest, "The Shining," promising paranormal horrors to all who dare to enter. Where is Jack Nicholson when we need him?" New York Observer Rex Reed
He's probably at a Laker's game.
"It's this youthful denial of vulnerability that makes West's slow-sidling haunted-house movies work. He understands the kidding way that his audience approaches horror and seems to play along with that jokey imperviousness – until rudely tearing up the all-in-good-fun contract, gouging us with actual pain." Village Voice Nick Pinkerton
"A textbook study on how to do horror in a way that offers scares and surprises at every turn." Edward Douglasn ComingSoon.net
If horror had a textbook, you'd find it at Hogwarts.  We could ask Daniel about the Role-That-Must-Not-Be-Named, but he's busy chasing The Woman In Black (Rotten Tomatoes – Metacritic).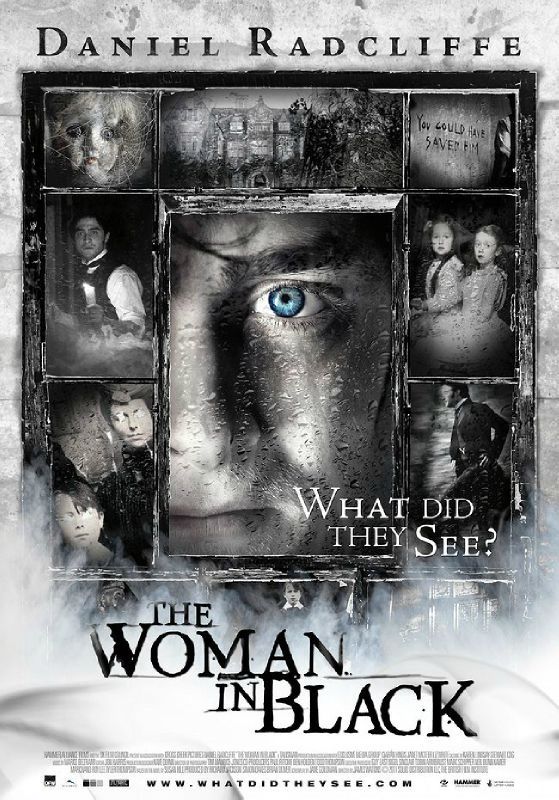 "Old-fashioned and old school, it makes a convincing case for life after death and, for Radcliffe, life after Harry Potter." Roger Moore South Florida Sun-Sentinel
Sweet!  There's life for Radcliffe after Harry Potter!  Wait, what if it had been death?
"Not since young Hutter arrived at Orlok's castle in "Nosferatu" has a journey to a dreaded house been more fearsome than the one in The Woman in Black." Chicago Sun-Times Roger Ebert
"The Woman in Black is a welcome addition to the old canon; renouncing innovation, embracing anachronism, it's almost "The Artist" of ghost movies. To anyone who fancies throwback stories of the supernatural, there's nothing so appealing as a well-preserved corpse." Time Richard Corliss
There's nothing more appealing than a good-looking corpse?  Really?
"The film, a handsome nerve-jangler co-produced under the storied Hammer horror banner, amps up the scares without turning them into something completely stupid." Michael Phillips Chicago Tribune
"The Woman in Black" possesses a purity of purpose. Its goal is to seduce the audience into a supernatural realm of somnambulist existence with the power of suggestion." Cole Smithey ColeSmithey.com
If hypnotism and subliminal messaging could make audiences engage in supernatural sleep-walking, it'd be a Big Miracle (Rotten Tomatoes – Metacritic).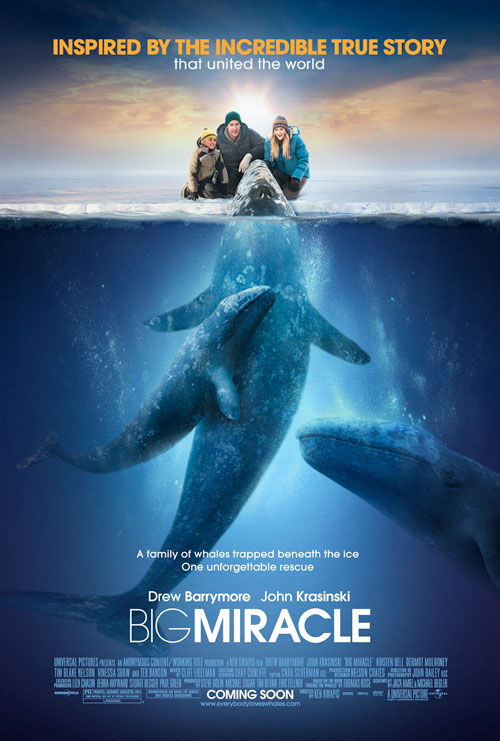 "'Big Miracle' tells its sort-of-true version of events in a democratic and humane fashion, by way of a rangy, lively group of competing interests who actually do on occasion act like real people." Michael Phillips Chicago Tribune
Sort-of-true events.  Loosely based on.  Kinda inspired by.  Is there a way to measure percentages of truth in fiction?
"If you think it's absolutely not your kind of thing, you might be surprised." Glenn Kenny MSN Movies
That argument could be used to justify all kinds of bad behavior.
"It needs only to entertain. And that it does thoroughly, leaving us both charmed and enriched without feeling very preached at. Praise be." Boston Globe Janice Page
–
Hallelujah for religious overtones in benign statements.
"Any goodwill it boasts is terminally suppressed, buried beneath a layer of bullshit as thick as blubber." Slant Magazine R. Kurt Osenlund