Leftovers
on
December 1, 2012
at
2:24 pm
This week's roundup options come together like an overloaded plate of leftovers after the ride home from Grandma's in the trunk. Our roundup title could have been The Life Saga Of Twilight Guardians Killing Red Playbooks or something equally nonsensical, but since we're covering multiple movies, let's try to avoid Killing Them Softly (Rotten Tomatoes – Metacritic).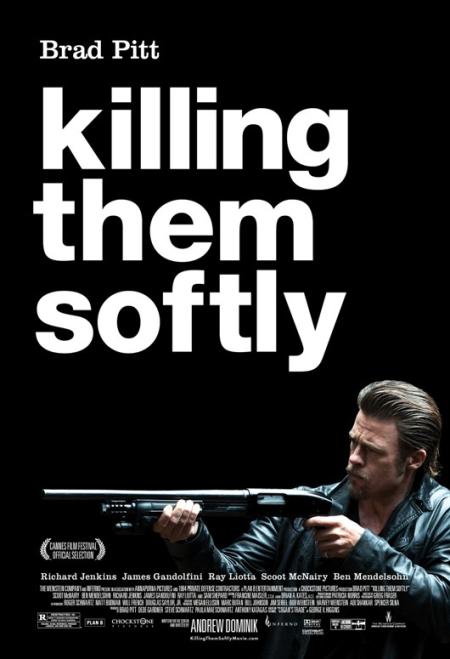 "Dominik's film is bleak but nonetheless perceptive and arresting. Crime still pays, just not like it used to." Craig Mathieson The Sunday Age
Does crime pay more because you don't pay taxes?
"Grimly amusing then shockingly brutal." David Edelstein New York Magazine
Translation: You'll laugh till you're out of breath, then realize it's because you were punched in the stomach.
"The movie isn't political so much as philosophical, trashing the notion of the American dream as anything more than fodder for an endless rat race." indieWIRE Eric Kohn
"Nobody dies softly here; they're mutilated, splattered in blood and vomit, set up by people who'll get theirs soon." Tampa Bay Times Steve Persall
Perhaps a better title would have been Killing Them Harshly, however too much unmitigated violence might lead to the Rise Of The Guardians (Rotten Tomatoes – Metacritic).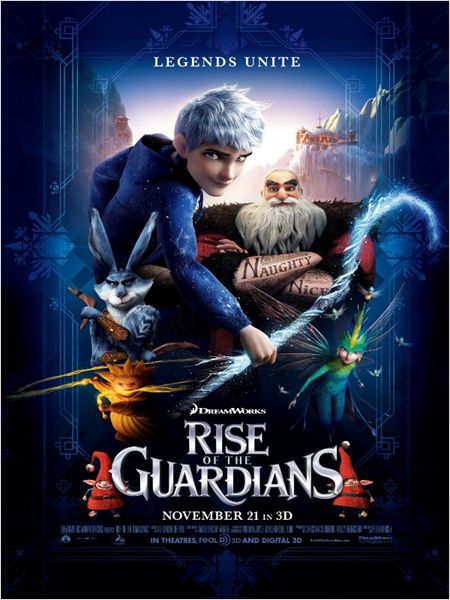 "Yes, Virginia, there is not only a Santa Claus, but a Tooth Fairy, a Jack Frost, an Easter Bunny, and a Sandman, too!" Kam Williams AALBC.com
Yes, Everywhere Else, that statement was probably for you too.
"'Rise of the Guardians' is an effervescent dose of fantasia that's pretty hard to dislike. Unless, of course, you're a cynical grump." Derek Adams Time Ou
"It's perfectly pleasant, just not charming or funny enough for a classic Christmas film." Roz Laws Birmingham Post
Through the power of editing (and ellipsis), a poster version of that review would be: "It's perfectly pleasant…a classic Christmas film."
"Like most children's movies, Rise of the Guardians mimics the patterns of adult entertainment. Where is the magic in that?" Mary F. Pols TIME Magazine
Right, children's movies should only mimic other family movies. Or 80's cold-war action films like Red Dawn (Rotten Tomatoes – Metacritic).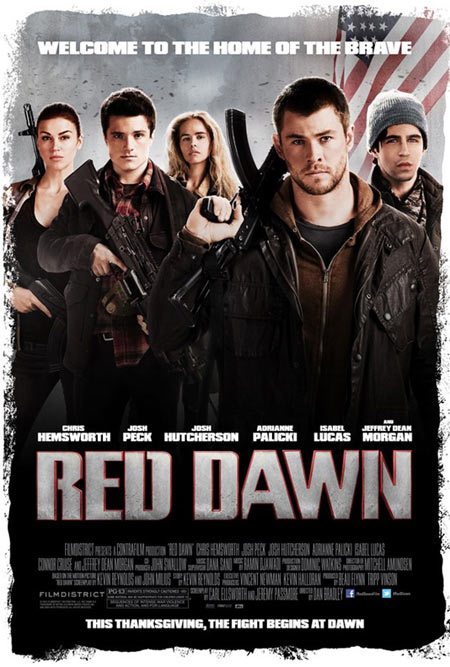 "Red Dawn is like the cinematic equivalent of burping and having some barf emerge at the back of your throat. You'll want to strap yourself into one of the vehicles with a car bomb attached to it just to get out of finishing the stupid thing." Chris Sawin Examiner.com
Rather than making cold war propaganda into entertainment, this film makes audiences into suicide bombers?
"MGM looked at the original formula and decided that if it was going to upgrade just one ingredient, it would be the quality of the explosions." Nell Minow Beliefnet
"Take that, screaming North Koreans with no agenda!" Lisa Schwarzbaum Entertainment Weekly
In the original, Communist Russia invaded America and China allied with the USA. In the remake, Communist China (Population 1,344,130,000) invaded America. However, after the remake was done, the studio decided to change the villain. Hence, the agenda-less North Koreans (Population: 24,451,285) invasion of mainland America (Population 311,591,917).
"The back story of the making and release of Red Dawn is more interesting than the movie." Gary Wolcott Tri-City Herald
Even when the story of the story is better than the story, there has to be a story for the comparison. Otherwise, we couldn't ask 3.14159 about the Life Of Pi (Rotten Tomatoes – Metacritic).

"A movie that can't be dismissed because there is too much in it but can't be embraced because it's all spread too thin." Mick LaSalle San Francisco Chronicle
Too much a good thing means too little restraint.
"The movie's energy peters out in a series of book-club conversations about divine will, the power of storytelling, and the resilience of the human spirit." Dana Stevens Slate
"Lee uses 3D with the delicacy and lyricism of a poet. You don't just watch this movie, you live it." Rolling Stone Peter Travers
For the first time, poetic 3D.
"It proves the power of a good story, both to entertain us and to allow us to process unpleasant truths." Portland Oregonian Marc Mohan
Unpleasant truths are best delivered by poets and comedians.
"I felt like I'd been invited to a seven-course dinner, and all seven turned out to be cake – and then the host insisted on delivering a lecture about how cake would bring me closer to God." Salon.com Andrew O'Hehir
If eating a seven-course meal of cake puts you in a diabetic coma where you meet God, it could count as good news or bad depending on which chapter you read in the Silver Linings Playbook (Rotten Tomatoes – Metacritic).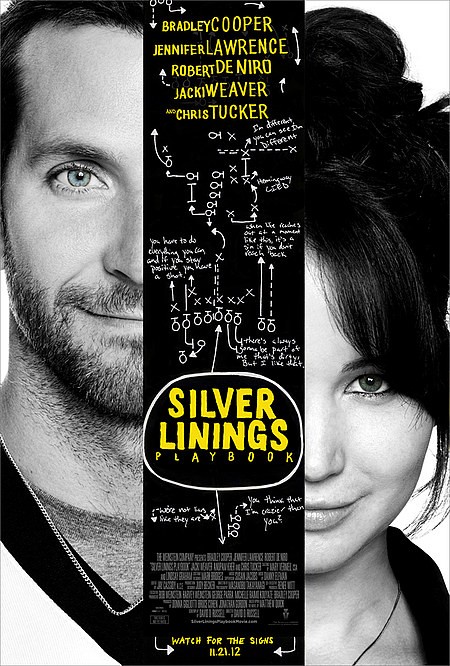 "When films are good, actors and directors get a lot of the credit that should go to the screenwriters. In the case of Silver Linings Playbook, which is one of the best films of the year, there is a popcorn bowl of glory to go around." St. Louis Post-Dispatch Joe Williams
If One doesn't already own a popcorn bowl of glory, where would One find one?
"One hundred percent predictable, yet strangely kind of fun." Kelly Vance East Bay Express
"Love is not perfect, but it beats the next best thing." Robert Denerstein Movie Habit
Depending on who you ask, the 'next best thing' could be lust, friendship, Christmas, video games, booze, coffee, Apple products, or chocolate.
"Sharp of tongue, generous of spirit, Silver Linings Playbook is a jagged, loopy romantic comedy about "crazy" people that insists, deep down, we're all a little nuts." Chris Vognar Dallas Morning News
And if you prefer sharp-teethed immortal nut jobs, consider watching The Twilight Saga: Breaking Dawn Part 2 (Rotten Tomatoes – Metacritic).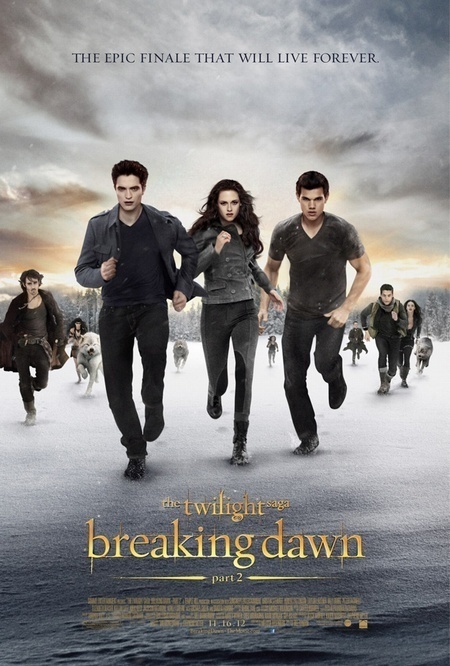 "The franchise… concludes with a genuinely stirring ending. … But [Stewart's] acting hasn't improved, and the dialogue remains laughable. Bad actress, bad lines. Bad combination." Arizona Republic Bill Goodykoontz
That'd be bad news if people saw these movies for the acting or dialogue.
"Not nearly enough shots of Taylor's abs." Bob Grimm Reno News and Review
Even the men agree, this film would be improved by adding a six-pack.
"The big payoff to the Twilight saga is a solidly mounted, carefully directed exercise in franchise box-ticking… Even the decapitations are done tastefully." Jim Schembri 3AW
"Bye Bye Bella: Farewell Edward." Robert Denerstein Movie Habit
So long Stephenie Meyer, toodle-oo Taylor Lautner.
"Boasts one moment, perhaps three or four seconds in length, so delightfully intense and uncharacteristically juicy that the rest of the film – most of the rest of the whole series, in fact – looks pretty pale by comparison. Not vampire pale. Paler." Chicago Tribune Michael Phillips