May: The Fast Trek Into Great Earth Man Hangovers
on
June 12, 2013
at
2:21 pm
The 2013 summer movie season begins with the month of May and options range from iconic to moronic. We begin with the former and descend in quality from there. Prepare to Star Trek Into Darkness (Rotten Tomatoes – Metacritic).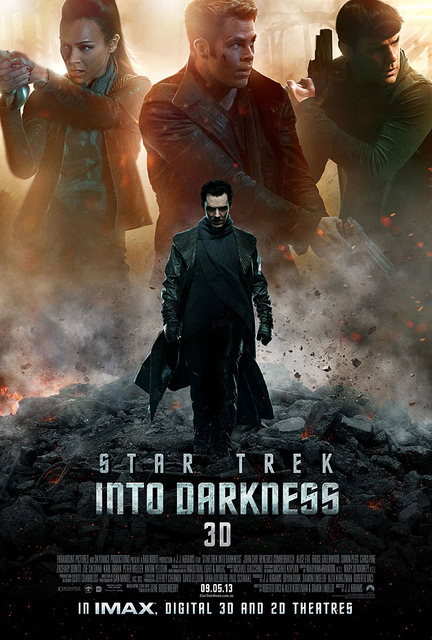 "Star Trek Into Darkness gives you an exhilarating, tingle-inducing rush — that rare feeling that comes when a gigantic entertainment is firing on all fronts, exceeding your expectations." Miami Herald Rene Rodriguez
Fire all expectations! Ahead, warp factor awesome!
"Star Trek Into Darkness is a giddy homage to what's come before it, but it also at least tries to go boldly where … well, you know." Arizona Republic Bill Goodykoontz
Best answers to "To boldly go"
a)   Where no one has gone before
b)   To a galaxy far far away
c)   To see it again
d)   Split an infinitive
"For all its chasing and falling and fighting-and the movie supplies a great deal of each-Star Trek Into Darkness is at its best when the Enterprise crew are merely bickering and bantering among themselves: less space opera than soap opera." Christopher Orr The Atlantic
"The casting coup here is Benedict Cumberbatch, who exudes steely resolve and silken savagery as a villain on the cusp of becoming a legendary nemesis." Washington Post Ann Hornaday
Khaaaaan't get enough Cumberbatch. It's unfortunate his fan base labeled themselves Cumbercbitches.
"Noisy, frenetic, grandiose and essentially a soap opera, director J.J. Abrams's second contribution to the franchise has everything, including romance: Never before have Capt. James T. Kirk and his Vulcan antagonist, Mr. Spock, seemed so very much in love." Wall Street Journal John Anderson
Beam me Scotty. Make it Long and Prosper. Drop a few words and catchphrases sound smutty. Fittingly, next up is a love triangle between Tony Stark, Pepper Potts, and Iron Man 3 (Rotten Tomatoes – Metacritic).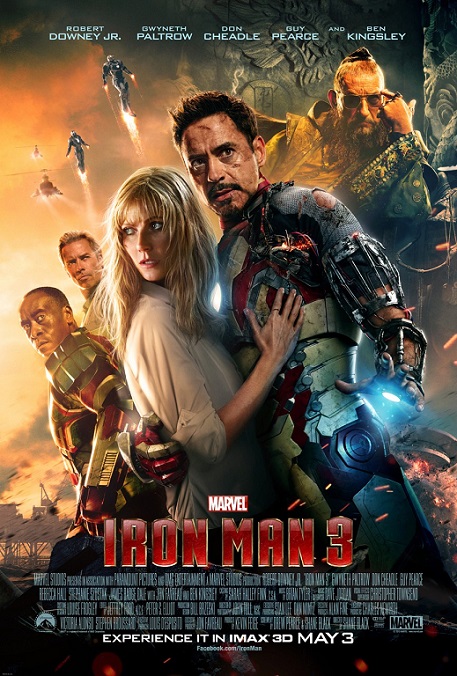 "Black proves the perfect blacksmith, forging smart new tech and scenarios for the swaggering super-genius. If this does turn out to be Downey Jr.'s final solo outing, it's a very strong exit." Empire Nick de Semlyen
Considering Marvel money is $50 million per movie for Downey, his only worry would be the golden butt plate hitting his ass on the way out.
"The big problems with Iron Man 3 are less specific to the movie itself than they are characteristic of the hypermalaise that's infected so many current mega-blockbusters—too much plot, too much action, too many characters, too many pseudo-feelings." Village Voice Stephanie Zacharek
Less plot! Less action! Fewer characters! Real feelings! Sounds more like an indie movie than a superhero franchise.
"As compared to the overwrought, too-many-irons-in-the-fire second installment, Iron Man 3 proves its metal, oops, mettle, once again." Kimberly Gadette Doddle
"In the midst of various plot threads with varying degrees of contemporary relevance, Black pulls off a crazy plot twist a little more than halfway through the film that's truly inspired and solidifies it as a comedy." Eric Melin Scene-Stealers.com
The same might be said of the vehicular violence and car chaos in Fast And The Furious 6 (Rotten Tomatoes – Metacritic).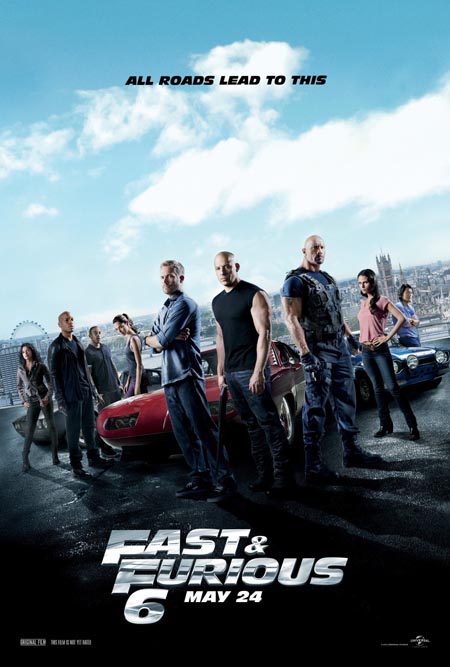 "Against all odds, the billion-dollar "Fast & Furious" franchise is actually picking up momentum, with "FF6" clocking in as the fastest, funniest and most outlandish chapter yet." Chicago Sun-Times Richard Roeper
Just as Trek has an every-other rule, people will compare future franchises to the Fast & Furious formula:
The Fast and the Furious (2001) – cars and girls.
2 Fast 2 Furious (2003) – cars and dudes.
The Fast and the Furious: Tokyo Drift (2006) – cars and stunts.
Fast and Furious (2009) – cars and fewer 'the's'
Fast Five (2011) – ensemble banter, cars, and crazy stunts.
Fast & Furious 6 (2013) – Fast & Funny & Fucking ridiculous.
"This franchise that won't die began in 2001 as The Fast and the Furious and has pretty much run through every title permutation, so the inevitable next chapter might be called only 'The & The 7.'" Tampa Bay Times Steve Persall
But the one after that will be A D8 with F8.
"This is a franchise entirely comfortable with what it is, what it's not, and what it has to offer. It has a whole mess of "Fast" for us all, and woe be the souls who enter this film hoping to go slow." Film.com Laremy Legel
"Like its predecessors, doesn't need CGI, 3-D glasses or even praise from film critics. It just needs to please its audience with amped-up, old-school thrills that make its target demo whoop and holler with every zoom, smash and ka-BOOM. Consider this review a declaration that it does just that." Washington Post Jen Chaney
Good for when you want some zoom zoom with your boom boom.
"No film that includes a Vin Diesel flying headbutt could remotely be called a write-off, and Furious 6, like its predecessors, is a big screen no-brainer that's objectively terrible but undeniably pleasurable. A reversal from Fast 5, it's still a gear above all the other sequels. And an end-credits teaser promises much for the future." Empire Owen Williams
Everyone agrees it's bad, but they all enjoyed it? That's the kind of backwards praise you'd hear from freshmen describing The Great Gatsby (Rotten Tomatoes – Metacritic).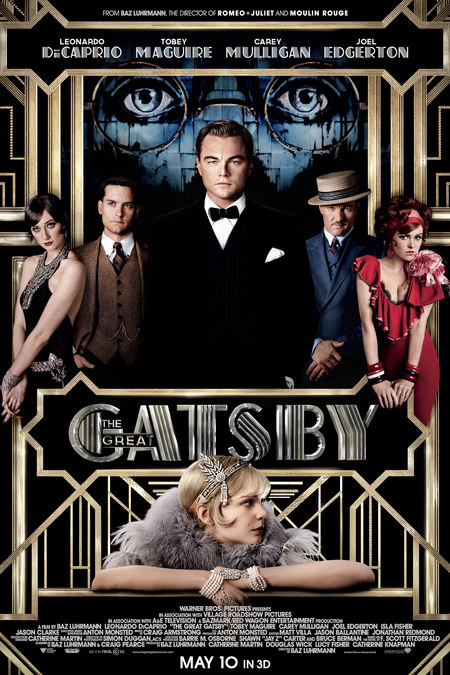 "What's truly telling about this brash, boisterous adaptation is that the director clearly understands the spirit of F. Scott Fitzgerald's novel better than most film critics." Jim Schembri 3AW
Uh oh, a film critic just threw down the hypothetical gauntlet. Who's got a witty retort?
"Gatsby/ghastly" Joe Baltake Passionate Moviegoer
Clever/never.
"It may not be pure F. Scott, but this lavish, flamboyant version is quite the show…old sport!" Neil Pond  American Profile
"Sure, it's a Bazdardisation, but underneath the over-the-top art-deco design there's an elegant and sometimes touching tale to be found, with Gatsby (Leonardo DiCaprio) reaching out for the woman he cannot seem to forget." Simon Weaving Screenwize
Bazdardisation is a spelltastrophe.
"Fitzgerald classic gets a decadent, gorgeous, tricky update." S. Jhoanna Robledo Common Sense Media
If you're looking for tricks, finish this sentence: Now You See Me (Rotten Tomatoes – Metacritic).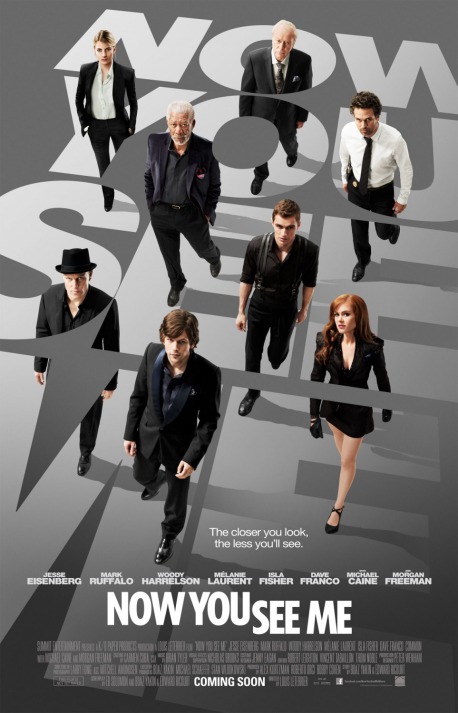 "The real trick is going to be pulling the ticket price out of the audience's pockets for this handful of smoke." Kelly Vance East Bay Express
Which trick is real, pick-pocketing or selling smoke?
"The editing of the action sequences is an insult to the idea of narrative clarity." Boston Globe Mark Feeney
If narrative clarity could take offense, it would soon forgive for the sake of narrative clarity.
"About as thrilling as watching a movie about a white rabbit come out of a magician's hat." Dennis Schwartz Ozus' World Movie Reviews
"None of these seemingly plot-rich questions are explored; instead, we're stuck with a greasy-haired Mark Ruffalo, as his detective character flounders along in their wake, muttering that he doesn't have time for this magic crap." New York Post Sara Stewart
Having time for this magic crap depends on your schedule.
"A sleight-of-hand heist film that feels like a cross between David Blaine and "Ocean's Eleven," with a little Robin Hood thrown in, it's a ripping bit of fun. If, that is, you let it be." New Orleans Times-Picayune Mike Scott
Let it be. Don't ask questions. Observe from a reasonable distance. In a sense, treat the film like a drunk bear. Or worse, one trying to sleep off 1, 2, and Hangover III (Rotten Tomatoes – Metacritic).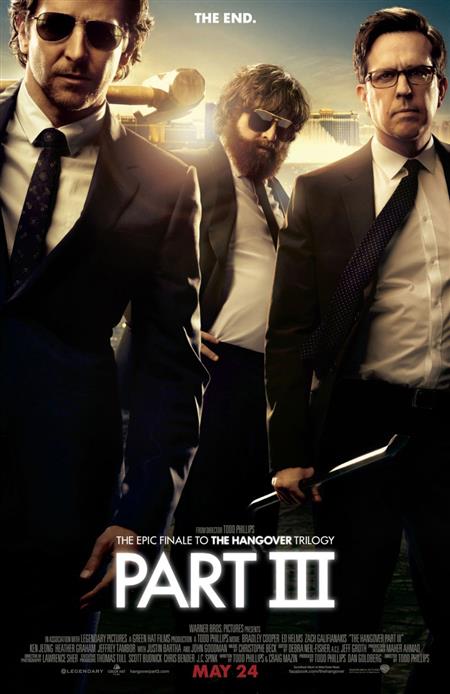 "If only what happened in Vegas had stayed in Vegas." Tom Charity CNN.com
Oddly fitting that a series about hangovers would be something you'd want to forget.
"If the first "Hangover" movie were this awful, there never would have been a Part Two. This is a joyless, unfunny mix of comedy and drama, a complete waste of time, with exactly one good joke in the entire movie. It comes in the first minute. After that, you can leave." San Francisco Chronicle Mick LaSalle
Even in Vegas, movies don't let you pay-by-the-minute.
"The good news is that The Hangover Part III isn't a rerun like the second episode. The bad news is everything else. For all the promise of mayhem and WTF moments, the final episode hits you with all the force of a warm can of O'Doul's." New York Post Kyle Smith
"Young viewers looking for unbridled raunch will be sadly disappointed, and so will other moviegoers expecting more than a few wan chuckles. This picture is like a brightly colored balloon with all the comic air seeping out." The Hollywood Reporter Stephen Farber
But deflating balloons make fart noises. Even if it's not funny, people laugh.
"It's an unnecessary movie, with some funny parts and a few callbacks to the original, as if visiting Las Vegas for a bit might bring back some of the original magic. It doesn't, but at least this time it seems like they're trying. A little, at least." Arizona Republic Bill Goodykoontz
Yay, the movie is trying. That kind of creative pity would be better saved for M. Night Schadenfreude, whose latest flop explores what's After Earth (Rotten Tomatoes – Metacritic).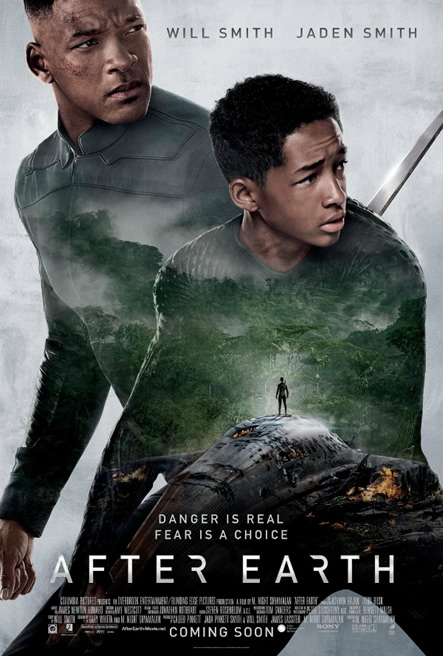 "M. Night Shyamalan has directed movies that are surprising, hokey, suspenseful, sentimental, clever, touching or cheesy. But until After Earth, he hadn't made any that are dull from end to end." Charlotte Observer Lawrence Toppman
He's dramatized ghosts, superheroes, aliens, water nymphs, magic-fu, and trees. If 'dull' was the last to-do on his filmmaker bucket list, there's no shame in retirement.
"M. Night Shyamalan is branching out, coming up with new ways to make bad movies. His plan must be to exhaust all possibilities, so as to eventually come full circle and make a good one by accident." Mick LaSalle Hearst Newspapers
"Jaden is fine at running, jumping, fearful trembling, and affecting steely resolution. He doesn't yet have his father's charisma; perhaps to help him out, dad opted not to bring that charisma to the set." Village Voice Alan Scherstuhl
Will Smith put on more than Seven Pounds to play Ali (that was the Hitch), unfortunately Hancock's acting in After Earth sounds less like I Am Legend and more like I, Robot. The difference between a Shark Tale and The Pursuit Of Happyness doesn't have to be Six Degrees Of Separation. The Fresh Prince reminded us the Wild Wild West was Made In America, the Enemy Of The State shares Independence Day with The Legend Of Bagger Vance, and Men In Black can be Bad Boys 2.
"The critical problem with After Earth is that Smith Jr's whiny character has all the likeability of an anal fissure." Jordan Farley SFX Magazine