Meet The New York Hope Circus Campaign Legacy
on
August 10, 2012
at
2:38 pm
A Hope Circus is a big tent filled with free hugs and reassurances amidst clown jugglers. Unfortunately, some rich candidate took advantage of the not-creepy touching and not-scary clowns for political gain and now it's a New York legacy. If I am asked to meet this legacy I will say "no, I would rather Meet The Fokkens (Rotten Tomatoes – Metacritic)."
"A racy, thoroughly enjoyable docu about a pair of 69-year-old identical-twin hookers in Amsterdam, Meet the Fokkens bounces along with defiant joie de vivre." Ronnie Scheib Variety
Are you sure it's not joie de something else?
"If there's a tug of sadness to this (off-)colorful tale, it has less to do with sympathy for these resilient women than with how easily their compromised lives can be related to our own." Eric Hynes Time Out New York
It's the oldest profession, but it's still somebody's career, and every job blows sometimes.
"To what degree the seductive senior siblings for sale are leveling with audiences is up for grabs, but certain truths vividly come into play. Namely, their refusal to act old, along with challenging the cultural norms of what it means to be beautiful." Prairie Miller NewsBlaze
"The sisters' struggle for autonomy (they opened Amsterdam's only independent brothel until they were forced out by organized crime) reveals a touching commitment to mutual survival." Jeannette Catsoulis NPR
The mob functions as the police of organized crime, which is doubly unfair because prostitutes are harassed by the real police too.
"The film is about two old ladies, still cackling despite the sadness that trailed in the wake of the lives into which they were forced." Chris Packham Village Voice
When life gives you lemons, make some lemonade or give life a swift kick in the balls. The former is a cliché and the latter sounds like a stunt from Nitro Circus: The Movie (Rotten Tomatoes – Metacritic).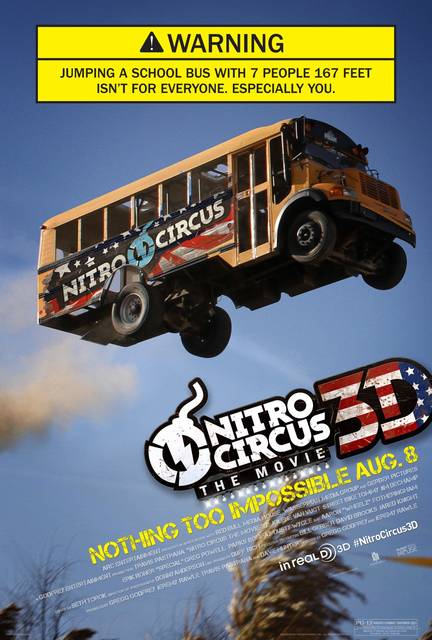 "While the Nitro Circus's many achievements are impressive, they pale in comparison to those of Knoxville and company's." Slant Magazine Nick Schager
So they're copycats? What a bunch of hack-asses.
"The personalities on screen have such limited shticks, such one-dimensional ideas, that they're no fun to hang out with." Rafer Guzman Newsday
The joy of Jackass was sharing the laughter and the pain. However, you'd think watching assholes hurt themselves would have some value.
"Nitro Circus is an overcooked sham, too broad to take seriously, while treating genuine injury as an opportunity to point and laugh." Brian Orndorf Blu-ray.com
"Even if you appreciate the sight of grown men acting like idiots, the film's repetitive pacing and self-congratulatory air start to feel exhausting." New York Daily News Elizabeth Weitzman
Exhausting self-congratulatory idiots sounds like something you'd see during The Campaign (Rotten Tomatoes – Metacritic).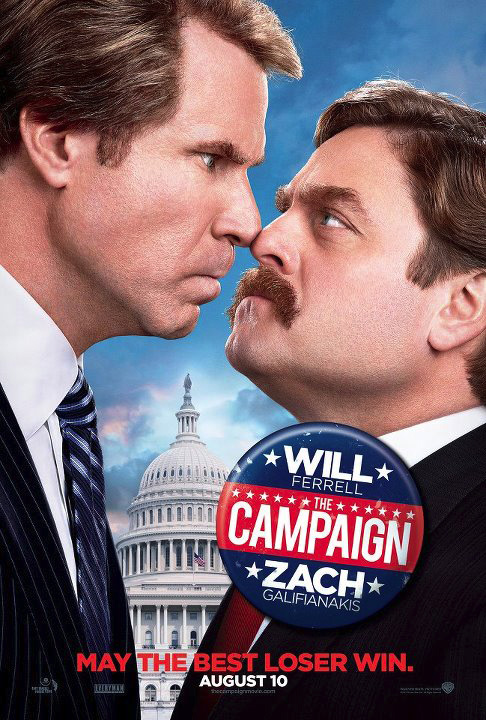 "The Campaign attempts to simultaneously appeal to fans of both the highbrow and the low. In effect, running its own contest between the slapstick versus the sly. And wins … half the time."  Kimberly Gadette Doddle
Half winning is a tie. Recount!
"This is one of those campaigns when you wish the ballot had an option for 'none of the above.'" Nell Minow Beliefnet
Would our political system be improved by offering an "all of the above" option, where the 'winners' fight for supremacy in a Thunderdome Battle Royal?
"Perhaps the best thing about the film is that it doesn't let those other players in the political process off the hook: the voters." Entertainment Weekly Owen Gleiberman
"As with nearly everything else in The Campaign, a little goes a long way, until it finally just goes on too long, period." Arizona Republic Bill Goodykoontz
Verbalizing grammatical expressions for emphasis works, question mark?
"Would a Republican enjoy this movie as much as a Democrat? Possibly. Party affiliations mean nothing to the characters, nor does the plot approach them. Then why are Huggins and Brady both Republicans? I'll save you the trouble. It's because Hollywood is run by a lot of rich liberals, right?" Chicago Sun-Times Roger Ebert
If Hollywood is run by rich liberals, most other places are run by rich republicans – exclamation point! Perhaps that's why Hollywood keeps making movies about battling government corruption with kung-fu; it's The Bourne Legacy (Rotten Tomatoes – Metacritic).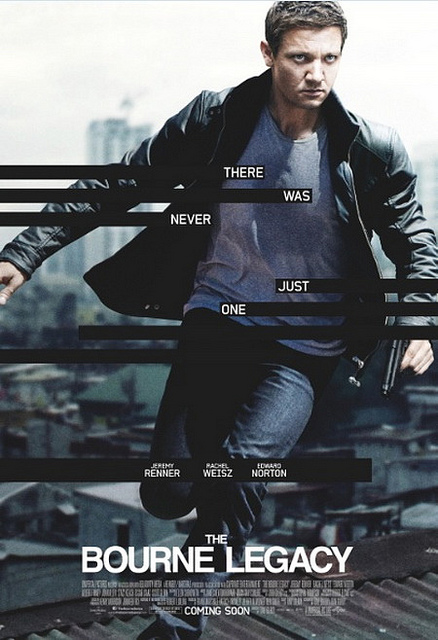 "'The Bourne Legacy' is always gripping in the moment. The problem is in getting the moments to add up." Roger Ebert Chicago Sun-Times
Translation: Everything is gripping but the math.
"Narratively it's a pretzel, half-baked." Michael Phillips Chicago Tribune
The plot is a half-baked pretzel? Dough!
"If this is Bourne's legacy, he should amend his will." Patrick Smith Daily Telegraph
"Jeremy Renner transitions smoothly into leading man status. He's scrappy. Athletic. Real." Matt Pais RedEye
"The overall tone is familiar, refried, redundant." Time Richard Corliss
Simple. Elegant. Fragments.
"The Bourne Legacy doesn't reach the heights of the previous three films, but a guns-blazing final act and strong performances from its entire cast might give it the juice to try for a fifth sequel." Boxoffice Magazine Kate Erbland
Jeremy Renner is The Bourne Juicer. If he kicks ass stateside in the sequel, the plot could involve 2 days in New York (Rotten Tomatoes – Metacritic).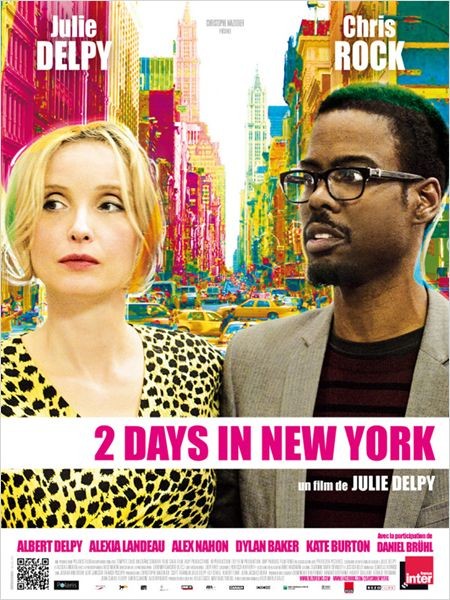 "The film's jokes are occasionally unfunny and its tone is frequently shrill. But you know what? Life is occasionally unfunny and frequently shrill. This movie understands that." Matt Singer ScreenCrush
If someone asks, "Why aren't your jokes funny?" is it acceptable to respond "because life isn't funny?"
"The film, which is about a chaotic 48 hours in Marion's life, succumbs to the chaos it depicts, and so undermines its best intentions. It is, all in all, a likable mess." A.O. Scott New York Times
The best messes are likable.
"A scattershot culture-clash comedy that goes down like yesterday's foie gras." Justin Chang Variety
"Julie Delpy is boundlessly appealing. And Chris Rock is acerbic fun. But the frenzied cross-cultural gags take the piss out of the real subject: how blood ties can turn love into a battlefield." Peter Travers Rolling Stone
Really? Love is a battlefield? Thanks Pat Benatar. It's a good thing Hope Springs (Rotten Tomatoes – Metacritic).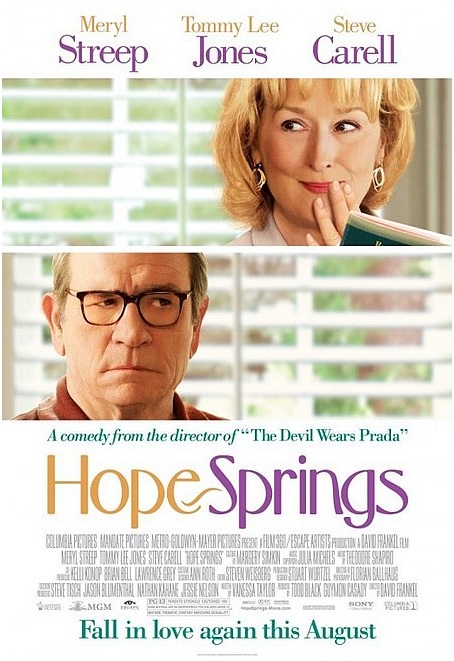 "I think everything about the movie is too subtle and real to appeal to the "Batman" demographic, but for mature audiences who have forgotten how to smile, it takes up where "The Best Exotic Marigold Hotel' left off." New York Observer Rex Reed
Bat-fans should stay away, but you'll love this movie if you have mild facial paralysis.
"I don't want to scare anyone away, but Hope Springs, better than I expected, is a movie for grown ups that seems just the tiniest bit French."  Time Mary Pols
Ouais, et alors?
"An unusually intelligent cut at the relationship game." Los Angeles Times Betsy Sharkey
"It takes an almost bracingly explicit attitude toward issues of sexual intimacy, to the degree that just seeing this film might count as therapy for some married couples. The PG-13 rating is justified, and should be taken literally, though I can't imagine too many parents bringing their kids to this one. Talk about an awkward car ride home." Portland Oregonian Marc Mohan 
IMO,TMI. LOL.
"A surprise that sneaks up and moves you, "Hope Springs" has the courage of its awkwardness, and this is said admiringly in the spirit of the film, which is irony-free and unfashionably earnest." Joe Morgenstern Wall Street Journal