Mother Avenges Exotic Hotel
on
May 4, 2012
at
8:57 pm
No crime committed against a hotel (even an exotic one) deserves avenging. Celebrity room trashing is too common for revenge and even replacing the late-night concierge with a pathological liar shouldn't warrant assembling The Avengers (Rotten Tomatoes – Metacritic).
"Big, brash and very funny, Joss Whedon's Avengers Assemble is equal to the sum of its parts – and for once, that's no faint praise. Suit up." Total Film Jonathan Crocker
Unless you're already wearing a suit, then dress down.
"The Avengers is both campy and ­reverential. Comic-Con nerds will have multiple orgasms. I had a blast." New York Magazine (Vulture) David Edelstein
The film promises nerd orgasm blasts. I hope it doesn't deliver.
"When I see these six together, I can't help thinking of the champions at the Westminster Dog Show. You have breeds that seem completely different from one another (Labradors, poodles, boxers, Dalmatians), and yet they're all champions." Chicago Sun-Times Roger Ebert
"Whedon weaves a story that allows each of the heroes to do what they do best. And while they may not have exactly equal time, audiences get enough of each to feel satisfied, but not sated. Clever work, indeed." USA Today Claudia Puig
Always leave the audience wanting more, unless you're running The Best Exotic Marigold Hotel (Rotten Tomatoes – Metacritic).
"The film is home to some unique redeeming factors, but it panders to viewers by diluting its lesson, which teaches that some comfort zones can only be truly abandoned on the other side of the world." Slant Magazine R. Kurt Osenlund
What happens half-way around the world, stays wherever the fuck it happened.
"A little youth is injected via "Slumdog Millionaire's" Dev Patel and Tena Desae, but they are supporting players. Still, as one might expect from a group of actors in this age range, the performances are impeccable. Experience does count." ReelViews James Berardinelli
Experience should always count in life and leveling.
"Charming, delightful and amusing – just what you'd expect from the star-studded cast of veterans." Empire Anna Smith
"It is oddly like an Agatha Christie thriller with all the pasteboard characters, 2D backstories and foreign locale, but no murder." The Guardian Peter Bradshaw
This film left audiences yearning for murder.
"Even at its most predictable, the winning characterizations and soulful insights into aging keep the handsome film on a warmly satisfying track." The Hollywood Reporter David Rooney
'Warmly satisfying' could be describing cake or coitus and both might be celebrated on Mother's Day (Rotten Tomatoes – Metacritic).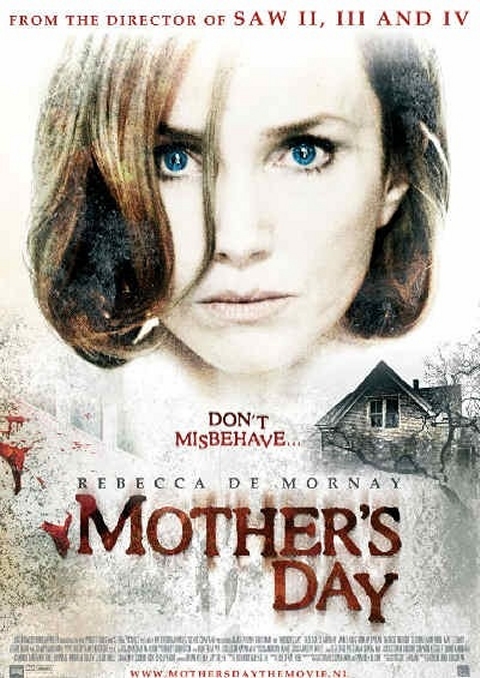 "The production overstuffs the script, making one wish not for the hostages to gradually squirm their way to freedom, but for Mother to hurry up and just kill everyone." Brian Orndorf BrianOrndorf.com
Movie #2 that encourages homicide. Then again, any movie opening opposite The Avengers is likely to be jealous.
"It's not hard to see the hand of director Darren Lynn Bousman at work here. Having directed three of the Saw sequels, he knows his way around the infliction of pain." Alex Zane Sun Online
The Saw director left his hand in the movie. If that's literal, it's a helluva commitment to horror.
"Too long and with too many characters to get through, Mother's Day holds effective sequences, ramming home its (recycled) message: the animal lurks in us all." Total Film Jamie Graham
"You have to like this sort of thing, and I don't." Derek Malcolm This is London
"Do as he says, not as he does" is fitting advice for a parent-themed holiday.
"A home-invasion film like Mother's Day is elongated coitus interruptus." Slant Magazine Chuck Bowen