My Dangerous Christmas Rampart Weekend With Arthur Hugo Muppets
on
November 29, 2011
at
8:36 pm
Santa Claus has given up the naughty-nice list and started accepting bribes because Hollywood is giving you FIVE GOLDEN movies this weekend.  Each one lands between "Worth your time/money" and "Classic." How'd you get so lucky?  While you're pondering that, be sure to leave out a few extra cookies for the big guy in red this year, he's got a new sidekick named Arthur Christmas (Rotten Tomatoes – Metacritic).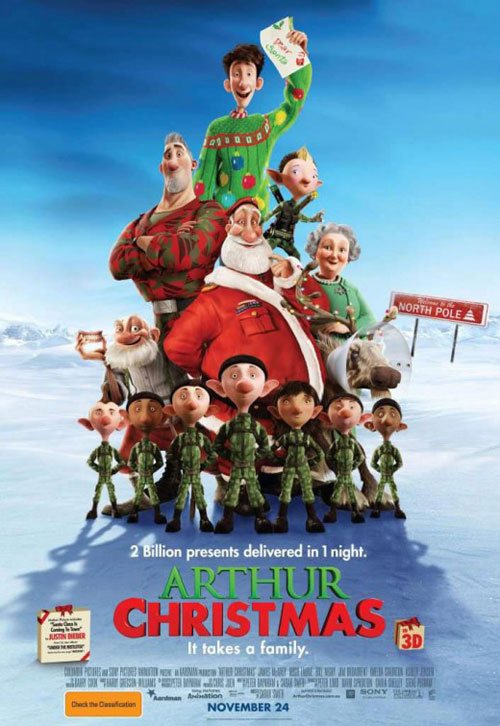 "Sarah Smith pulls the various threads of this wholly original – well, as original as can be reasonably expected given the thousands of cinematic iterations Christmastime has provoked over the years – together into a very coherent, visually stunning, oftentimes laugh-out-loud hilarious holiday film." Austin Chronicle Marc Savlov
We need a new word.  When literalists say something is original, they usually add that nothing really is.  We need to be able to praise 'newness' while recognizing 'sameness.'  I suggest: Dittoimilar.
"Ho-ho-huh? Arthur Christmas is an animated kiddie comedy that delivers all the wonder you'd expect in a movie about a guy delivering one package. Maybe they should have called it 'UPS Man: The Movie.' "New York Post Kyle Smith
"When it comes to Christmas movies, although most are quickly forgotten, a select few go on to become touchstones, beloved and re-watched by families year after year after year. Arthur Christmas may have what it takes to join the latter category." ReelViews James Berardinelli
Holiday movies are like Grandma's house: remembered fondly, but rarely visited.
"The real draw of Arthur Christmas is simpler: It's really funny." Arizona Republic Bill Goodykoontz
I aim for funny with my (occasionally) amusing wordplay, but I stand on the shoulders of much wittier giants, which happen to be similar in size to The Muppets (Rotten Tomatoes – Metacritic).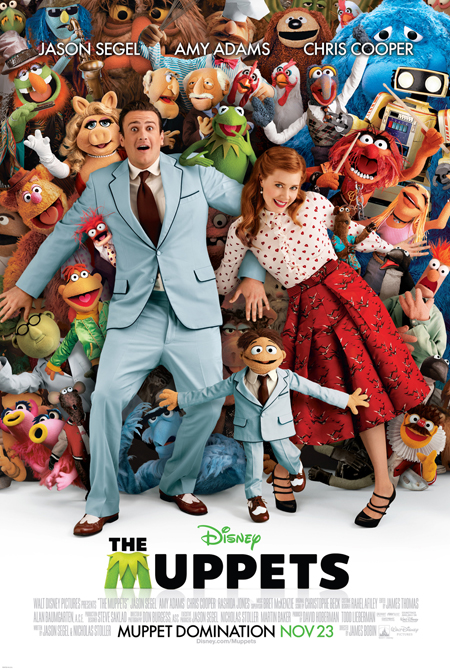 "The Muppets may have been born out of a desire to revive a dormant franchise that was once a cash cow, but there isn't a single beat in the film that feels crass or opportunistic. This one is from the heart." Miami Herald Rene Rodriguez
It's heart felt even if the heart is made of felt.
"The Muppets is both a delightful family film about the Muppets and a winking, self-referential satire about how lame the Muppets are." Washington Post Michael O'Sullivan
"It's hard not to be both heartened and a little wistful about the fact that The Muppets is probably as good a Muppet project as it's possible to make without Jim Henson." NPR Linda Holmes
Whether it's Henson, Jobs, or ol' Walt Disney himself, visions don't have to die with the visionary.
"You can find movies with better scripts, direction, acting, songs, and jokes than The Muppets — but you won't find one that's nearly so much fun." Portland Oregonian Shawn Levy
A lot of men from my father's generation would probably say the same thing about My Weekend With Marilyn (Rotten Tomatoes – Metacritic).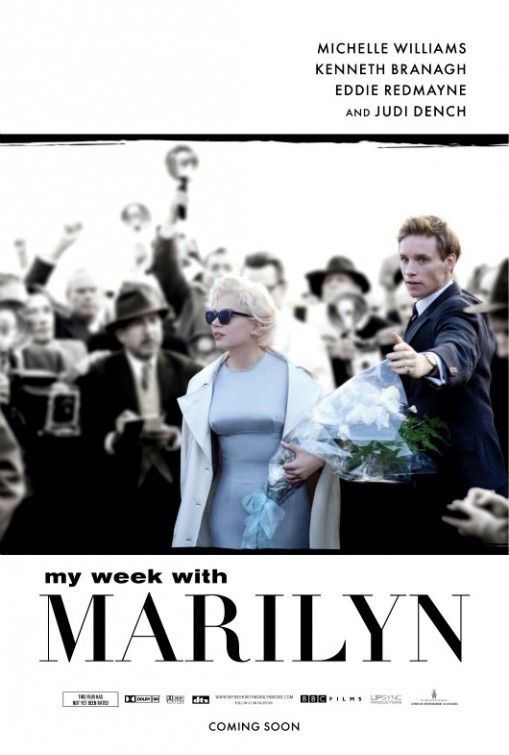 "The performance is both an eerie imitation and a touching revelation. Oscar voters who overlooked Williams for her camouflage roles in "Brokeback Mountain," "Wendy and Lucy" and "Blue Valentine" should now throw diamonds at her feet." St. Louis Post-Dispatch Joe Williams
"At moments hilarious and others touching, it's a sweet, slight affair, more pretty pageant than pithy biographical drama. Expect awards nominations to stack up for Williams and Branagh." Empire Angie Errigo
If you want to dominate other awards ceremonies, your award should be a stack of other trophies.
"When Marilyn Monroe appears, things stop. She is, as portrayed by Michelle Williams, a strange and beautiful alien: Unpredictable, odd, magnetic." New York Daily News Joe Neumaier
"There's nothing here about Monroe that we haven't been told a thousand times already: she was sexy, she was troubled; she was warm, she was selfish; she took pills, she lit up the screen." Chicago Reader J.R. Jones
Doing all those things together would require A Dangerous Method (Rotten Tomatoes – Metacritic).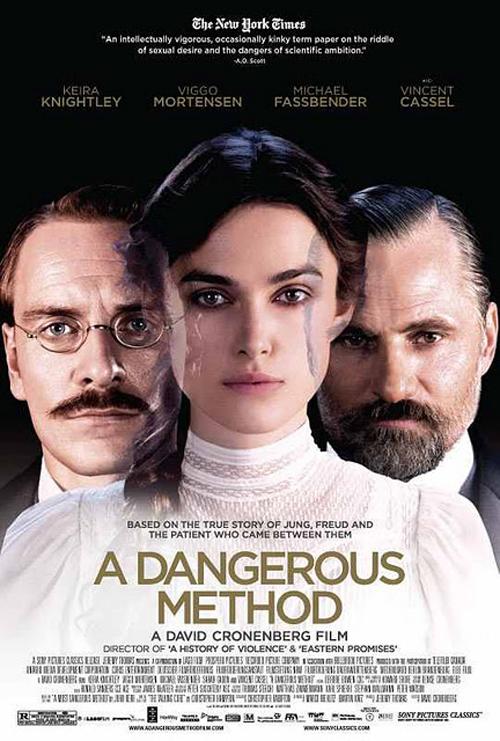 "Precise, lucid and thrillingly disciplined, this story of boundary-testing in the early days of psychoanalysis is brought to vivid life by the outstanding lead performances of Keira Knightley, Viggo Mortensen and Michael Fassbender." The Hollywood Reporter Todd McCarthy
Lurid boundary testing?  Thrilling discipline?  Sentence fragments ending with question marks?
"Certainly the most genteel film Cronenberg has ever made, with period costumes worthy of Merchant/Ivory, no gore, and very little physical violence. But A Dangerous Method doesn't feel like a wimp-out or a sell-out at all. It's a fiercely thoughtful film, a movie of ideas that understands how powerful ideas can be." Slate Dana Stevens
Ideas can be powerful, even if most of them are dittoimilar.
"In short, Cronenberg has made an elegant film, with spanking. There's some mildly kinky sex in A Dangerous Method, but Cronenberg makes it neither exploitive nor so tasteful that it loses its charge." Movieline Stephanie Zacharek
If you live in fear of tasteful-kinky-spanking you should consider building yourself a personal Rampart (Rotten Tomatoes – Metacritic).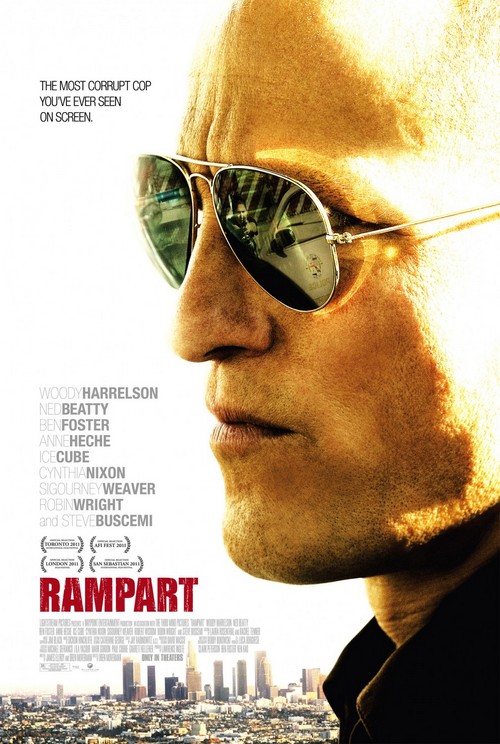 "Here the director pulls off the formidable task of marrying two unwieldy performances: Harrelson's, a volatile and vulnerable feat of showboating, and Ellroy's, whose writing voice is unmistakably the voice of the movie. " Village Voice Karina Longworth
A crime writer's voice marries a cumbersome showboat?  Sounds like a marriage of inconvenience.
"As the movie drags on, though, it takes on a throbbing, sick monotone. This isn't a concert, it's a bass guitar solo, all thumping blackness. " New York Post Kyle Smith
"Rampart won't be for everyone, but it's the work of a major directorial voice. It's a thriller on fire." Owen Gleiberman Entertainment Weekly
Aside from being a combustible cliff-hanger pyro-potboiler, what's the spark that lights the blaze?
"The film has its narrative flaws and, occasionally, distracting stylistic flourishes. Harrelson's portrayal of a swinging dick staring down the abyss, however, is perilously close to perfect; it's the finest, most harrowing thing he's ever done." Time Out New York David Fear
Swinging dicks down the abyss does sound harrowing for Harrelson.  Perilously so.  Let's ask Hugo (Rotten Tomatoes – Metacritic).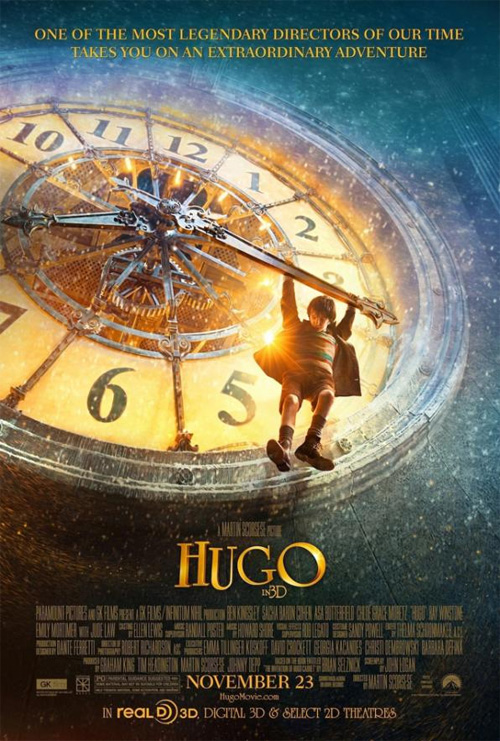 "With Hugo, Martin Scorsese has accomplished what few in Hollywood are willing to try: make a movie for adults that arrives without sex, violence, or profanity and earns a PG-rating." ReelViews James Berardinelli
Parental Guidance is no longer required.
"In attempting to make his first film for all ages, Martin Scorsese has fashioned one for the ages. Simultaneously classical and modern, populist but also unapologetically personal, Hugo flagrantly defies the mind-numbing quality of most contempo kidpics." Variety Peter Debruge
Contempo is pomo.
"Hugo states, in its adamant, straightforward poetry, that old things do matter." Movieline Stephanie Zacharek
"This kind of cinematic delight is a rarity, a warm and masterfully crafted reminder of why we love to go to the movies in the first place." New Orleans Times-Picayune Mike Scott