Norman & Timothy By Side Of Expendable Robot Cosmopolis
on
August 17, 2012
at
3:02 pm
Please note the ridiculous roundup title crafted from this week's releases. Often, an abundance of personal names or a dearth of verbs results in titles closer to nonsense than sense, especially when movies feature undefined words like Cosmopolis (Rotten Tomatoes – Metacritic).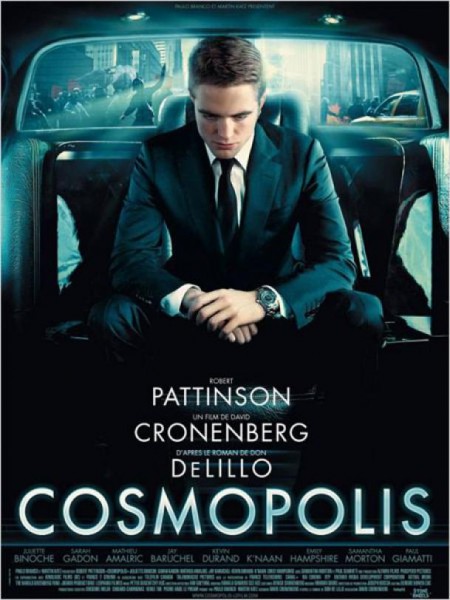 "Don't panic, but Robert Pattinson may have been neutered." David Ehrlich Boxoffice Magazine
Don't Panic? Informing Twi-Hards that their beloved R-Patz is sans sack, requires a flashing bold-faced WARNING, not a half-ass heads-up then comma. You might as well have said "Belated spoiler alert."
"Cosmopolis uses Packer (Pattinson) to trivialise money, dismisses the struggling poor and reveals those in the throes of money for the sociopaths that they are." Blake Howard 2UE That Movie Show
A.K.A. Hating Rich People: The Movie
"Don't listen to the haters — this linguistically complex and eloquently dark film is much more clever than pretentious." Grant McAvaney MovieFIX
"Cosmopolis is almost certainly some kind of masterpiece, but I have to admit it's probably not for everyone." Glenn Kenny MSN Movies
Translation: It's not a masterpiece you'll like.
"Another Cronenberg film badly in need of an exploding head." Jim Schembri 3AW
Sadly, the weekly quota of exploding heads was met by The Expendables 2 (Rotten Tomatoes – Metacritic).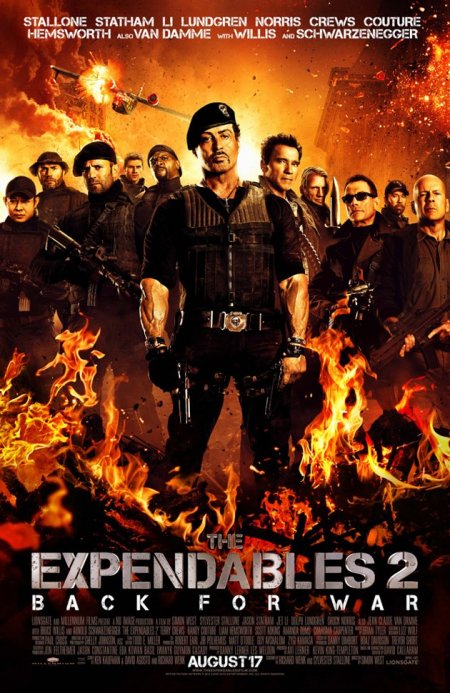 "Has the parallel between the actor and the mercenary's trade ever been so overt?" Nick Pinkerton Village Voice
Technically, all professions employ mercenaries.
"Redundant, bombastic and cheekily self-aware, The Expendables 2 is also savvy enough to supply its own auto-critique." Justin Chang Variety
But auto-critique makes critics expendable.
"At its best, The Expendables 2 thrives on the camaraderie that exists between the various action icons, while dropping in cheesy gags that reference their back catalogue." Rob Carnevale The List
"It may be all brawn and no brain, but there's plenty to enjoy on a non-cerebral level here." Ben Rawson-Jones Digital Spy
What body part will enjoy the movie more than my brain?
"It plays out like a series wet-dream scenarios, performed by a cast of vintage action figures battered and broken from overuse, bleached and slightly molted from sitting in the sun too long." John Semley Slant Magazine
Rather than letting that review answer the question that proceeded it, let's discuss how time in the sun affected The Odd Life Of Timothy Green (Rotten Tomatoes – Metacritic).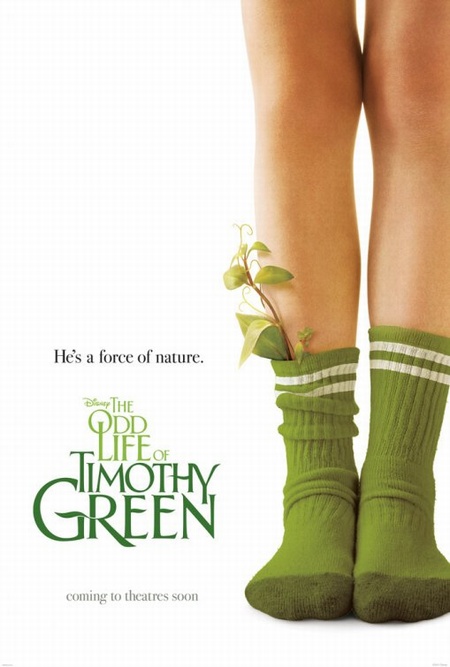 "[It] feels like a retreat – into manufactured drama shellacked with sticky sentimentality, into risk-free storytelling full of coldly contrived conflict." Stephen Whitty Newark Star-Ledger
Shellacked with sticky sentimentality. Coldly contrived conflict. Why is "alliteration" hard to alliterate with?
"A stupendous cast is completely wasted in underwritten roles as various family members and employers in the town's sole enterprise: pencil production." Marjorie Baumgarten Austin Chronicle
"It's the sort of thing you'll either find enchanting or an excellent reason to reach for the Scotch." Ty Burr Boston Globe
A family movie that drives you to drink? Check please.
"Kids are too smart to fall for it, and any grown-up who thinks that The Odd Life of Timothy Green is funny or heartwarming has a head made out of cabbage." St. Louis Post-Dispatch Joe Williams
'Parents will hate it or they're vegetables' sounds crazy unless the comparisons weren't meant to be seen Side By Side (Rotten Tomatoes – Metacritic).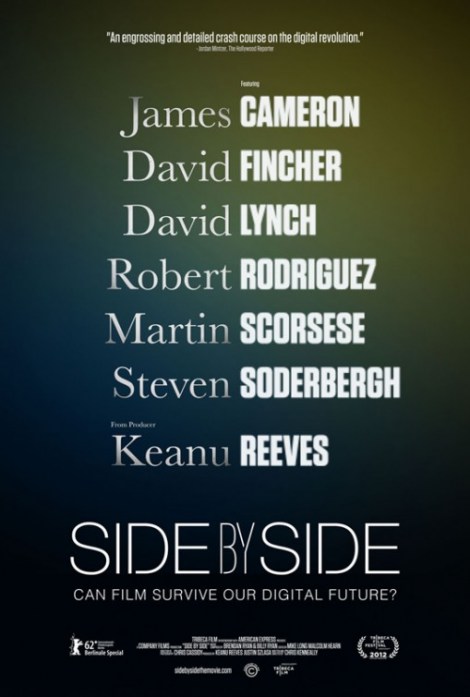 "After seeing "Side By Side," you may never watch a movie quite the same way again." Laura Clifford Reeling Reviews
Am I going to watch them backwards? Upside down? Out of the side of my head? What?
"Mandatory viewing for anyone who loves movies and has any interest in learning more about how they're made and how that's been changing in the last few years." Edward Douglas ComingSoon.net
The school year hasn't started yet, so it's a wee bit early to assign homework.
"…something I'd be happy to get into a jovial shouting match about over pints, but [not] for the length of a feature film." Jordan Hoffman Badass Digest
"Propelled forward by a determination on Kenneally's part to keep things fluid and fascinating rather than argumentative and academic, Side by Side is top-tier festival fodder and a must-own DVD item for any film buff." Simon Foster Screen-Space
In this world of disposable digital entertainment (Hulu, Netflix, streaming media), is anything a must-own?
"Tracing the rise of digital movies via a wealth of charts, clips and candid testimonies, this Keanu Reeves-produced and narrated investigation offers a thorough analysis of what's very likely the most important cinematic development since the advent of sound." The Hollywood Reporter Jordan Mintzer
What sound was to movies, robots will be to domestic assistance. At least, that's an idea raised by Robot & Frank (Rotten Tomatoes – Metacritic).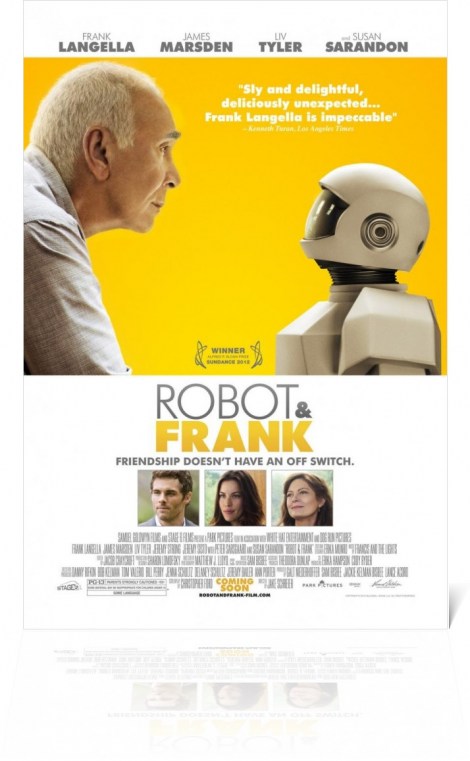 "Robot & Frank reminds quirk-hardened veterans that an odd premise and big heart don't have to add up to too-precious awards bait." TheHollywoodReporter John DeFore
Does using movies as bait mean Hollywood treats critics like fish?
"Robot and Frank succeeds where "Ted" fails because, unlike McFarlane, Schreier and Ford render the relationship between the human character and the robot in largely credible terms." indieWIRE Eric Kohn
"What I'm saying is that I resisted the film but it won me over, a little more than I care to admit." Time Richard Corliss
It's high praise when a critic says "I tried to hate it, but…"
"Christopher D. Ford's film is nothing more than a Lifetime movie dolled up in cheap Philip K. Dick drag." Slant Magazine Chris Cabin
Does that mean it's a compliment to be dressed in expensive Philip K. Dick drag?
"You don't realize how well it works until it's over." Andrew O'Hehir Salon.com
Talking robots are almost supernatural, which is the realm of ParaNorman (Rotten Tomatoes – Metacritic).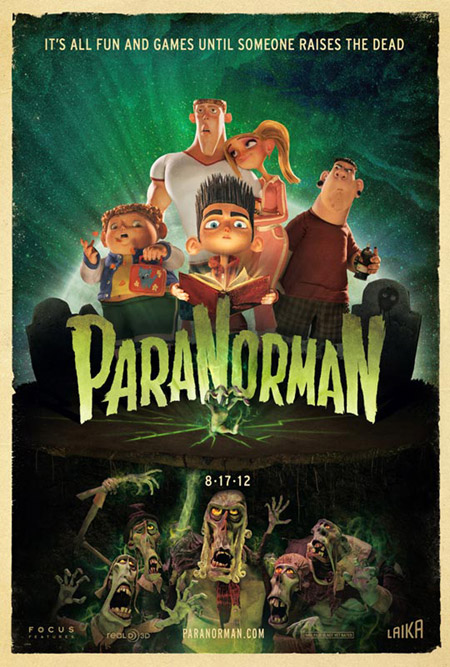 "The spirit of great stop-motion animators like George Pal and Ray Harryhausen lives on in ParaNorman, and not just as a ghost: It's so real you could almost reach out and touch it." Stephanie Zacharek NPR
That effect is called 3-D and tickets cost 4 bucks extra.
"It's creepy, it's funny and in spite of its weirdness it resonates with those of us doomed to live our own lives in the real world." Daniel M. Kimmel Sci-Fi Movie Page
Doomed? We live in a world where nearly every piece of information is a click away and people carry computers in their pockets. We've photographed distant parts of space and landed enough shit on Mars to fill a hillbilly's yard. Every classic movie, TV show, and book exists in the real world. If being doomed includes these perks – don't panic.
"Laika's stop-motion animation is every bit as inspired here as it was in their rightfully lauded "Coraline," and the storyline never wavers from its boneyard-deep message: Being different from others is a good – nay, great – thing, no matter how many villagers (or zombies) are after you." Marc Savlov Austin Chronicle
"What was the last animated movie you could relate to German expressionist cinema, Alfred Hitchcock, Night of the Living Dead and B-movie horror of the 1950s? That's right — none." Lawrence Toppman Charlotte Observer
Ask a convoluted question, get a dickish answer.
"ParaNorman is a micro-sized masterpiece that wears its heart (and its half-eaten brains) on its sleeve." The Playlist Drew Taylor