Paul Wins Limitless Lawyer
on
March 18, 2011
at
5:17 pm
Who wouldn't want to win an unlimited supply of lawyer henchmen?  You could become a criminal mastermind who's never successfully accused of a crime.  Unhappy about the amount of cheese on a sandwich?  Threaten a lawsuit!  Tired of neighbors getting in your way?  File a restraining order!  The number of imaginative misuses for an on-call lawyer is Limitless (Rotten Tomatoes – Metacritic).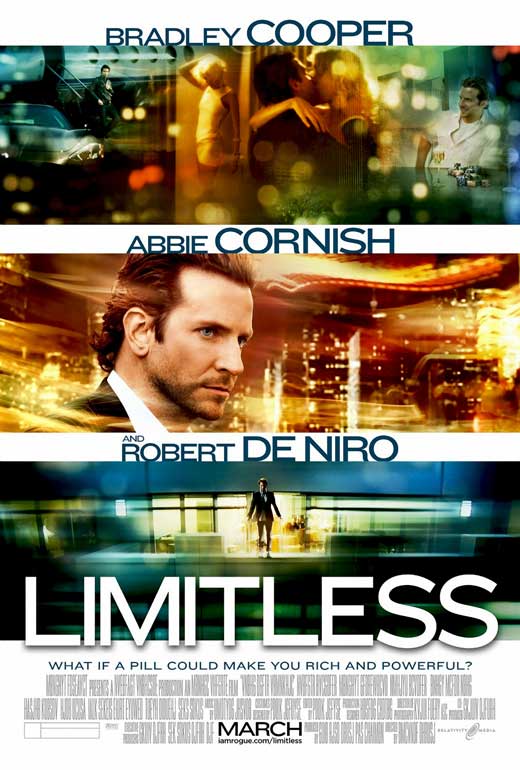 "In Limitless, a potently fanciful and fun thriller about a drug that turns you into a genius, Cooper proves a cock-of-the-walk movie star." Entertainment Weekly Owen Gleiberman
It's rare to hear the compliment version of calling someone a cock.
"It's a wet dream for anyone who's ever dreamed of getting an edge on the information highway. The worst side effect is that you won't believe a word of the damn thing in the morning. Fair exchange." Rolling Stone Peter Travers
Are we trading a ridiculous power trip for a forgettable wet dream?  Fair exchange?
"It's like watching The Fonz get free songs by punching a jukebox, and that never stops being fun." Joshua Tyler  CinemaBlend.com
"Limitless may not be as brainy as it would like to think it is, but it's a relatively sharp and surprisingly playful head-trip, a satisfyingly novel twist on mindless entertainment." Tom Charity CNN.com
It's borderline oxymoronic to call a movie both sharp and mindless.
"What's the fun in worrying about losing your soul when you can gain the world?" Mark Dujsik Mark Reviews Movies
That sounds like the sort of moral conundrum that you'd want advice on; perhaps you should speak with The Lincoln Lawyer (Rotten Tomatoes – Metacritic).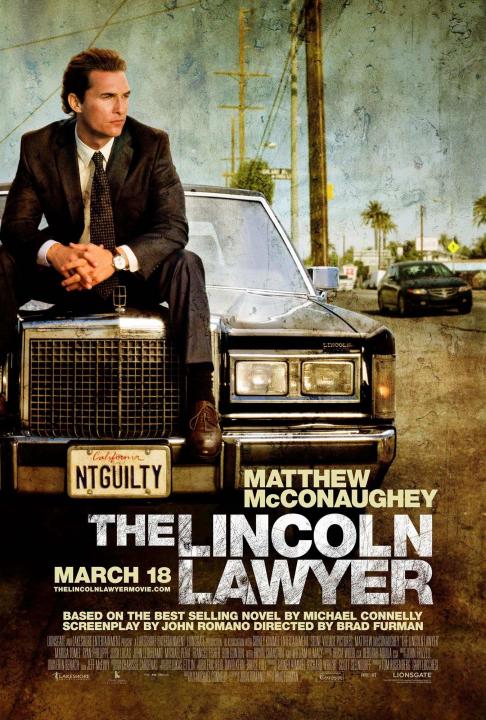 "I like movies about smart guys who are wise asses, and think their way out of tangles with criminals. I like courtroom scenes. I like big old cars. I like The Lincoln Lawyer because it involves all three." Chicago Sun-TimesRoger Ebert
I like reviews that admit bias; that way, if I share the bias, I share the enjoyment.
"Even those who don't normally dig Matthew McConaughey should give this a go as he leaves his annoying manchild rom-com persona behind in service of a noirish thriller." Film4
I used to enjoy man-child McConaughey.  I kept getting older and he stayed the same age.
"It goes down as smoothly as a milkshake thanks to an impressive cast." New York Post Lou Lumenick
"It's agreeably mediocre, a cinematic paperback novel transformed into the kind of fare folks mindlessly consume on planes and forget about before touching down." The Onion A.V. Club Nathan Rabin
I doubt you could mindlessly consume and forget that bacon milkshake.
"It's no surprise Michael Connelly's devilishly clever 2005 novel makes for a devilishly clever film, full of unpredictable twists and turns, and some memorable one-liners." David Edwards Daily Mirror [UK]
"Growing old is mandatory, growing up is optional," (Chili Davis) is a one-liner that best exemplifies the jovial geekiness of Paul (Rotten Tomatoes – Metacritic).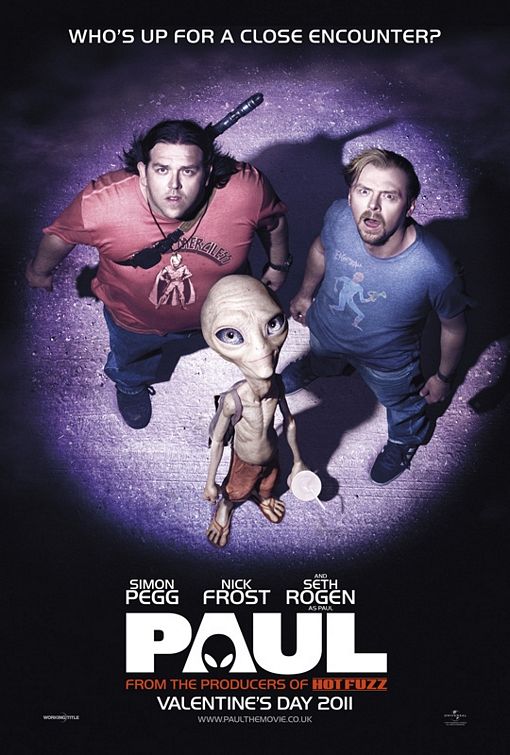 "A frolicsome comedy in which two Englishmen encounter a smart, witty, and gifted extraterrestrial on their pilgrimage to famous UFO sites in America." Frederic and Mary Ann Brussat Spirituality and Practice
For film-goers who fancy frolicsome fun on Friday.
"Because of the lethargic pace, cheeky jokes become positively jowly. And the easy lampoons of rednecks and bible thumpers beg to be called 'Close Encounters of the secondhand.'" Carrie Rickey Philadelphia Inquirer
"Set your humor-detection capacitors for moderate to above-average intake levels. I haven't laughed this much since maybe last Monday, but that was a particularly strong Monday." Kyle Smith New York Post
How many people spend their Monday's laughing?
"Geek is its own language, and Paul speaks it fluently." Nick Schager Slant Magazine
"Beam us up, Scotty. There's no intelligent life here." Stephen Whitty Newark Star-Ledger
Perhaps that reviewer's home planet only has intelligent entertainment, but here on earth, we enjoy our amusingly stupid antics and celebrity schadenfreude.
"Gags and lines are clunky, but the majority of the picture creates a swirling sense of sci-fi devotion, conveyed with a heartfelt tone that makes Paul feel like an elaborate inside joke most audiences should be able to enjoy." Brian Orndorf Sci-Fi Movie Page
If you're a geek, and have low expectations, it's a Win Win (Rotten Tomatoes – Metacritic).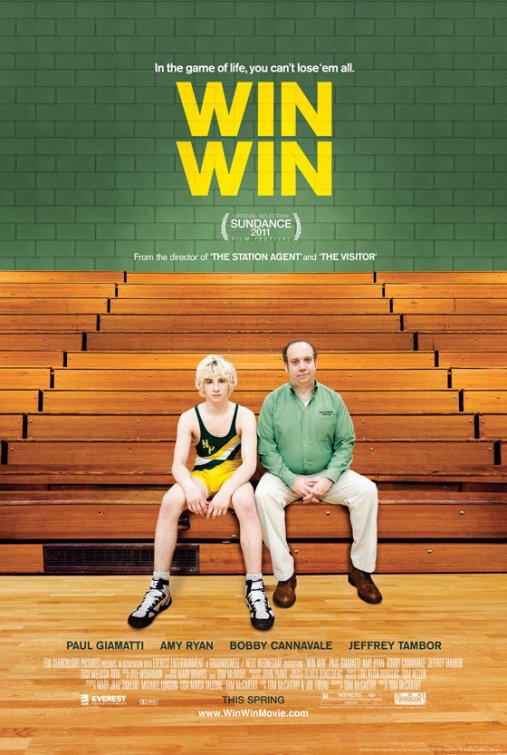 "Win Win isn't exactly easy to sum up or pitch in one sentence, which reveals how deceptively complex it is. It could be a modern Jean Renoir movie." Jeffrey M. Anderson Combustible Celluloid
Are there any critics who can summarize the film as a pitch?
"Think Napoleon Dynamite and Little Miss Sunshine. In many ways, Win Win fits that mold, which should make it McCarthy's most broadly appealing movie to date." David Rooney Hollywood Reporter
"Win Win, it turns out, isn't a tale of facile victory. It's a movie about how loss makes everyone do things they'll both defend and regret." Entertainment Weekly Owen Gleiberman
Win Win sounds like a Lose Tie.
"A delight, a movie that's smart and emotionally honest about juggling the problems life sends you. It's already at the top of my list as one of the year's best." Marshall Fine Hollywood & Fine
If that holds up, Win Win wins!
"Warmly observed and solicitous of its audience to the point of caress, Win Win is as comfortable an experience at the movies as you might have this year." Michelle Orange Movieline