People Like Ted Witness Magic Beast Waltz
on
June 29, 2012
at
2:11 pm
Regardless of whether you're a curious centaur, uncertain unicorn, or baffled basilisk, you're in the right place. This is a magical beast blog. After all, you're listening to a sheep. However, when it comes to the two-stepping teddy that talks, we're better off asking Ted (Rotten Tomatoes – Metacritic).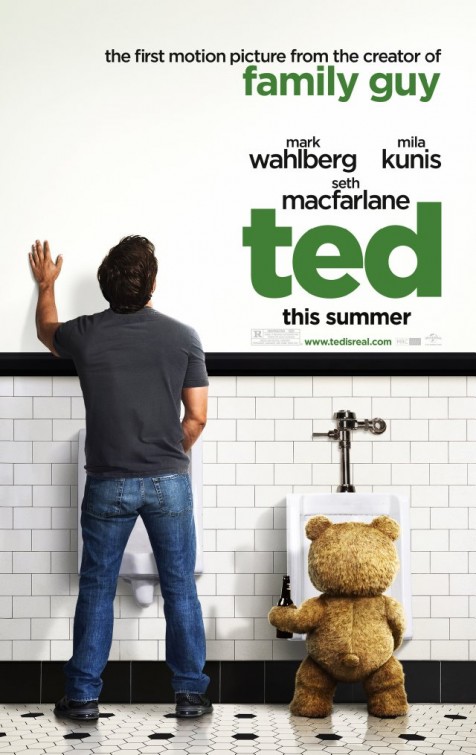 "Most of Ted eludes description, analysis and explanation. You just have to hold onto your own certifiable sense of humor and let Mr. MacFarlane take you where he wants to go. Then get out of the way and enjoy it." New York Observer Rex Reed
Laugh or get out of the way. Also known as playing chicken with comedy.
"Seth MacFarlane's comedic modus operandi is to shock with outrageousness and pander with TV and movie citations via one non sequitur after another, a strategy that leads to a few laughs but nothing approaching lasting humor." Slant Magazine Nick Schager
"Ted is never stronger than when Wahlberg and MacFarlane's Ted hang out, riff, and luxuriate in an easy friendship, but as it lurches to a conclusion, Ted unwisely devotes far too much of its time to a plot it would be better off ignoring." The A.V. Club Nathan Rabin
Ah plots. When a movie doesn't have one, critic's get upset; when the plot gets in the way, it's disposable. Perhaps it's better to remember, when it comes to comedy, plots aren't the priority.
"A furiously-paced comedy that goes where none has gone before." Harvey S. Karten Compuserve
But if you'd rather go where comedies spend an unusual amount of time, this week offers Madea's Witness Protection (Rotten Tomatoes – Metacritic).  At this point, there might be more Madea movies than Bond films. No one is counting, except Tyler Perry, who's counting money.  Rather than donning the fat suit again, I'd rather see him Take This Waltz (Rotten Tomatoes – Metacritic).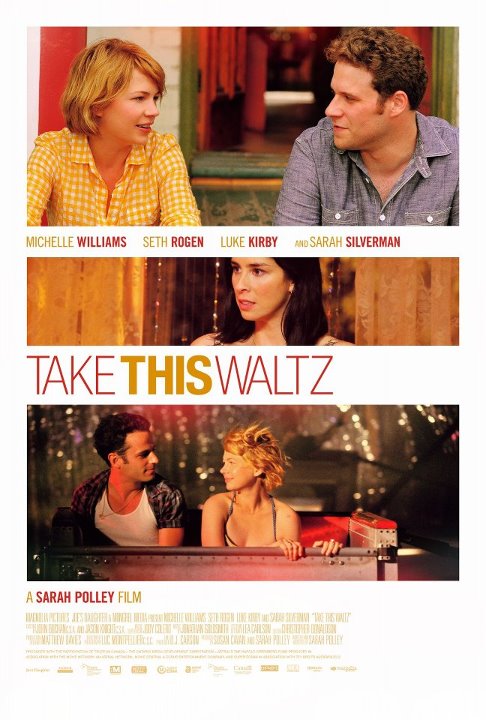 "Take This Waltz is an unusually kind film about infidelity — not because it sidesteps or shortchanges heartbreak, but because it doesn't let any one of its characters bear the full burden of blame." Movieline Alison Willmore
It's lame to name names in the blame game.
"The film's emotional truth and honesty allows us to forgive a great many flaws." ReelViews James Berardinelli
Is the opposite of an emotional truth a physical lie?
"Ms. Polley, as a writer, a director of actors and a constructor of images, excels at managing the idiosyncrasies and contradictions of her characters so that our knowledge of them is both intimate and mined with potential surprise." A.O. Scott New York Times
"Take This Waltz is full of chance encounters, some less likely than a lobby with nine hundred windows or a bed where the moon has been sweating." Slant Magazine Ed Gonzalez
A make-believe hotel lobby with nine hundred windows and rooms full of moon juice should have a manager named Magic Mike (Rotten Tomatoes – Metacritic).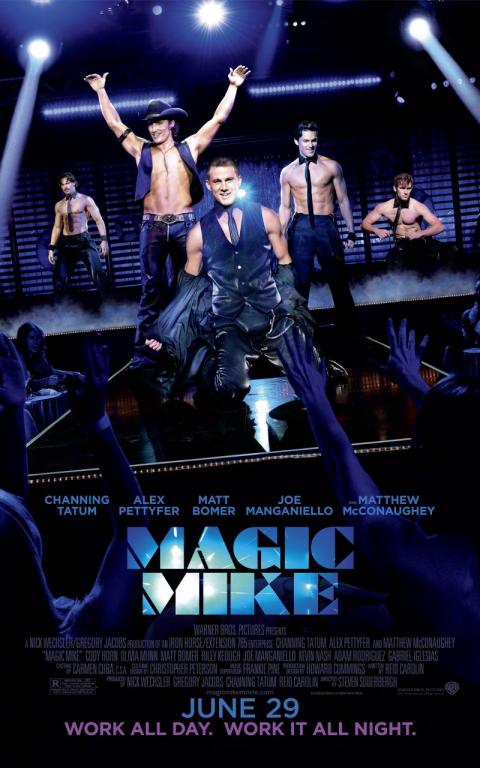 "A breezy, slyly noncholant romp through the world of male strip revue. The bold men of Mike leave it on the floor … and by 'it' I mean 'your panties'." Brian Juergens AfterElton.com
How did you know I was wearing panties? And why do I call them boxers?
"Tatum, Soderbergh and team appreciate the real reason audiences showed up, and the film provides just enough character and plot to validate the plentiful pecs and abundant buns that serve as its main attraction." Peter Debruge Variety
Come for the meat, stay for a treat?
"I really enjoyed the movie. Solid cast, great performance by Tanning and Soderbergh's style makes you feel at ease when you shouldn't. If you have a problem watching a movie about male strippers, pretend they're comedians, pretend they're magicians." Mark Ellis Schmoes Know
"Females rejoice! Your Avengers is here!" Kristian Harloff Schmoes Know
Males! Be glad it's not in 3D!
"Even when Magic Mike is skimpier than a g-string it soars on daring, as if Soderbergh asked himself who could possibly make a good movie from such offbeat material, answered "I can," and did." Tampa Bay Times Steve Persall
And if you can, and do, then you're People Like Us (Rotten Tomatoes – Metacritic).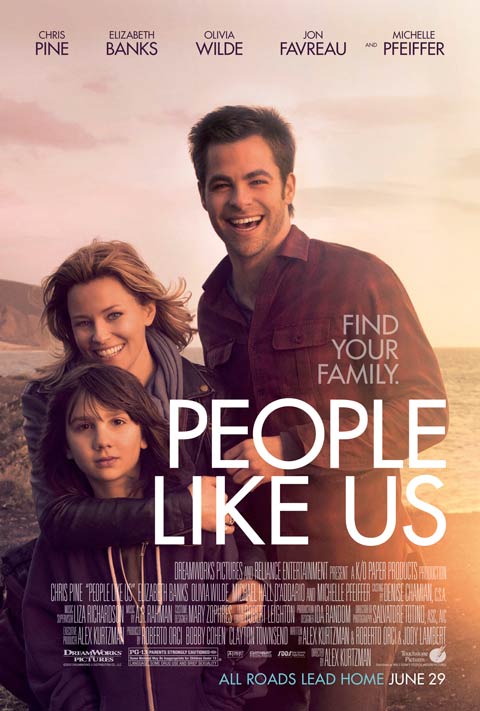 "Unlike some Nicholas Sparks weepie, at least this one waited until very late in its running time to go for the tear-duct jugular." Teddy Durgin Screen It!
My tear duct has a jugular? I guess that explains the lump in my throat.
"Title withstanding, these people are nothing like us if, by "us," we mean real people." Chris Hewitt (St. Paul) St. Paul Pioneer Press
Since it's a family drama, I figured "us" was "them."
"'People Like Us" may not be perfect, but Banks is perfectly imperfect." Tom Long Detroit News
"As overcranked as it is — the film is directed as if it were an action drama, with two or three times more cuts than necessary — People Like Us has a persuasive emotional pull at its heart that's hard to deny." The Hollywood Reporter Todd McCarthy
It's a dramaction movie?
"The pity is that the people in People Like Us ultimately don't feel any more dimensional than the archetypes dutifully dotting his lowest-denominator multiplex fodder. He's just picked a different set of clichés to ransack." Time Out New York David Fear
Joining you in the ransacking are the Beasts Of The Southern Wild (Rotten Tomatoes – Metacritic).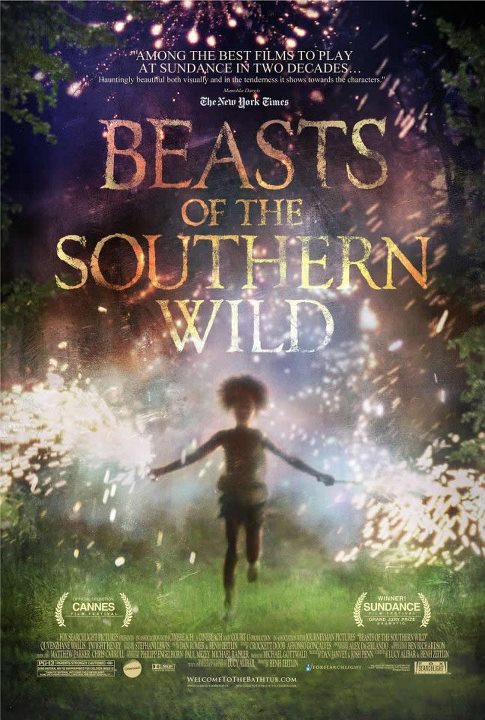 "This movie is a blast of sheer, improbable joy, a boisterous, thrilling action movie with a protagonist who can hold her own alongside Katniss Everdeen, Princess Merida and the other brave young heroines of 2012." A.O. Scott New York Times
It's been a good year for heroines with two battle-ready snow whites, two eagle-eyed archers, a bad ass black widow, and a cunning cat woman. And now…
"An extraordinary movie about a fearless six-year-old African-American girl who tutors us in the art of survival; one of the best movies of 2012." Frederic and Mary Ann Brussat Spirituality and Practice
Woo hoo, a survivalist six-year-old!
"The movie is small, local, and idiosyncratic. Then again, it's also a thing of beauty and originality – and for that, sustained huzzahs are in order." Entertainment Weekly Lisa Schwarzbaum
"A visually-enchanting fantasy shot from the perspective of a naïve waif miraculously untainted by the 21st Century." Kam Williams AALBC.com