Planet Whistle Changes Apes
on
August 5, 2011
at
1:20 pm
A planet whistle sounds like a gentle summer wind massaging a moan from an elderly tree; just as a geyser is a planetary gleek and a volcano is a blazing fart.  The disparity of examples reflects my impulse to be reassuringly familiar, while other days I go for The Change Up (Rotten Tomatoes – Metacritic).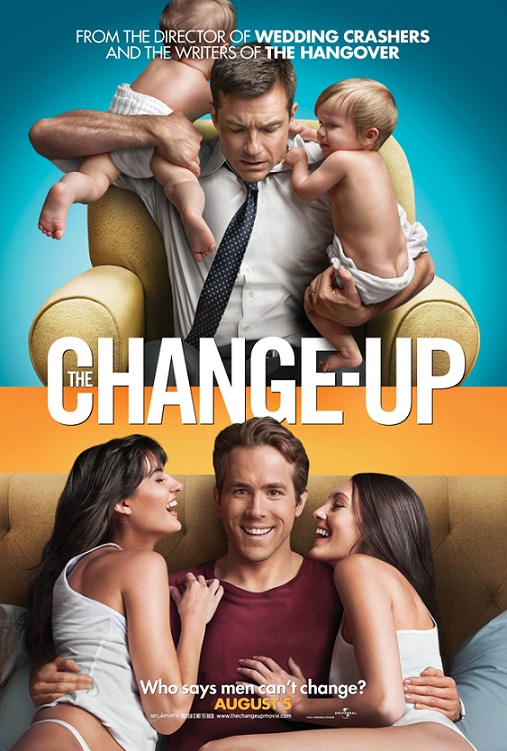 "The film is often funny and even more frequently vulgar, exploiting every last chance for raunch in the full-chassis exchange of two grown men. The only thing missing: male nudity." San Francisco Chronicle Amy Biancolli
Perhaps that's because male nudity is also 'often funny and even more frequently vulgar.'
"One of the dirtiest-minded mainstream releases in history. It has a low opinion of men, a lower opinion of women, and the lowest opinion of the intelligence of its audience. It is obscene, foulmouthed, scatological, creepy and perverted." Chicago Sun-Times Roger Ebert
The film hates men, women, and you. Who created this menace?
"The Change-Up, like so many American movies, feels like the product of sex-phobic 12-year-old boys whose response to the big, bad world is to run back to mommy's leg." Alonso Duralde The Wrap
"Depending on what you need from this movie, there's slight redemption in its full-on commitment to raunch, both in baby-shit–to-mouth scatology and some choice zingers." Time Out New York Joshua Rothkopf
The impressiveness of the latter can't compensate for the repulsiveness of the former.
"Don't start a movie with a baby projectile pooping in his dad's mouth. Please. Just don't." Matt Pais RedEye
Please.  No more about shit lips.  If this kind of gag continues in comedy, I may have to call The Whistleblower (Rotten Tomatoes – Metacritic).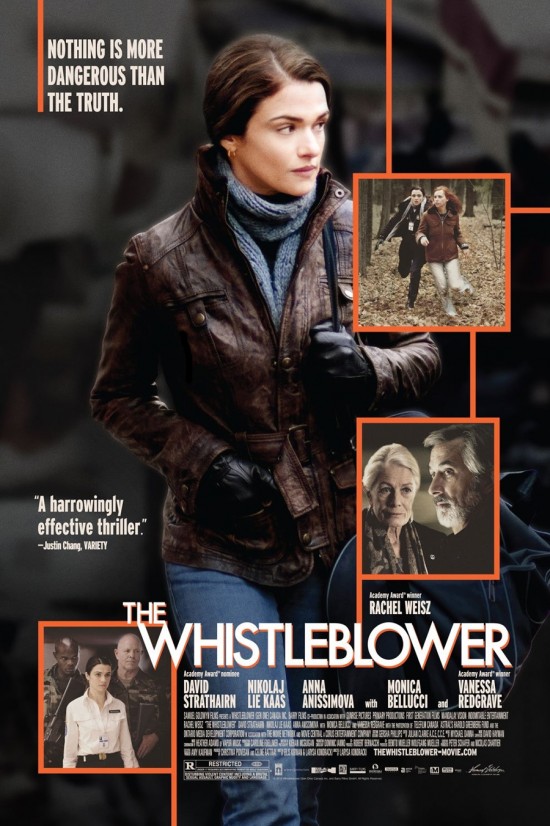 "The Whistleblower is a grisly, authentic, meticulously researched, pulse-quickening political chiller about a hot-button topic that will keep you on the edge of your seat from start to finish." Rex Reed New York Observer
I don't want to be on the edge of my seat the whole movie.  Luckily, if I lean back far enough, I can achieve the same sensation.
"Stunning expose of a scandal indicating that UN personnel assigned to stop the Bosnian sex trade indulged in the corruption themselves." Harvey S. Karten Compuserve
Those assholes.
"The suberb Weisz almost single-handedly carries this disjointed movie and its weighty theme, but can't disguise the way The Whistleblower is easily reduced to a noble message." Caryn James James on screenS
When a film preaches a message, it shouldn't be a deal-breaker unless you disagree with the message.  Anyone want to stand up and argue FOR sex trafficking?
"…arrives in theatres stamped with a self-important seal of approval." Christopher Null Filmcritic.com
"Severe and unflinching, The Whistleblower relies on journalistic realism to pack its punch." Barbara Goslawski Boxoffice Magazine
If you prefer fantasy escapism to journalistic realism, you should check out The Rise Of The Planet Of The Apes (Rotten Tomatoes – Metacritic).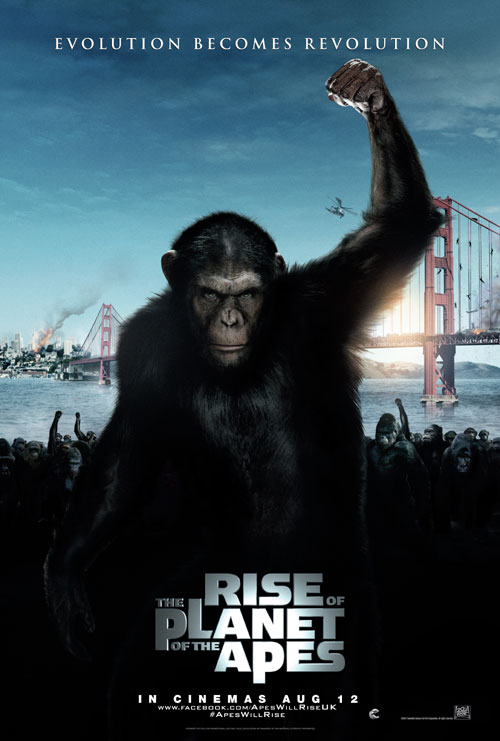 "The running time is efficient, the direction is clean, the story is simple but resonant, the effects are understated yet impressive, and the near-wordless star of the show puts on an acting clinic." Rick Groen Globe and Mail
If the CGI-ape (played by Andy Serkis – aka Gollum) out-acts the actors, Hollywood may want to reconsider merit pay.
"Sweet fragrant bananas, Rise of the Planet of the Apes is a blast." Eric D. Snider Film.com
Happy news, most critics only invoke smells when it's bad.
"Something a caged chimp might fling at zoo visitors." Steve Persall St. Petersburg Times
"The cautionary tale feels surprisingly fresh and entertaining, given that this is the fifth "Planet of the Apes" film since the 1968 original. "USA Today Claudia Puig
Now that actors aren't sweating in plastic suits, are the apes still damn dirty?
"Once you see that ape, named Caesar, riding a galloping horse in triumph, it's awfully hard not to get sucked in. It's not dumb fun, exactly. It's smart dumb fun." Arizona Republic Bill Goodykoontz