Premium Hit
on
August 24, 2012
at
2:52 pm
Given the promise of this week's title, you should consider lowering your expectations. One will rock, the other will Hit & Run (Rotten Tomatoes – Metacritic).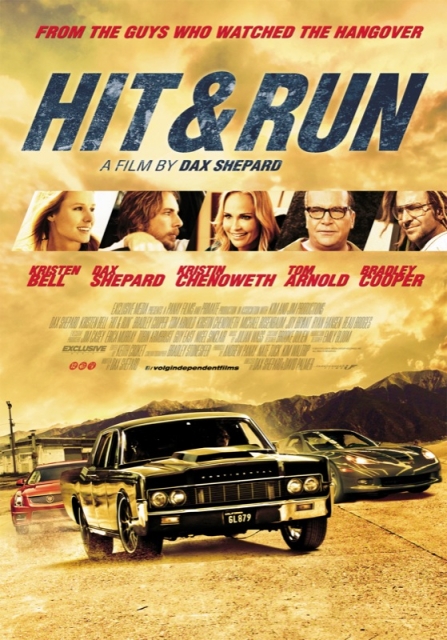 "Real-life couple has chemistry in raunchy car-chase flick." Sandie Angulo Chen Common Sense Media
Breaking News: Critic embraces headline syntax.
"It probably was fun to drive all these hot cars around California, and make a movie with your friends and sacrifice plot logic for better jokes. But where's the fun for the audience in all that?" Katey Rich CinemaBlend.com
Watching it? No, wait. Mocking it?
"It's like a car doing doughnuts, driving in circles while going nowhere fast." Marshall Fine Hollywood & Fine
"Above all, real-life couple Shepard and Bell bring genuine chemistry to this high-energy excursion." Peter Debruge Variety
The Hollywood lovebirds had to put their energy somewhere, since they decided not to marry until gay marriage is legal.
"A strange, but strangely entertaining combo of drag racing machismo, slapstick silliness, raunchy riffs, politically incorrect rants and sweet nothings." Betsy Sharkey Los Angeles Times
That list missed many elusive alliterations.
"A comedy that feels as if it were dreamed up in the wee hours between bong hits and shots of tequila." Stephen Holden New York Times
I assumed Hit & Run referred to car crashes and getaways, not bong hits and beer runs. Although, depending on your tastes, both options could be a Premium Rush (Rotten Tomatoes – Metacritic).
"Working in tandem they (Gordon-Levitt/Shannon) make Premium Rush a movie that's off the chain, as the kids say." Tampa Bay Times Steve Persall
It's also gnarly, groovy, and grand, as the geriatric say.
"[It] actually doesn't sound like it would work at all as a tightly wound slice of street action, but it does, and in radically fresh ways." Betsy Sharkey Los Angeles Times
Is radically fresh better than awesomely fresh?
"So appealing is Gordon-Levitt that, for great stretches of his new movie, I suspended my disapproval of his character and just went with the nonstop flow. He almost persuaded me that the film is, if not a premium rush, then an economy high." Time Richard Corliss
At least it wasn't a bargain-basement buzz.
"'Premium Rush' is great fun – nimble, quick, the thinking person's mindless entertainment." Michael Phillips Chicago Tribune
"Suitable to the medium of film (and last days of summer), this unabashedly simplistic but ultra-dynamic and kinetic flick, set on bikes in the mean streets of Manhattan, offers pleasure; the late Tony Scott would have loved to make it." Emanuel Levy EmanuelLevy.Com
During the Days of Thunder, Domino, The Last Boy Scout was an Unstoppable Enemy of the State, intent on The Taking of Pelham 1 2 3 and getting Revenge on a Beverly Hills Cop II. Even though his Top Gun Spy Game was Déjà vu, The Hunger made him a Man on Fire, threatening couples in True Romance with Crimson Tide. If you fondly remember these films, then Tony Scott's true legacy exists in the memories of The Fan.
"I'm very weary of routine chase movies. There's nothing routine about 'Premium Rush.'" Roger Ebert Chicago Sun-Times