Prisoners Don & Jon Riddick Rush Insidious Meatball
on
October 18, 2013
at
9:33 am
Fall movies are Hollywood's garage sale. Mostly, it's overdue Spring cleaning, where studios pick up by throwing away. Unexpectedly, 2013 is like a garage sale where you rediscover a bunch of awesome shit you own. The expectation-to-reality whiplash offers quite a Rush (Rotten Tomatoes – Metacritic).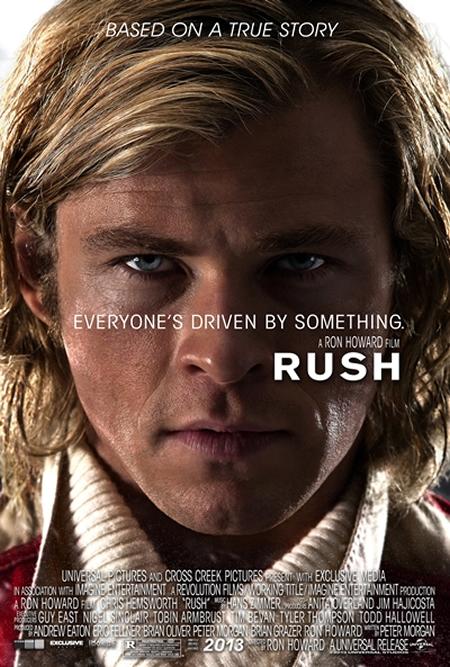 "Rush is the kind of Hollywood studio production that has sadly become all too rare — a smart, exciting, R-rated entertainment for grown-ups that quickens your pulse and puts on a great show without ever insulting your intelligence." Miami Herald Rene Rodriguez
Is it the job of the intelligent to point out that idiots are being insulted?
"I might have tolerated the film much more with the sound off. With the volume on, this movie feels like a mucho-macho Saturday morning cartoon—specifically Bugs Bunny toying with his eternal pursuer, Elmer Fudd." RogerEbert.com Susan Wloszczyna
"Mr. Howard doesn't just want you to crawl inside a Formula One racecar, he also wants you to crawl inside its driver's head." The New York Times Manohla Dargis
A driver's brain is a think holder.
"Utterly gripping. Aided by two punchy lead turns, an Oscar-worthy script and stunning in-car footage, Howard's race film delivers top-gear drama. A piston- and heart-pumping triumph." Total Film James Mottram
Pump that heart, punch those leads, and grip those utters. And if that sounds gross, give the job to Don Jon (Rotten Tomatoes – Metacritic).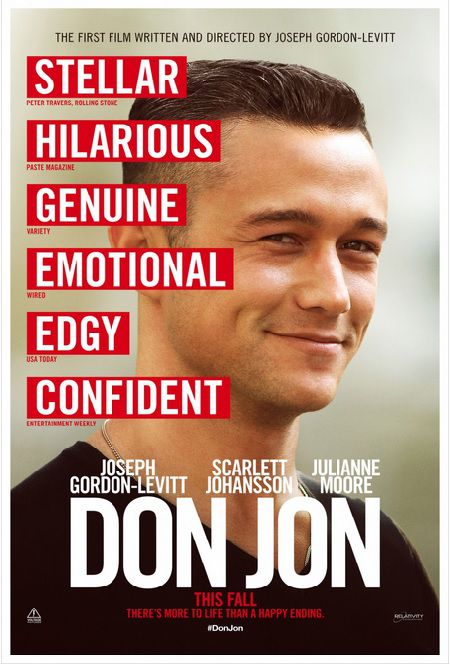 "I like Mr. Gordon-Levitt a lot as an actor, and I wish him only the best in his future work as a filmmaker. There is, however, the matter of this particular movie, an overheated disquisition on the pleasures and limitations of masturbation." Wall Street Journal Joe Morgenstern
"We know that more than seventy to eighty percent of women masturbate, and ninety percent of men masturbate, and the rest lie." Joycelyn Elders
"What Don Jon is, surprisingly, is honest. R-rating aside, it should be required viewing for every 15-year-old boy on the planet." Boston Globe Ty Burr
Hear that boys? Wakey wakey, hands off snakey.
"Gordon-Levitt wears three hats (director, writer, actor) and all of them fit." ReelViews James Berardinelli
"Who would have thought one of the most amusing and oddly insightful romantic comedies would be built around the power and the potent pull of porn?" Los Angeles Times Betsy Sharkey
Authoring an appropriately amusing and alliterative answer can be like trying to spell 'ridiculous' but only getting as far as Riddick (Rotten Tomatoes – Metacritic).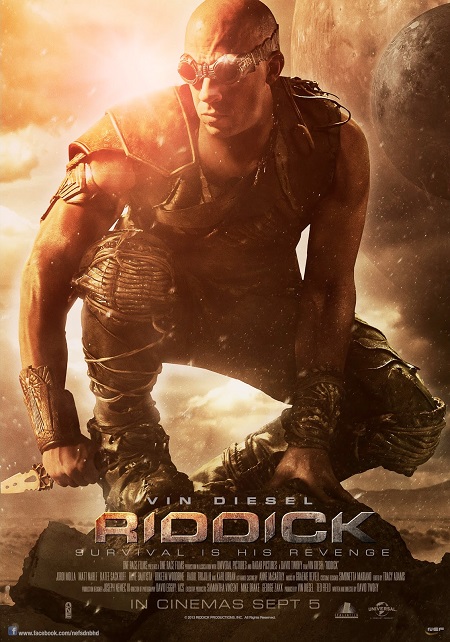 "And that's it, really: two hours of loneliness, interleaved with havoc. The dialogue has been distilled to expletives and grunts." The New Yorker Anthony Lane
Huh. Fuck.
"The movie jogs along nicely without ever getting a case of the stupids; far from being a bloated "John Carter," it's just a pared-down yarn of survival: "Die Hard" on a planet." New York Post Kyle Smith
Wasn't "Die Hard," "Die Hard" on a planet?
"Twohy's script contains macho dialogue so ripe it's embarrassing to hear it." RogerEbert.com Odie Henderson
"The only reason to root for Riddick is that his name is on the ticket stub. But he's so dull and the hunters so weird that we're literally cheering for the movie to kill off its personality, one throat slash at a time." Village Voice Amy Nicholson
Horror so bad, you'll root for the knife. Actually, that sounds a little Insidious 2 (Rotten Tomatoes – Metacritic).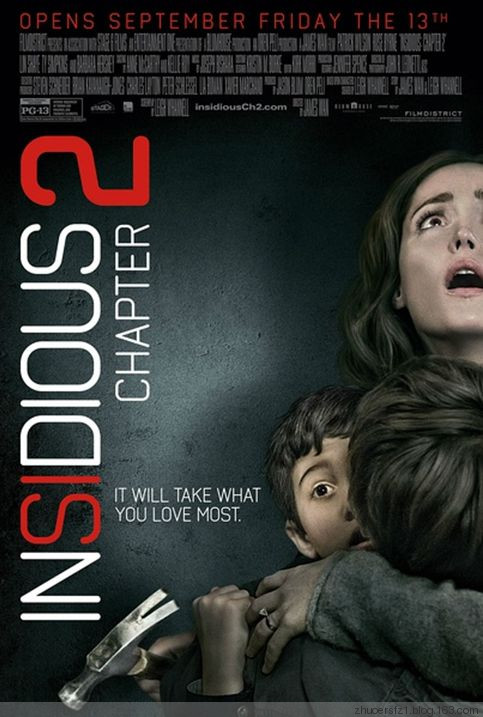 "'Poltergeist' goes 'Back To The Future' with only passable results in a film whose activity is more par for the course than paranormal." Total Film Mark Samuels
When this baby hits 88 miles per hour, you're going to see some serious….oh shit!
"Insidious: Chapter 2 is perhaps an even more scattershot mess than its predecessor. Whannell's script is so rife with portentous backstory, third-act goofiness, and a denouement that practically screams "Insidious 3: Same Old Shit," that the film as a whole is jarring, and not in a good way." Austin Chronicle Marc Savlov
"Insidious: Chapter 2 may be somewhat uneven, but at a certain point near the end, I realized I hadn't taken any notes during the second half. For all its weirdness, the film had utterly transported me. Bring on Chapter 3." New York Magazine (Vulture) Bilge Ebiri
Time-travelling transporter technology sounds impressive, like a starving man summoning rain, but getting it Cloudy With A Chance Of Meatballs 2 (Rotten Tomatoes – Metacritic).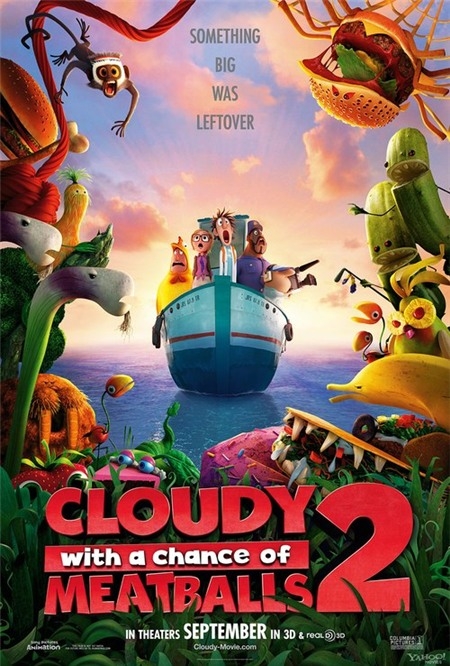 "A humorous yet unfocused romp, so unwilling to settle on a single theme that hyperactivity medication should be handed out with the 3-D glasses." San Francisco Chronicle Peter Hartlaub
Pop two pills and see the movie in Coma-Vision!
"Picks up where the first film left off, literally, and offers at least as many laughs (if not more for adults), retaining the goofy attitude. Cameron and Pearn throw a lot at the wall, just like their predecessors, and most of it sticks." Arizona Republic Bill Goodykoontz
Throw it against the wall, hope it sticks. Spill it on the wall, pray it doesn't.
"At times it felt as if this film might challenge Pixar's decade-long reign, but that promise wanes. Instead, the movie is sometimes so strange, colorful and wildly cute that it may end up becoming a "Yellow Submarine" for a new generation." The New York Times Miriam Bale
"It's the only chance for small children to drag parents to the movies until November, so knock yourself out, kiddies." Tampa Bay Times Steve Persall
Oh no! There's a two-month kid-movie drought coming! By Christmas they'll be more attention-starved than a pair of blind Prisoners (Rotten Tomatoes – Metacritic).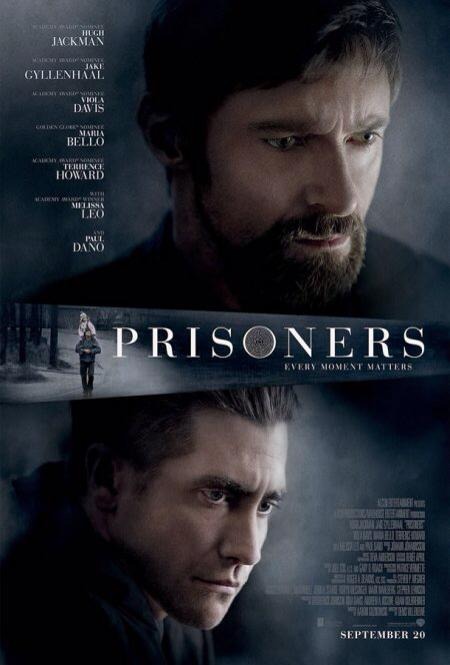 "When it comes to thrillers, this one is as good as it gets. Not for the squeamish, but for anyone who loves movies, it's too exhilarating to miss." New York Observer Rex Reed
Most misses are exhilarating.
"Prisoners is the kind of movie that can quiet a room full of casual thrill-seekers. It absorbs and controls your attention with such assurance that you hold your breath for fear of distracting the people on screen, exhaling in relief or amazement at each new revelation." The New York Times A.O. Scott 
Speaking of theater behavior, Madonna was recently banned from Alamo Drafthouses for texting during a movie. When asked to stop, she said "It's for business…enslaver!"  The movie she was watching: 12 Years A Slave.
"Torn between making sense and arguing that the world itself makes no sense, Prisoners is a captive of its own ambitions." Village Voice Amy Nicholson
"Oh, and the title? It could be an apt description for almost any character in the movie at one time or another. The satisfaction is in finding out who, if anyone, will be set free." Arizona Republic Bill Goodykoontz