Rango Adjusts Beasts Tonight
on
March 4, 2011
at
9:58 am
In a statistically rare event, the title mash-up summarizes the plot of our first movie.  However, the question remains: aside from being an animated western featuring a chameleon voiced by Johnny Depp, who or what is a Rango (Rotten Tomatoes – Metacritic)?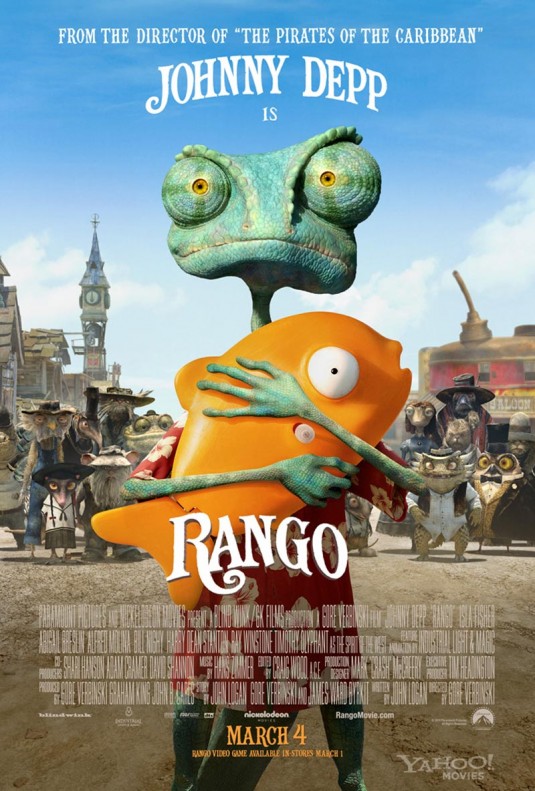 "An animated homage to western movies-from classic to revisionist, old-fashioned to postmodern–Rango plumbs existential depths and hits movie-lover highs." Frank Lovece Film Journal International
There's nothing like existential movie geeks and good old-fashioned postmodernism.  Wait, what?

"Neither Rango the mash-up movie nor Rango the lizard is particularly lovable. But there's no denying the intrigue in its combination of the good, the bad, and the ugly." Lisa Schwarzbaum Entertainment Weekly
When you combine the good, bad, and ugly, do you end up with normal?

"It loosens the shackles of a post-Pixar/post-Blue Sky animation landscape, where family entertainment must either be an emotional roller coaster or mindless slapstick." Jordan Hoffman UGO
"Perhaps a new classification has been born: the 'SpaghettiOs Western.'" Jake Coyle Associated Press
If this genre catches on, we'd better call Chef Franchisee.

"Rango is some kind of a miracle: An animated comedy for smart moviegoers, wonderfully made, great to look at, wickedly satirical, and (gasp!) filmed in glorious 2-D." Chicago Sun-Times Roger Ebert
All of this week's releases were filmed in glorious 2-D.  If you don't like the sound of that, call The Adjustment Bureau (Rotten Tomatoes – Metacritic).
For the heaviness of the film's metaphysics, there is something ineffably light and charming about it… If Frank Capra made The Matrix, it would be The Adjustment Bureau." MaryAnn Johanson Flick Filosopher
Original title for Capra's matrix: It's A Wonderful Digital Simulation Of Life
"A satisfying spiritual love story about the preciousness of free will and the lengths some human beings will go to be with their soul mate." Frederic and Mary Ann Brussat Spirituality and Practice
"You outsmart the movie way too soon." Time Out New York Joshua Rothkopf
I did?  I mean, I will?  Well, crap.  So much for free will.
"Two movies for the price of one, though only one of them — a fragmented romance within a ponderous parable — qualifies as a bargain." Joe Morgenstern Wall Street Journal
The thoughts are full price, but the feelings are half off?
"They're called the Adjustment Bureau, but what they really are is the C*** Block Bureau." Phil Villarreal OK! Magazine
If you can get around government-sponsored sex preventers, you might Take Me Home Tonight (Rotten Tomatoes – Metacritic).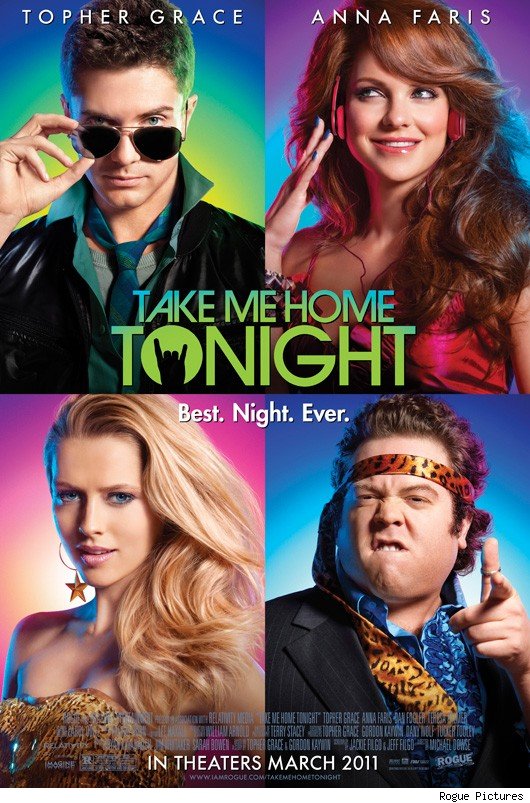 "Grace and his collaborators set out to make a typical '80s sex comedy and succeeded all too well; most of the movies they're paying homage to weren't very good, either." The Onion A.V. Club Nathan Rabin
Even if it is only a good copy of a flawed design, movies like The Breakfast Club and Sixteen Candles defined a generation.  'Classic' doesn't have to equal quality.
"It, like, totally pains me to say this, but Take Me Home Tonight is a bummer." Christy Lemire Associated Press
How very.
"None of this is remotely surprising, yet I frequently found myself laughing (particularly at Fogler's wild-man behavior) and sympathizing with Matt's predicament (face it, Grace is impossible to dislike)." Robert W. Butler Kansas City Star
"It's "Hot Tub Time Machine" without the time machine or the hot tub. Or the fun that entailed." Roger Moore Orlando Sentinel
Hot Tub Time Machine minus the hot tub and time machine = tub.
"Nostalgia for the '80s – big hair, Madonna, cocaine, big hair, Duran Duran, more cocaine – is all well and good. Unless it's practiced with the charmless ineptitude of Take Me Home Tonight." Philadelphia Inquirer Steven Rea
He mentioned big hair twice.  Perhaps 80's trendsetters liked their hair a little Beastly (Rotten Tomatoes – Metacritic).

"A slipshod teen sudser starring 20-year-olds playing 17-year-olds penned as 12-year-olds." Dustin Putman DustinPutman.com
While its a disturbing trend, imagine if it were reversed and movies cast 12-year-olds to play 17-year-olds acting like 20-year olds.
"The best thing about this movie — starring Alex Pettyfer, Vanessa Hudgens and Mary-Kate Olsen — is that it's only 86 minutes long." Kirk Honeycutt Hollywood Reporter
If we're judging quality based on length, the preview is superior to the movie.

"The filmic equivalent of the word, 'duh.'" Jason McKiernan Filmcritic.com
"Disney's animated film featured characters that were more alive and human than this live-action film." Rebecca Murray About.com
If you want believable human drama, watch the cartoon.
"It would be disturbing if it weren't so incompetently hilarious." Mark Dujsik Mark Reviews Movies