Reborn Paranormal Musketeers
on
October 21, 2011
at
1:49 pm
Sadly, my computer imploded this week.  While I wish it could be reborn as a supernatural french swordsman, I am preparing myself for its (more likely) future as a paperweight, which is an even more useless desk accessory in our increasingly paperless existence.  There is nothing quite like technology woes to cripple the creative process, so instead of doing a roundup of reviews this week, I will simply give you a quick upshot  of what you're likely to experience if you venture out to the cinema – three movies come out this weekend, two of which have the number 3 in the title, and while only one is a horror movie, the other two might be bad enough to scare you out of the theater.
First up, Paranormal Activity 3 (Rotten Tomatoes – Metacritic), the independent horror series that continues to impress critics, while pleasing audiences.  Perhaps most impressive is that it has finally dethroned Saw as king of the proverbial Halloween movie-mountain.  As long as it doesn't spiral into suckage, let's call that progress.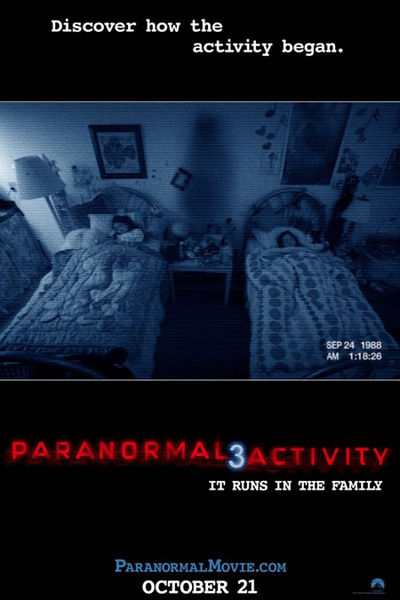 Unlike our next movie, which is closer to regress: The Three Musketeers (Rotten Tomatoes – Metacritic).  Reimagined with flying ships, slow-motion exploding sword fight special effects, and poke-you-in-the-eye 3D, this movie looks like a cavalcade of bad.  The most impressive thing about it is that it has royal assassins.  Unlike previous royal assassins (killers who only target royalty), this version has assassins who happen to be royalty (and must be terribly bored to spend their time killing other rich people).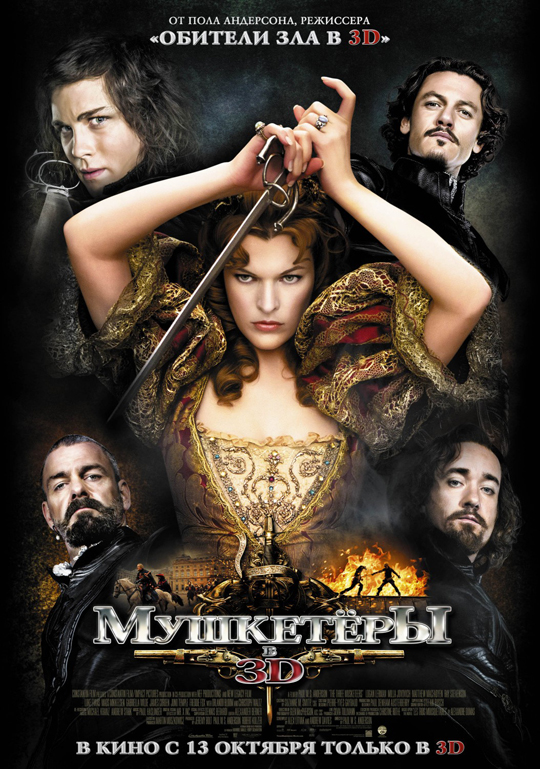 I couldn't resist the Russian poster, which adds another cultural layer as an American version of a classic French story.  And speaking of culture, the British anti-Bond returns to theaters this weekend in Johnny English Reborn (Rotten Tomatoes – Metacritic).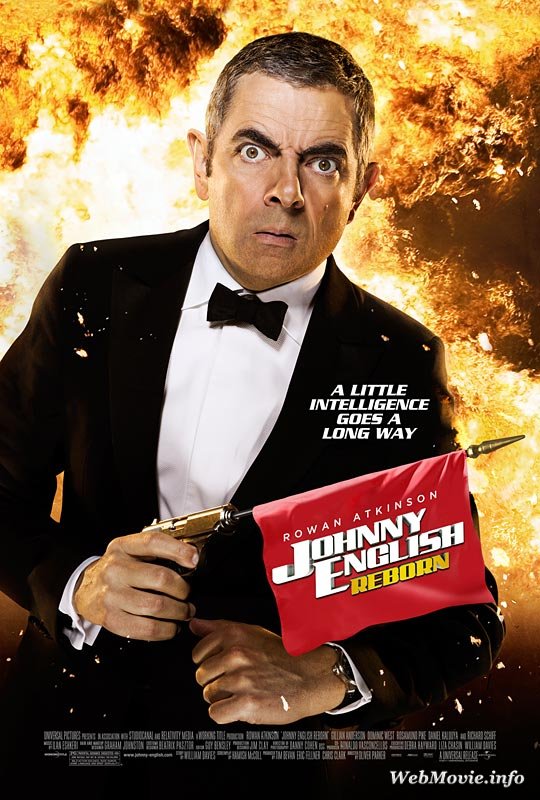 Rowan was encouraged remake Mr. Bean or Blackadder next.  Those who liked it called it 'amusing' and 'old-fashioned' while those that hated it thought it was 'unnecessary' and relied too much on groin shots for laughs.