Red Wire World
on
January 20, 2012
at
7:44 am
If you're wondering what happened to Blue Wire World – it was cut.  A similar fate awaits Underworld: Awakening (Rotten Tomatoes – Metacritic) because there weren't any reviews available to be rounded up.  Usually dodging critics is a sign that something went Haywire (Rotten Tomatoes – Metacritic).

"Nifty spy actioner featuring impressive big-screen newcomer and martial-arts expert Gina Carano as a high-level, high-kickin' intel operative for hire but not to mess with." Doris Toumarkine Film Journal International
Don't mess with her, even though she's hired to clean up messes.
"Haywire doesn't just start 2012 with a bang; it sets the bar very, very high for every action film that's going to follow in its footsteps this year." James Rocchi MSN Movies
"A jet-propelled action-thriller that has little time for wasted motion…intense and intensely lean…It's that rarity – an action movie with intelligence. "Marshall Fine Hollywood & Fine
Odd syntax…distracting punctuation – questionable intelligence.
"This uber-stylish treat may have low nutritional content, but the kinetic hand-to-hand combat fight scenes and Soderbergh's lethal skill are simply seductive." Tim Grierson Screen International
When violence is seductive, sex probably kills.
"Streamlined, beautifully shot and casually thrilling, Haywire's superior action fun should hopefully draw audiences eager for R-rated, no-frills fare." Boxoffice Magazine Vadim Rizov
But if R-rated fare w/o frills fails to nail the sale, grab some pale ale and watch the Red Tails (Rotten Tomatoes – Metacritic).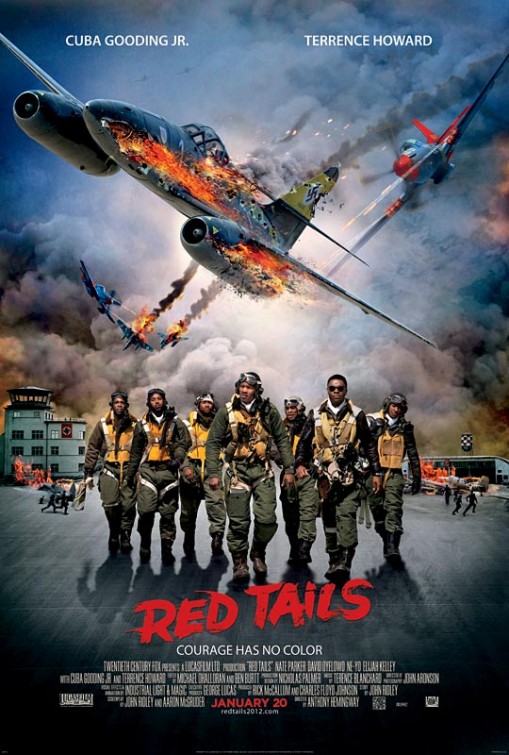 "The movie is so desperate to be palatable, to appeal to everybody that it doesn't taste like anything." Boston Globe Wesley Morris
So, it tastes like cinematic chicken?
"George Lucas served as executive producer for this effects-heavy action film about the Tuskegee Airmen, and it feels as synthetic and dull as 'The Phantom Menace.'" Chicago Reader Ben Sachs
Me-sa sorry to hear that.
"In the end Red Tails is mostly about the coolness of flying. Its heart is in the clouds, instead of with the men at the controls." Movieline Stephanie Zacharek
"Apart from the occasional thrill provided by CG-enhanced aerial dogfights, this stuffy history lesson about the groundbreaking African-American fighter pilot division never quite takes off, weighed down by wooden characters and leaden screenwriting." Variety Peter Debruge
Someone tell Lucas his wooden pilots can't take off because their talking weighs too much.
"The war-movie cliches are as abundant as the antiaircraft fire, and the dialogue as wooden as a balsa glider. The leading characters are issued one personality trait apiece, and some don't even get that. Cuba Gooding Jr., for example, plays Maj. Emanuelle Stance as a man who smokes a pipe." Washington Post Mark Jenkins