Silent Fun Cloud
on
October 26, 2012
at
11:09 pm
Quiet clouds are delightful, loud clouds are scary, and dark clouds are dangerous, but if you're researching muffled mist or speechless smog, you should consult a Cloud Atlas (Rotten Tomatoes – Metacritic).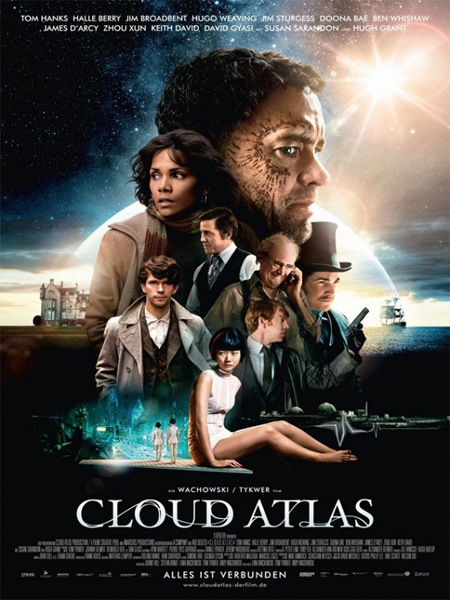 "Its ideas are paralleled, its themes twinned, sometimes breathlessly, sometimes fatuously, into what may be described as a 164-minute pop song of seemingly infinite verses, choruses, and bridges. Perhaps expectedly, it soars as often as it thuds." Slant Magazine Ed Gonzalez
If it soars like a roller coaster, hopefully it doesn't thud like one.
"Men play women. Women play men. Blacks play whites. An Asian plays a freckled Victorian. Bad accents flourish. And Hugo Weaving, whether he's a he, she, or ridiculous hoodoo leprechaun, is always the villain." Jeff Meyers Metro Times (Detroit, MI)
Since most films struggle to emotionally engage audiences, offending everyone equally is commendable, regardless of whether they're men, women, blacks, whites, or hoodoo leprechauns.
"You have to admire the imagination, philosophy, and courage behind Cloud Atlas, boldly going where few films dare to tread." Mark Sells The Reel Deal
"Did you hear the one about the Zen master who walks up to a hot dog cart, scans the menu, and asks the vendor to "make me one with everything"?" Steven Rea Philadelphia Inquirer
If a Zen master instructs you to do the opposite of what they say, don't.
"Destined to divide critics and play to empty Cineplexes, Cloud Atlas is a marvel." Bill Gibron PopMatters
Critics will be conflicted, audiences will be absent, and the movie will be remembered as dreaming bigger than Fun Size (Rotten Tomatoes – Metacritic).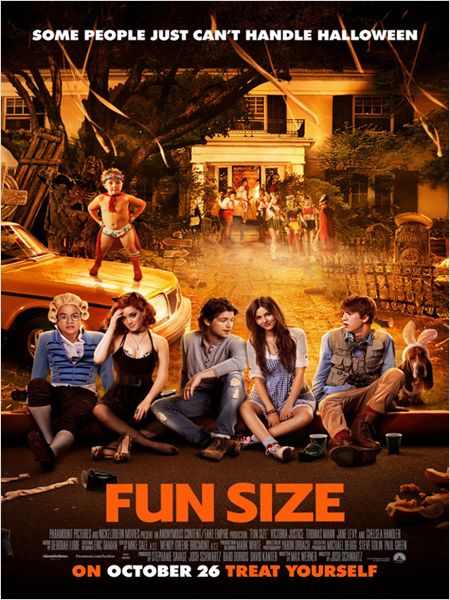 "Imagine eating as many fun-size candy bars as the price of a movie ticket would buy. Imagine how you would feel – and it would still be better than sitting through this movie." Marshall Fine Hollywood & Fine
Less satisfying than a diabetic coma brought on by a chocolate overdose. Not a high bar.
"'Fun Size' presents the broiling hormones of youth at room temperature." Kyle Smith New York Post
So the title isn't a euphemism.
"There remains a huge market for a great Halloween teen comedy, but Fun Size is the disappointing apple that your crazy-haired neighbor gives you instead of candy. Feel free to dump this one in the bushes." Jeff Labrecque Entertainment Weekly
"As John Hughes imitations go, this one's pretty good." Chris Hewitt (St. Paul) St. Paul Pioneer Press
If imitation is the sincerest form of flattery, how come no one dresses as John Hughes for Halloween?
"Imagine "Little Miss Sunshine's" dark materials (and superior craftsmanship) diluted with a Hannah Montana-like sunny silliness – which is to say: sometimes funny, often broad-stroked, ever sweet, and landing shy of its potential." Austin Chronicle Kimberley Jones
Does falling short of successfully supplying sweet sunny silliness have something to do with a Silent Hill Revelation (Rotten Tomatoes – Metacritic)?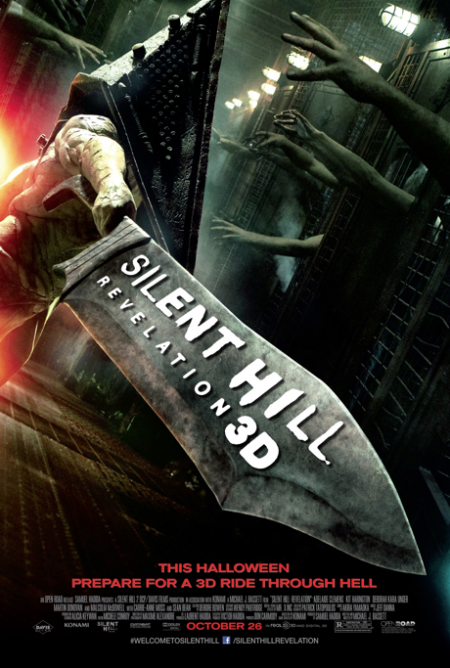 "Set piece, set piece, exposition, set piece, boss fight, set piece, more exposition, boss fight, boss fight, open the door for another sequel, the end." Rob Vaux Mania.com
Reductive summary, sentence fragment, long list, spoiler warning?
"Only true devotees of the game are likely to recognize many of the figures on the screen, or care about a byzantine story stitched together from innumerable horror and fantasy shows." Peter Howell Toronto Star
Does stitching together parts of other movies count as an homage to Frankenstein?
"Hollywood, this isn't good enough. Silent Hill deserves better. Audiences deserve better. Video games deserve better. And frankly, the film industry deserves better." William Bibbiani CraveOnline
"Stick with the games. At least in the games you can press "skip" when confronted with nine goofball dialogue scenes in a row." Scott Weinberg FEARnet