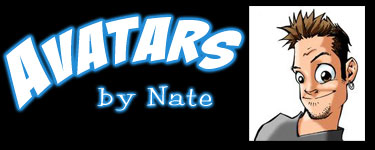 Tired of those boring old avatars you get in forums? Want something that really shows your individuality? Let me help you with that.
What You'll Get:
– Three avatar sizes of your choice. If you aren't sure what you need, I'll provide 100 x 100, 64 x 64, and 50 x 50 (that's in pixels, not inches).
The Choices: (shown at 100 x 100 pixels)
| | | |
| --- | --- | --- |
| – Black and white line: $15 | – Simple color: $20 | – Color with shading: $35 |
What I'll Need:
– One or two (three is best!) of your favorite pictures of yourself. Bear in mind that I can't draw what I can't see, so the pic should be clear and fairly close-up.
– A few words about yourself. Afterall, an avatar isn't just about a drawing of your face, it's about a drawing of your personality. Tell me how you want to be seen!
Send Picture
How the process will work:
– Once you have selected the avatar option you desire and have paid, you can click the above link to send me an e-mail with the photo I'll need to create your stunning caricature.
– I will respond within 24 hours with a numbered invoice for the paid amount, and no more than 3 days later, you will have a proof of the picture to say "Yay!" or "What?!"
– The finished avatars will be delivered no more than 7 days after approval of the artwork.
– I will retain the original artwork, but the only right I reserve is to display it here or in my portfolio.
– Prices do not include sales tax, so that'll be tacked on depending on where you live (the Man needs his cut afterall).
Thank you for stopping by, and thanks for the patronage!