Stupid Aliens Attack Crazy Smurfs
on
July 30, 2011
at
3:29 pm
Looking past this summer's fondness for superhero movies, the rest of the multiplex has been dominated by alien attacks, raunchy comedies, and kid-movie cash-ins.  If you are a frequent visitor of your local theater, you probably thought of Transformers/Super 8 then Hangover/Bridesmaids/Horrible Bosses, and you couldn't think of a kid's movie because they're mostly forgettable.  Luckily for you, this weekend offers an option from every category, except the men in tights.  Hollywood studios love to tap the same creative wells, but they can't see it's Crazy Stupid Love (Rotten Tomatoes – Metacritic).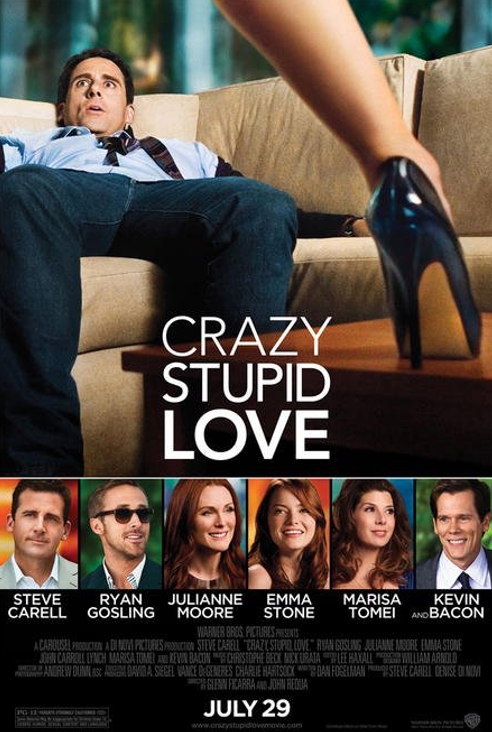 "The script, by Dan Fogelman, is unusually and gratifyingly bisexual – i.e., it boasts scenes from both the male and female points of view!" New York Magazine David Edelstein
Exclamation points indicate surprise or sarcasm!
"What to say about an uphill slog called Crazy, Stupid, Love? It's not nearly crazy enough to clear the clogged arteries of summer comedies, and when the love appears, it's in all the wrong places. Oh well, at least they nailed the stupid part." New York Observer Rex Reed
"Men will watch Crazy, Stupid, Love thinking they're finding out things about women, but if anything, this movie works the other way. Women will get a glimpse into the male mind." San Francisco Chronicle Mick LaSalle
On behalf of men everywhere, "Uh oh."
"Pity the crowds expecting another cute comedy like "Date Night" who wind up at Crazy, Stupid, Love. It'll be like asking for a burger and getting served escargot." New York Post Kyle Smith
"Grant the filmmakers the efficiency of their plotting, even if it reduces characters to types. And credit them with having assembled a cast capable of making the film's craziness and stupidity appealing, even if hitching actors of the caliber of Moore and Gosling (and to a lesser extent Carell and Stone) to material this thin is a little like hitching a Saturn rocket to a go-cart." NPR Bob Mondello
Hitching rockets to carts sounds like an afternoon of fun with Cowboys and Aliens (Rotten Tomatoes – Metacritic).
"Another assembly-line Hollywood blockbuster, a Western for people who have never seen Westerns, and a science-fiction movie for people who don't like science fiction." Sean Means Salt Lake Tribune
If the goal is to pigeonhole the film into one genre or another, we can add either "Space" or "Illegal" to the title.
"The B-movie marquee title of Cowboys and Aliens suggests a picture that's more irreverent, imaginative, and fun than the turgid movie that stands behind it." Michelle Orange Movieline
The primary criticism is that the film isn't B-movie enough.
"[A] phenomenally successful two-man war against narrative clarity and continuity." Christopher Orr The Atlantic
"Will somebody please stand up and give me some different aliens." Julian Roman MovieWeb
Will you please phrase your request in the form of a question?
"Takes itself more seriously than any film called 'Cowboys & Aliens' ever should." Thomas Leupp Hollywood.com
How seriously should we take titles involving fights against inanimate objects, eg. Attack The Block (Rotten Tomatoes – Metacritic).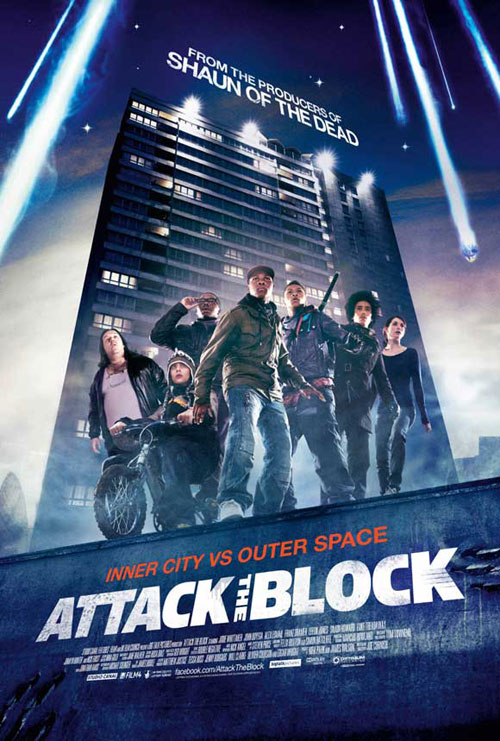 "This spunky, low-budget British action-comedy proves once again that a smart script can breath new life into even the most tired of subjects." Leah Rozen The Wrap
Breathing new life into a tired genre = Cinematic CPR.
"Overall, the movie's low-rent British specificity is a plus because the unique milieu provides a unique set of problems for the earthlings to overcome." Marjorie Baumgarten Austin Chronicle
Unique becomes less unique when your wording involves similar words.
"A slick horror comedy, Block contains a few fatal flaws that weaken its sense of cheery violent fun. It's difficult to root for a bunch of alien-busting kids when they all deserve prolonged spankings." Brian Orndorf BrianOrndorf.com
"More 'Bloody Kids' than 'Super 8,' more 'Assault on Precinct 13' than 'Jumanji,' and, in the end, more 'Be Kind Rewind' than 'Adventures in Babysitting.'" Slant Magazine Jaime N. Christley
A little more "referencing other movies" than "making original comments" (says the writer with nothing but peanut-gallery comments).
"The line for this future cult hit starts here. Get in it before your friends tell you to." Brian Tallerico HollywoodChicago.com
Will the most-willing sheep please fall in?  Or, at least the most sheepish of The Smurfs (Rotten Tomatoes – Metacritic)?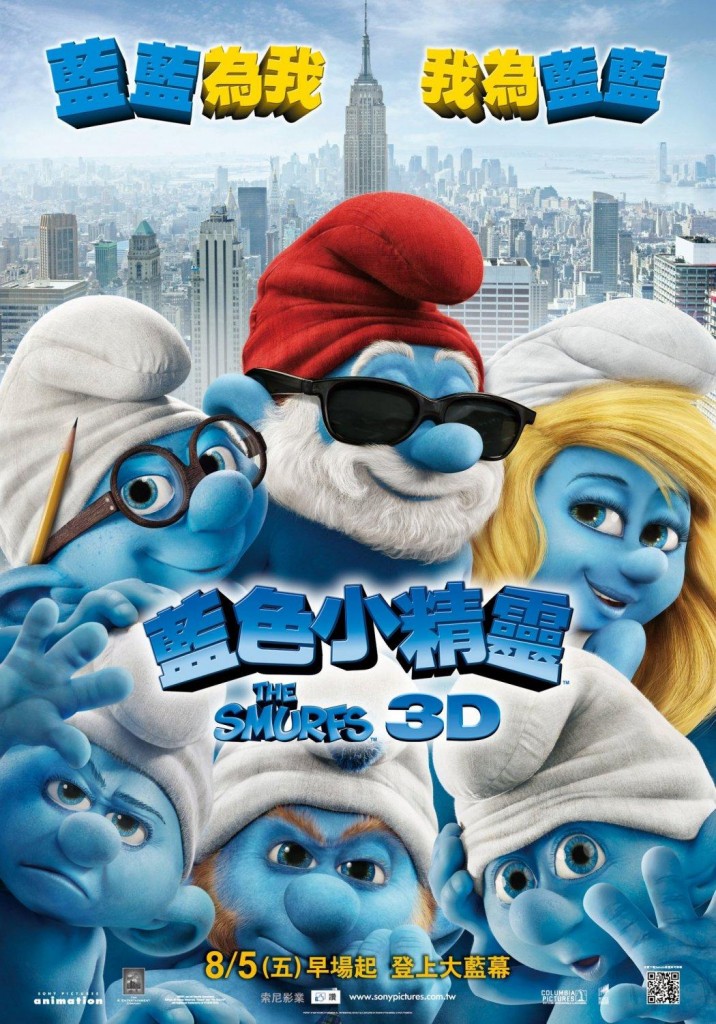 "Wearing a CBGB T-shirt, Neil Patrick Harris rocks out with Clumsy Smurf to 'Guitar Hero.' Historians may want to remember this sequence when they're trying to pinpoint the exact moment that rock and roll died." John Beifuss Commercial Appeal (Memphis, TN)
Rock and Roll has been proclaimed dead so many times, we need to accept that it's a phoenix.  Or a very persistent zombie.
"The Smurfs ends up being just below average, it won't give you nightmares, and small ones might dig it." Laremy Legel Film.com
Half of summer movies are below average.
"It's raw and mean-spirited, with too many of the Smurf word substitutions more naughty than nice ("Who Smurfed?" or "Where the Smurf are we?"). That's Smurfed up." Nell Minow Chicago Sun-Times
No more Smurfing Smurfs!
"That two sequels have been announced is terrifying." Stephen Whitty Newark Star-Ledger
Mother-Smurfer!
"I saw this one so you don't have to." Gary Wolcott Tri-City Herald