Super Penguin Teaches Green Car
on
June 24, 2011
at
11:26 am
Teaching cars shouldn't be possible (even if they are environmentally conscious), but if anyone could, why not a super penguin?  After two weeks on the road, I'm likely to believe that anything is possible.  All living things benefit from education, why not Cars 2 (Rotten Tomatoes – Metacritic)?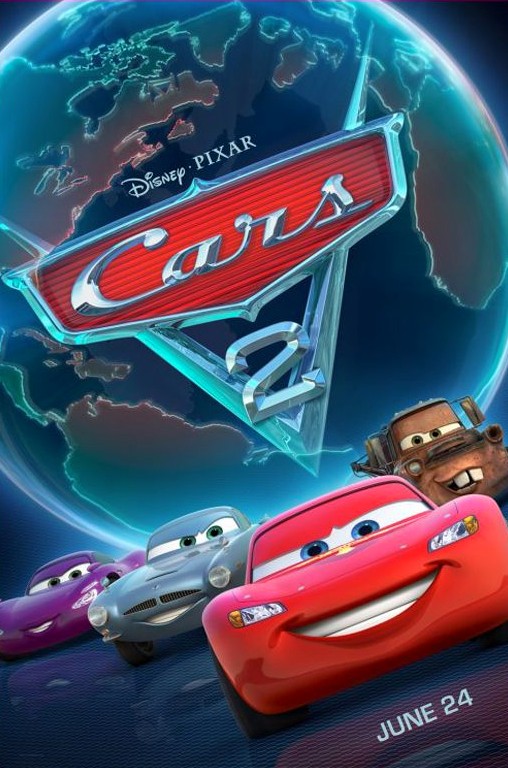 "It's sweet-spirited, visually delightful (if aurally cacophonous), and it will make for a pleasant enough family afternoon at the movies. But we've come to expect so much more than mere pleasantness from Pixar that Cars 2 feels almost like a betrayal." Slate Dana Stevens
For the past few summers, the primary criticism of other animated films has been "They're good, but they're not Pixar-good."  Now, if Pixar-good is just normal good, the comparison rings as hollow as truck drivers arguing over Chevy and Ford.
"But if it's going to be diet Pixar, at least it's action-packed diet Pixar — with overwhelming, detail-choked production design that occasionally had my jaw lowering like a forklift." Joe Williams St. Louis Post-Dispatch
"The rare sequel that improves on its predecessor, this lightning-paced caper-comedy shifts the franchise into high gear with international intrigue, spy-movie spoofery and more automotive puns than you can shake a stickshift at." Justin Chang Variety
Rather than constructing my own motor metaphors, I'll let the haters do it for me.
"With "Cars 2," Pixar goes somewhere new: the ditch." Colin Covert Minneapolis Star Tribune
"Pixar had never produced a clunker, but with "Cars 2," the animation studio has not only stalled, it's gone into reverse." Portland Oregonian M. E. Russell
"Pixar runs out of gas. Into a brick wall." Matt Pais RedEye
Made for families who like a little Disney in their Pixar, other audiences may experience a charming car crash. Normally, you would blame the driver, but since the cars drove themselves into a ditch, it wouldn't matter if they'd had a Bad Teacher (Rotten Tomatoes – Metacritic).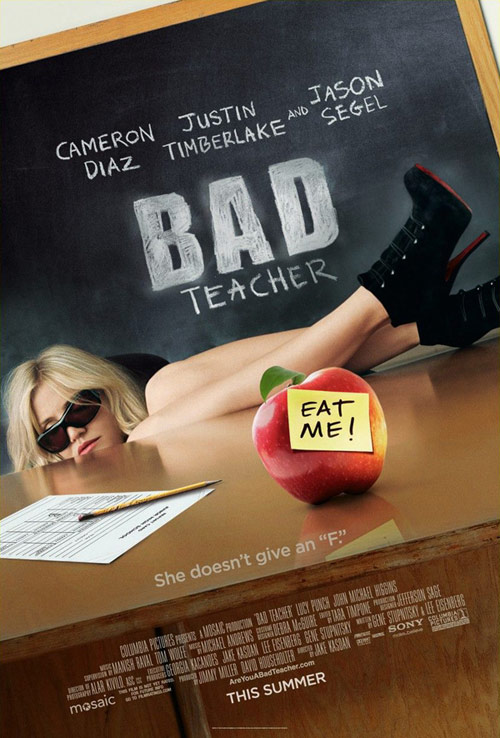 "An amusing but wholly forgettable assemblage of scenes, some very funny, others thankfully brief, that you should absolutely catch bits of when it is on cable." Jordan Hoffman UGO
You are encouraged to watch just the good parts of this movie six months from now when it's on TV.  Thank you for the nigh-impossible homework assignment.
"A raunchy comedy that's funnier to think about than to watch." Philadelphia Inquirer Steven Rea
It's oddly fitting for a teacher-comedy to leave you with food for thought.  Does the movie get extra credit if I laugh after it's over?
"Viewers sick of being force-fed inspirational lessons who are looking to mentally flip the bird at authority, this will hit the spot." Luke Y. Thompson E! Online
"Diaz's Bad Teacher might not give an F, but just about scrapes a B- herself." Sophie Ivan Film4
Better than earning a D for diploma.
"Most of the cast doesn't know what to do with their shallow characterizations and lackluster dialogue. The best lines were harvested for the trailer – so if you've seen that, you've seen it all." San Francisco Chronicle Amy Biancolli
As long as we're harvesting film, let's dig into some old footage made on Super 8 (Rotten Tomatoes – Metacritic).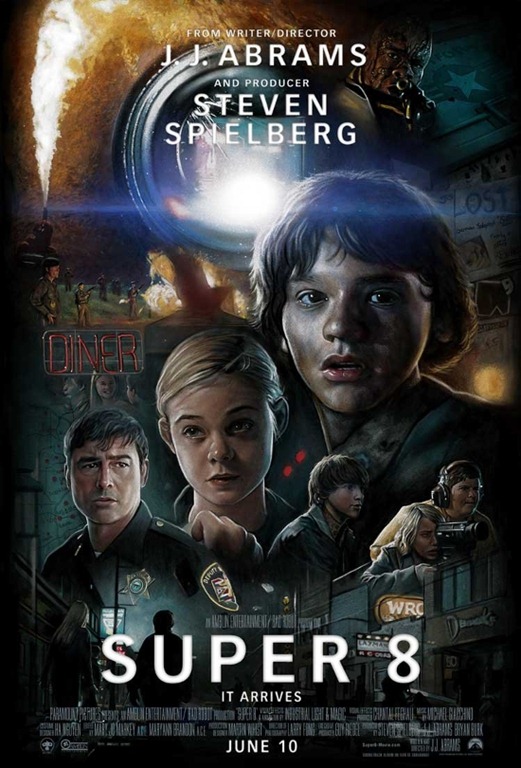 "A popcorn blockbuster made with craft, care, enthusiasm, genuine affection for its characters and respect for its audience. It's entirely derivative, yet in this season of sequels and remakes and snark, it feels not just fresh but refreshing." John Beifuss Commercial Appeal (Memphis, TN)
Audiences can decide for themselves if something is derivative or homage.
"J.J.'s Close Encounter with E.T., Gremlins, Jaws and Jurassic Goonies!" Kam Williams TheLoop21.com
Homageddon!
"This sci-fi thriller has an engrossing plot and a strong cast of fully drawn characters. There's even a sweet youthful love story. In other words, it's a summer blockbuster firing on all cylinders." Claudia Puig USA Today
"Super 8 is a thoroughly entertaining popcorn flick, but one does get the sense of Abrams sweating up a storm in an effort to produce the sort of guileless matinee magic that Spielberg conveyed effortlessly." Matt Brunson Creative Loafing
There is no such thing as effortless success, only masters who make the difficult seem simple.
"Remember the good old days? This is the movie you went to see on a Saturday afternoon in the good old days." Tom Long Detroit News
But if you're young, you're living your good old days.
"Abrams fashions Super 8 in such a calculating manner, with every element weighed both for maximum nostalgia value and ironic hipster cred, that it has an artificial feel to it. It's like a birthday cake made of spun glass." Peter Howell Toronto Star
A glass birthday cake can only be appreciated if it has a light inside.  Might I recommend a Green Lantern (Rotten Tomatoes – Metacritic)?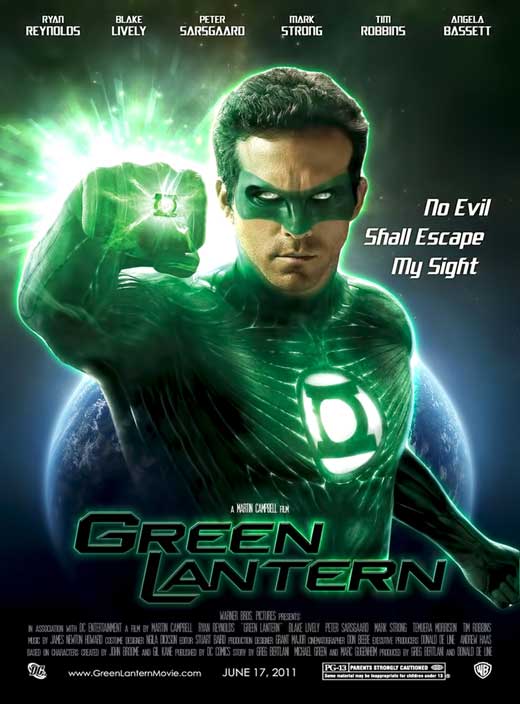 "Hal claims that a Lantern's only enemy is fear itself. The thought of a sequel to this shamelessly soulless Hollywood product scares me plenty." Rolling Stone Peter Travers
The yellow fear of making a bad sequel will never defeat potential mountains of green cash.
"Even by the standards of the current run of mediocre comic-book movies, this one stands out for its egregious shoddiness." Dana Stevens Slate
I don't think I've ever heard of a movie being egregiously shoddy.  Perhaps the sentiment was expressed as grievously gaudy, preposterously pretentious, or scandalously scruffy.
"As a disjointed rumble in the cosmos, it's both too much and too little, and too dorky looking. In this case, Green means stop." Tom Long Detroit News
"DC has to step up its game. Christopher Nolan's Bat-films aside, Marvel is kicking their ass all over the place." Pete Vonder Haar Houston Press
The battle between publishers is filled with parallels: the rich morally-dubious industrialist superhero (Marvel – Iron Man, DC – Batman) or the proud and sexy long-haired god (Marvel – Thor, DC – Wonder Woman).  For my movie dollar, Marvel always has the advantage because it takes place in the real world (Chicago and New York vs. Gotham and Metropolis).
"Ryan Reynolds is a fearless fighter pilot famous for wielding his stick in many a starlet's cockpit." Mark Ramsey MovieJuice!
Great, Earth's intergalactic cop is a sexual harassment case waiting to happen.
"One of the goofier, less pretentious and more agreeably kid-friendly superhero action movies of the current trend." John Beifuss Commercial Appeal (Memphis, TN)
And if you're looking for goofy and agreeably kid-friendly entertainment, you can find it with Mr. Popper's Penguins (Rotten Tomatoes – Metacritic).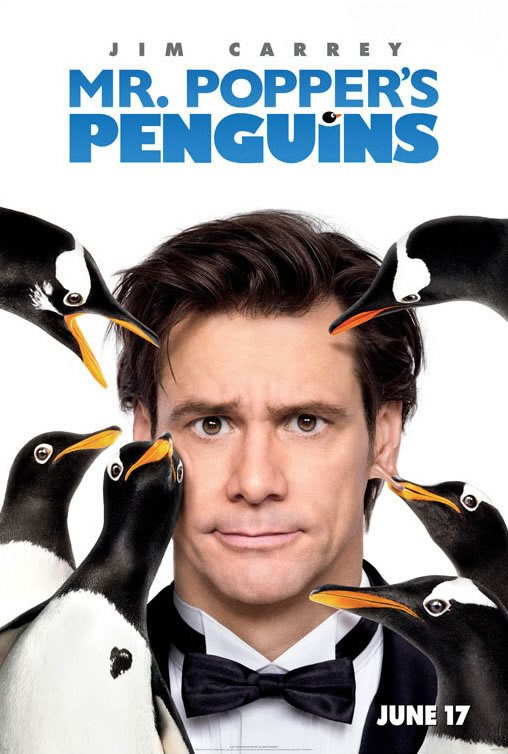 "'Mr. Popper's Penguins' is Hollywood formula, but it's well poured and goes down easy." Teddy Durgin Screen It!
That sounds like the formula toddlers eat.
"By happy coincidence, their names – Bitey, Loudy, Stinky, Lovey and Nimrod – pretty much double as a plot summary." The Globe and Mail (Toronto) Rick Groen
If names = quality, perhaps the penguins belong to Mr. Pooper.
"During the movie's awww-inducing conclusion, those of you who are allergic to cuteness – or to Jim Carrey – might want to look away." Washington Post Michael O'Sullivan
"A bland family film where your struggle with consciousness will be the most exciting thing happening in the theater." Mathew DeKinder St. Louis Post-Dispatch