When Nate Taylor and I met, we dreamed of sharing our wild ideas with the world. We made our own movies, brainstormed sequels we'd like to see, and created oddball characters we'd like to meet. The product of all three was our web series – Coming Distractions.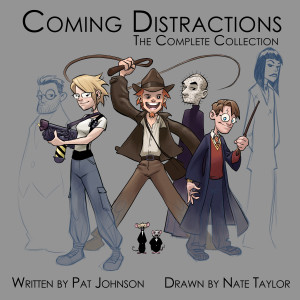 Now that Nate Taylor's art is being showcased in Patrick Rothfuss's Slow Regard of Silent Things, he's reached the point in his career where his old stuff belongs on a shelf next to his new stuff. It's time to put the entire Coming Distractions series into print. To help make this happen, we've created a Kickstarter campaign: https://www.kickstarter.com/projects/1955547527/the-complete-coming-distractions
I know what you're thinking. A web comic? On paper? Madness. Trouble is, even though I can read your mind, I have no idea how to answer your questions. Perhaps I should go to bed and dream of willing backers.
Also, I heard a rumor that funding our Kickstarter gives you superpowers.