The Five The's
on
December 10, 2010
at
3:30 pm
Imagine if we removed "the" from modern English.  To start, all five of this weekend's movie titles would be three letters shorter.  We would also lose "the's" definitive nature, as with changing "The King of Pop" to "King of Pop," which implies there could be more than one.  Less tragically, removing 'the' barely changes examples like "No way!  You're the Tom Cruise?" But it would help avoid instances where using 'the' grants an unearned importance to a subject, as with "Joe the Plumber." Joe visited Fametown, but he wasn't allowed to live there.  He was a tourist, but he wasn't The Tourist (Rotten Tomatoes – Metacritic).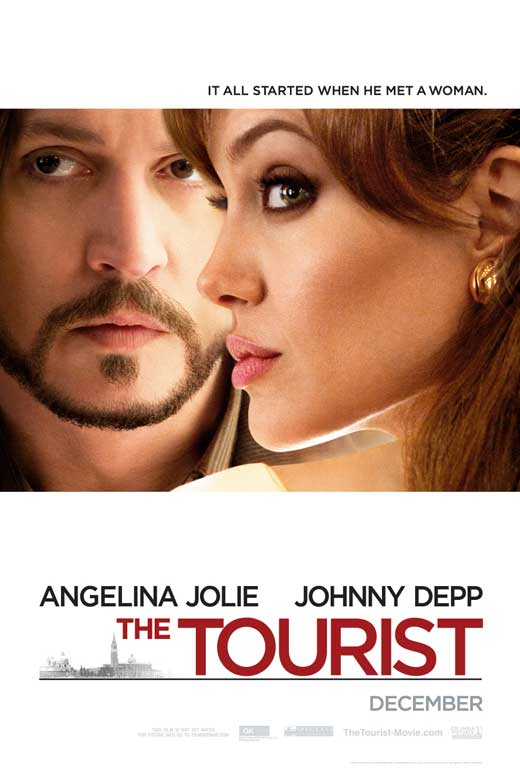 "The Tourist is less likely to be remembered for its cat-and-mouse machinations than for the beautiful people carrying them out." St. Petersburg Times Steve Persall
Congratulations if you are satisfied with watching two hours of pretty people, because every movie this week meets the minimum qualification.
"Like a beautifully tailored suit that starts to smell funny after a few minutes, this sumptuous but stultifying lark sets up a quasi-Hitchcockian intrigue between two strangers abroad, but smothers any thrills or sparks in a haze of self-regard." Variety Justin Chang
Just in case you needed it, the film serves as an example of a stinky quasi-Hitchcockian self-regarding haze.
"Let's not mince words; The Tourist is one of the most outstandingly atrocious films of the year." Nick Deigman Fan The Fire
"There's a way to make a movie like The Tourist, but Florian Henckel von Donnersmarck doesn't find that way." Chicago Sun-Times Roger Ebert
It sounds like the director's name might be more entertaining than the movie.
"Do anything. Arrange an appointment in Sumatra. Go to the moon. At all costs stay away." Nigel Andrews Financial Times
If you avoid the film long enough, it will pass like a squandered storm.  Hopefully, by Monday morning, we will have avoided any damage from The Tempest (Rotten Tomatoes – Metacritic).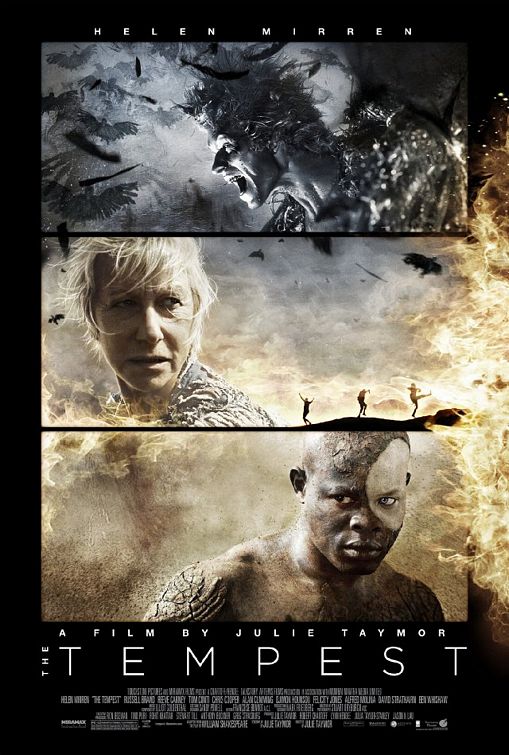 "Julie Taymor's new film version of The Tempest isn't as disastrous as it could have been, though it does fundamentally fail Shakespeare's play." Ed Gonzalez Slant Magazine
It's not a total failure, despite totally failing?

"Mirren, of course, is wonderful – in those few scenes when the CGI stops. But those rare moments are separated by tedious songs and far too many close-ups of Ariel laughing, laughing, laughing." Stephen Whitty Newark Star-Ledger
In the script, do they just write "LOL?"
"Theatrically ambitious, musically busy, and in the end cinematically inert – clearly reflects the authorship of myth-loving director Julie Taymor." Entertainment Weekly Lisa Schwarzbaum
"The film lacks a pulse. There's sound and fury, but the result is more drizzle than tempest." Village Voice Ernest Hardy
Did you mean to imply the film was wet and dead?
"Too often the visual effects in The Tempest' look like something that would have seemed high-tech during the early days of MTV." Christy Lemire Associated Press
Perhaps cheesy visuals are a meta-comment on the limitations of special effects in Shakespeare's time.  What if that's the intention?
"The result is cacophonous." John P. McCarthy Boxoffice Magazine
If you can't handle the noise, but don't want to flee, perhaps you'd enjoy hearing about someone else departing in The Chronicles of Narnia: Voyage of the Dawn Treader (Rotten Tomatoes – Metacritic).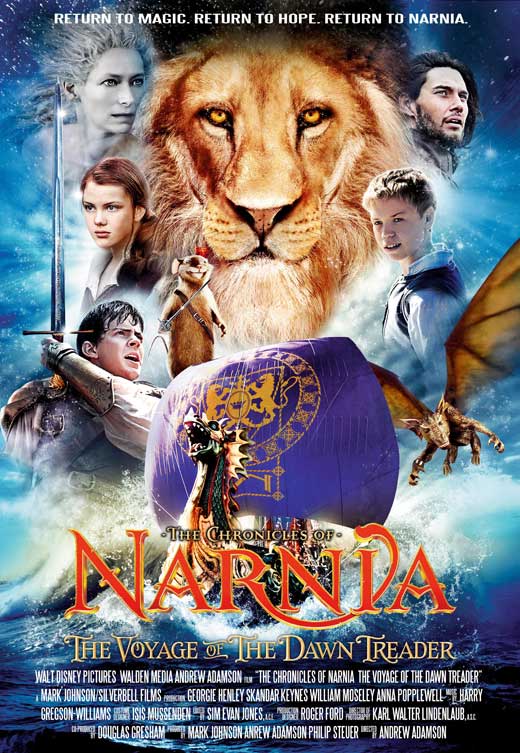 "The most remarkably unremarkable fantasy franchise around doesn't exactly break that streak with The Voyage of the Dawn Treader, but it comes the closest so far in the series to achieving satisfying, rip-roaring adventure…" William Goss Cinematical
Does being close to a satisfying rip-roaring adventure make it a serviceable split-growling errand?
"Dawn Treader, the name of the ship in the story, should here be rechristened Yawn Treader. If this movie were a bedtime book, the wee ones would be asleep by page two." Time Richard Corliss
Since the movie is based on a bedtime book, parents with over-active kids may embrace the story's sleep-inducing symptoms.
"A strong filmmaking voice was clearly not called for in an entertainment that has been carefully calibrated for maximum blandness. Mr. Apted is aboard to keep the franchise sailing along or at least afloat, which he does." The New York Times Manohla Dargis
"I'm confounded by the fact that, aside from the Pevensie siblings and their nicely obnoxious cousin, absolutely everything and everyone aboard the Dawn Treader looks one-dimensional." Entertainment Weekly Lisa Schwarzbaum
Does it count as retro if a modern 3D movie seems 1D?
"Their mission – for reasons that are not fully explained – is to locate the seven swords of the lost Lords of Narnia, and to use them to save this world from … something. Uhh, quick a distraction! Look, special effects!" Simon Miraudo Quickflix
Usually, when people use the "hey, what's that?" move, it is followed by fight or flight.  This weekend does not include a movie called the flighter, but it does have one called The Fighter (Rotten Tomatoes – Metacritic).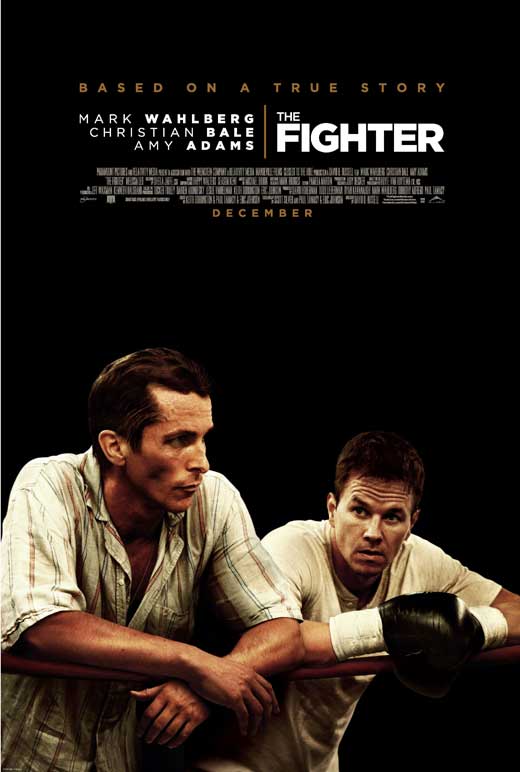 "A phenomenal piece of work. Wahlberg, Bale, Adams, and Leo are all Oscar-worthy. Ranks with RAGING BULL, ROCKY and BODY & SOUL as one of the greatest boxing movies ever made." Chris Bumbray JoBlo's Movie Emporium
Often boxing movies can be seen as Oscar bait because they can be reduced to a simple, but compelling, six-word-story (ie. underdog struggles and becomes the champ).  Does this one do anything different?
"The Fighter is at its most interesting as a comeback story about people who've seen too many comeback stories… " James Rocchi MSN Movies
So, it's a second coming back story?
"This movie triumphs exuberantly as a crowd-pleasing underdog fight flick. But it really connects as a horrible and hilarious deconstruction of family values gone nuclear." Peter Keough Boston Phoenix
"So convincing was Bale as a crackhead that I didn't even realize it was him until the end credits rolled. I expected the screen to read 'Dicky…. Played by ACTUAL CRACKHEAD'." Phil VillarrealOK! Magazine
You expected an actual crackhead to play himself and have his screen credit be "ACTUAL CRACKHEAD?"  Would that mean Wahlberg should be listed as an ACTUAL RAPPER?
"If The Fighter feels like kind of a mess, lurching from one scene to the next as if the film itself has taken a few hits to the head, that's not entirely a bad thing." Variety Peter Debruge
It sounds like someone's been beating up the movie; perhaps it was The Company Men (Rotten Tomatoes – Metacritic).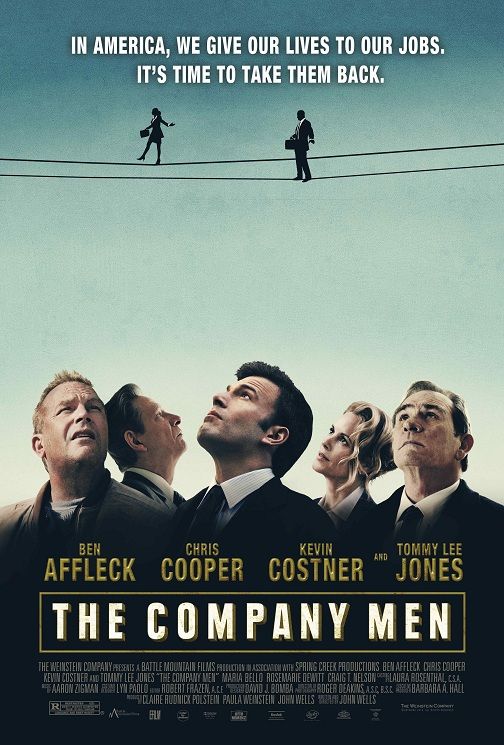 "Critics who praise this politically false economic fairytale can only be part of the system — and part of the problem." Armond White New York Press
While Armond is not the only person with criticisms, he does seem to be the only one who dares other critics to disagree with him.
"The movie is realistic enough to make all corporate climbers, but especially men over 50, quake in their boots. If you are what you do, what are you if you're no longer doing it?" The New York Times Stephen Holden
If we are what we do, then we are all basically the same.  We're all viewers, communicators, and consumers.  We should define ourselves by what we want to be and the purpose of life is to prove to yourself and others that you are the person you want to be.
"Are we supposed to think that only those people who "work with their hands" are safe in this economy?" Peter Rainer Christian Science Monitor
"We all know these aren't the best of times, but, with a sly intelligence, a refusal to wallow in sentimentality and some mighty fine actors, this is a movie that also makes us dig in and figure out an upside." Joanna Langfield The Movie Minute
Even a storm cloud of layoffs can have a silver lining, but it would be better if it actually rained free silver.
"The Company Men does a piercing job of making you feel the dehumanizing effects that losing a job can have on grown men, but it's more truthful and devastating than that." Rex Reed New York Observer