The Incredible Zoo Horse Tattoo Adventures
on
December 22, 2011
at
10:34 pm
Would you watch a show called Zoo Horse Tattoo Adventures? It sounds like Animal Planet crossed with Miami Ink.  First episode: A horse hosts an MTV-style coming-of-age story about misfit zebras experimenting with checker patterns.  Sure, it's ridiculous.  The likelihood of it happening is the same as an elephant performing a Prince Albert on its trunk.  If you don't get the reference, don't look it up.  If you did, let me tell you about The Girl With The Dragon Tattoo (Rotten Tomatoes – Metacritic).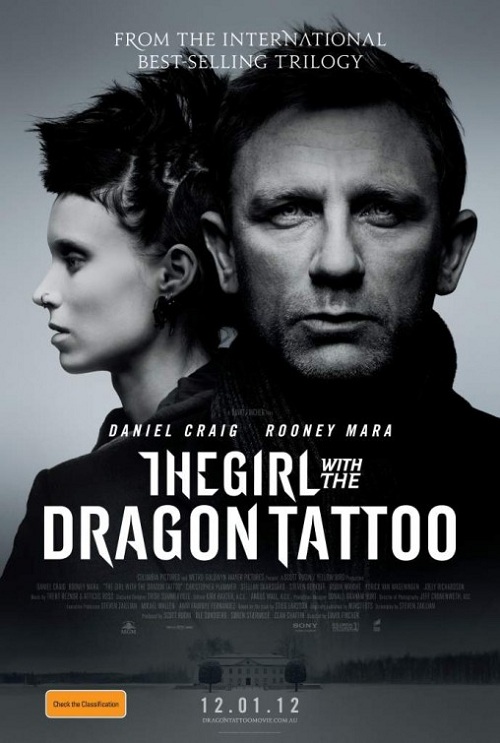 "As classy a film as could be made from Stieg Larsson's sordid page-turner, David Fincher's much-anticipated return to serial-killer territory is a fastidiously grim pulp entertainment that plays like a first-class train ride through progressively bleaker circles of hell." Variety Justin Chang
A posh Terror Train descending the circles of hell could be fun, so long as there aren't any stops.
"The difference between Niels Arden Oplev's adaptation of Stieg Larsson's The Girl with the Dragon Tattoo and David Fincher's own is not, as some might have hoped, the difference between night and day, but between curdled milk and a warmed-over holiday second." Slant Magazine Ed Gonzalez
Instead of apples and oranges, it's rotten apples and over-ripened apples?
"A tough, post-punk Tintin-meets-Klute for the Occupy Wall Street set, this kinetic, hard-edged thriller is the perfect festive comedown for Fincher fans and dysfunctional families everywhere." Empire Damon Wise
"Has much to recommend it – high-end craftsmanship, a singular heroine, a labyrinthine mystery, an intriguing milieu – yet lacks a vital spark." Wall Street Journal Joe Morgenstern
The spark happens in the sequel – The Girl Who Played With Fire.
"Seeing Fincher's version is like getting a Christmas gift of a book you already have. This edition has a nicer binding and prettier illustrations than your beloved old paperback, but it's essentially a reproduction of the same old dragon. Dragon Tat-two." Time Richard Corliss
Tat-two isn't the only franchise cash-calf waiting to mature, just ask Spielberg and Jackson about what happens after The Adventures of Tin Tin (Rotten Tomatoes – Metacritic).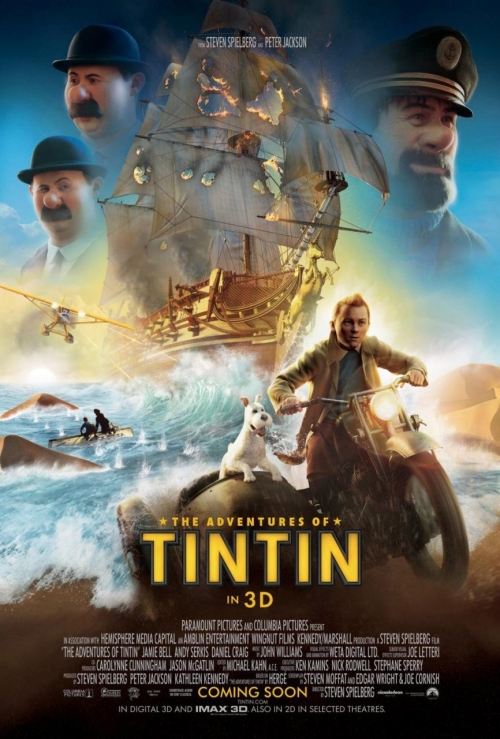 "Clearly rejuvenated by his collaboration with producer Peter Jackson, and blessed with a smart script and the best craftsmanship money can buy, Spielberg has fashioned a whiz-bang thrill ride that's largely faithful to the wholesome spirit of his source but still appealing to younger, Tintin-challenged audiences." Variety Leslie Felperin
Are Tintin-challenged kids pro-aluminum?
"The relentless pace is a big part of the fun. Who ever heard of a slow rollercoaster, anyway? You'll have to ride this one in the theater, though. It simply won't be the same at home." Miami Herald Rene Rodriguez
Riding a slow roller coaster is like putting a NASCAR on blocks in your front yard or drinking Starbucks while meditating.  Let coasters be coasters and let people be people (not corporations).
"The movie comes at you in a whoosh, like a volcano of creative ideas in full eruption." Rolling Stone Peter Travers
"His (Spielberg) The Adventures of Tintin jettisons character, back story, plot, depth and emotional ties to deliver 100 minutes of beautifully shot mayhem. It's handsome, hectic, heartless and hollow, a shiny Christmas box with nothing but glitter inside." Charlotte Observer Lawrence Toppman
Glitter is a step up from coal.  And hey, free box!
"Everything in The Adventures of Tintin is meticulous – this is a Steven Spielberg movie, after all." Movieline Stephanie Zacharek
At age sixty-six, Spielberg is releasing two films in one week; he's a movie-making War Horse (Rotten Tomatoes – Metacritic).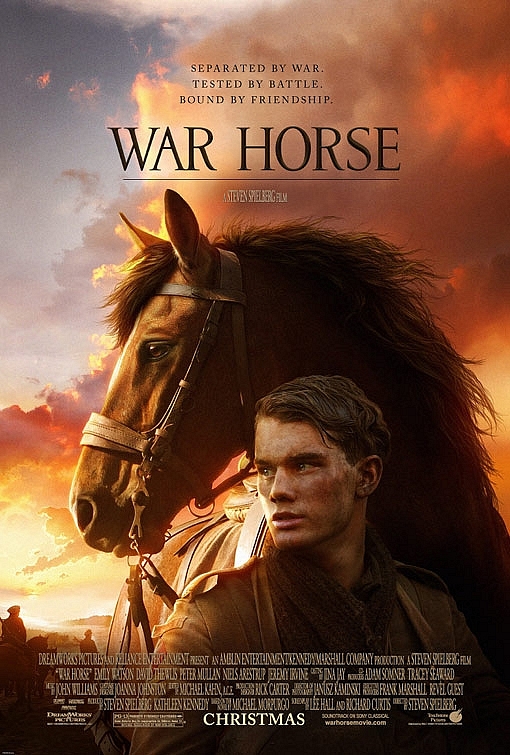 "You may find yourself resisting this sentimental pageant of early-20th-century rural English life, replete with verdant fields, muddy tweeds and damp turnips, but my strong advice is to surrender." A.O. Scott New York Times
And let the War Horse win?  Only if surrendering makes him the Peace Horse.
"Steven Spielberg's epic drama is technically superb and clearly heartfelt. It is also, I'm sad to say, an odd mix that sometimes soars, sometimes, doesn't." Joanna Langfield The Movie Minute
But there's a big difference between semi-successfully soaring and crashing.
"While the human actors in War Horse are genuinely impressive, it's the equine that truly carries the weight of the story, and Spielberg does a phenomenal job at making Joey a believable character that convincingly grows and evolves." Jason Buchanan TV Guide's Movie Guide
"Director Steven Spielberg doesn't have a steady grip on War Horse's careening tone, but he'll be damned if there's not 15 minutes in there for everyone." Boxoffice Magazine Amy Nicholson
Everyone gets their 15 minutes of shame-less entertainment.
"If anyone thought Steven Spielberg couldn't top himself for manipulating audience emotions, they didn't reckon with War Horse." Peter Howell Toronto Star
This week is all about manipulation and lifeless technology.  It's all Extremely Loud & Incredibly Close (Rotten Tomatoes – Metacritic).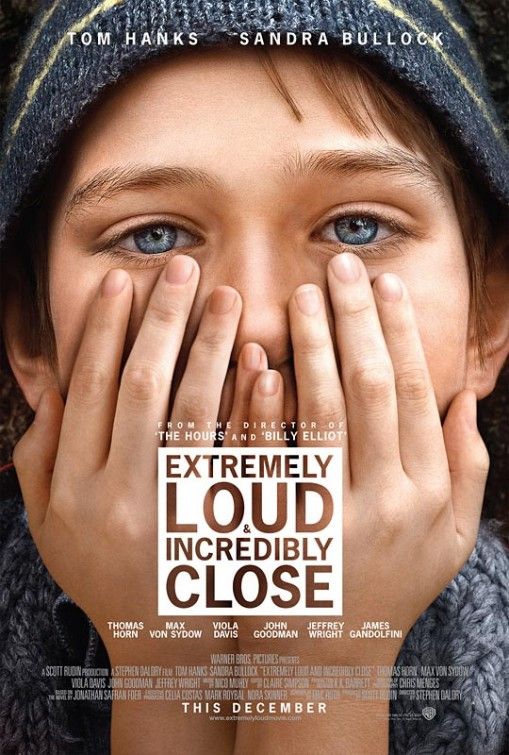 "Likely to divide critics, the film deserves audience support as a major work about the impact of 9/11 on ordinary lives, boasting a towering turn by Thomas Horn as a bright child forced to come to terms with personal loss and collective nightmare." Emanuel Levy EmanuelLevy.Com
Critics have been divided.  Haters first.
"It will always be "too soon" for Extremely Loud And Incredibly Close, which processes the immense grief of a city and a family through a conceit so nauseatingly precious that it's somehow both too literary and too sentimental, cloying yet aestheticized within an inch of its life." The A.V. Club Scott Tobias
Haters make the appreciation of beauty sound like being tranquilized.
"Certainly not a bad movie, but a disappointing one. It knocks itself out trying to break your heart, but it's too starched and blow-dried for its own good. Maybe if it had manipulated me less, it would have moved me more." New York Observer Rex Reed
"It more resembles a spindly kid running around and screaming for two hours before a hastily applied Hollywood ending shuts him up." Grae Drake Movies.com
Are happy endings good for you?  If so, don't hurry off.  Even if it's happy, it's still an ending. Why not stick around?  We Bought A Zoo (Rotten Tomatoes – Metacritic).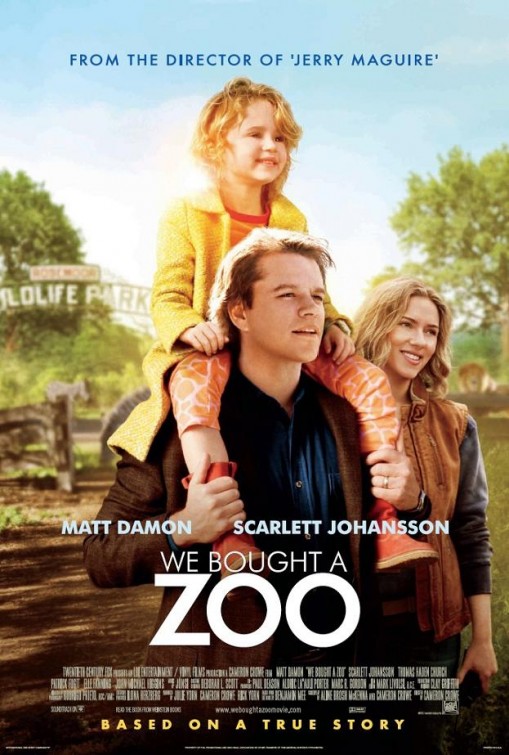 "The cynics will scoff and dismiss it all as manipulative, the heartstring-tugging machine on hyperdrive. But this movie isn't for them; did you not see the PG? It's a sweet, sincere, utterly affable kids' movie about how parents are all kinds of screwed up and unable to tell their kids what they want or show them how they feel." Village Voice Robert Wilonsky
If the movie is going to be about sucky parents, I'm glad it's only PG.
"Whatever the case, you may not buy his happy endings, but it's a seductive ideal when all of God's creatures, great and small, buxom and blond, exist in such harmony." The New York Times Manohla Dargis
"Watching the overlong, overfeeling, overdirected We Bought a Zoo made me glad to return from Cameron Crowe's world to the real world, where things aren't quite so simple." Dan Kois Slate
What if simplicity is overrated?
"There's a word for the strenuous, shameless plucking of an audience's emotions that this movie traffics in: cornography." Richard Corliss TIME Magazine