The Other Roommate's Sanctum
on
February 4, 2011
at
8:31 pm
Yet again, Hollywood's releases are in fierce competition with the weather over which is the most cold and dreary.  In this tug-o-chore, the only real losers are audiences with high standards.  However, if all you need for entertainment are flickering images and a tub of popped corn, go ahead and treat your local multiplex as your personal Sanctum (Rotten Tomatoes – Metacritic).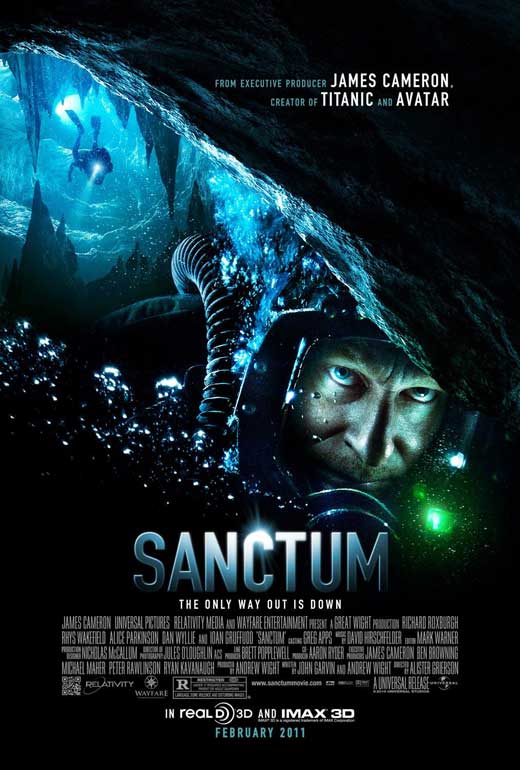 "Suffocating, nerve-fraying and deeply uncomfortable to watch. Just not in the ways intended." Robbie Collin News of the World
The intention was to portray suffocating in a good way?
"At times Sanctum is surprisingly ambitious and refreshingly smart and despite all its flaws, an entertaining yarn." Jarrod Walker FILMINK (Australia)
"This is a movie that features not one, but two graphic mercy killings. Forget "127 Hours": Sanctum makes sawing off your own arm look like a minor penalty for the crime of spelunking while clueless." Washington Post Mark Jenkins
Beware similar Darwin award activities such as drunk street luge, mountain climbing on roller skates, and whitewater kayaking in a cardboard boat.
"The key to enjoying Sanctum is to look, not listen." Variety Justin Chang
"A documentary on the formation of stalagmites would have been more compelling." USA Today Claudia Puig
Did you know touching a stalagmite will leave oil and dirt behind that changes the mineral's surface and color?  If you asked the rock's preference, it would want a clean, hands-off person to be The Roommate (Rotten Tomatoes – Metacritic).
"What's most memorable about this plodding thriller are the copious amounts of foundation and lip gloss." Boxoffice Magazine John P. McCarthy
Usually memorable make-up only occurs in horror movies.  Is the lip gloss scary?
"You want it to be satisfyingly stupid, and it is. A sense of humor about garbage like this goes a long way." Matt Pais Metromix.com
"A dull, unpleasant thriller with no pulse, no thrills, and no soul. Staring into an empty movie theater with a black screen would be more appealing." Scott Weinberg FEARnet
Would the theater charge for that?
"I can sum it up like this: no boobs, no blood, no point. Walk away from this one please!" Beth Accomando KPBS.org
The one word that keeps being used to describe this movie is "no."  Rather than focus on the roommate, they should have made the story about The Other Woman (Rotten Tomatoes – Metacritic).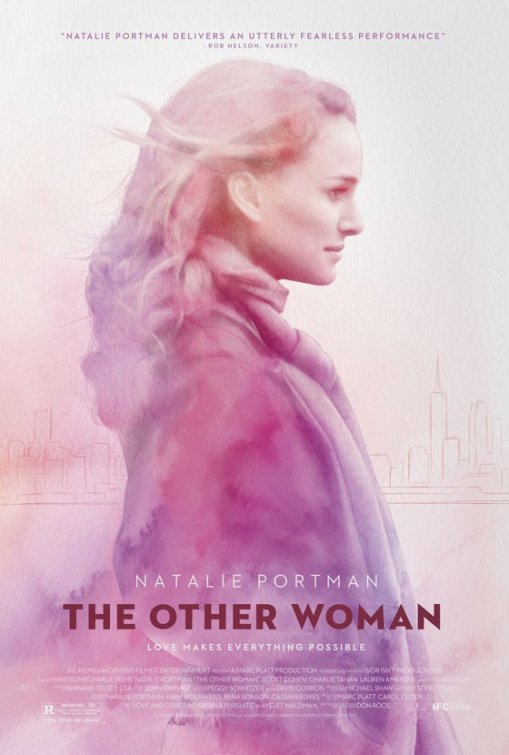 "Lest my own reaction be misconstrued, let me explain that I didn't like a single one of these insufferable narcissists, the kid included."  Wall Street Journal Joe Morgenstern
Maybe Joe is the one who threw the kid in the trash.

"The Other Woman isn't a perfect film, but it makes better use of her (Portman) talents than her other current movie, 'No Strings Attached.'" New York Post Lou Lumenick

This film completes a trifecta of current Portman possibilities.  There's scary Natalie in Black Swan, sexy Natalie in No Strings Attached, and now: pouty Portman.
"The Other Woman firmly plants its feet and slaps you across the face until it wrests that precious, precious salt water from your eyes." Ethan Alter NYC Film Critic
"In spite of its air of seriousness and sophistication, The Other Woman feels oddly shapeless and pokey." The New York Times A.O. Scott