The remains of summer, a.k.a Elysium's End Kicks Wolverine's Ass Rim
on
September 14, 2013
at
9:05 am
Except, Elysium's ending wasn't any more memorable than yesterday's poop.
Reminiscing about summer movies enshrines the highs before the lows, and when it comes to the highs of summer 2013, they're generally pretty low.
This summer has its share of notable dramas that stretch from Fruitville Station all The Way Way Back to a town called Mud, there was even commercially successful histortainment about The Butler. However, while these films were unquestionably highs, and likely to be remembered come awards season (looking at you Rockwell and Whitaker), they don't represent your July-August theater bounty, which blows like a shit load of storms made of shit. History remembers the ones that make money, but it'd be nice if more would Kick Ass 2 (Rotten Tomatoes – Metacritic).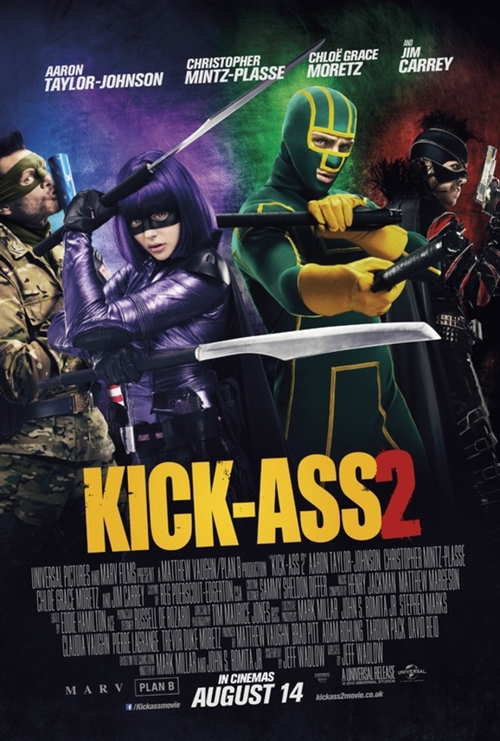 "Your ass is constantly braced in readiness and hope, but it remains un-kicked." The Telegraph Robbie Collin
It aims for Spankus Maximus, but barely flogs booty.
"The writer and director, Jeff Wadlow, can't obscure the movie's misogyny, and he also has a tough time staging a scene and selling a joke. His worst offense is that he has no understanding of the power, gravity and terrible beauty of violent imagery, which means he has no grasp of cinema." The New York Times Manohla Dargis
If that burn were more pithy, it would be highly quotable.
"Bravo Jim Carrey, bravo. Refusing to promote your work in Kick-Ass 2 is the wisest career move you've ever made." Erick Weber NECN
"In the annals of sequeldom, Kick-Ass 2 has to be one of the lamest follow-ups ever." Philadelphia Inquirer Steven Rea
A bold promise considering its company. To contextualize the exaggeration of 'lamest sequel ever' consider the cinematic cross-section of summer 2003's franchise-killing follow-ups:
Charlie's Angels: Full Throttle
Terminator 3: Rise of the Machines
Legally Blonde 2: Red, White, and Blonde
Dumb and Dumberer: When Harry Met Lloyd
Tomb Raider 2: The Cradle of Life
Time will tell if KA2 joins the list, but this summer has another contender in the shady sequel subdivision named The Wolverine (Rotten Tomatoes – Metacritic).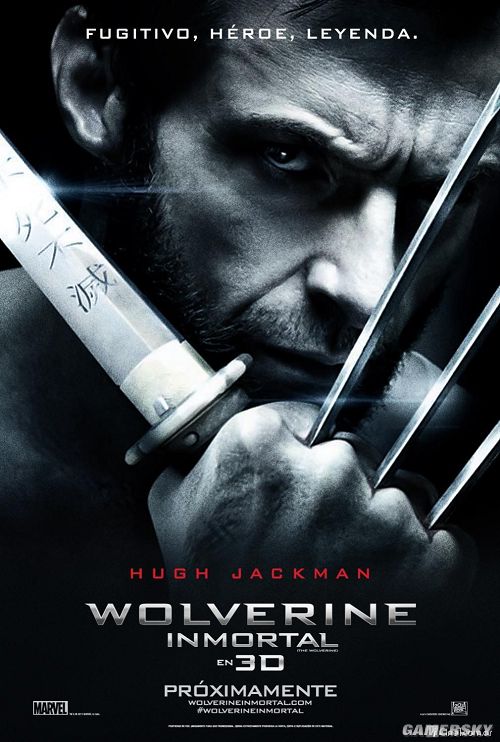 "This Wolverine gets our hopes up, and falls short." Movie Nation Roger Moore
You should be careful making height jokes about Logan.
"Let all Marvel franchises have as long a life as Logan. But could Singer let Jackman sing a few numbers as the knife-fingered mutant? They could call it Les Scissorables." Time Richard Corliss
Unused Broadway gags: Little Chop of Horrors, Fileter on the Roof, and Cuts!
"It's a step up from the garbled silliness of Wolverine's first solo outing. Unlike Origins, the storytelling is more sharply focused here, ignited by flashes of stylised superheroism." Total Film Neil Smith
"Finally – a superhero movie that doesn't feel like every other superhero movie." ReelViews James Berardinelli
At last, a superhero movie that feels like a movie!
"Whether or not this flies in the unforgiving fan world remains to be seen. But for those less intemperately invested, The Wolverine will come as a welcome and bracing surprise: An almost human-scaled superhero movie about a guy who goes to die in Japan and ends up beating his way back to life." The Globe and Mail (Toronto) Geoff Pevere
Spoiler alert, Wolvie doesn't die, or at least he doesn't stay dead. If he road tripped with the Grim Reaper, perhaps they'll stop over in Elysium (Rotten Tomatoes – Metacritic).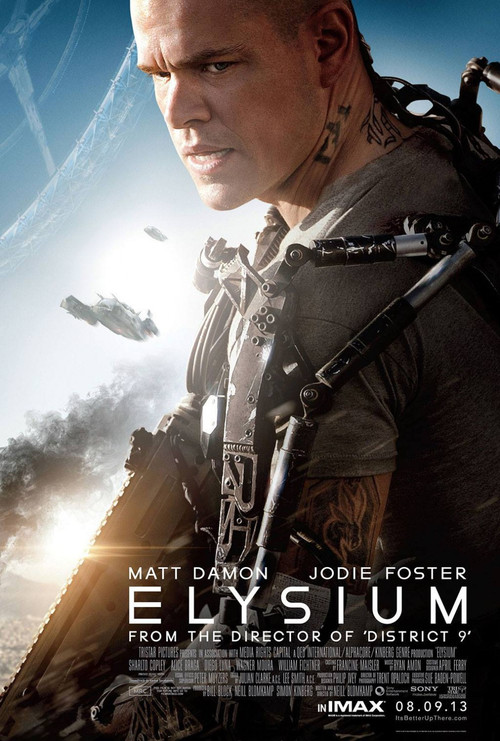 "The result is a grim and predictable adventure saga that is not nimble but leaden. Dystopia has rarely been so dysto-pointing." Time Richard Corliss
That was pun-tacular.
"Blomkamp overdoes even his best effects. (I would have welcomed more vistas of Elysium to break up the grungefest.) If Elysium is an example of how recession-era Hollywoodintends to dramatize the rift between the haves and the have-nots, let's hope the studios don't also bring back Smell-O-Rama." Christian Science Monitor Peter Rainer
For part 2: Smellysium?
"For a 99 percenter movie, then, Elysium is kind of a head-scratcher. It throws away its best opportunity for drama. It's as if Han and Leia parked on the Death Star and started asking, 'How much is a two-bedroom around here?'" New York Post Kyle Smith
"Blomkamp proceeds to spend the last two-thirds of his film crashing spaceships into lawns, or staging high-tech fistfights between Elysium's stolid hero and his even duller arch-nemesis. It's a waste of a perfectly good dystopia." Slate Dana Stevens
In America, we like our dystopias where they belong, in the future. Though some would settle for the Pacific Rim (Rotten Tomatoes – Metacritic).
"It is possible to applaud Pacific Rim for the efficacy of its business model while deploring the tale that has been engendered — long, loud, dark, and very wet. You might as well watch the birth of an elephant." The New Yorker Anthony Lane
Or, you know, not.
"If this is the best we can do in terms of movies – if something like this can speak to the soul of audiences – maybe we should just turn over the cameras and the equipment to the alien dinosaurs and see what they come up with." San Francisco Chronicle Mick LaSalle
From the alien perspective, the title would be This Crater Earth.
"You get 45 minutes of awesome encased in 90 minutes of yawnsome." Time Richard Corliss
"There are long sequences in this movie that merit that most overused of terms: 'Awesome.'" Rene Rodriguez Miami Herald
A rambling preamble kinda takes the piss out of words like 'awesome.'
"Pacific Rim's wafer-thin psychodrama and plot-generator dialogue provides little for the human component to get their teeth into." The Guardian Andrew Pulver
It's a metaphorpacolypse! A.k.a. The World's End (Rotten Tomatoes – Metacritic).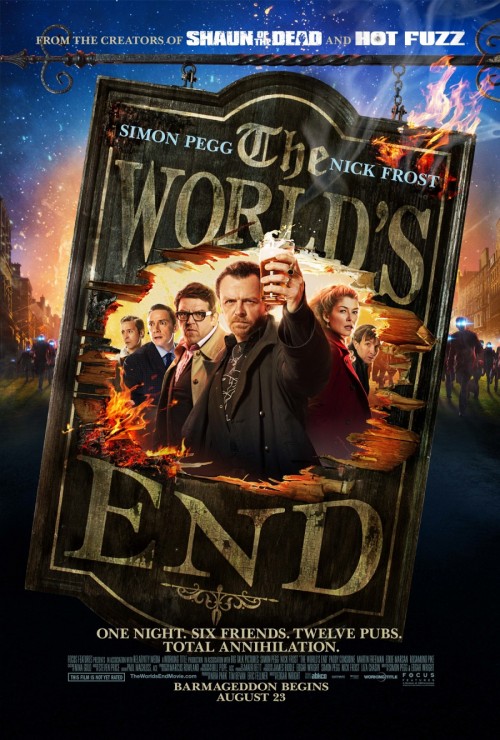 "This is by light-years the most entertaining movie of the year. How many apocalyptic sci-fi action extravaganzas leave you feeling as if the world is just beginning?" New York Magazine (Vulture) David Edelstein
The End is just the end of the beginning and begins a journey towards a new end.
"This is a tighter, smarter film than either Shaun of the Dead or Hot Fuzz, and buried beneath all the blue-goo aliens and terrible punning is a heartfelt meditation on the perils and pleasures of nostalgia." Time Out London Tom Huddleston
"Nostalgia isn't what it used to be" Peter De Vries
"As in their previous comedies, Pegg and Frost play men who refuse to stop acting like boys. But these pint-swilling Peter Pans also know how to work the heart and the brain for belly laughs." Entertainment Weekly Chris Nashawaty
"It'll knock you on you ass from laughing when you're not rubbing your eyes in disbelief." Rolling Stone Peter Travers
Both bruisingly funny and eye-gougingly engaging – a.k.a. a review with low poster potential.
"This is a movie that floats by on dazzlingly silly banter and well-slung slang." Roger Moore Movie Nation